Halloween is right around the corner! Pumpkin jack-o'lanterns? Check! Door-knocking costumes? Check! Trick-or-treat team? Check! Now it's time to get creative in the kitchen for some spooky Halloween snacks recipe!
[rpi]
Pumpkin pie
Speaking of Halloween, speak of pumpkins. Only this iconic cultivar's appearance can already represent the entire season, hence, an appetizing orange pie can fulfil the entire table, and its decent scent will bring up very festive emotions. That is when we celebrate and warmly know that the fall harvest is successful.
Pumpkin pie is not only baked to celebrate Halloween but for Thanksgiving and Christmas also. Home-bakers can get busy in the kitchen with the traditional recipe, or even can get it twisted and make their own versions with some X factors – here I suggest trying some whipped cream on top. For sweeter teeth, try cupcakes, macarons, pie tarts – basically a pumpkin-anything! Also considering a bolder recipe, like pumpkin parfait for dessert, it must surprise your family.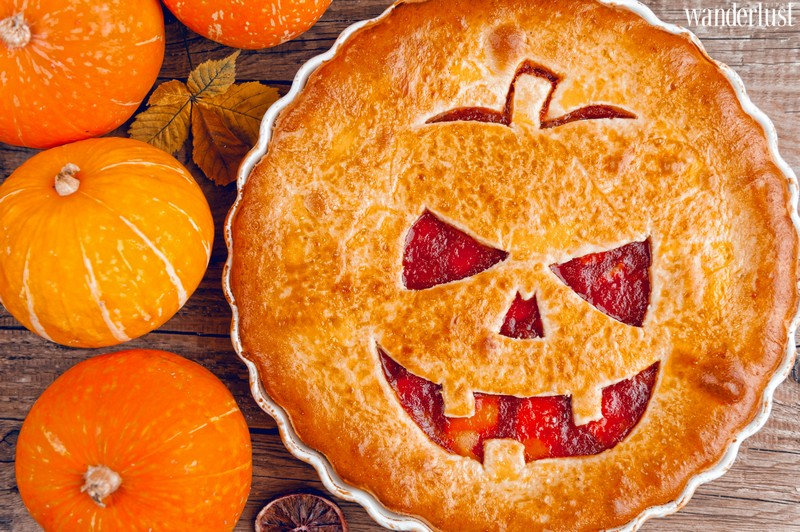 Caramel apple
Red juicy apples may be most seen in Halloween seasons for their appearance in the bobbing apple game, when players, mostly children, try to use their teeth to bite the apples that are floating on water or hanging on strings, hands-freely.
Also going by the name candy apple or toffee apple, these customized Halloween snacks has become one of the most favourites of all ages. From a fruit apple, you can turn it into a special treat with just a stick, a dip of caramel, or even of chocolate – if you prefer. To make it your own, put on topping layers with anything you like. It could be chopped peanuts, candy sprinkles, crushed Oreos, shredded coconut, or anything you want for the most delicious flavor highlights – make it sweet-and-sour.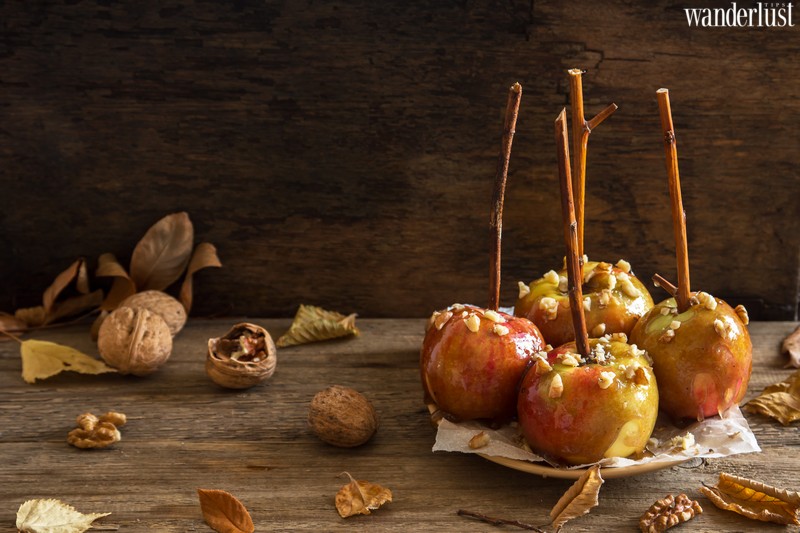 Soul cake
History tells that one of the most well-known foods to offer poor people, who in turn would pray for the deceased, is cake. It is believed that the cakes would nourish them during their long journey to the otherworld. Related to Halloween, one of the best-known examples of cakes offered for the dead are soul cakes, made on 28th October, in connection with All Souls' Day. The classic spiced biscuit-like cakes – often simply referred to as souls – are given out to soul-ers which majorly involve children and the beggars who go from door to door during the days of Allhallowtide singing and saying prayers "for the souls of the givers and their friends".
Soul cakes vary in ingredients, taste, shape, and so on. The cakes are usually filled with allspice, nutmeg, cinnamon, ginger or other sweet spices, raisins, or currants – all are baked to the texture like shortbread biscuits with sweet spices, becoming a perfect Halloween snacks for a treat.
Candy corn and candy pumpkin
October 31st can not be Halloween without candy. The very famous candy corn has been one of the must-haves for Halloween snacks and trick-or-treats festivities. In the 1940s – 1950s, people in the rural area steeped in deep agricultural traditions and loved giving out this harvest-themed candy to neighbourhood children as a treat for a successful harvest. It is a pyramid-shaped candy, traditionally divided into three sections of harvest-themed colors of yellow, orange, and white representing the colors of the fall harvest. 
Similarly made, candy pumpkin is coloured with an orange base and topped with a green stem to make candy pumpkins largely identifiable with Halloween. Both types of candies are still widely expected by the kids when knocking at any door. The marshmallow-alike taste of the sweets plus corn syrup's scent creates one of the main festive feels.
Popcorn balls
On Halloween parties back in the 1950s when trick-or-treating was commonly thrown with homemade rather than going out to trendy spooky destinations like nowadays, popcorn balls were one of the indispensable treats. Nowadays, this sweet snack is one of the most favourite bites in this season. Plus, it is very easy to make, so this may inspire you to have a couple of hours DIY in the kitchen.
Modern versions of this snack can be made with very creative combinations, from M&Ms to candy corn, and even gummy bear mixed balls. Not only is it not a bad idea for parties or trick-or-treating, a horror movie night could be so topnotch perfect with some of this crunchy sweet.