With the theme of "Destinations for couples" in the July issue, Wanderlust Tips will introduce impressive destinations on the exhilarating journey of four couples with readers. This is a truly meaning trip because they overcame up and down moments and gained memorable lessons helping them become maturer and then love their partners more than ever.
[rpi]
YOU ONLY LIVE ONCE
NGUYỄN NGỌC DŨNG – IRENE HOÀNG HẢI YẾN, JUST GOT MARRIED
We met each other when working together on a project, since then we have admired each other's views on life and achievements. We fell in love and decided to get married and held the wedding in June.
During our time together, my wife and I travelled to the United States, Spain, Malaysia, and Thailand. The most impressive cities to us are probably Los Angeles and Las Vegas in the United States, where we registered our marriage and took wedding photos. The way people take wedding photos in the US is very different from that in Vietnam. They do not want us to pose in order to look beautiful, they do not edit photos, either. They just want us to talk and play with each other naturally. Then they capture our sweet moments that feature our true feelings.
I am pretty happy now because I have achieved about 80% of the goals I set for myself 3 years ago. I dared to come out and live with my true feelings, got married to my lover, and could travel with her anywhere. Those are all of my great dreams of life and we will continue to pursue them. I only want to tell everyone that "You only live once", so be strong, dare to dream, and dare to act to get what you want because we only live once.
AFTER MANY TRIPS, WE ARE EVEN MORE IN – LOVE WITH EACH OTHER
DONG THI HUYEN THU – LE CONG THANH, BEEN MARRIED FOR 4 YEARS
Over eight years together, we have travelled to all parts of Vietnam, China, Malaysia, Philippines, Japan, and Turkey, and the trip to Tibet (China) was the most emotional. Tibetan scenery is so beautiful that no words could ever describe or no camera could ever capture. Conquering Everest Base Camp and facing altitude sickness left us many unforgettable memories.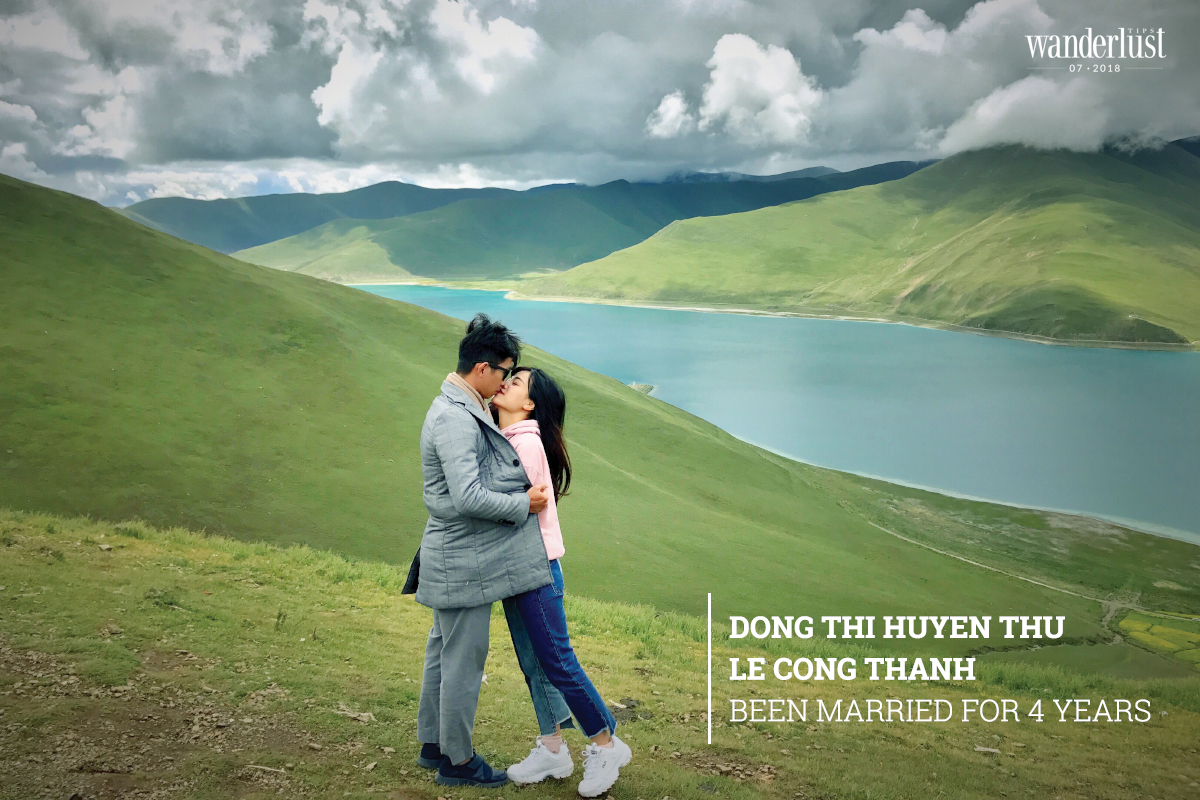 On those trips, we had many happy times together, and we quarreled a lot as well; we argued several times on almost every trip. However, both of us always tried to forget the words we told each other when we were angry. When we calmed down, whoever found themselves at fault will apologize. When travelling together, it is easier to forgive because we both appreciate the moments we spend together and do not want to waste time by focusing on the sad feelings, and we always try to make the most of the trip.
After many trips, we are even more in love with each other than before getting married, because we have more opportunities to be together and care for each other. Also, the trips have brought us a lot of beautiful memories and pictures. Every time we fight or get angry at each other, looking at the pictures and remembering the beautiful moments will help us make up easier.
HOLDING HANDS, WE UNDERGO BOTH JOYFUL AND SORROWFUL MOMENTS
NGUYEN NGOC DUNG – NGUYEN TRONG NGHIA – BEEN IN LOVE FOR SIX YEARS
Since the time we fell in love, my sweetheart and I have travelled to a lot of places together. In Vietnam, we went to Ninh Binh, Hue, Hoi An, Da Nang, Buon Me Thuot, Sa Pa, Ho Chi Minh City, and Vung Tau. We have also travelled abroad to Thailand, Singapore, Malaysia, and Taiwan.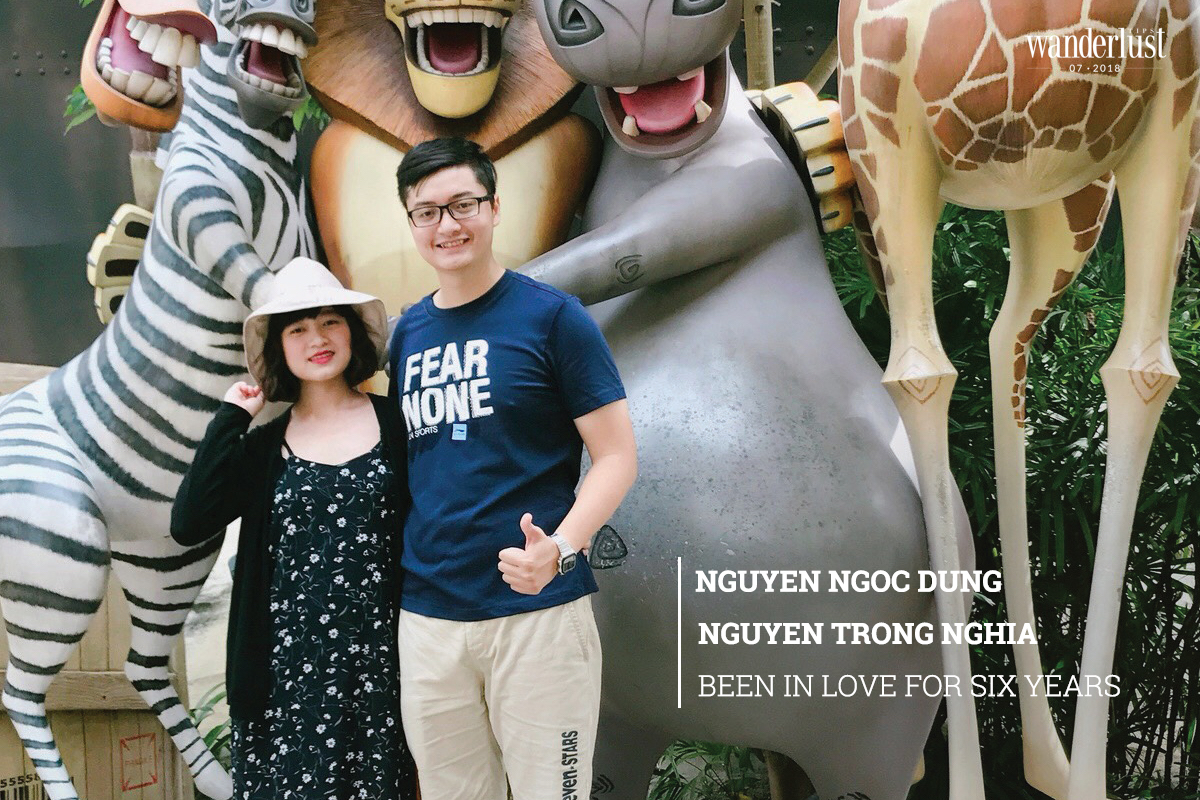 Our most memorable trip was the time to Thailand in 2016. At that time, my lover forgot to write the hotel address as well as buy 4G sim at the airport, so finally, we got off at the wrong station. It was raining heavily, I could not find my way back to the hotel. Getting scared and anxious, I scolded and blamed my lover while he was looking very guilty and just kept listening.
Whenever thinking about such moments, I feel so sorry for him. Fortunately, we got some help to get to the hotel. After many trips and handling such situations, we got to know each other more, we learned to to live together and keep calm to solve problems.
My boyfriend and I intend to get married at the end of this year 2018. And we have decided to choose Korea for our honeymoon. The reason is that my lover used to study abroad in Korea; at that time, he wished to take his lover to Korea to visit his school. For me, I am a fan of Korean cosmetics and food. There are so many reasons for us to wait for this fun and memorable trip to Korea.
AT THE AGE OF RETIREMENT, WE FIND IT AN IDEAL TIME TO TRAVEL AND EXPLORE UNKNOWN PLACES TOGETHER
NGUYEN TRONG HAI – VU DIEU HUYEN, BEEN MARRIED FOR 38 YEARS
My husband and I love to travel, this passion comes from the desire to experience and explore the world, admire natural scenery, wonders, and historical relics around the world. We also want to check our knowledge and broaden our horizon as the world with many civilizations and cultures is changing every day. Up to now, we have visited 45 out of 64 provinces in Vietnam, 31 countries in the world, and have been abroad nearly 50 times. And we are planning to travel to South Africa and Egypt in the near future.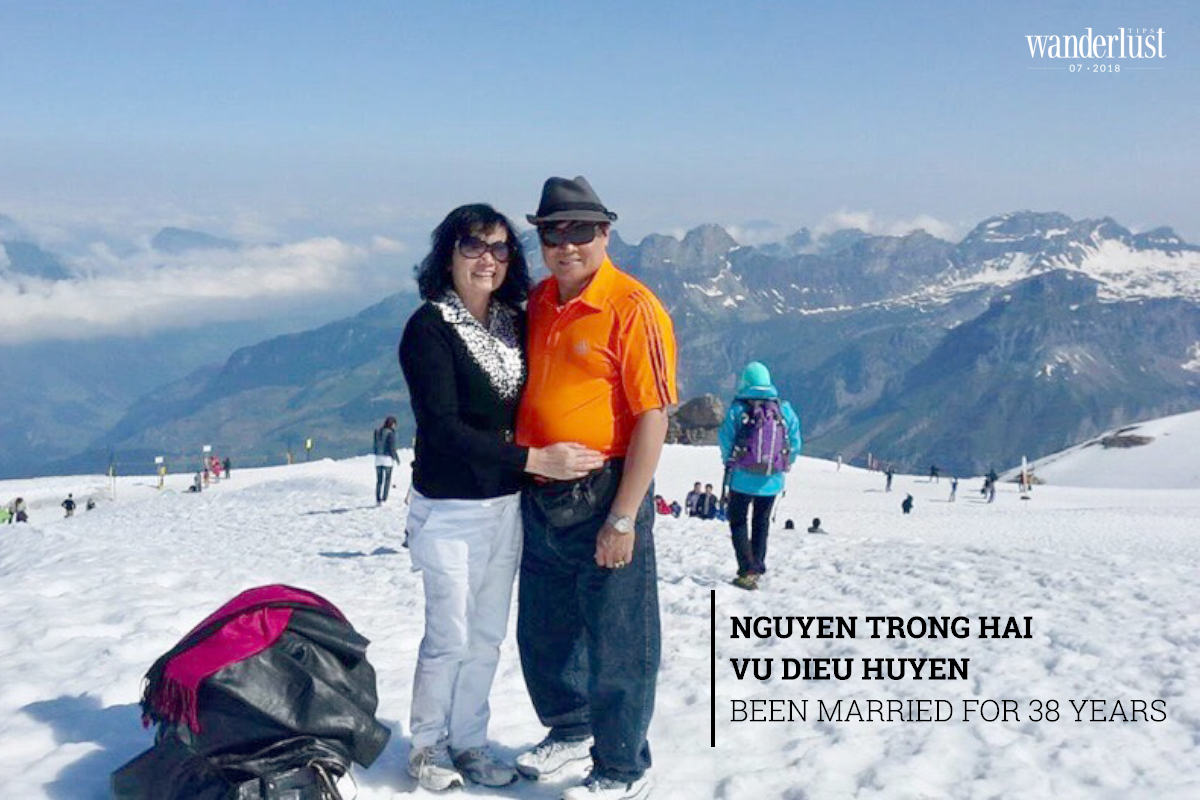 Each trip leaves us different impressions. This may be the mysterious beauty of nature, modern civilization, or the oldest culture in the world. Such different and exotic things have brought us so many indescribable emotions. Maybe not just us, most people love to travel and explore the world. However, to fulfill this passion, we also need to have time and money. That's why at the age of retirement, we find it an ideal time to travel and explore unknown places together.
Wanderlust Tips