Life is colourfully beautiful and brings us many experiences. The more we travel, the more we discover how exhilarating and interesting our lives are. There is no need to go far, there is an ample amount to explore right here in Vietnam, experiences to have, hospitable people to meet and an infectious way of life to admire. Quy Nhon was top of my Vietnam bucket list. Although the trip only lasted a few days, I was mesmerised by its idyllic charm and unprecedented serenity.
[rpi]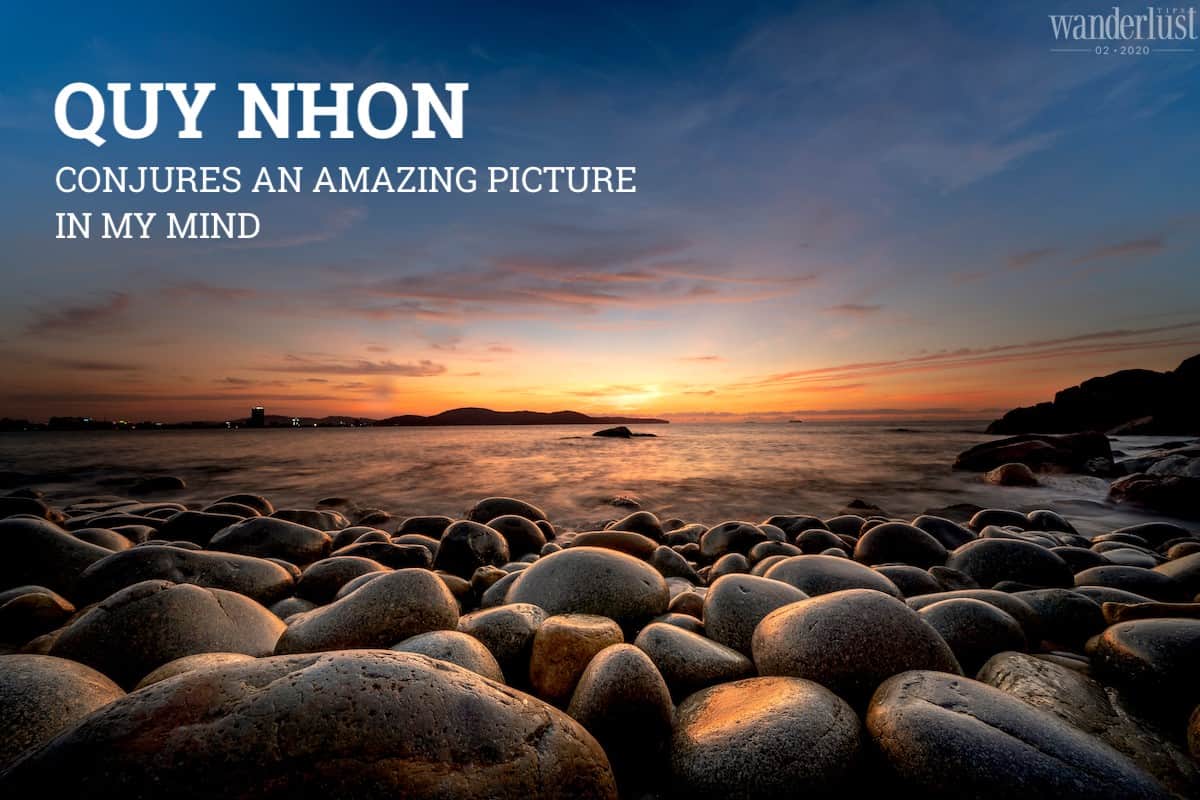 QUY NHON: AN UNTOUCHED AND IDYLLIC BEAUTY
I have travelled to many popular tourist attractions around this S-shaped land, but my heart belongs to a pristine region in Binh Dinh, Central Vietnam. A far cry from the hustle and bustle of Nha Trang or the glamourous city of Da Nang, Binh Dinh boats an unrivalled beauty. Quy Nhon Beach and Ky Co Paradise Beach have always been must-see destinations in the area due to their jaw-dropping beauty.
Quy Nhon makes me feel something very different from many other places. A far cry from metropolitan glamour and excitement, the place is draped in epic natural surroundings. I was wholly fascinated by its quiet and tranquil beauty. The gentle curve of the endless shore which embraced the sparkling turquoise waters and reflected the clear blue sky took my breath away and brought me a great sense of comfort and clarity.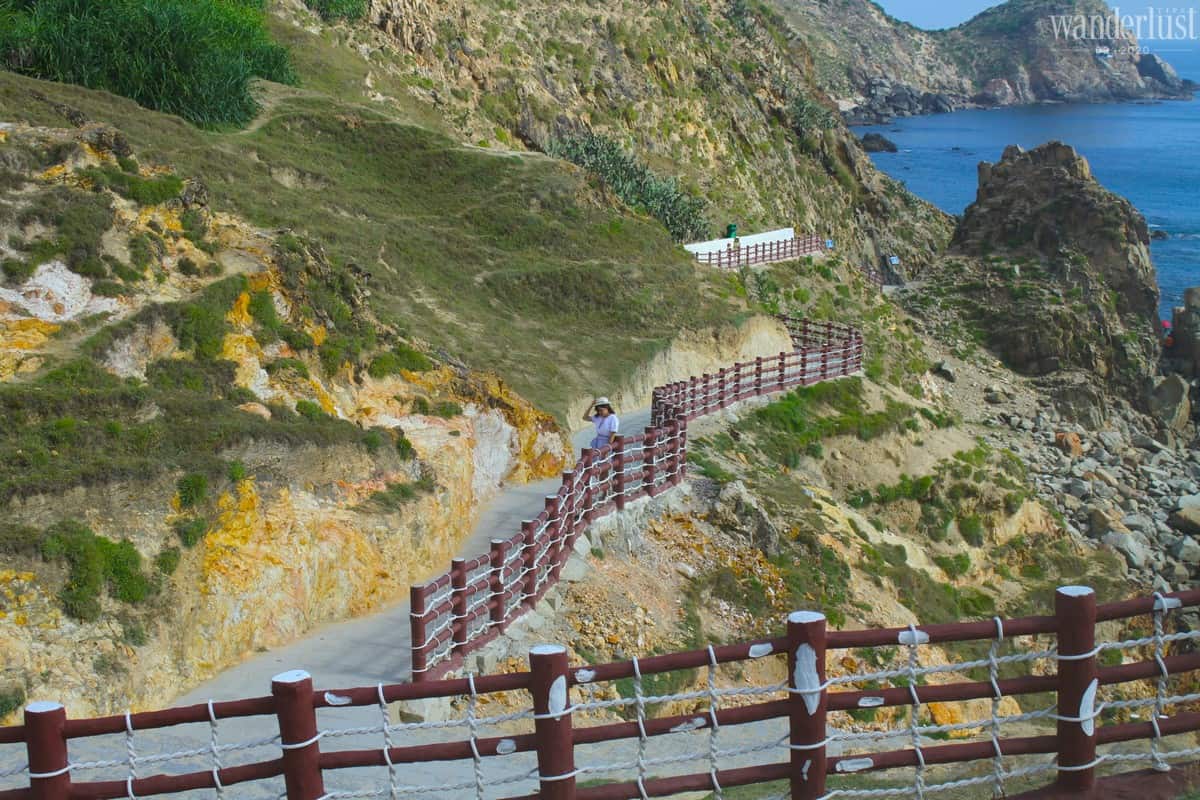 After a stressful working day in the city, there is nothing more wonderful than escaping to Quy Nhon for several days. Interestingly, I was so blown away by Ky Co Beach that I did not want to leave. The beach was strikingly spectacular, from its idyllic setting and endless white sand to its azure waters lapping against the undulating rock formations, it is really a picturesque paradise. Taking a dip in the crystal-clear water whilst embracing the fresh air and admiring the natural surroundings brought an overwhelming sense of peace to my heart.
I have a true passion for travelling, exploring and capturing the most beautiful moments of the places I have been to. On this trip to Quy Nhon, I took the most glorious photos in Eo Gio (Wind Strait) because the place is home to a variety of gorgeous landscapes. Many people do not know about the location because of its secluded natural setting. Standing on the top of the uniquely-shaped cliffs, I could see that the small strait is bordered by two mountains that run along the coastline. I followed a pathway along the strait until the breathtaking panoramic views of Eo Gio appeared before my eyes. Time seemed to pass by slower and a sense of relaxation and tranquillity filled my heart.
AS WELL AS ITS CAPTIVATING SCENERY, QUY NHON FASCINATED ME WITH MANY EXHILARATING LOCAL EXPERIENCES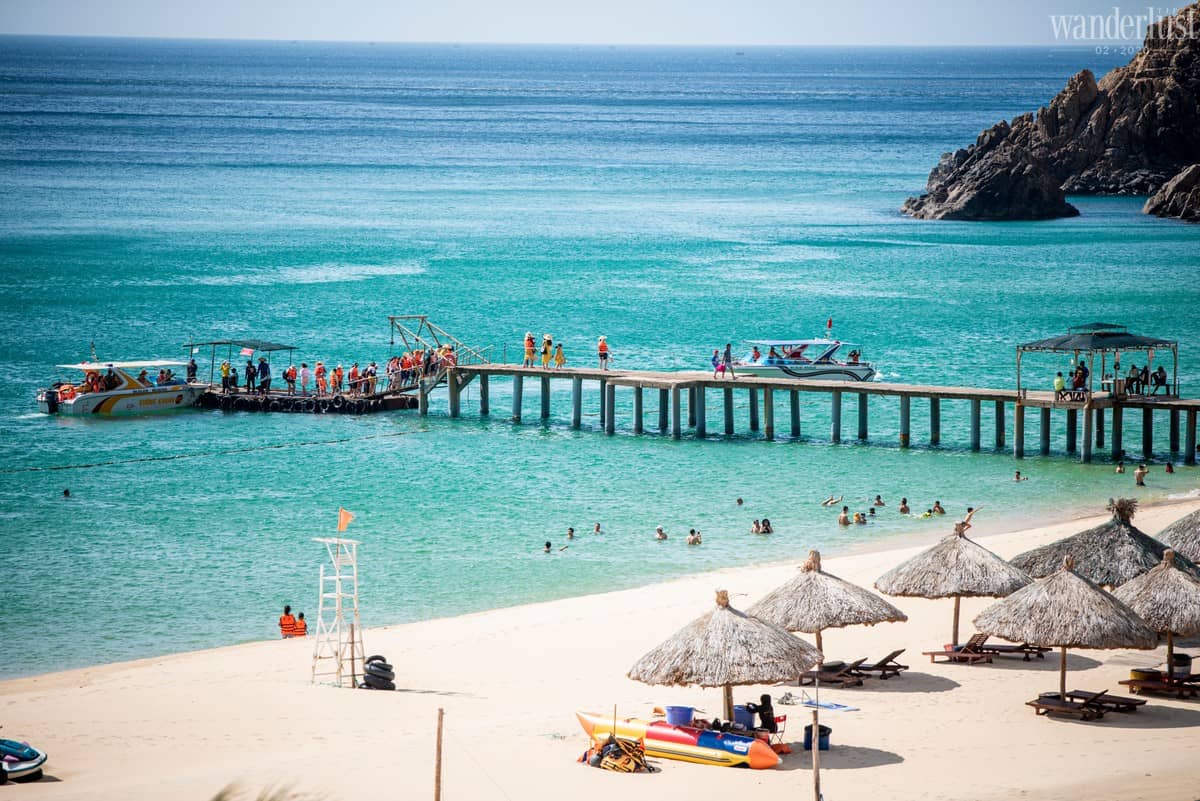 Aside from an abundance of magnificent scenery, Quy Nhon had me falling head over heels in love with its friendly and gracious people. I found that life is passing them by leisurely and gently. A complete contrast to the dynamic and buzzing metropolises like Hanoi and Saigon, the residents living in Quy Nhon have a more slow and leisurely life. Wherever you go, you will find people in high spirits and relaxing. Although they go to work to earn money, the way they live is so different from a Hanoian like me.
My appetite got the better of me in Quy Nhon. Banh Xeo or Vietnamese sizzling pancake is an amazing dish. It is a fact that Banh Xeo, is considered the pièce de résistance in the central provinces. There are many varieties, but the "jumping" shrimp pancake has always been my favourite. The scrumptious dish appealed to me because of its exquisite dipping sauce unique to the area.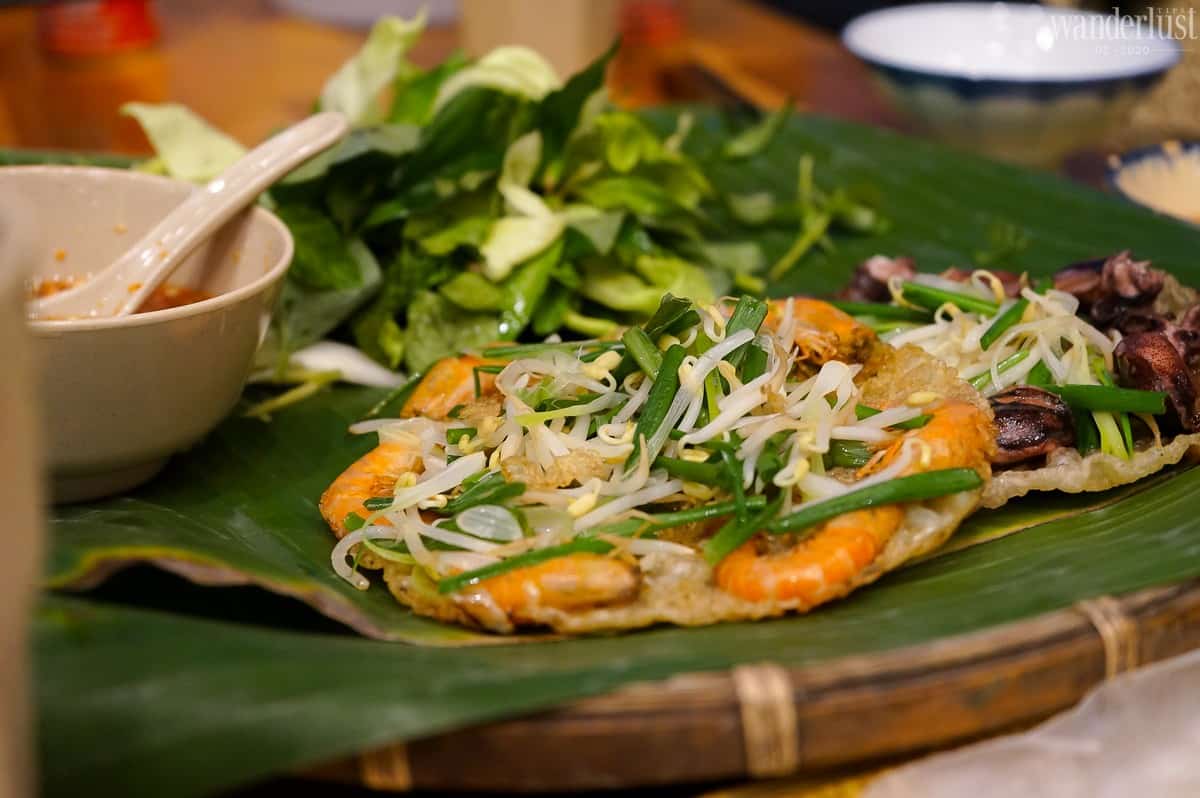 The recipe for making the traditional pancake in Quy Nhon incorporates fresh shrimps. Thanks to the secret recipe of the locals on Quy Nhon Beach, the pancake appeals to diners with its yellow crispy crust and aromatic filling. Additionally, you can embark on a fantastic culinary experience with an amazing diversity of popular delicacies, for instance, thin vermicelli, wormwood dumplings and sweet gruel.
Waving goodbye to Quy Nhon, I return to Hanoi with many regrets because I feel as though I have not completely explored and experienced this beautiful land. I was totally hung up on Quy Nhon due to its fresh, cool air and peaceful ambience. When I returned to Hanoi, nostalgia for the sunny and windy beach consumed my thoughts. I could not stop thinking about Quy Nhon. Has this spectacular land been under the radar for too long? Is it time to awaken the travel potential of this beautiful area?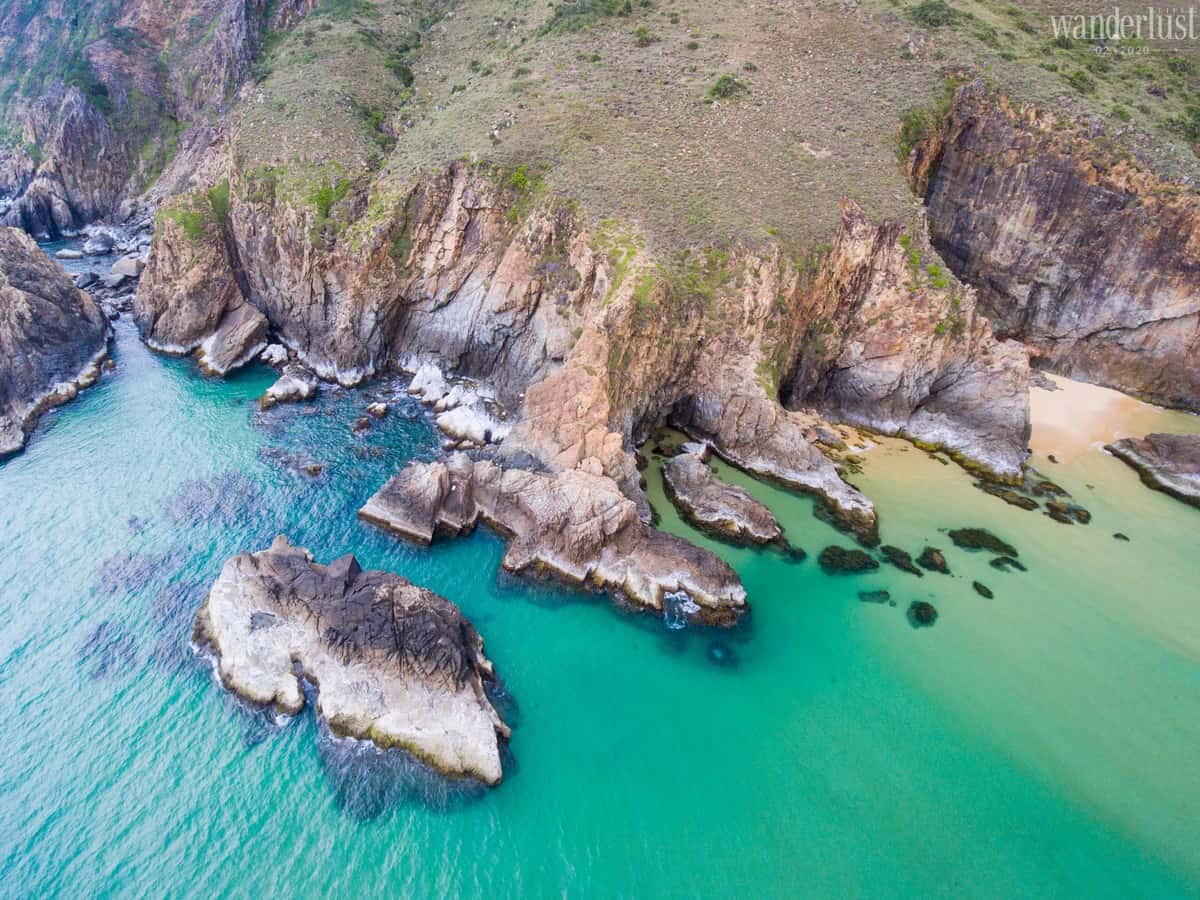 W.TIPS
BEST TIME TO TRAVEL TO QUY NHƠN
Between February and August is the best time to enjoy a trip to Quy Nhon as the weather is very pleasant without storms and it is suitable to visit the local beautiful scenery.
TRANSPORTATION TO QUY NHƠN
I took a flight from Hanoi to Quy Nhon. However, if you have a lot of time and enjoy marvelling at the beauty of Vietnam, you can take a train or coach to travel to Quy Nhon.
BEST TOURIST DESTINATIONS AROUND QUY NHƠN
Quy Nhon fascinates visitors thanks to its magnificent natural landscapes and picture-perfect beaches, for instance, Ky Co, Eo Gio, Hon Kho Island and Hon Mai Island where you can enjoy the cool water. Additionally, pay a visit to the Cham Tower, the Tomb of Han Mac Tu Poet, Bai Xep Fishing Village or local markets to get a better understanding of the local life.
CUISINE IN QUY NHƠN
Known as a popular culinary icon among marine provinces in Vietnam, Quy Nhon treats visitors with a vast array of delectable specialities. For instance, fresh seafood, jumping shrimp pancakes, thin vermicelli served with pig intestine, Chau Truc shrimp noodles, string-shaped rice cake, rice noodles served with fish balls and Cho Huyen Nem (fermented pork balls).
Ngoc Mint | Wanderlust Tips