I have known Nam Chay for a while and I was surprised when one day, this carefree 80's kid's Facebook status changed from "Single" to "In a Relationship." And the surprise only grew when I saw his travel photos now included a beautiful girl as he had once insisted: "I only like to travel alone."
[rpi]
It seems this lone traveller has found a travel and life partner after all.
From follower to girlfriend, and a journey together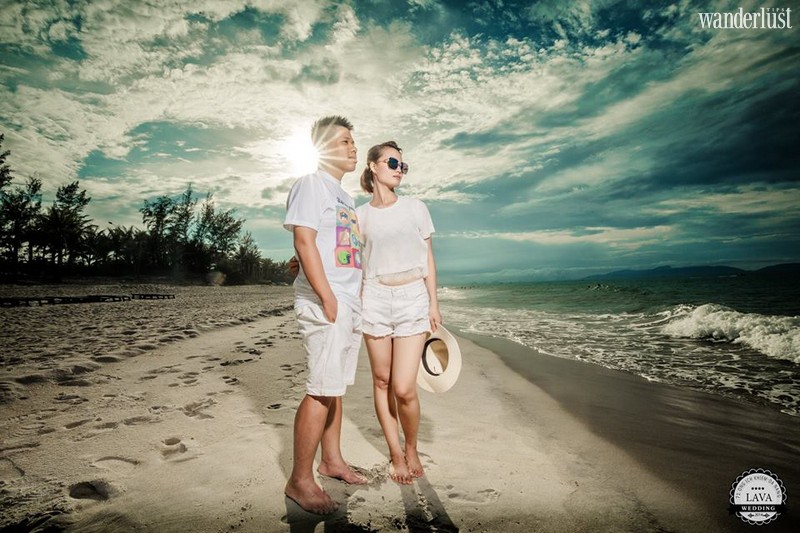 Curious, I started my interview with the couple by asking how they met. Nam responded to my question quite comfortably, saying that they met in early 2015. "Xoa followed me on Facebook to check out my travel photos," he said: "and then she started sending me private messages asking for travel advice and we started talking. After a while, we started liking each other so we met in person. We officially started dating in November 2015, when we visited Moc Chau in Ta Xua with two other friends. We knew we liked each other then, and that's why we decided to go on this trip."
Nam is an experienced traveller and has told me many a time about this travels, so it is definitely reassuring to have him as a companion. Xoa, although less experienced, has travelled with friends many times and learned very quickly. Seeing that this 90's girl was active and knew how to enjoy life while still respecting nature, Nam knew that she was not only a good travel companion but had the qualities of a life partner too. Someone who loves travel like Chay needs a girlfriend who is understanding and shares the same passion, so they can travel together. Xoa has all of these traits.
Inevitably, love grew between them. Although they have been together for less than a year, they have already travelled together five times. Familiar destinations like Moc Chau, Ta Xua, Ha Giang, Sapa and Lao Cai, popular with "professional" backpackers, have all been imprinted with the footsteps of this couple. Xoa shared that she has travelled with her friends many times before, but she had never travel as 'thoroughly" as with Nam. It's also more comfortable to travel with Nam, she says, because she feels safe given that Nam already knows all of their destinations by heart. Together, the two were able to discover their destinations anew.
Some people still refer to women as "the weaker sex", so I asked Xoa if she feels tired after moving around so much. Nam interrupted, laughing: "She's probably stronger than I am," he said, "when we visited Lung Khuy cave in Ha Giang Province, we had to walk for a long time. I was tired and out of breath, but she walked tirelessly."
A kiss in the snow
As much as this couple likes to travel, they never really plan their trips ahead of time. Nam likes to travel spontaneously, and Xoa says no to an adventure, which means that when inspiration strikes, they pack and just start driving. It seems that their travel is a magic matchmaker because each trip teaches them something new about each other and creates more empathy between them.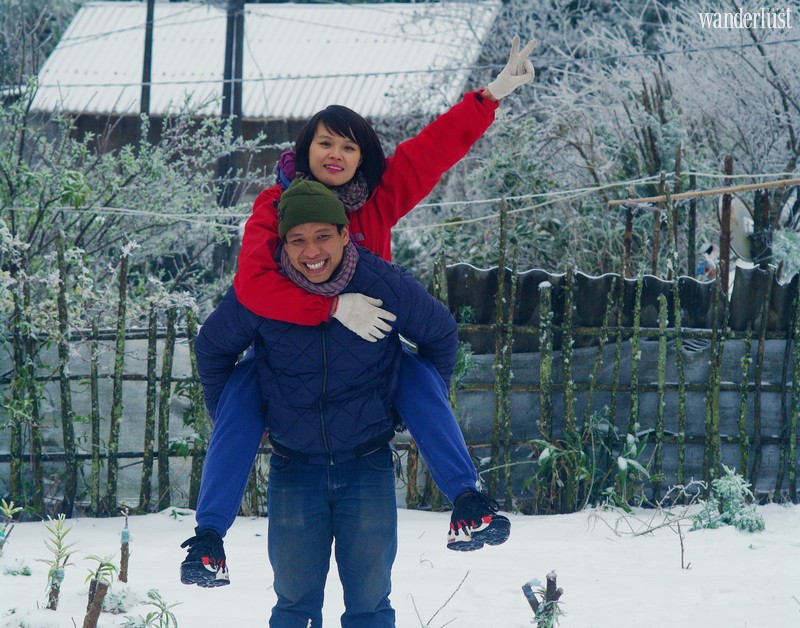 Xoa says that Nam seems tough on the outside, but after getting to know him, she learned that he can be sensitive and loving. Despite being a quiet guy who never says anything cheesy, he pays a lot of attention to the little things. People often dream of running away with their partners, but Nam and Xoa don't dream of these things, they make it happen. Stargazing, admiring the sunrise, sunset, or sharing a sweet kiss in the snow. They have done it all.
In early 2016, Sapa witnessed a historic snowfall. The event inspired the couple to catch a bus to visit the misty town. Xoa had never experienced anything as cold before, so Nam advised her to bring a lot of warm clothes, non-slippery shoes, and heating pads. In all their pictures, she looks a bit rounder than usual, thanks to all the layers of clothes she is wearing.
Nam is no stranger to Sapa, and he has seen snow here once before. However, witnessing beautiful heavy snow next to his new love made everything more significant. This was the perfect background for the photos of them kissing in the snow. Nam said that this is not like any other great memory, because the two snowy days in Sapa made him think about starting a family with Xoa.
In September, the two finally tied the knot. To prepare for the main event, the two visited Danang to take their pre-wedding photos. And they took the time to wander around Danang and visit Hue for one whole week and Xoa visited places she had never been to before.
A cross-country honeymoon
Unlike most other couples who prefer a nice, relaxing honeymoon, Nam planned a cross-country trip for them right after the wedding. The trip was to last between 20 and 30 days. They had planned to ship their bikes to Danang and then fly there, and then travel by bike from Danang to Saigon, across the coastal highway of South and Central Vietnam, followed by a trip to the Southwest to cross the border to Cambodia, before making their way back to Hanoi via the Central Highlands.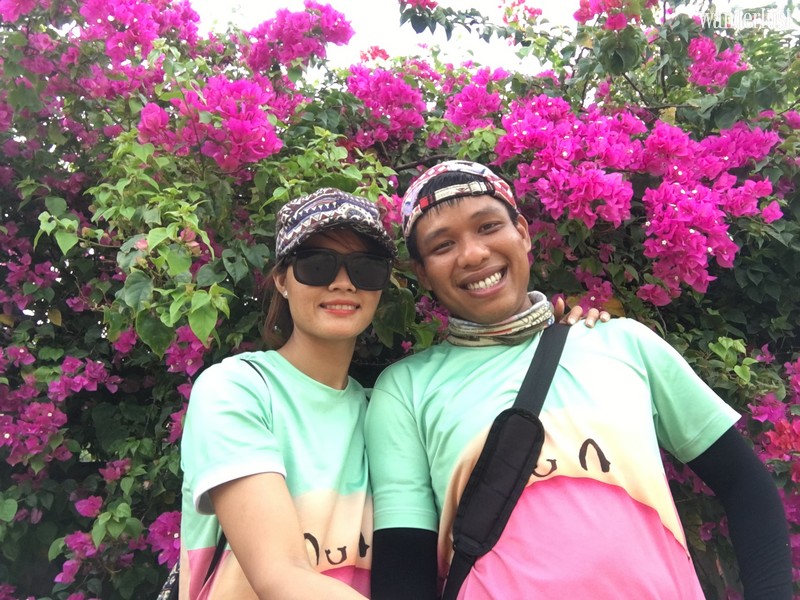 When I heard of this, I exclaimed: "This sounds more like torture than a honeymoon." Of course, Chay refuted immediately, saying that it comes down to an individual's perspective. The journey he planned allowed the couple to experience the beauty across Vietnam and would be the perfect mark for their first few days of marriage and the end of their single lives.
Of course, this journey was not to be as miserable as it might sound to less adventurous travellers. In big cities, they stayed at hotels. On small islands, they slept at homestay or resorts. In small provinces, they asked locals to house them at their homes. They improvised depending on the circumstances and never booked anything beforehand. For years, they have travelled freely and spontaneously, so this journey for them as easy as eating their wedding cake. This would probably not be the same for inexperienced travellers or couples who do not have a passion for travelling. A journey like this could stress out amateurs.
I asked the couple about their future travel plans now that they have started their life together and after their spectacular honeymoon. Nam laughed and shared that he thought marriage would limit his freedom, but having met his amazing travel companion and new wife, he has nothing to worry about. Of course, marriage life poses its challenges, but the two promised each other to travel even more to keep their shared passion alive for years to come.
Hải Đăng | Wanderlust Tips