White Night is an annual wonderful light festival full of magic and novelty, featuring music, dance, visual display, light show, and a variety of buskers, attracting hundreds of thousands of people in Melbourne, Australia. 
[rpi]
About White Night Festival
Following the trend of progressive cities around the world, the City of Melbourne began hosting the White Night event since 2013 aiming to introduce the innovation of artistic activities and has become one of the major cultural events in Melbourne, Australia.
This one-day-all-night festival (7 AM – 7 PM) is a night of creativity and culture, which features spectacular projection art, mind-bending installations and unexpected experiences, lighting up the streets of Melbourne. It's fascinating to see how the city transforms over those 12 hours from a working day-to-day city to this mysterious "other-worldly" space with around 300 artists performing around the CBD of Melbourne.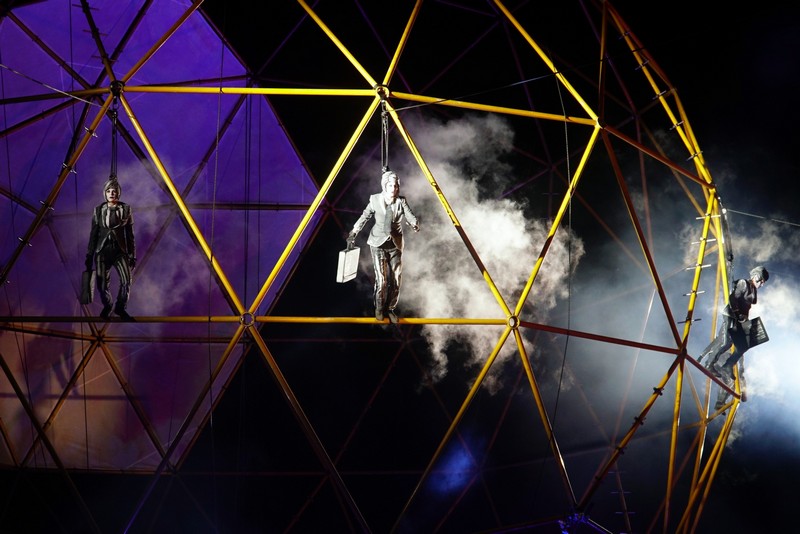 At Federation Square people dance all night while hundreds of mirror balls hang above the space. Flinders Street Station is converted into a theatre. People can also discover hidden little illuminated artworks as they walk around Melbourne's laneways and the whole city has this surreal outer-space feeling!
In 2019 the festival moved to winter and changed to White Night Reimagined, a pared-down but stretched-out version of the arts, music and light festival. From 2021 forward, Melburnians have said goodbye to White Night and welcomed the new RISING Festival (an integration of White Night and Melbourne International Arts Festival), but two lucky regional towns which are Bendigo and Geelong were still in the spotlight for the festival of lights in October and November 2021. 
What to expect at the new White Night Festival?
Here's how the new White Night works. The original festival used to run from 7pm to 7am over a single night. But since 2019, it has taken place over three winter nights (in August). Events will start from 7pm every evening and finish at midnight on weekdays and at 2am at the weekend. The city's buildings won't feature projections which were made popular in the original White Night, but don't worry though, there will be plenty of activity to love about White Night 2.0.
The event is divided into different zones in Melbourne's city centre. There are three main festival precincts: Treasury Gardens, Carlton Gardens and Birrarung Marr. Each also has a distinct theme. 
Birrarung Marr will be home to the 'physical realm' and host a range of appropriately high energy works and performance like Globe – a performance by Amsterdam street theatre company Close Act featuring a giant globe with 41 performers dancing in, on and around it.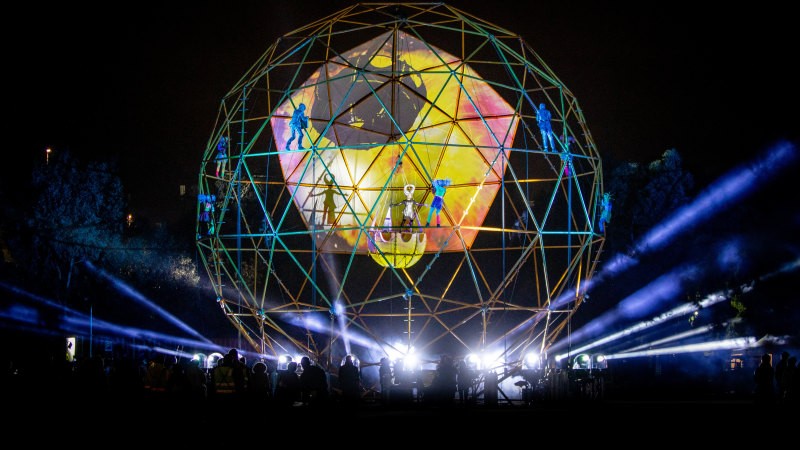 Globe – a spectacular performance when the artists will hang from the sky in three 9-meter-high pyramid-shaped towers, accompanied by emotional music that brings an immersive and emotional performance.
Treasury Gardens will be transformed into the 'sensory realm' where you can explore artworks and lighting installations that engage all your senses. 
Finally, Carlton Gardens will be the 'spiritual realm' and be home to a ten-metre long glowing lion puppet called 'The Guardian'. The gardens will also be transformed into the set of Mad Max: Fury Road. 
Some of Melbourne's major arts and culture institutions will be staying open until late too, including Melbourne Museum, the State Library of Victoria and the National Gallery of Victoria. They will all be offering their own special programs (and provide respite from the cold nights). 
The RISING festival will open on May 26 next year, running for 12 nights. But artistic directors Hannah Fox and Gideon Obarzanek said it would be a completely new type of festival. "It will also have a stronger visual arts element than has ever been seen before," Obarzanek said.
"We're looking for a richer experience for audiences when they come into the city to engage more than before. It's a festival for everyone, so it's more about public theatre, public spaces and celebrating the features of our city. The city will be our stage. It will be a festival that's really reflective of Melbourne and centres around the night time as (Melbourne is) the only city in Australia that has a performing arts culture seven nights a week. This large-scale festival will establish Melbourne as a destination in itself", said Fox, who has directed popular Tasmanian arts festivals.
Come to see these magnificent local landmarks and buildings transformed in a spectacle of light, catch the live performances throughout the festival and show some love to the regional towns when the festival returns next year. 
Food-wise, there will also be street food on offer with a bunch of specials happening across the weekend to sustain you through the night. You can score a fairy floss white Negroni or try 15 different toasties and matching Hot Toddies across the three nights.