An intricately designed junk art house with four extravagant 'junk art cars' hidden in the suburbs. Who is the mastermind behind the Vanadu Art House, a marriage of art, junk and ingenuity?
[rpi]
Clarke Bedford's avant-garde art junk and cars adorned with metal scraps, mirrors, moose antlers, and other oddities (Photo: Sarah L. Voisin/The Washington Post)
Approximately seven miles outside of Washington, D.C, stands a treasure trove of junk – junk that is simultaneously art, that is. It's a house totally encrusted with metal, glass and tossed objects painted, molded, bolted, twisted, sawed and drilled into art, like a coral reef that has grown more complex, sculptural and fantastical over the years. It's Burning Man done by a man who has never been to Burning Man.
Bedford sits in his suburban living room, which is covered floor to ceiling with his creations. (Photo: Sarah L. Voisin/The Washington Post)
A. Clarke Bedford is a retired museum art conservator at the Hirshhorn Museum where he worked meticulously on some of humankind's modern masterpieces. Having spent decades in the machinery of America's official art world, in 2007 when he found himself alone with time to spare in his plain, mid-sized Maryland abode, Clarke Bedford decided to transform his average sized home into an elaborately designed art house brimming with intricately adorned objects and recycled metal oddities.
Bedford dubbed his unique art home Vanadu to pay tribute to Samuel Taylor Coleridge's poem "Kubla Khan", which surfaced from an opium-charged dream about the ancient Chinese city of Xanadu, once ruled by Mongol emperor Kublai Khan. While the art house is commonly referred to as "Vanadu", he also calls the conglomeration of recycled materials the Assemblage Cottage, pronounced in the French manner, "As-sem-blage Co-ttage", so that it rhymes.
Bedford's remarkable art house is a cornucopia of antiques, mosaics, sculptures, mirrors, and well, you guessed it, junk. When you walk into his living room, it's hard to focus on any one thing. It's hard to speak, even. There is a Venus of Willendorf, clowns, skulls, antlers, horned helmets and rusty saw blades, then doll arms and doll heads, figurines, vases and teapots bolted to the ceiling like stalactites, giving you a slight sense of vertigo. It's weird, absurd and amusing.
Throughout the high-density cluster of historical objects and junk, you will find an array of hand-made assemblages including old pictures made of cut-up license plates and a woman's face covered with glass grace the grounds. Some of the home's more eccentric items include a statue of philosopher John Locke, a horned wooden owl, a black and white striped cone, a skull, and a German language globe stuffed inside a rusted horn.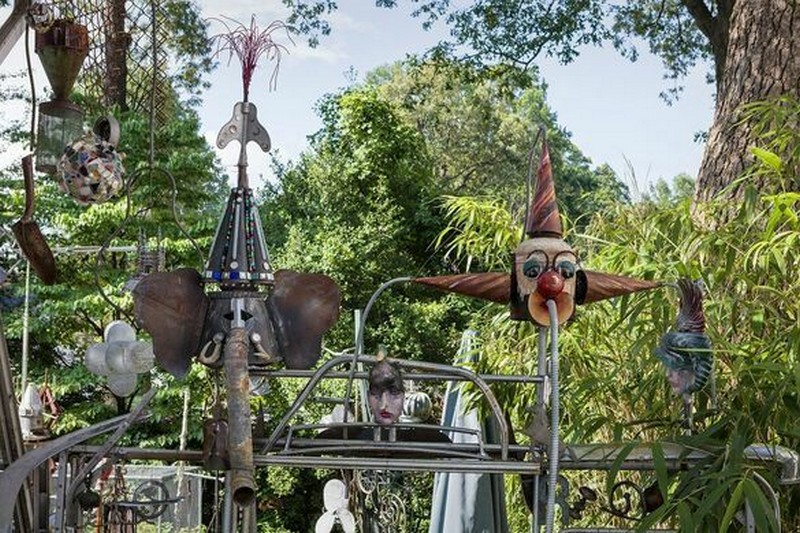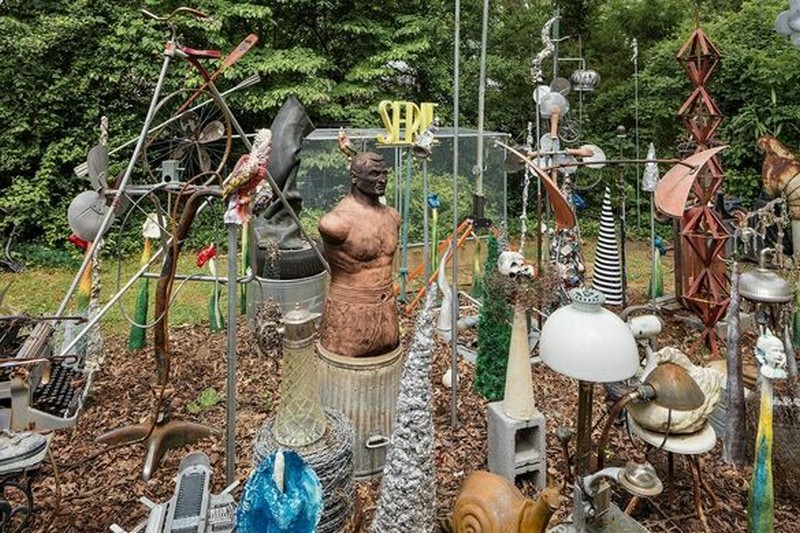 There's the fence around his house and the front yard, side yards and backyard. The backyard has huge, kinetic sculptures that move with the wind. He had a ladder propped against the outside's second story, because he's starting to run out of room and has to work upward.
"Sometimes I dream of just putting it all in a container and moving somewhere off the grid, where I can just keep going and going," he said. "But then, it's context, right? It's all about context being here."
It's the beauty of finding this incredible supernova burst of creativity on a street with construction workers, journalists, lawyers, recent immigrants and yapping dogs. It's the fireworks of an artist's mind in an unremarkable suburb of the nation's capital. Bedford's art house is in an area zoned for an art district. And his neighbors seem to have no quarrel with his growing display. That's why the artist has relentlessly created, moving inside and out with the weather.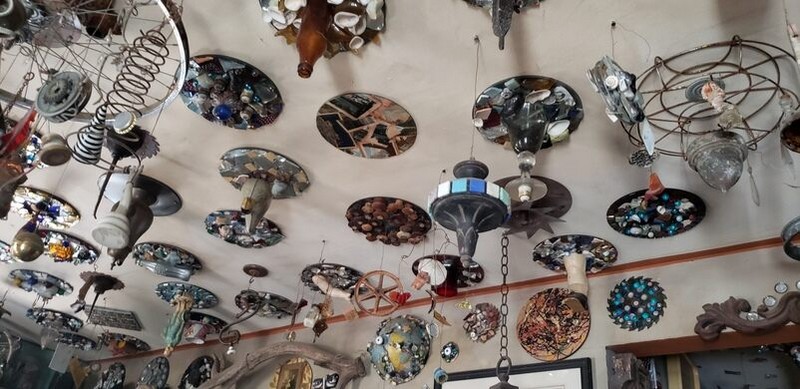 Bedford has also used his ingenuity to build four fully functional art cars from an amalgamation of materials, including various car parts, washing machine pieces, and moose antlers. The car collection is typically placed on the curbside of the art house. 
And then he couldn't stop. He has six cars now: the Saab, which he ripped apart and retrofitted with bumpers from a Model A, as well as a van, a bus, a Volkswagen Beetle, a Volvo and a Chevy Caprice wagon. All of them are drivable but not practical, though. The most famous of the six cars is the Vanadu Ford, embellished with accents like horns and vases on the sides, and graveyard spires on the roof, which even has its own Facebook account! 
Clarke Bedford enjoys riding in his intricately embellished cars, even if it is "like driving down the road in a garbage can".
When he was working as a conservator for the Hirshhorn Museum, Bedford would drive one of the elaborate silver cars on his daily commute to work, and to this day the art cars remain one of Bedford's major sources of transportation. He enjoys riding in his intricately embellished cars, even if it is "like driving down the road in a garbage can."
The city of Hyattsville awarded him the "Best Appearing Individual" a year ago. The vague plaque is proudly displayed by a creepy clown and a skull-on-a-spike sculpture.
Come by to admire a total feast for the eyes at 3808 Nicholson St., Hyattsville, MD. Clarke Bedford is always happy to have visitors stroll around his property and look, all you have to do is ask and say hello.