It has been said that happiness is not a destination, but a journey. As long as you are together, every experience will be happy and fulfilling. Do not let yourself be affected by what the world says, go a little crazy, and you will feel happier.
[rpi]
A homestay in the misty mountains
Imagine a young couple in love, on their honeymoon. It's early morning when she is woken by a smell that takes her back to her childhood, that of glutinous rice and smoke from the stove. The sun shines on her bed, where she lies next to her new husband, the man she loves most in the world. She gives him a kiss on the forehead, and gently opens the window to let in the sun and the birdsongs. She takes a deep breath of the mountainous morning air filled with dew as if to chase away the dust filling her lungs after years of living in the city. Her husband wakes up, wraps his hands around her, and gives her a passionate kiss. The two stand together by the window and watch the sunrise over the mountain. It's no wonder that backpackers often advise couples to spend their honeymoon at a homestay in the mountain, rather than visiting a crowded tourist area.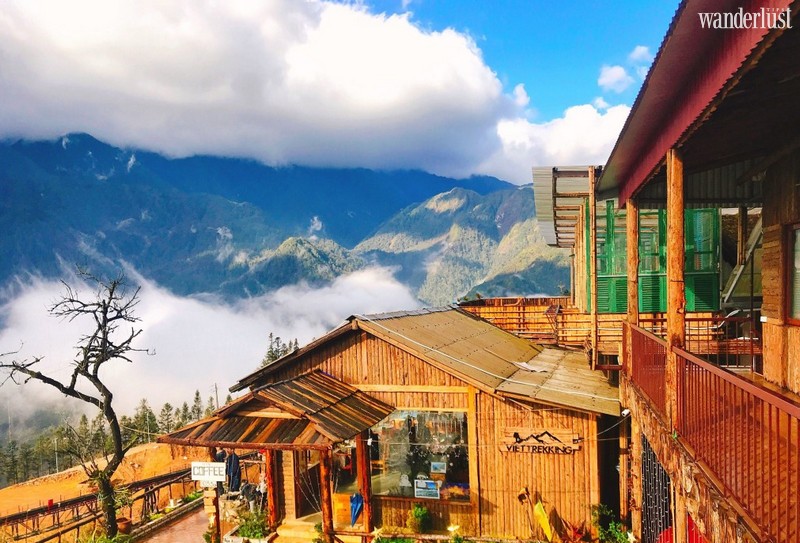 Wanderlust Tips' first recommendation for readers looking for a unique and exciting honeymoon: stay at a homestay in the mountains.
Unlike many think, a homestay does not have to mean poor facilities and sleeping on the floor next to strangers. There are homestays, which make for the perfect lovenests for newlyweds. Some do a great job of representing the local culture while providing modern European-like facilities.
Wake up next to your spouse in an unfamiliar home, in a warm room filled with the smell of freshly cut wood, surrounded by a garden alive with birdsongs. Enjoy a delicious breakfast made on a makeshift wood stove complemented by the laughs and stories of the owner. If you're into Vietnamese cuisine, dozens of specialties await Glutinous rice grown on weathered rice terraces, dried in Thai wood buckets, which has a sweet taste, fish marinated with wild pepper and grilled over a charcoal fire wrapped in leaves, which you will be tucking into impatiently. If you prefer Western cuisine, the owners will treat you with toast, omelets, eggs, pate, or wine and fruits.
There are plenty of options when it comes to mountain homestays, but most provide the luxury of modern facilities while still incorporating local art and culture. Breakfast here is vastly different from your daily life, as here you can take your time to read and enjoy a cup of coffee or take a walk down the mountain, go swimming, visit a waterfall or stream or simply lay in bed lazily with your spouse to enjoy the birdsongs. You can lie in the hammocks hanging in the sun-filled garden and imagine your future together.
Do not forget to watch the sunset on the mountainside, while listening to bells echo and seeing the smoke rising from people's kitchens lending the mountain a mysterious feel. Stand together by the window and enjoy the moment. During the quiet nights on the mountains, flickering lights in houses afar reflect the cries of the crickets. A little wine will bring color to your cheeks, and the alcohol will add flavor to your evening. Leave everything behind and go to the mountains, spend a few nights in a homestay and enjoy lifelike curious children.
Cruising on the ocean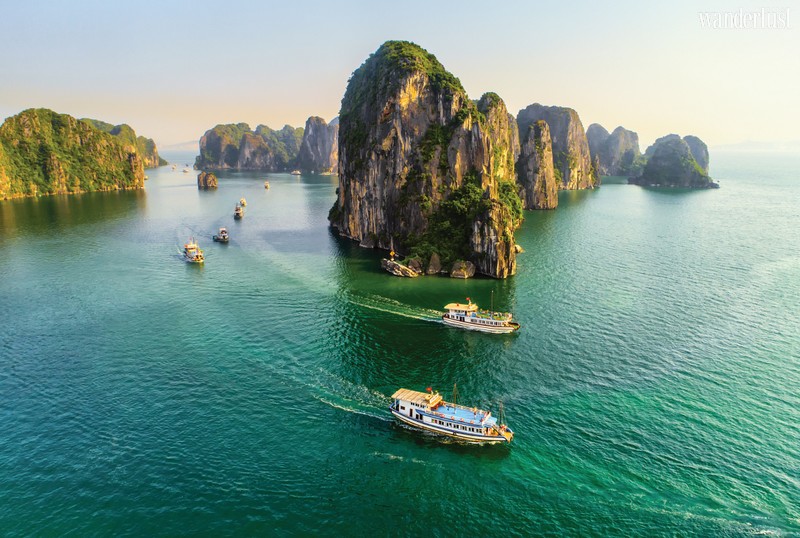 If your budget allows boarding a luxury cruise in Halong Bay for your honeymoon. A destination unlike any other. Like a floating castle, luxury cruises have the facilities of an international five-star hotel complete with the staff, crew, and professional chefs to make you feel like royalty. Your needs will be fulfilled every wave of the way.
Imagine yourself enjoying a delicious breakfast on the deck at dawn, surrounded by stunning rock formations. In this atmosphere, there is nothing more intoxicating than a kiss between lovers. The whirr of the ocean, like a lullaby, whisks you away from your busy life. Take the time to enjoy a book and a cup of coffee, or simply sunbathe on the deck after swimming in the pool. You will feel revived, full of energy, and eager to fall in love more deeply. An evening on a luxury cruise is truly romantic. Under the starry sky, a glass of wine will be a great start to an exciting night. Similar to a luxury hotel, you can enjoy spa and beauty services, play sports, or dance to lively music at the onboard club. A great start to your future together!
Discover a mini Europe on Ba Na Hills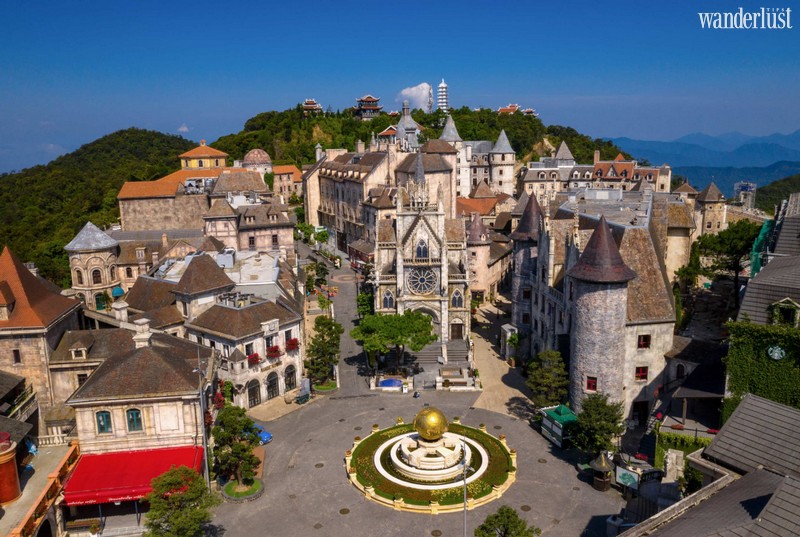 If you love art and architecture but lack the time and budget to travel far, Ba Na Hills is a good alternative. Dubbed the Dalat or Sapa of Central Vietnam, Ba Na Hills was explored by the French and turned into the most luxurious resort in Indochina. Today Ba Na Hill is a not-to-be-missed destination for anyone who visits Danang. Traveling on the record-holding cable car, a most beautiful painting of nature appears framed by clouds. On clear days, you can see the entire city of Danang in Vung Thung with its arc-shaped highway connecting Hai Van Pass to Son Tra Peninsula all the way to Marble Mountain and the Cham Islands in the middle of the ocean.
Designed like a mini European city, each small road and square is built in the style of classical European architecture. Enjoy a cup of hot chocolate in the Parisian café, or step into the colorful Le Jardin d'Amour (the garden of love). Wake up during a misty morning after a night filled with love. When the morning sunlight fills your bedroom breakfast will be served in bed. There's nothing better than to enjoy a special moment in a tropical country filled with a European atmosphere.
You will not run out of things to do in Ba Na. If you have read the novels "Journey to the Centre of the Earth" and "Twenty Thousand Leagues Under the Sea" by French author Jules Verne, Fantasy Park will be a great experience for you as it offers over 100 free games. It is one of the five largest indoor theme parks in Asia, inspired by these famous novels. There is also a wax museum with dozens of wax figures of world-famous singers, actors, and politicians, so you can take photos with figures like President Obama, Jackie Chan, or Albert Einstein, which promises to be a fun and exciting time.
If you prefer tasting fine wine, and exploring wine cellars that are hundreds of years old you have also come to the right place. De Bay wine cellar was built in the mountains by the French in 1923, was destroyed during the war, and later rebuilt. Keeping temperature between 16 – 20 degrees Celsius, De Bay stores the finest wines, which the French considered their national spirit and brought to Vietnam to be served at parties. Take a tour of this wine cellar, and visit the distilling bunker, the bar, and the fireplace. Why not enjoy a glass of fine wine at the bar of De Bay and write a beautiful love story together during your life's most special getaway?
Enjoy four seasons in the mountain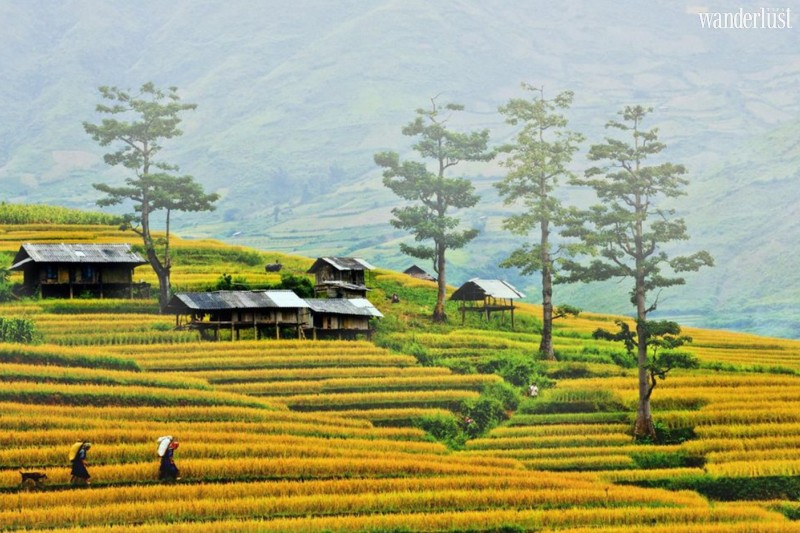 If popular destinations for honeymooners like a beach or an island are not your thing, then visit the mountains. And to avoid crowded tourist destinations like Dalat or Sapa, opt for and experience of ecotourism in Mang Den, Moc Chau, Mai Chau, or other untouched mountain areas. Mang Den mountain, for example, is beautifully unspoiled and simple. The pleasant weather, pine forests swaying in the wind, and the poetic landscape full of lakes and waterfalls, and the rich culture of the Xe Dang Kdoong and Mo Nam ethnic people, all promise an exciting adventure.
The Moc Chau plateau, blessed with cool weather year-round, is a great choice to explore green meadows and tea plantations covering the hills. Here peach and plum blossoms decorate the love stories of H'Mong couples. Moc Chau on the other hand changes its outfit every season. During spring, it sports the colors of peach and plum blossoms, in summer, it's the green of tea, autumn dies the area golden with the color of sunflowers and the red of poinsettia and when winter arrives it's the endless hills of colza flowers that lend Moc Chau its charm.
Traveling means happiness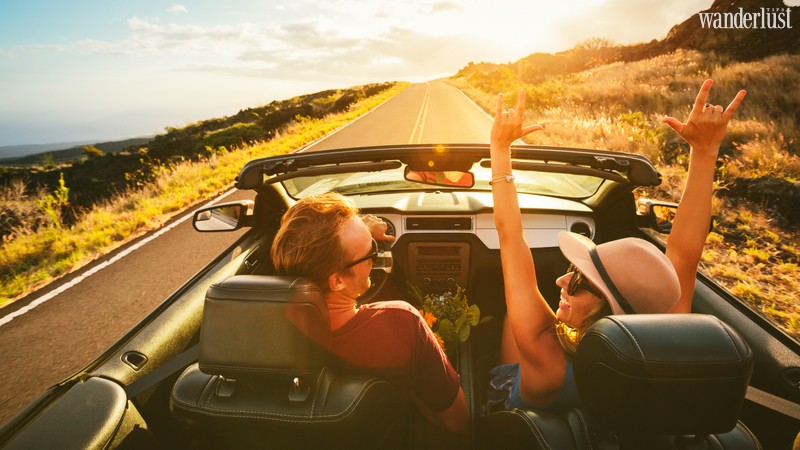 For couples who share a passion for traveling, a journey of discoveries is just what they need on their honeymoon. With a motorbike or car, two people in love can find happiness on the road. There are many itineraries for an exciting journey, from the Northwestern mountains filled with golden terrace fields in the fall to the majestic beauty of Ha Giang's stone plateaus. You can drive and explore beauty anywhere in the country. You can drive South, from Chi Lang Pass to Central Vietnam to see stunning beaches, and then head to the Central Highlands to explore the Gong culture and coffee plantations. Yet a different ride will take you to the magnificent Saigon, before heading West to set foot on the cape of Ca Mau. Don't hesitate, just go, and collect the treasure these experiences offer that you can then share together for the rest of your lives.
On a road trip, you can prepare everything together. Study a map to plan your route, and together learn about the culture and customs of every place you visit to create treasured memories for your married life. One car, and two people riding into the sun, the wind, the wild. You can stop spontaneously, and everywhere will be home, everyone will be family when you're together.
During a golden sunny autumn afternoon, you can chase after the clouds, your hearts filled with happiness. At each turn, you are greeted by a new culture and interesting stories from the locals. When you make a rest stop on the road, you can prepare a small pot and a fire to cook dinner, and the flames will complement the heat of your love. Enjoy a cup of coffee and a barbeque together under the blue sky, and watch flocks of birds returning to their nests. Lean into each other, sing a little song and leave the whole world behind.
There is no word to describe how enriching a road trip can be unless you have experienced this adventure yourself. One day, you're sitting in the middle of a colorful mountain market, the next you're sitting on a stool in a small shop, drinking corn wine. Outside an old brick house, a H'Mong guy plays his best songs on his panpipes, searching for love. If you're used to crowded supermarkets, this is a time to be quiet, enjoy local specialties, drink corn wine and soak in the local culture. Once, I saw a H'mong guy pass out drunk on the side of the road, his wife, carrying his child, sat beside him covering him with an umbrella, and continued knitting, waiting for him to wake up. In the afternoon, the two returned home together.
You can stop your car by a small beach in the West, pristine and beautiful in the sunshine, where you'll enjoy freshly caught seafood. On the other side of the river, lullabies echo to become the soundtrack of your love story. Together, you can boat along canals and enjoy local delicacies, and at night, stay at the Lover's home in the peaceful Sadec District. This house witnessed the love story of the young French author Marguerite Duras and Huynh Thuy Le at the beginning of the 20th century, a story that was later captured in Duras's world-famous novel "The Lover". In the morning, you can wake up to the noises of the floating market, surrounded by a Lai Vung mandarin garden. Heading down south towards the Southern cape, you can visit An Giang to see the immense Palmyra palm fields. Your footprints will be imprinted along with the country, which will be a witness to your love story.
Camp amid majestic nature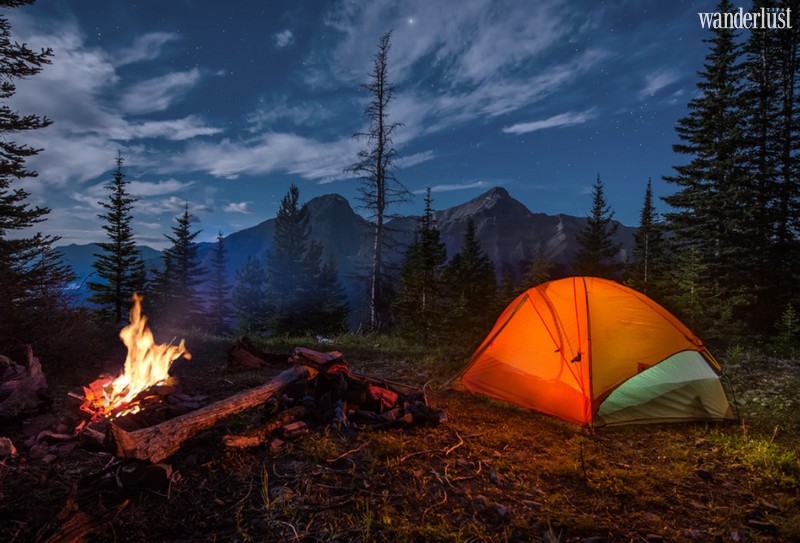 A final recommendation for an unforgettable honeymoon is camping in a meadow or on an island. You can combine this experience with your road trip, or travel by other means and then experience life as a nomad once you reach your destination. A small tent is enough for two lovers. Making love in this atmosphere will truly be unforgettable. In a tent in the middle of an endless meadow or on a white sand beach, you can lie together and listen to the whirr of the waves and the wind. It will feel like there are only the two of you in the world.
It has been said that happiness is not a destination, but a journey. As long as you are together, every experience will be happy and fulfilling. Do not let yourself be affected by what the world says, go a little crazy, and you will feel happier. Wanderlust Tips' recommendations are not guidelines, just tips that may make your honeymoon a unique and unforgettable experience.
Honeymoon: Experience, discover and love (Part 2)
Wanderlust Tips