(#wanderlusttips #Hoian) When the sun sets, and night falls Hoi An fills with the sound of romance. As dusk gently envelopes it, the ancient town unfolds its charm and inspires any- and everyone wandering through this historic space. Hoi An at night is a serenade filled with the sounds and lyrics of history, culture, architecture, people and life.
[rpi]
Hoi An's ancient town is a world cultural heritage site. It differs strongly from other relics of historic significance in Vietnam. Often history is associated with spaces that no longer have an everyday use, but are corded of to be admired from afar. However, Hoi An is a town alive with the hustle and bustle of daily life. It is not a demonstration, reproduction or representation, rather Hoi An is a living museum, containing great spiritual value, cultural significance and physical heritages. These are the biggest value of Hoi An and are being maintained by the town residence themselves.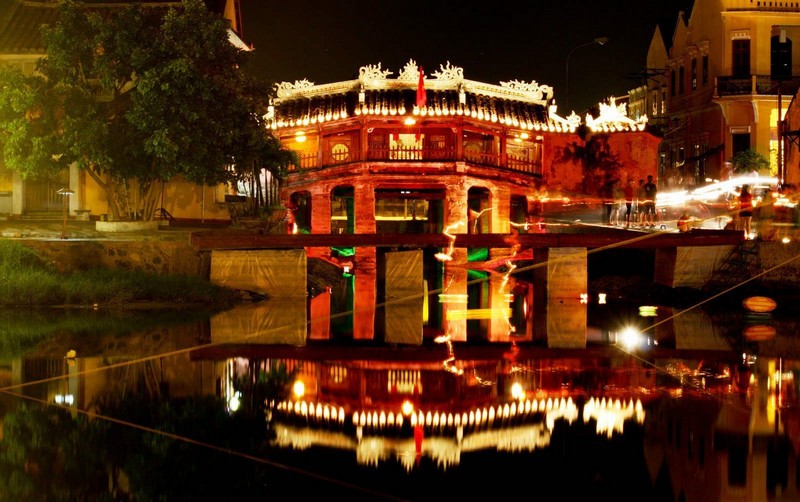 And at night, people can feel the spirit of those who inhabit it the best. During the day Hoi An is busy and all about the joy and bustle of modern life. But at night a peace and quietness settles mixed with a nostalgic melancholia typical of ancient towns. Night evokes something that is hidden in the day and the bright spirit of the day turns more blurry and mystical. And the magic of twilight lends street corners, mustard yellow facades and the tiny allies even more charm.
If Hoi An's nights were songs they would be sweet serenades. Romantic but not sad and hopeless, songs with easily understandable lyrics and beautiful instrumental parts. Serenades are not for the masses, but rather they poses delicacy and the high standard of classical music, yet they evoke simplicity and the comfort of everyday life. Serenades harmoniously merge voice and piano tunes. The lyrics are carried by piano tones, delivered like a poem. But serenades emphasise the accompanying instruments they are more than just background noise. When at their most perfect these songs leave nothing that could be changed as they posses an equilibrium of music and lyrics. They are the perfect harmony, conjuring up history, culture, architecture and human life. Much like Hoi An's night which are so perfect precisely because all parts of the little town are in balance.
Hoi An's small scale lends the town much of its charm. Much like serenades are best performed and listened to in intimate settings with only few listeners the town is best explored when quiet settles at night. Romantic feelings are stirred by emotional tunes when they are not restricted by beats and rhythm. Sadness and happiness are equally soft and deep or to quote a musician: Serenades are easier to listen to than instrumental pieces but they are not simple and unsophisticated like mainstream music tends to be. It requires listeners to have life experience and focus on the song.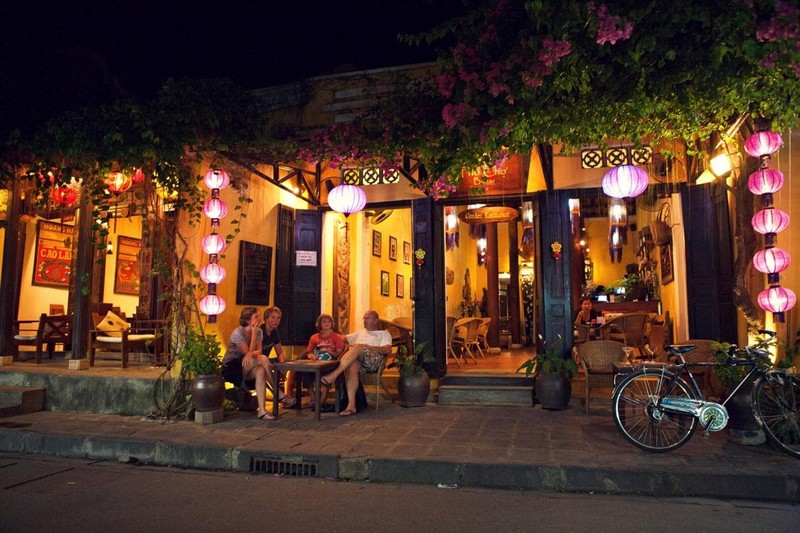 For Hoi An's nights the same holds true. In order to fully appreciate it a sensitivity of the soul is required!
For me, visiting Hoi An always feels like a return. When I am away I miss Hoi An town as if it were my lover. Whenever I see her again feelings of expectation, longing, anxiety, happiness and wanting to burst into tears all mix bubble up simultaneously. Whenever I come to town, I am at my happiest when I fully immerse myself. And Hoi An town seems have grown more beautiful, more marvellous, more gentle, more charming and more mysterious every time I visit. Wandering its streets I never feel bored as I every time I turn around I notice something new, a change, something I have never seen before. Time has changed Hoi An and keeps doing so. Dark brown tile roofs exude an air of sophisticated silence; doors are quiet invitations and shadows move slowly. I like to wander through the small lanes filled with quietness and peace. Time has left its marks here and each shadow of an ancient house, each tree, a puddle of water by the well left by someone fetching water late at night tell their own story. And when you tilt your head back to look up into the beautiful sky you may just glimpse the lonely moon modestly illuminating the small town like it has done for centuries.
The night draws people closer together, friendly faces, smiles and affectionate voice remove all sadness. Each street corner offers me familiar images: an old woman selling Thanh Ha pottery in Tran Phu Street, a woman selling tea in Hoang Van Thu Street, a man playing the violin in front of an ancient house. The tanned smiling faces of cyclo drivers always remind me that I both want to stay for a little while longer and am rushing to leave.
Cau Pagoda is as colourful as a rare jewel. It is located by the Hoai River, which flows slowly past in the sparkling lights. Streets corners, houses, doors, tree canopies, the rivers and people always in motion create an emotion of an endless warm romance like the breath, the kiss of a sweet love. And all steadily becomes more quite and slow when the lights are turned off in the doorways, when no more foot steps can be heard in the street and a certain magical atmosphere fill the quiet air. One last bass tone quietly raises like a dream beckoning the little town to sleep.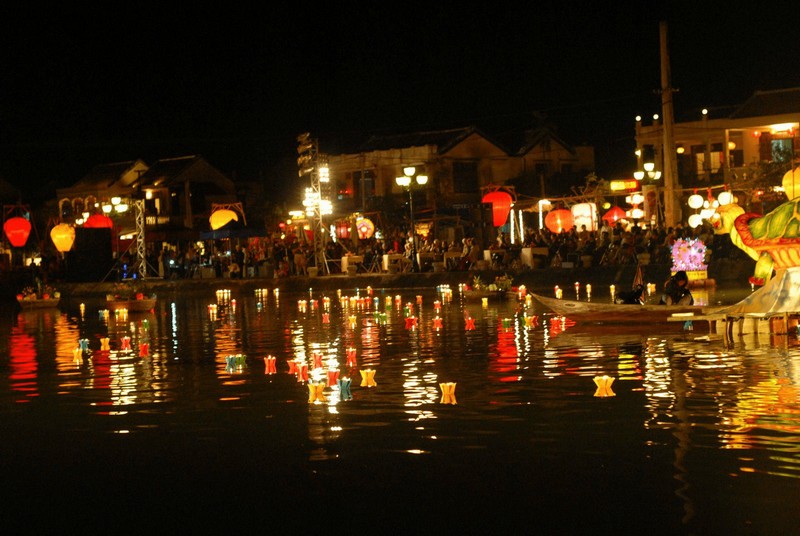 TIPS:
Hoi An is a coastal city in Quang Nam Province, located 30 km southeast of Danang, and 70km northwest of Tam Ky City.
Getting to Hoi An is easy by railway, road or air. Almost all open tour busses stop in Hoi An. Travel to Danang by air or rail and then take a bus or taxi to Hoi An. If you travel by rail from the south, stop in Tam Ky and then take a bus or taxi to Hoi An.
The best time to travel to Hoi An is from February to April, when it there is little rain and the weather is at its best. In summer, the temperatures tend to be very hot. The rainy season lasts from October to November and is high in humidity due to heavy rain.
You should travel to Hoi An on the 14th and 15th of a lunar month to see the ancient town during a full moon. The glow of lanterns lighting up the streets to create the cityscape Hoi An is famous for is at its best during those nights as the electricity is turned of. This is also the best time to release a floating flower light on Hoai River.
Hotels in Hoi An are diverse, ranging from affordable to luxurious. Most of them are near the ancient town and beautiful Cua Dai beach, located about 5km from the town.
Motorbike and bicycle rental places are plenty and both are convenient to get around. Cyclos are also available in the ancient town.
Hoi An is rich in attractions: The ancient town in Minh An Ward with Tran Phu, Nguyen Thai Hoc, Le Loi, Nguyen Hue, Hoang Van Thu, Nguyen Thi Minh Khai streets. There are many ancient houses and architecture to be explored in the form of churches, and temples. The Hoi An Cultural and Historical Museum and the Pottery Museum are located in the ancient town. Don't miss Cau Pagoda and visist Hoi An Market located near the ancient town, on Hoai River bank.
You can hire a boat for an excursion down Hoai and Thu Bon River. At night, many activities are held in the ancient town including releasing floathing flower lights on Hoai river, traditional music performance Bai Choi stage and traditional games.
There are many destinations close to Hoi An that make for a great day trip. These include Kim Bong carpentry village, Thanh Ha pottery village, Tra Que vegetable village, and Cam Thanh coconut forest. You can also visit Cu Lao Cham Island by departing from the pier of Cua Dai beach. And if you want to explore more visit My Son – a world heritage site located in Duy Xuyen District, 40 km from Hoi An.
Stores and shops in town close after 10.00 pm but if you want to continue discovering Hoi An by night, put on an extra layer and board a restaurant boat near Cam Hoi Bridge. On these boats drinks are served and ba trao song performed by the boat owner, sometimes accompanied by a guitar from a traveller passing through.
During the early morning hours Hoi An is empty and tranquil and you can leisurly start your day in a café by the river watching the town's morning. It will be during this time of day that without the tourist bustle and the voices of vendors promoting their products that you will experience the Hoi An you read about.
Hoi An has a lot of local food specialties, which are offered in the town centre and the surrounding areas. The best known dishes include: chicken rice, mi Quang, cao lau, hoanh thanh, banh beo, banh dap-hen xao and che bap.
Souveniers are also abundant, with lanterns being the most typical one. Lanterns are sold widely in Nguyen Phuc Chu Street on the An Hoi Island side, and in shops all over the ancient town. Clothes and scarves are also popular in Hoi An. And there are numerous traditional handicraft products from the villages and trade associations in Hoi An. Green bean cake, banh in, banh it la gai (traditional cakes) are popluar snacks and presents from Hoi An.
Ha Thanh | Wanderlust Tips | Cinet