Da Lat has always been poetically symbolic of dreams and romance. I still remember the movie Doc tinh in the early 2000s with its passionate, bittersweet love story that took place in peaceful Da Lat. Since then, Da Lat has lived in my mind as a beautiful image of love, and i hoped to visit this romantic city one day with my true love.
[rpi]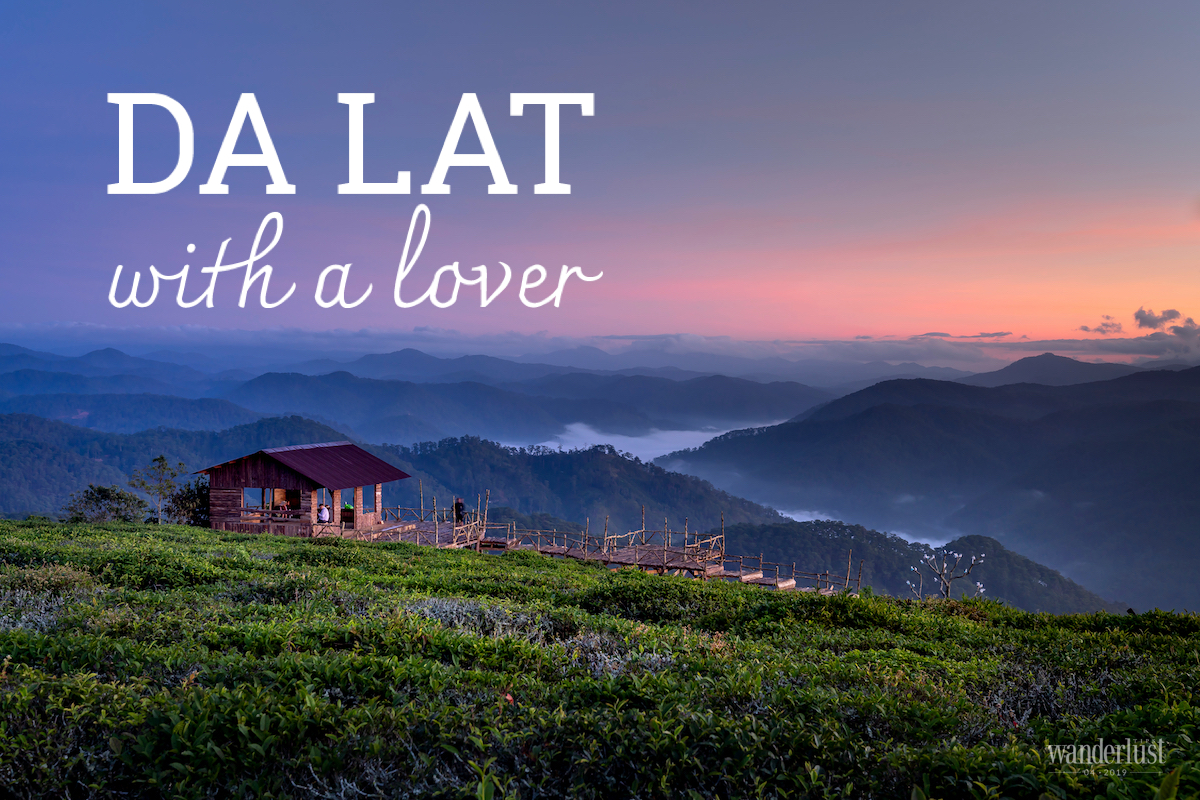 I chose Da Lat in flower season to enjoy the most romantic atmosphere, which is when the purple phoenix flowers bloom. After many travels here before, this was the first time I came to the city of flowers at this time of year. With a chill in the air, my darling and I walked under the twinkling lights emanating from the church, he gently held my hand and whispered: "With me and with Dalat, how happy are you…?".
DA LAT HAS NEVER BEEN A BORING PLACE TO RETURN TO
If anyone asks: "Will Da Lat have anything new?", I will not hesitate to say: "No, it is still the same, but not boring."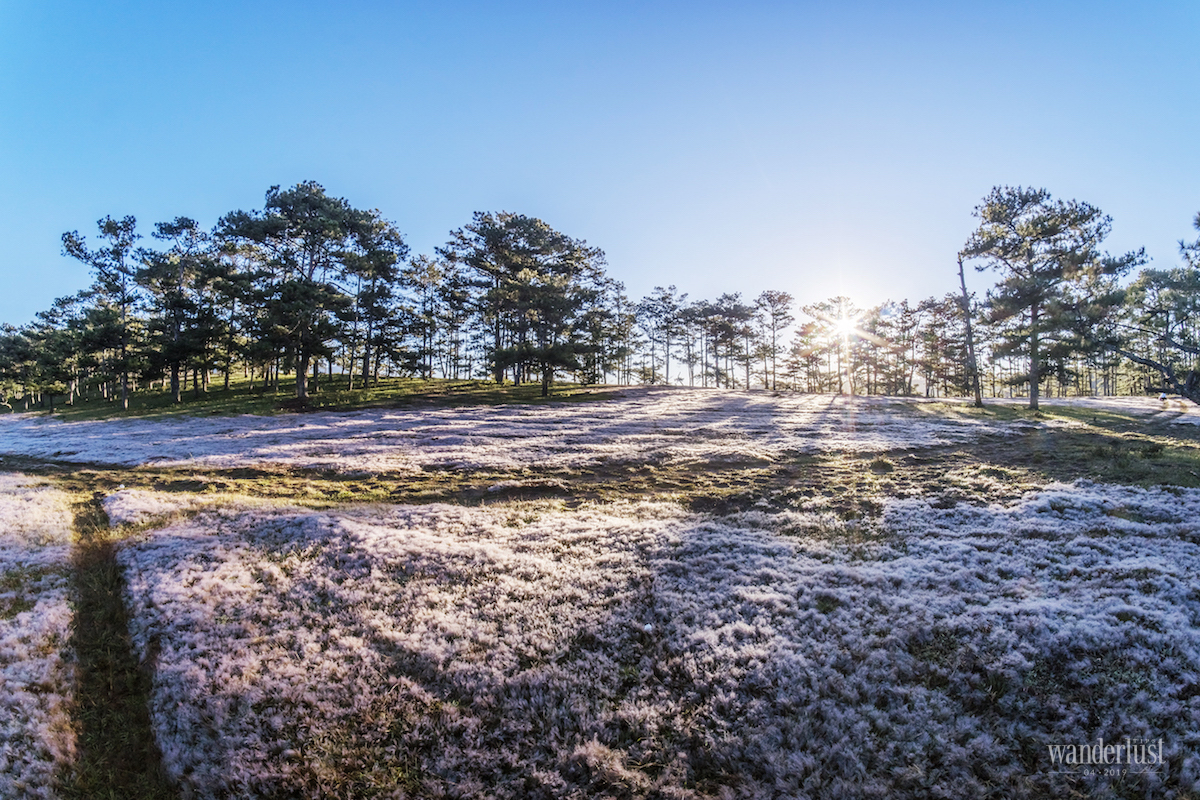 This time, writing about Da Lat, I want to dedicate this to those who like to walk leisurely in a noisy and bustling city or those who live it their way, ride a bike, buy a camera, and slowly enjoy the melody of life. For the Mori girls (*), for the world that these girls create for themselves: storytelling, simple, delicate, where the girls peacefully drink tea in front of a house deep in a pine forest.
My lover and I wanted to make our Dalat journey special, so we drove by ourselves to experience the city on our own. Departing from Saigon, it took about 6 hours to enter to reach Bao Loc City, then the car continued onto Highway 20 to Da Lat. On both sides of the road, we saw purple phoenix which meant we had arrived in Da Lat. The purple phoenix becomes more and more special because it only grows in this plateau city of Vietnam.
Coming to Da Lat is temporarily fleeing from hot Saigon days, enjoying the cold air, and feeling time slowly moving by with a lover. So, I didn't go looking for anything new just some familiar old street corners and restaurants. But when it comes to purple flowers, Da Lat immerses itself in romance and tranquillity.
I checked in at a homestay on Hung Vuong Street. It was a windy afternoon, so windy that it could blow away all the troubles in my heart. I booked a wooden bungalow for two nights, a decent enough room with lovely decorated corners. Outside the room was a valley planted with vegetables which during the day did not seem very special, but when night time came, all the greenhouses were light up. It was absolutely magical.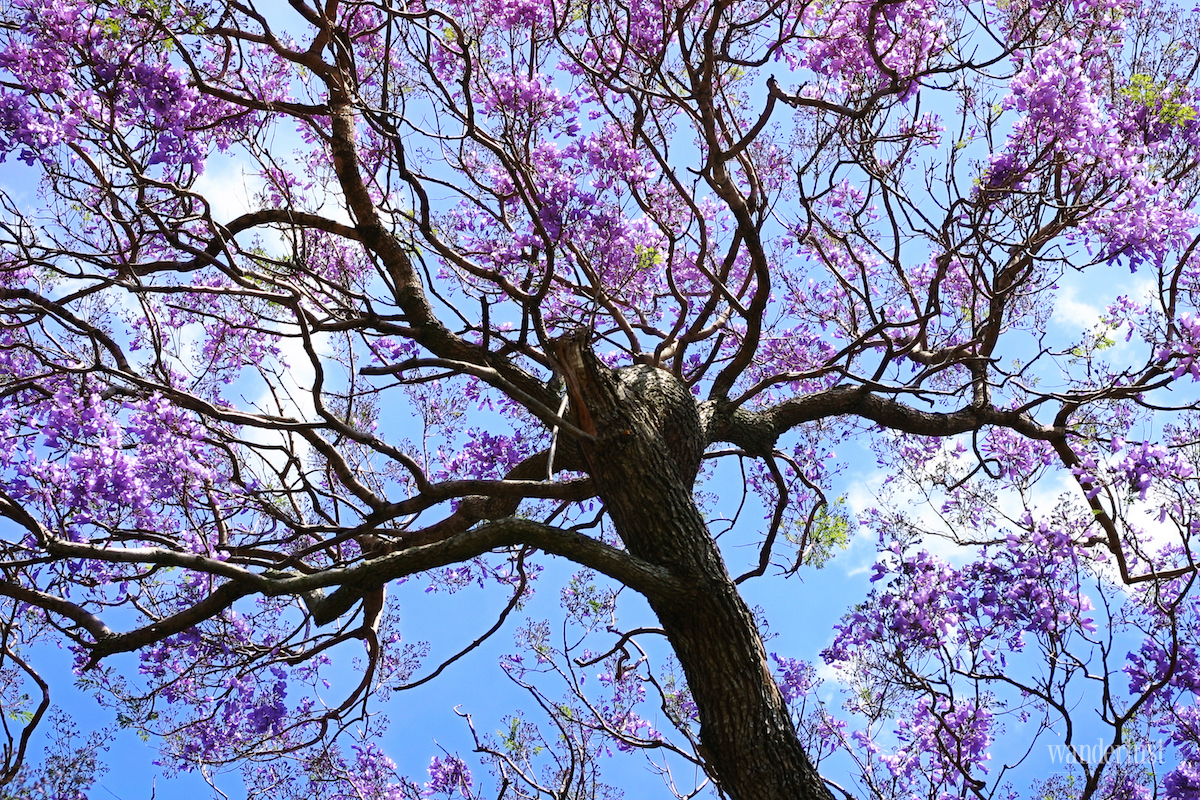 We prepared some ginger and honey, sipping hot ginger tea in 19-degree weather is awesome. The first night under the persimmon tree full of ripe fruit, with only the wind, serenity, tea and occasionally smiling at each other. We were happy in that space.
Blankets were warmed by a fan heater, I crawled into a comfy and warm silkworm-like cocoon, greedily wanting to read more than half of the book Gone with the Wind by Margaret Mitchell. Of course, that was just a wish because nestled between the cold and warmth, reading always makes us fall asleep quickly. I dropped the book by my pillow, slowly relaxing, the wind whistling through the wooden door, gently I turned, inertia making me cling to the hand next to me tightly…
Da Lat softens my soul, I find it easier to be tolerant, to receive, every word seems to be more pleasant and easier to listen to. Da Lat is never in a hurry, offering only genuine peace.
JOURNEY TO FIND THE LONELY PINE TREE
Da Lat is beautiful in every flower and every blade of grass, people keep going there together to find peacefulness, to bask in nostalgia, to have a charming hidden place to treasure long gone youth. Here lies the tragic love story of two graves on a hill, the broken hearts abandoned by love. Some walk on the streets beneath gaping pine forests and feel endless sadness, restless emotions, looking at every street corner feels like missing an old lover. Everyone loves Da Lat and wants to come back here in their own way.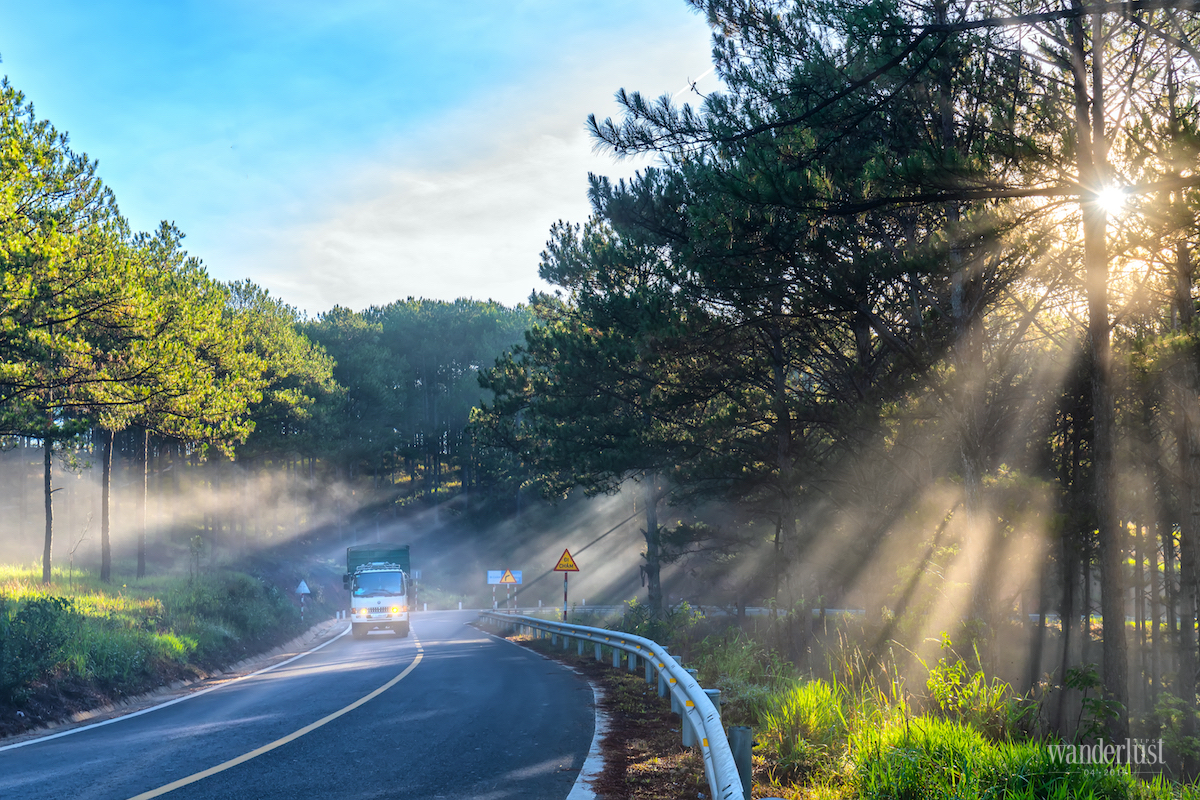 But for me, I want to break the "curse" that people joke about: "If two lovers go to Da Lat together, they will definitely break up someday". I do not believe that, and I want to love Da Lat as my present lover, with joy, hope and optimism. Da Lat embodies happiness, treasuring the most beautiful youth of each person, where there is love and laughter. Da Lat in me will always be like that.
On my second day in Da Lat, I set out to find beautiful trees. "Beautiful" in my own definition, I like the majestic loneliness of old pine trees. The more silent and lonely the tree is, the more beauty it resonates, especially trees that stand tall next to a lake, appearing like the highlight in an enchanting painting.
I went through nearly 20 kilometres of a steep mountain road winding through the pine forests to find the most lonely pine tree. Local people asked me: "For what? To take photos?". I quickly replied "Yes!". But in my heart, I knew it wasn't really about the photos, I simply wanted to see the pine trees peacefully standing half beneath the ground and the other half proudly facing the wind and rain. A pine tree that stands alone is most beautiful, not needing to rely on anything, not needing to wait for anyone. I always have special feelings for such lonely trees. I spent a whole day walking, traversing up and down the slopes only to find one lonely proud tree, other trees appearing and disappearing along the way. If there is a life after this one, I wish to be a tree that stands alone in life.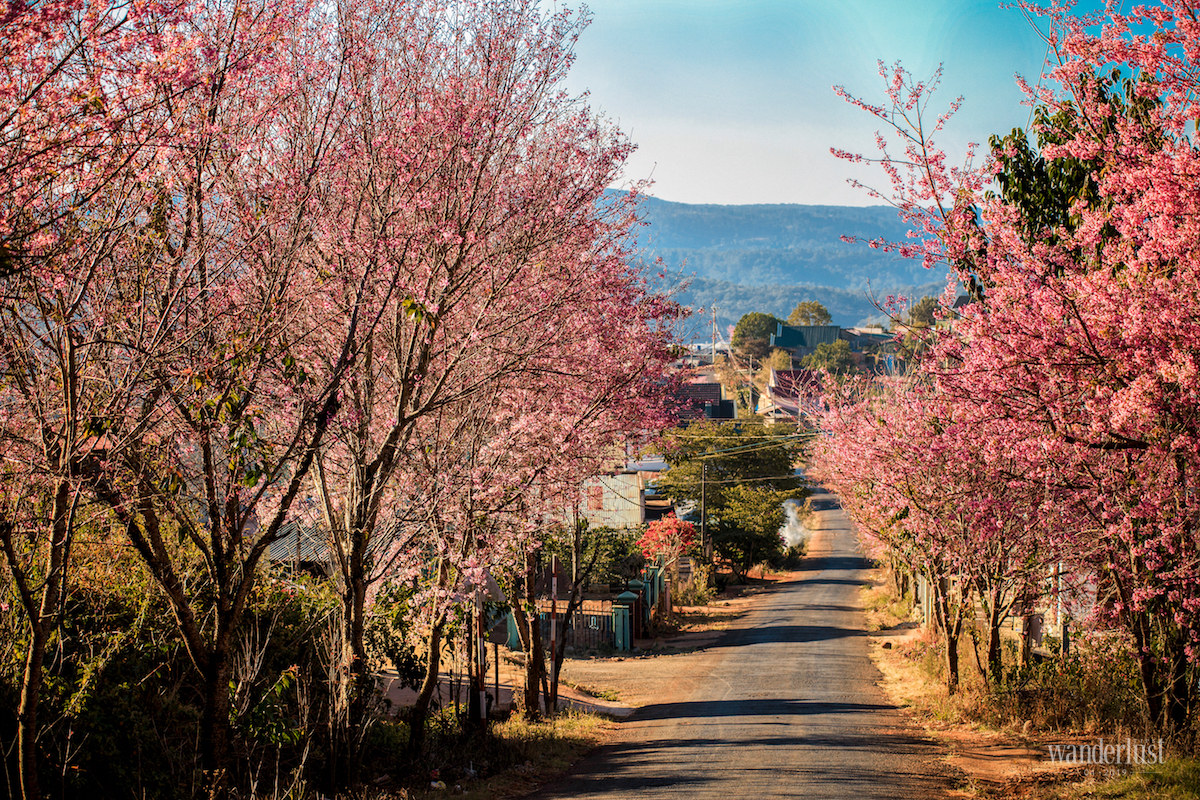 (*) Mori girl: a Japanese concept originated in 2007 refers to young girls who live in cities but have a special love for forests, nature and the countryside.
W.TIPS
SELF-DRIVE TOUR TO DA LAT
Time
From Ho Chi Minh City, aim to start at 4.30 am to avoid traffic jams in the city as after getting outside of it the traffic is much lighter, and you can travel more easily. It takes about 7 driving hours to reach Da Lat.
Route
Leaving Ho Chi Minh City, go along the Long Thanh – Dau Giay Expressway, at the Dau Giay T-junction turn onto Highway 20 and follow this to the Lien Khuong Highway which will then take you all the way to Da Lat. This road is fast and steep, so strictly abide by the speed limit to ensure you arrive safely.
THE MEANINGFUL EXPERIENCES FOR COUPLES IN DALAT
Picking green tea
About 25 kilometres Southeast of Da Lat city centre, Cau Dat Tea Plantation is one of the most popular destinations. Visiting Cau Dat and its hills of tea, visitors will have a chance to learn more about the surprisingly thorough process of growing and caring for the many kinds of tea plants here, especially green tea. To achieve the most delicious tea leaves, they are even sprayed with honey, soy milk and egg. If you want to experience picking green tea leaves with farmers for yourself, you must make a plan and come here very early.
Harvesting persimmons
Located at the Mimosa Pass, the garden of persimmons is an ideal destination to take photos. The orchard here is not too big but particularly fruitful, and with all the ripe persimmons dangling in front of you it will definitely make you excited. If visiting right in the harvest season, you can support garden owners by helping with the harvest; however, you cannot buy the persimmons you have picked because they need to be processed before being ready to eat. Visiting the garden just after harvest when it is full of freshly picked persimmons, you will find many different varieties including egg persimmons, crunchy persimmons and square shaped persimmons.
Flower viewing
There is an impressive range of so many kinds of beautiful flowers from wild flowers to rare and precious ones. Located right nearly Xuan Huong Lake, you can easily visit the city's flower garden, but thanks to its ideal climate, lovely wild flowers are in everywhere in the Da Lat city. Those who love purple phoenix flowers can head to Hai Ba Trung, Tran Phu and Nguyen Thi Minh Khai Streets on the way to Da Lat Market and Truc Lam Temple. If you would like to see wild sunflowers, you can go to the Bong Lai – Tu Tra commune, or around the Da Lat Farm area.
Taking a dip in a heated pool
After an exhausting day of walking, try refreshing your body in warm water. In Da Lat, heated pools are available in hotels like the Swiss-Belresort Tuyen Lam, Ana Mandara Villas Da Lat Resort & Spa, and Da Lat Terracotta Hotel Resort.
Mori | Wanderlust Tips