If you have been mesmerised by the splendid, mysterious and sophisticated masks that flood the streets of Venice do not hesitate to wander around the alleys to admire the making of them – here talented artisans give souls to the beautiful artworks. Venetian masks, as well as many other traditional handicraft products, are the quintessence of the culture, created by the hands and minds of skilled craftsmen.
I was quite surprised to learn that among the thousands of masks that flooded the streets of Venice, only a handful were made in the traditional method. According to Davide Belloni, a young artisan, Venetian masks used to be handmade with natural materials such as paper, glue, pastels, and fabric. Now, most of the masks you see on the streets are machine-made, with pressed paper or plastic, and produced in China, Albania, Romania, or Bulgaria.
As a young artisan who inherited his family's long-standing mask-making tradition, Davide found it difficult to accept the plastic products, a result of the globalized era. "Imagine, traditional Venetian masks made in areas dozens of kilometres away. Maybe it's cheaper, maybe I will make more money that way, but one thing is for sure, it's going to lose its soul and inherent meaning."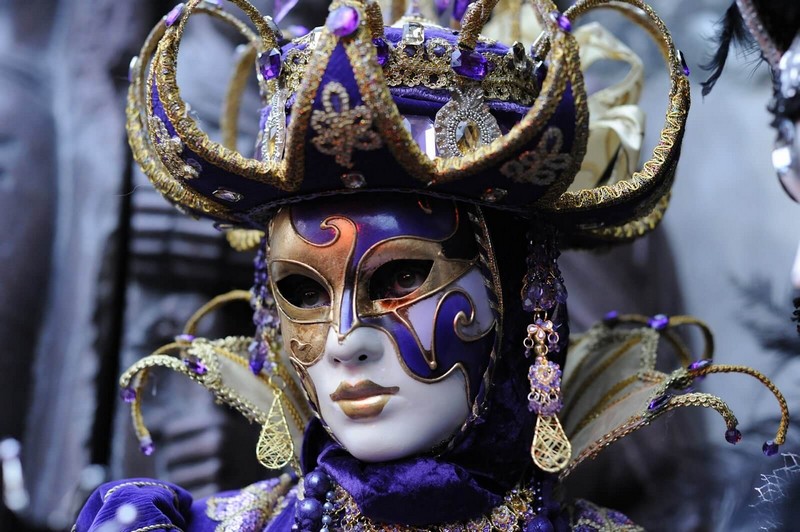 Just like every other craft, mask making requires the artisan to have astounding and meticulous skills. Participating in a three-hour workshop with the artisan, which costs around 60 USD, you will be guided through the steps of making an artwork of your own.
The masking process begins as soon as you think of a person's face. From your imagination, it will be initially shaped by clay mould and then plastered with loose plaster. After drying, the plaster cast becomes a model for the mask. After the plaster cast hardens, it is removed from the clay mould, and the absorbent paper – called cartalana – is placed on the cast. All layers of paper will be dipped in glue and placed tightly over the cast. Over 20 hours after the paper layers dry, a perfect mask appears, waiting for decorations from a skilful hand. However, not every mask is created from the same mould. Sometimes, it is the result of many different parts pieced together.
Davide's shop has about 65 molds to make masks. Each of these molds can create masks with dozens of different decorations, making hundreds of unique masks. "Some take only a few hours to complete, some take days. Depending on the difficulty and material, prices range from 21 to 106 USD a mask," Davide says. The most sophisticated and expensive mask is one with real peacock feathers, worth about 235 USD (about 5 million VND).
Contemporary influence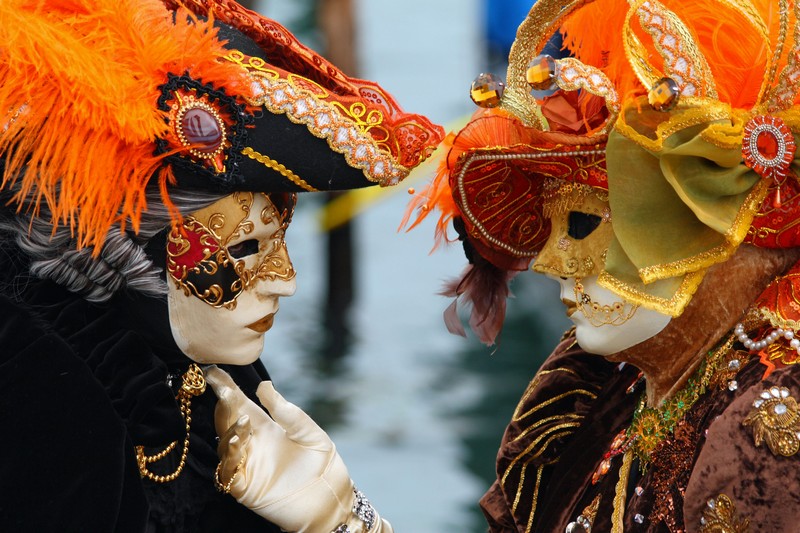 You have probably now realized that Davide Belloni is the heir of the Belloni family. His father, Mario Belloni, was one of the pioneers to bring back the wonderful Venice Carnival after nearly 200 years. Ca'maca is the family's famed mask shop that every tourist must visit when coming to Venice.
However, following his family's footsteps was not the first career choice for this young man. After 10 years studying and working all over the world – in England, Italy, Russia, Lithuania, and Germany – his passion for mask-making, imparted by his parents from his childhood, and his desire to have his own creative space, brought him back home. "I learned to paint the masks when I was a child in my parents' workshop," he recalls. "During my younger years, my father taught me a lot of mask-making skills when I worked there during the summer to earn my allowance." His artistic root is both a blessing and a challenge for young Davide. Only a few weeks after coming home, he opened his own small workshop to recreate the traditional craft with a more contemporary approach. "My vision is to have a creative space where visitors can discover how to make a traditional Venetian mask. I also want to prove that it is possible to open a traditional handicraft business in Venice."
Challengling traditional values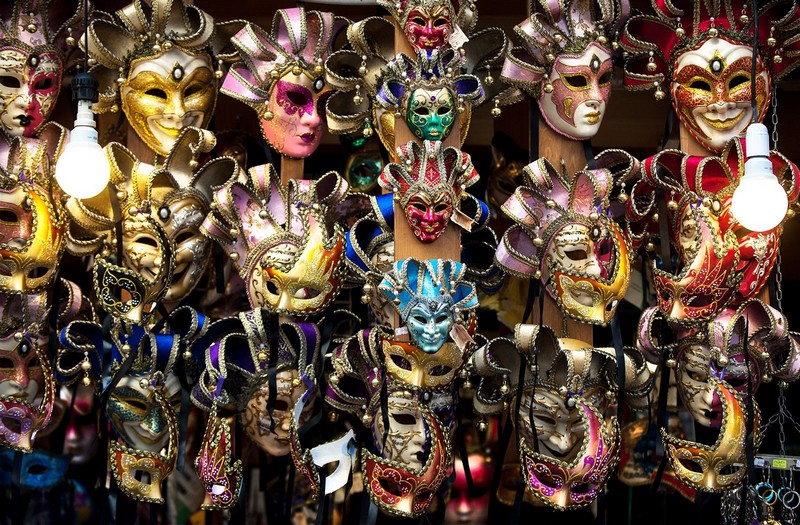 "Having parents in the industry is a blessing, but it is also a challenge for me," Davide says. "While my parents take the safer route with their well-established shop, I want to invest in a company; while they want to keep the original motifs, I want to incorporate new elements, like contemporary motifs and shapes, or hold makeup and masquerade events with professional photographers."
This means that visiting Mario Belloni's Ca'maca and Davide Belloni's Ca'maca are two completely different flavors of traditional Venetian masks. What makes this so special is that they continue to support one another in their own ventures, while respecting each other's point of view. Perhaps it is because both the old artisan and his son are on the same side in the fight against the invasion of cheap, plastic, industrial masks. These comrades are on a higher mission, with a message to the public and foreign visitors about the uniqueness and originality of the traditional masks that are the soul of Venice. The added value of our masks is only in the awareness of their meaning and the deep connection to the very history of the place. If you displace that, you are going to have a poor result for sure.
Hong Nhung | Wanderlust Tips | Cinet