Are you visiting Bali for the first time and have no clue where to go? Although the Indonesian island is well-known for its volcanic highlands, lush green rice terraces, surf beaches, and coral reefs, don't be tricked; the island is really much larger than you believe!
1. Canggu
Canggu is the ideal destination in Bali if you're seeking the best suggestion for a chilled-out and calm ambience. In opposed to the frenetic and commercialized hotspots of Kuta and Seminyak to the south, Canggu offers a more relaxed vibe.
Accommodation in this region is mostly in the form of homestays or private villas for rent — there are no five-star resorts in this area yet, which adds to Canggu's attractiveness.
If you like shopping, check out the boho-style clothes and interior design stores, many of which are tiny owner-operated companies brimming with incredible treasures.
Everywhere you visit, you will discover wonderful, healthful meals prepared with stunning fresh fruit and local veggies. When you stay here, you will live among locals in small towns across magnificent rice paddy fields, providing a more true Bali experience.
2. Munduk
If nature is calling you or you want to escape the sweltering heat of the rest of Bali, take a journey up to Munduk, where you'll discover a variety of things to do that will amaze you.
Driving to Munduk from Ubud will lead you through the Twin Lakes, where you will stop to admire the scenery. Numerous vistas have been strategically placed around the lakes, virtually made for Instagram enthusiasts. You will be able to capture some stunning scenery from these beautiful vantage points, which include swings, hearts, nests, and extended bridges.
The magnificent landscape is what attracts people to Munduk, and the best way to view it is on a trip into the highlands. It's very popular, and excursions are available that will take you around the greatest spots with a guide.
3. Ubud
Ubud is considered as Bali's cultural centre, and it continues to have the island's biggest concentration of art galleries.
One of the greatest museums to visit in Ubud if you're looking for a taste of the contemporary arts scene is Museum Puri Lukisan, which has a diverse collection of art with English-language explanations of the history of art in this region of the globe.
Another charming small temple worth visiting is dedicated to Dewi Saraswati, the Hindu goddess of learning and art. To that aim, the edifice is adorned with exquisite sculptures of the goddess, along with fountains that flow from the temple's front and fill a huge, limpid pond area.
Evening dance performances are also staged here, when the temple is lit against the night sky, creating an even more magnificent atmosphere than during the day.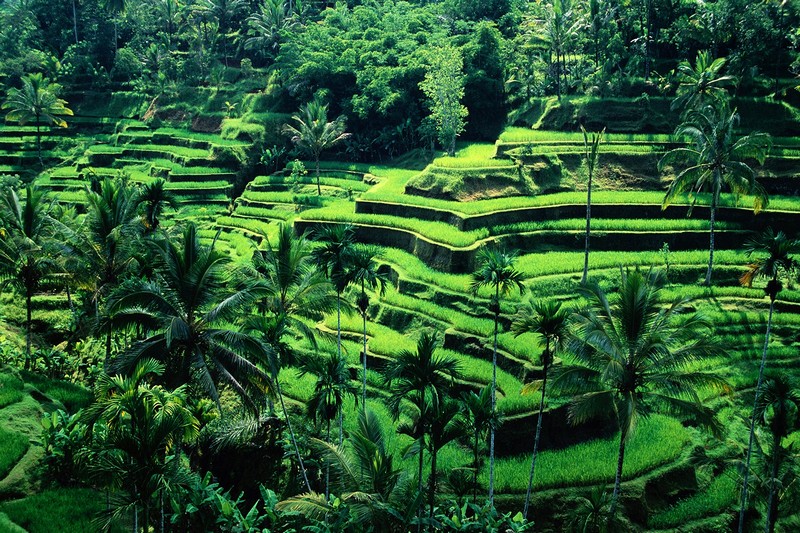 4. Seminyak
Seminyak is just a short distance down the coast from Bali's famed Kuta Beach and offers a pleasant contrast to its more boisterous and congested cousin. Seminyak has its own charming beaches and a sense of spaciousness, since the hordes that converge on Kuta are not as common here.
One of the primary reasons to visit Seminyak is to explore not just the beach but also the incredible beach bars and cafés that line the coasts. There is an abundance of options, ensuring that you will never leave hungry or thirsty. Many of the restaurants employ international chefs, so if you're looking to sample some good cuisine, this is an excellent location.
Seminyak is known for its beach clubs where you may sip a drink with your toes in the sand, however there are other clubs in the region as well. As if that weren't enough, Seminyak is also well-known for its shopping, with some of Bali's largest companies deciding to establish a presence here. As such, you may stroll down the island's major commercial thoroughfares and "shop till you drop".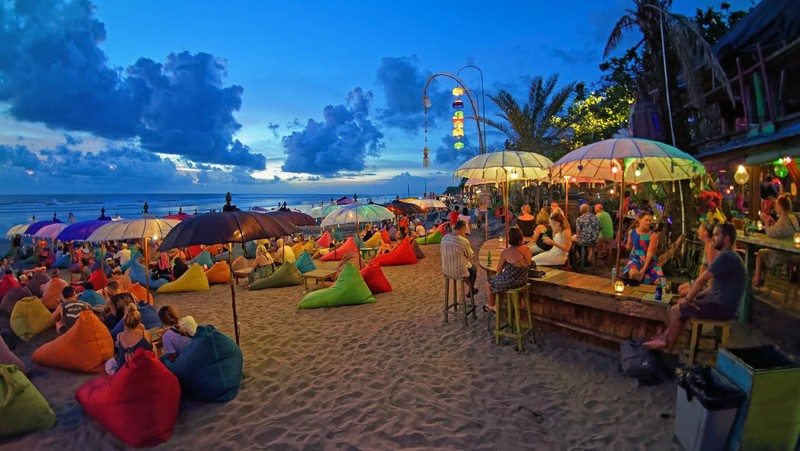 5. Jimbaran
Jimbaran is a must-see when in Bali. It is situated fairly close to the very popular tourist destination of Seminyak, however the travel from Seminyak may take up to 30 minutes or longer due to the area's continual traffic. However, the trip is well worth it! It is without a doubt a gastronomic hotspot in Bali. The fish market is one of the most prominent attractions in Jimbaran.
Stroll through to see row after row of very fresh fish and seafood that has been freshly caught and displayed. You may order the seafood from here and then take it outside to one of the grills set up to enjoy the delectable seafood while overlooking the beach. Additionally, there is a fresh vegetable market just across from the fish market that is regarded as one of the finest in Bali.
Although it is recommended to come before daybreak for the finest variety, we visited in the afternoon and it was still worth the visit. Jimbaran is also famous for its beachside seafood barbecues, which include the freshest catch from Jimbaran's fish market.
Make a point of visiting one of these warungs/restaurants when in Jimbaran, Bali!