Temples are among Vietnam's most popular attractions, where travellers can marvel at intricate carvings and well-preserved structures whilst experiencing the local culture. Check out the following six Buddhist temples inspired by Japanese architecture in Vietnam for an exciting cultural journey.
JAPANESE COVERED BRIDGE – A JAPANESE ARCHITECTURAL BEAUTY IN HOI AN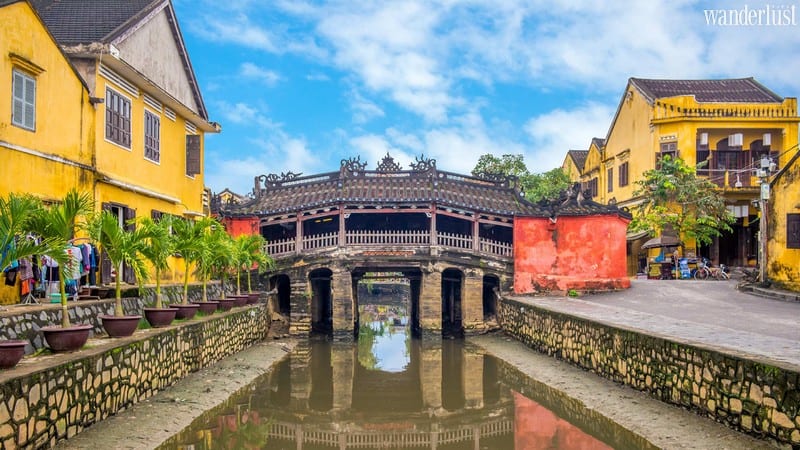 A visit to the Japanese Covered Bridge – one of the emblematic tourist attractions in Hoi An – is a must to add to your Vietnam itinerary. Over the centuries, the ornamentation has remained relatively faithful to the original Japanese design. The wooden temple fascinates a large number of travellers with its delicate and sophisticated carvings formed in the shape of dragons and phoenixes. As a beautiful historical piece of Japanese-Vietnamese architecture, the temple stands as the signature symbol of Hoi An, making it a must-see destination for those travelling to Hoi An.
LINH QUY PHAP AN PAGODA – ADMIRE THE JAPANESE ARCHITECTURE IN LAM DONG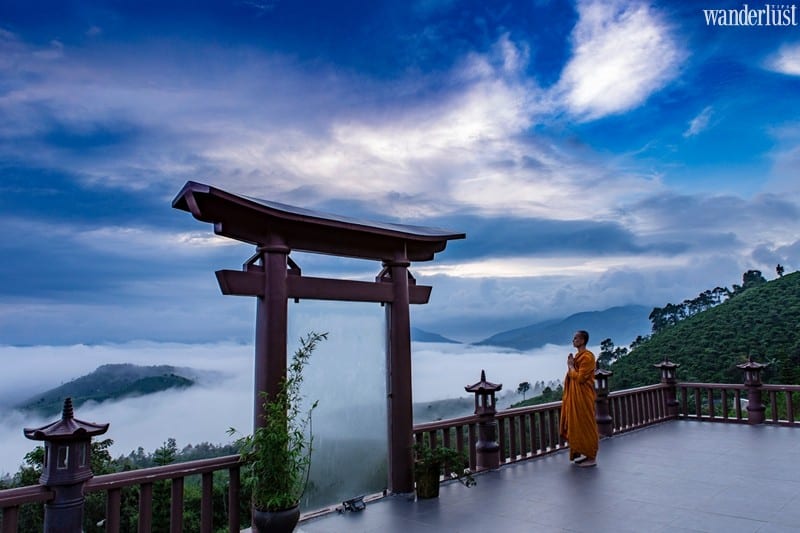 Situated at Hill 45, Hamlet 4, Loc Thanh Commune, Bao Lam District, Lam Dong Province about 23km south of Bao Loc City, Linh Quy Phap An Pagoda is a very famous landmark in Vietnam. Its architectural style is an excellent blend of ancient Japanese and Vietnamese culture with Japanese-style wooden gates erected to guard the holy site. The pagoda is pretty unique as it offers a spectacular bird's-eye view of the beautiful surrounding landscapes.
LAU PAGODA – A SLICE OF JAPANESE ARCHITECTURE IN AN GIANG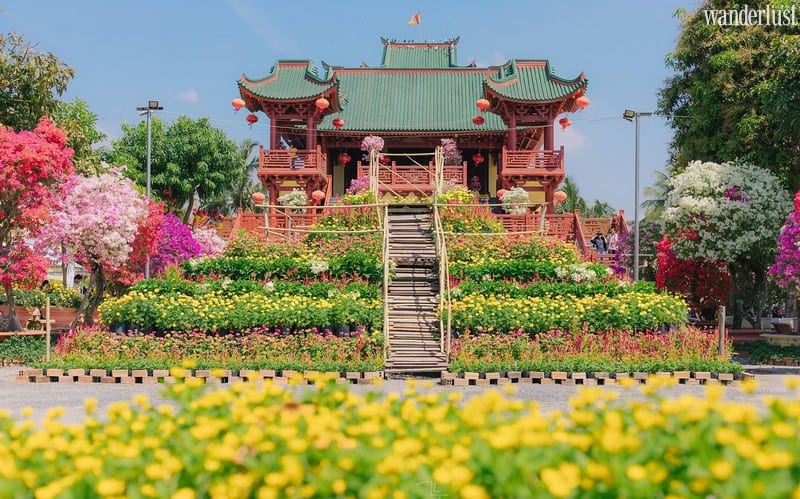 Another Japanese-inspired temple in Vietnam is Phuoc Lam Tu Pagoda. Commonly called Lau Pagoda, the site is well-known as "Little Japan in the heart of An Giang". Located in Xuan Phu Village, Tinh Bien Town, Tinh Bien District, the pagoda deftly and meticulously depicts unique Japanese architectural style with its stacked upper floors. Aside from being a significant holy site for local Buddhists, the pagoda attracts a huge number of travellers due to its peaceful and tranquil ambience. If you want to escape the hustle and bustle, take a visit to this Japanese architectural site where you can admire its authentic artistic beauty and capture the most stunning photos.
KHANH AN MONASTERY – A JAPANESE ARCHITECTURAL MASTERPIECE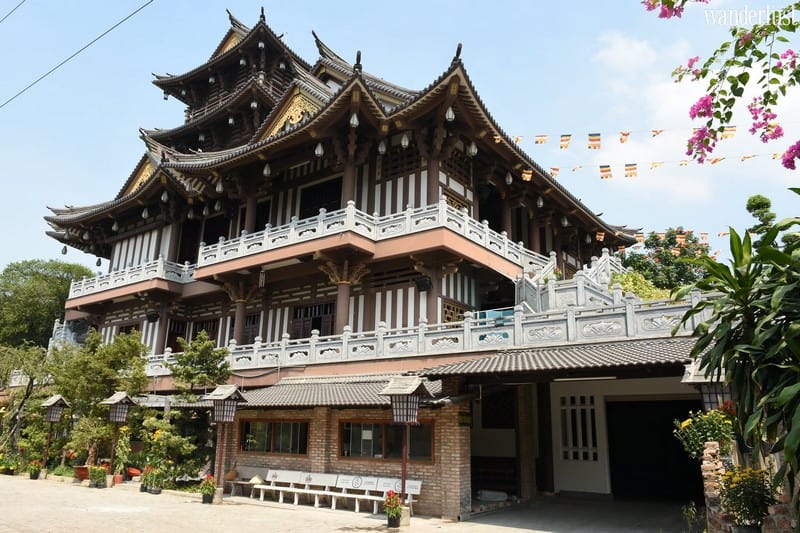 Located in An Phu Dong Ward, District 12, Ho Chi Minh City, Khanh An Monastery will take you on authentic Japanese travel experience in Vietnam. The sacred Buddhist structure is decorated based on Japanese features with three main colours, including brown, white and yellow. Additionally, the unique pagoda is the perfect symphony of architecture and nature. Here, visitors can admire tiled roofs, Japanese lamp posts and lush green gardens. Take a trip to this sacred site and enjoy its stunning natural ambience.
MINH THANH TEMPLE IN PLEIKU – A MAJESTIC BUDDHIST ARCHITECTURAL STRUCTURE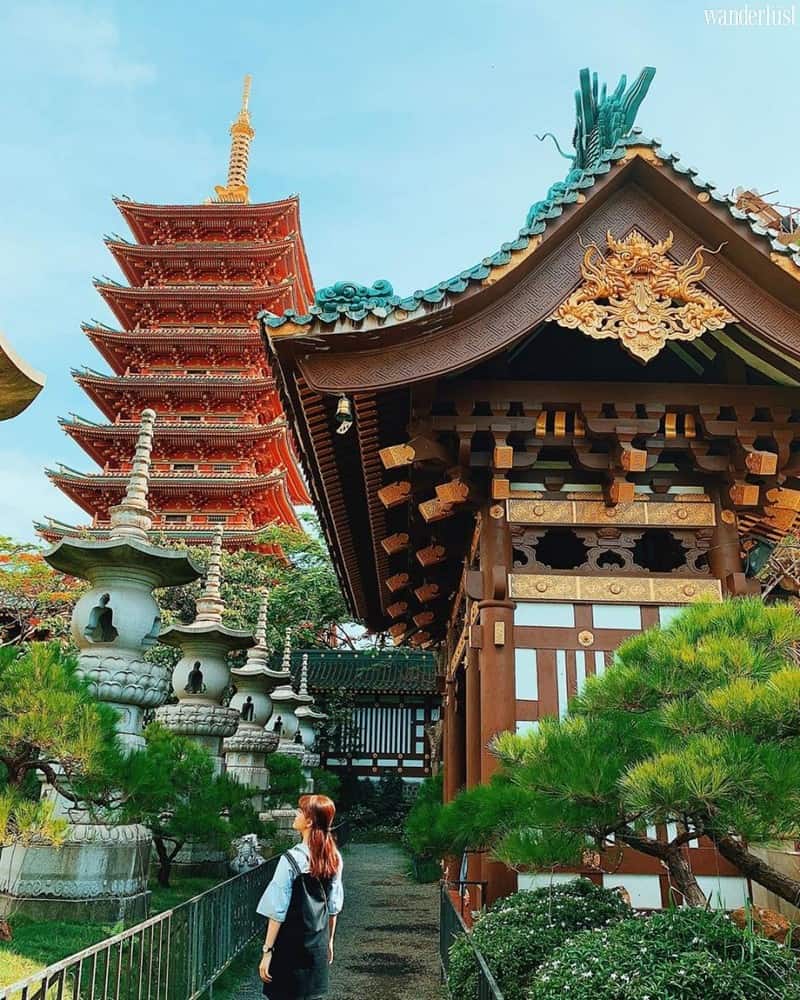 Constructed in 1964 by Venerable Thich Giac Dao on an alluring hill in Pleiku City, Minh Thanh Temple is a typical sample of Japanese architecture in Vietnam. Over the course of the years, the splendid temple has been a significant Buddhist destination for local people. The gorgeous temple astounds travellers with its nine-storey tower of relics placed between the green willows. Minh Thanh Temple has been a popular destination, particularly for youngsters and photography enthusiasts.
SAC TU KHAI DOAN PAGODA – AN EXCELLENT TRIBUTE TO BUDDHISM IN VIETNAM
The Central Highlands in Vietnam is home to an amazing variety of unique Japanese architectural structures and Sac Tu Khai Doan Pagoda will really make you appreciate the authentic space that Japanese architecture has acquired. Located on Phan Boi Chau Street, Buon Ma Thuot City, Dak Lak, the pagoda is entirely designed of wood with dominant shades of yellow and brown. Take a stroll around the pagoda and be mesmerised by long lines of red lanterns. The pagoda will definitely be an unforgettable destination on your trip to Buon Ma Thuot.
Wanderlust Tips