Travel to The Mekong Delta in the evening, where to go and what to do to have the most enjoyable experiences? Here are eight suggestions from Wanderlust Tips.
[rpi]
NINH KIEU QUAY – THE SYMBOL OF CAN THO CITY
Located at the confluence of Hau River and Can Tho River, Ninh Kieu Quay is in Tan An Ward, Ninh Kieu District. This is a river wharf at the entrance of Can Tho Market. In 1876, the French troops occupied Can Tho, and the wharf was built with brick and stone along the banks to prevent waves, similar to Northern Vietnam's wharf, where there was busy trade. The beauty of Ninh Kieu Quay was described in poetry. Today, Ninh Kieu Quay is anticipated to become a tourism site with an area of   7.000m², attracting a large number of locals and visitors who want to enjoy a view, take a stroll and get some fresh air.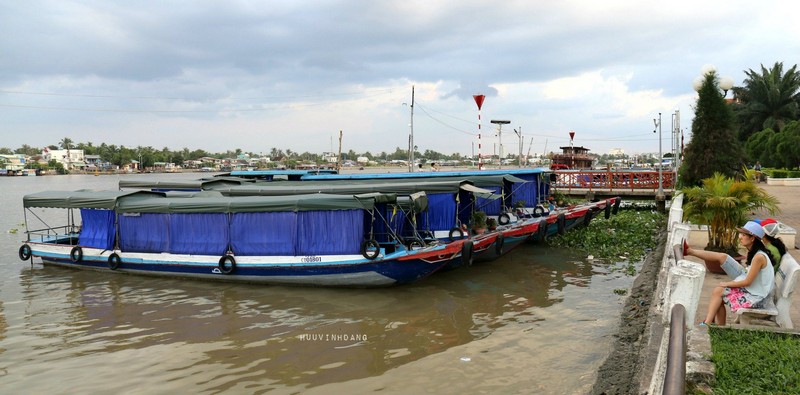 Top tips: Hai Ba Trung Street along the river is planned as a walking street and night market. Here, every 100 metres, there is a range of stalls selling different items such as food, fruit, and souvenirs.
Cuisine: Enjoy many attractive dishes at the restaurants at Ninh Kieu Night Market.
CAN THO PEDESTRIAN BRIDGE – CHECK OUT THIS INTERESTING SPOT WHEN VISITING CAN THO
Can Tho Pedestrian Bridge is also known as Love Bridge, crossing Khai Luong Canal, connecting Ninh Kieu Quay and Cai Khe Islet. The bridge is made of semi-permanent reinforced concrete. It is nearly 200 metres long and 7.2 metres wide, with the total investment capital of VND 50 billion. The bridge is designed in a S-shape symbolising country's shape. On the bridge, there are two lotus statues. The bridge is equipped with coloruful LED system creating lively and modern beauty. By the railing of the bridge, there is an abundance of green trees and flowers, which create an impressive sight from the bridge.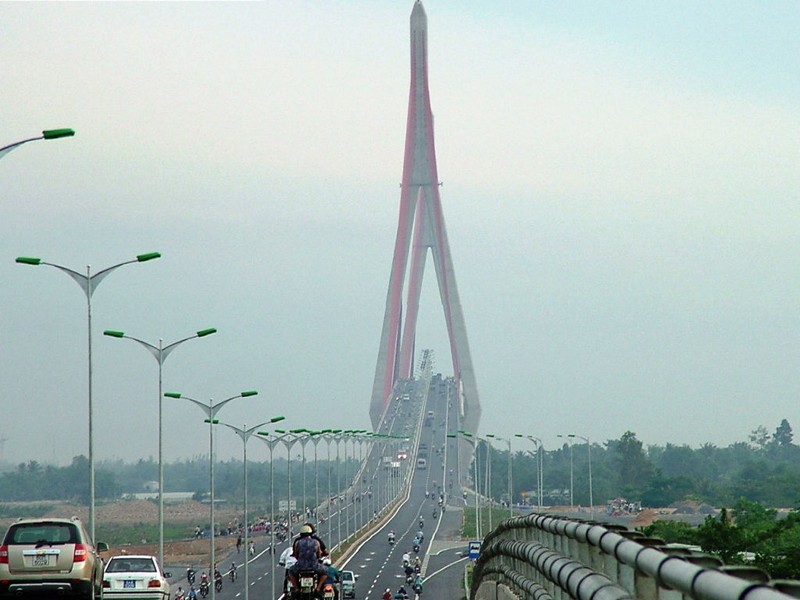 Top tips: The pedestrian bridge is a favourite destination for locals as well as tourists. People come here for sightseeing, taking check-in photos or taking part in many cultural events of the city organised here.
Cuisine: Right next to the pedestrian bridge, there are restaurants such as Ninh Kieu.
CAN THO BRIDGE – THE LONGEST MAIN SPAN BRIDGE IN SOUTHEAST ASIA
Can Tho Bridge is a cable-stayed bridge over Hau River, connecting Can Tho City and Vinh Long Province. In 2010, this bridge became the longest main span bridge in Southeast Asia. With 216 cables, it looks like a long hair of a young woman on Hau River from above. The distance between two banks of Hau River is larger than Tien River, so it was built longer and higher. Bridge piers are placed on Au Islet, so from a distance it has gentle bends. Looking up from the bridge, the spreading orange cables at the top look like they are interwoven with the blue sky. Hoa Su, and Tay Thanh Tay Do.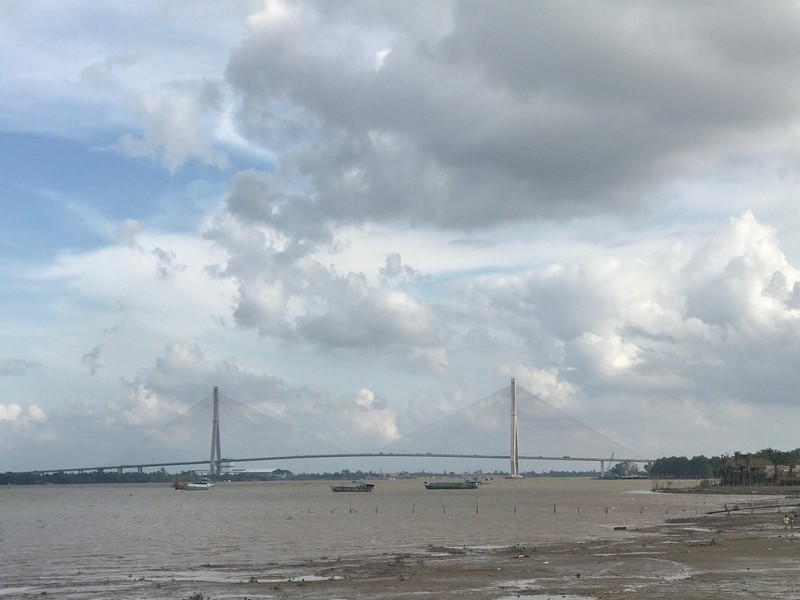 Top tips: In the evening, Can Tho Bridge is lit up in the middle of the night. You can drive on the bridge, then pass the beautiful bridge to feel the cool breeze and watch the Can Tho city sparkling at night.
Cuisine: Quang Trung Restaurant (A3 Road, Hung Phu 1 Residential Area), Bien Dong 2 Seafood Restaurant (168, 30 April), and Vinh Ky Restaurant (2 Nguyen Thi Minh Khai).
YACHT ON THE HAU RIVER – ADMIRE CAN THO CITY'S SCENERY AT NIGHT
One of the favourite evening activities of visitors to Can Tho is travelling on a yacht along Hau River. The yacht departs from Ninh Kieu Quay and takes tourists for a trip on the water, where they can admire the gentle and poetic river and Can Tho City lights shimmering at night. In particular, visitors enjoy many "Don Ca Tai Tu" shows and enjoy the attractive specialties of Southern Vietnam during the trip.
Top tips: River cruises usually open around 7:30pm – 9pm daily, on weekends or public holidays, yachts have 2 additional tours: 6:25pm – 7:45pm and 8pm – 9:30pm. Ticket is free.
Cuisine: Culinary services are available on the yacht with plenty of options.
CAN THO ANCIENT MARKET – 100-YEAR-OLD MARKET WITH THE MOST BEAUTIFUL ARCHITECTURE IN THE MEKONG DELTA REGION
Can Tho Ancient Market, over hundred years old, is next to Ninh Kieu Quay. Local residents also call it Hang Duong Market or "Six Provinces Market". Can Tho Ancient Market was built at the same time with Ben Thanh Market and Binh Tay Market (HCMC) in 1915. This market boasts the most beautiful architecture in the Mekong Delta and is the place people gather to trade goods in the Southern region. However, this market became degraded over time. In 2005, it was repaired and restored with a total investment capital of billions of Vietnamese dong to met the needs of trade and commerce, and to preserve the traditional and cultural details. Its harmonious and poetic combination of ancient and mordern architecture always leaves good impressions with visitors.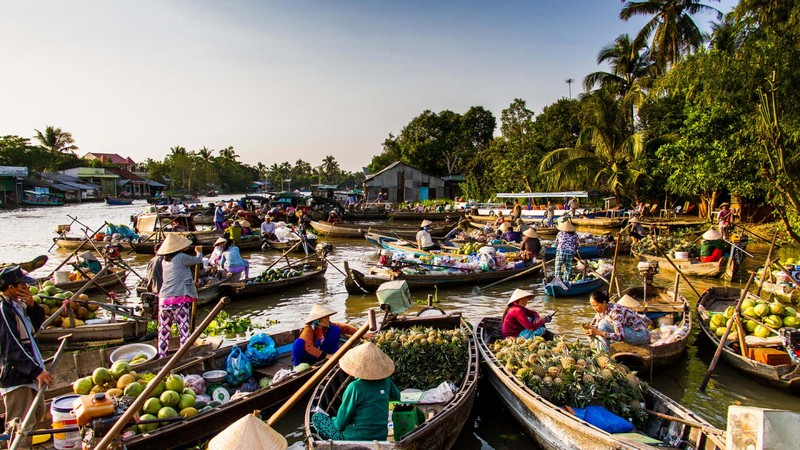 Top tips:
The market is located on Hai Ba Trung Street, Tan An Ward, Ninh Kieu District, Can Tho City. It opens daily from 6am – 9pm. Besides shopping here, visitors also can admire the impressive architecture of the ancient market, watch the poetic Hau River winding behind the market.
Cuisine: Enjoy the snacks along the road from Ninh Kieu Quay to Ancient Market.
TRAN PHU NIGHT MARKET – PARADISE OF DELICIOUS AND CHEAP SNACKS
Located at the end of Tran Phu Street, Cai Khe Ward, Ninh Kieu District, Tran Phu Night Market or Can Tho Night Market is another one of the most popular bustling night markets for tourists in Can Tho. The market is divided into two zones: Trade and Service, and the Food Court. Between the two, the food court is more crowded and attractive. Countless stalls are close by, with plenty of options: baked foods, fruit juices, milk tea, fruit, and ice cream. Prices are very affordable.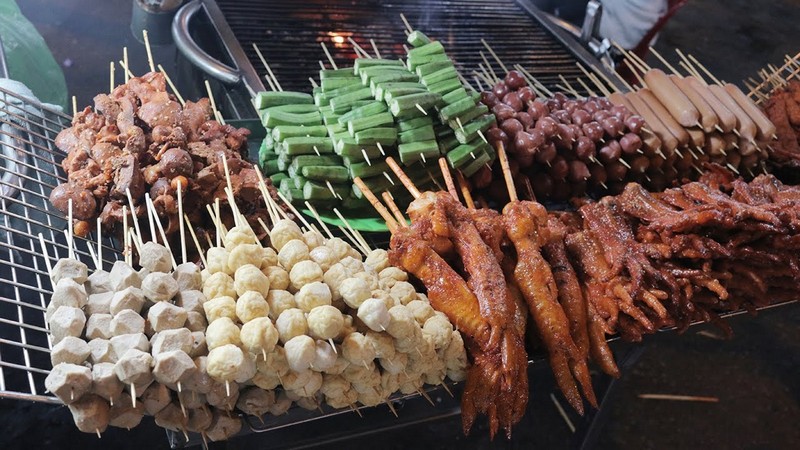 Top tips: Tran Phu night market operates from 5pm-11pm daily.
Cuisine: Enjoy countless tempting dishes at the market.
XANG THOI LAKE – SAILING ON THE LAKE FULL OF SHIMMERING LIGHTS
Once used as a landfill by citizens, nowadays Xang Thoi Lake (also known as Bo Ho) is a famous attraction in Can Tho, especially in the evening. With an area of   6.5 hectares, visitors will have to spend a lot of time to walk around the lake. Although it is an artificial lake, the water inside the lake is still quite clean because it is changed regularly.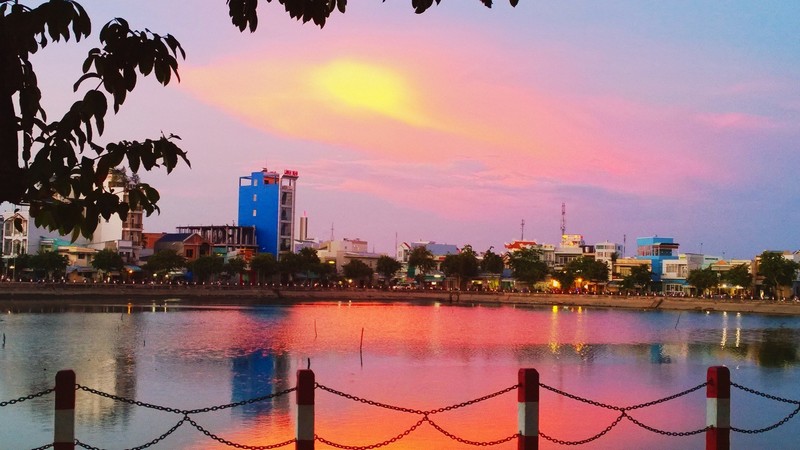 Top tips:
Here, visitors can walk around the lake to feel the fresh air. The lights from the surrounding buildings reflect on the water, creating a sparkling and fanciful scene. Besides tourists and many photographers often come here to "hunt" for impressive moments. When tired, you can visit a café by the lake to enjoy a cool drink and enjoy a view of the peaceful lake.
Cuisine: Around the lake there are pubs, garden cafés, and karaoke at reasonable prices.
LUU HUU PHUOC PARK – SIMPLE LIFESTYLE OF CAN THO PEOPLE
Next to Hoa Binh Avenue, Luu Huu Phuoc Park is located at the beginning of Ly Tu Trong Street, An Cu Ward, Ninh Kieu District, Can Tho City. The park was built in the shape of a guitar, and was named after Can Tho's famous musician named Luu Huu Phuoc. This is the place where important events of the city and cultural activities, such as celebrations and festivals, take place. In the evening, the park atmosphere is even more bustling with older people practicing Tai Chi and the youths playing guitars, with many groups gathered to sing.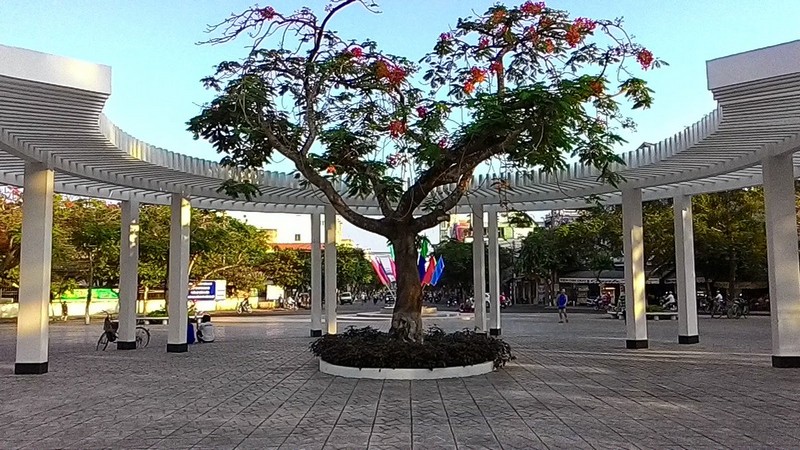 Top tips: The park is clean, airy and motorcycles are not allowed to drive inside. Visitors can walk around, enjoy the open space and watch the idyllic lifestyle of the locals.
Cuisine: Nam Bo Restaurant (1 Ngo Quyen), Duck Hotpot (13B Ly Tu Trong), Lumos Coffee & Cake (10 Ly Tu Trong), Mat Cua Café (54 Le Lai), and Tiny Corner Café Self-Respect.
Wanderlust Tips