After a day traveling to discover attractions in HCMC, where  you should go in the evening, what to do to have a new experience? Here are the detailed suggestions from Wanderlust Tips for so you to have a journey to discover the perfect land of HCMC.
[rpi]
Nguyen Hue Pedestrian Street – A modern street for pedestrians and vehicles.
Nguyen Hue Pedestrian Street in Ben Nghe Ward, District 1 consists of two parts connecting at Cay Lieu roundabout. Ho Chi Minh President statue park from Le Thanh Ton street to Le Loi street. Besides being a beautiful and open-air entertainment space in the evening, Nguyen Hue Pedestrian Street hosts attractive activities including parades, street festivals, flower festivals, cultural exhibitions, sports and art performances.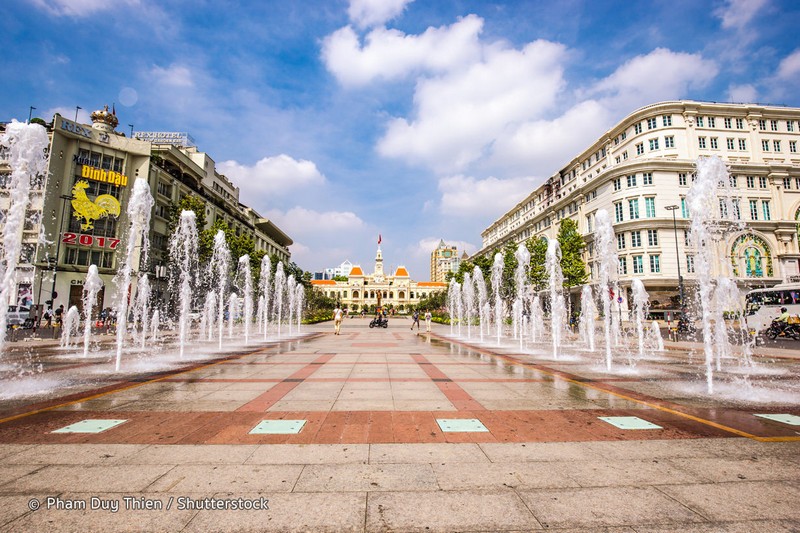 ♦ Top tips: Nguyen Hue Square between Le Loi to Ton Duc Thang Street, including a pedestrian granite tiled road and a lane for transportations (from 6pm – 11pm on Saturdays and Sundays, motorised vehicles are prohibited on these lanes. The area has free Wi-Fi 24/24 to serve visitors with a speed of 1GB/second, ensuring many people can access the Internet at the same time.
♦ Must see: Head Office of the Ho Chi Minh  People Committee
♦ Cuisine: Phuc Long Coffee & Tea Express at 39 Nguyen Hue, The Workshop Coffee at 27 Ngo Đuc Ke, Koi Thé Café at 72 Ngo Đuc Ke, Nhu Lan Bread at 66 Ham Nghi.
Ho Chi Minh Municipal Theatre – The most expensive Culture Centre 
Ho Chi Minh Municipal Theatre is located at no. 7 Lam Son Site, District 1. This place was built in the style of flamboyant gothic architecture, which enjoyed massive popularity in France at the end of 19th century. Heavy with ornaments, relieves and decoration the Palais Petit Museum and Opera House in Paris where built in this vain. Construction materials, decorative elements were imported from France. The Opera House is the most expensive of the cultural centres built in Saigon during French colonisation and has a unique roof of black stones.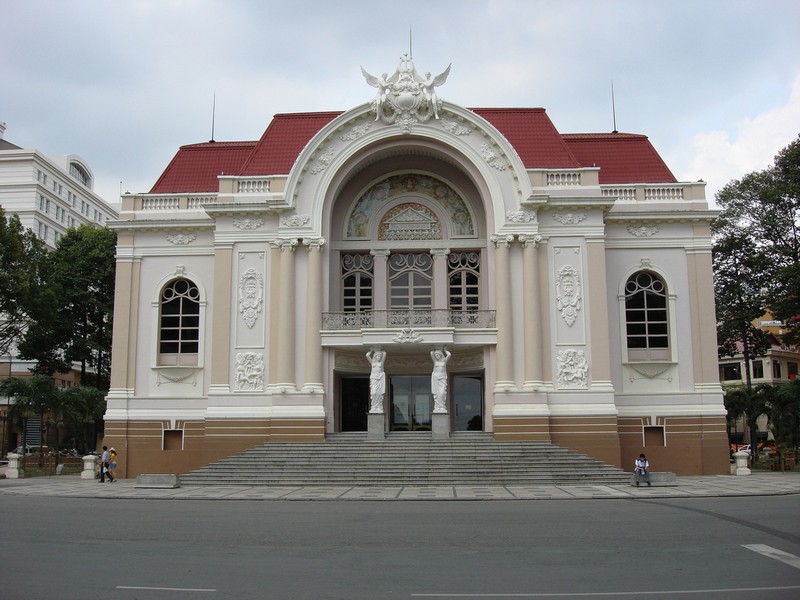 ♦ Top tips: With a modern first floor, second floor and sound and light system, the Opera House was a centre for music performances, concerts and operas for the upper class. Today Ho Chi Minh Municipal Theatre remains a venue for music events where Vietnamese traditional music and Western classical music is performed.
♦ Cuisine: Highlands Coffee inside the Opera House, Lion Restaurant at 11c Lam Son Site, The 1985 Café at 151 Đong Khoi, Bo Gia Milk Tea at a street stall next to the Opera House.
Anh Sao Bridge – A sea of light at night
Anh Sao Bridge is located at Phu My Hung, District 7. The bridge is 170 metres long, and crosses Thay Tieu like a crescent moon. At both its ends are two large squares: on the West bank is the Canal Area emulating a half-moon and at the East bank is the Half-moon Lake Area. The sides of the bridge are two artificial waterfalls, behind which there are colourful decorative lights. These two squares combine to have the effect of a multi-coloured floodlight and the waterfall creates an impressive view. Watching from above it looks like a star garden connecting the moon and the sun in a sparkling background of water.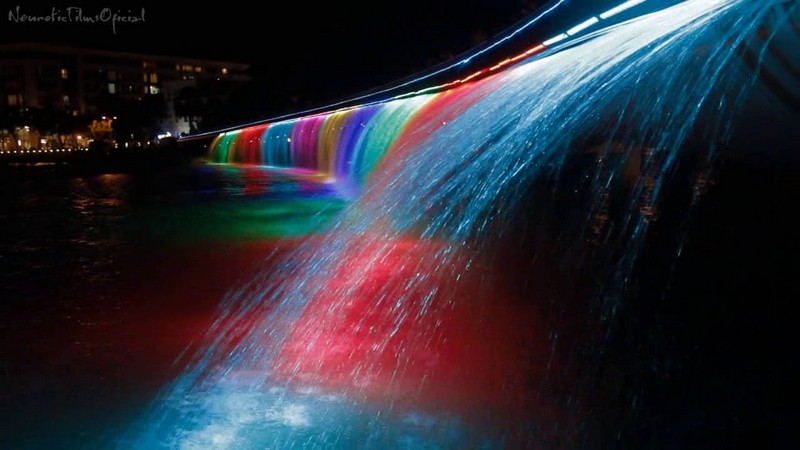 ♦ Top tips: Tourists coming here can take a walk on the bridge to see the cityscape, while enjoying the light effects. This is a favourite destination for photographers and young couples.
♦Cuisine: Cham Charm Restaurant, Yeebo hotpot and seafood restaurant at 109 Ton Dat Tien, Hoang Yen Vietnamese Cuisine on 103 Ton Dat Tien, Gong Cha on 175 Ton Dat Tien, Angel-In-Us Coffee at 171 Nguyen Đuc Canh.
Cruise on Saigon River – Peaceful water scenery in a busy and crowed city
The wandering waters of Saigon River flowing through the city for 37 kilometres sport picturesque scenery. To take in the whole view, you should go on a cruise along the river and explore its particular beauty. Cutting right through magnificent Saigon, the peaceful water scenery appears like a simple, vague and quiet beauty.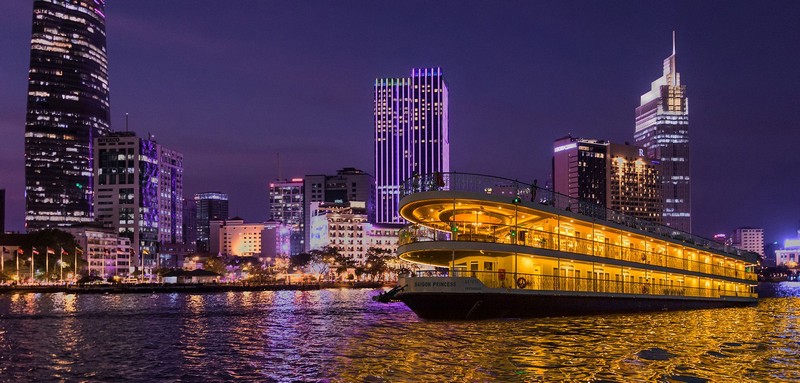 ♦ Top tips: There are many activities on Saigon River including: sightseeing along the river to Nha Be, Can Gio, taking a motor boat to Lai Thieu, sightseeing and having dinner at the restaurants on the cruise boat. Depending on the selected services, the expense is at least 80,000VND per person. The cruise usually starts from Saigon harbour at 6pm and 8pm every day, and trips last an hour.
♦ Cuisine: Have dinner at the restaurant on board the cruise and enjoy various kinds of food.
Street cafés – An experience with interesting cultural characteristic
Many people think Saigon's street cafés can only be found on one street, however street cafés are located in many areas and each one is suitable for a particular target audience. Han Thuyen street café mainly serves groups of young people. Duc Ba Church street café is very different and has small chairs and tables for well cared for officers. The corner of Park 30/4 on Alexandre De Rhode Street is an area for couples who love romantic moments and privacy to chat. Con Rua Lake street café is really interesting and both for friend meeting up and dates. The lake has a few sitting places where you can pleasantly dangle your legs.  The street café close to the Opera House is not too large and perfect for young people who like being surrounded by flowers while enjoying a glass of milk tea or pink tea and watch the bright city street.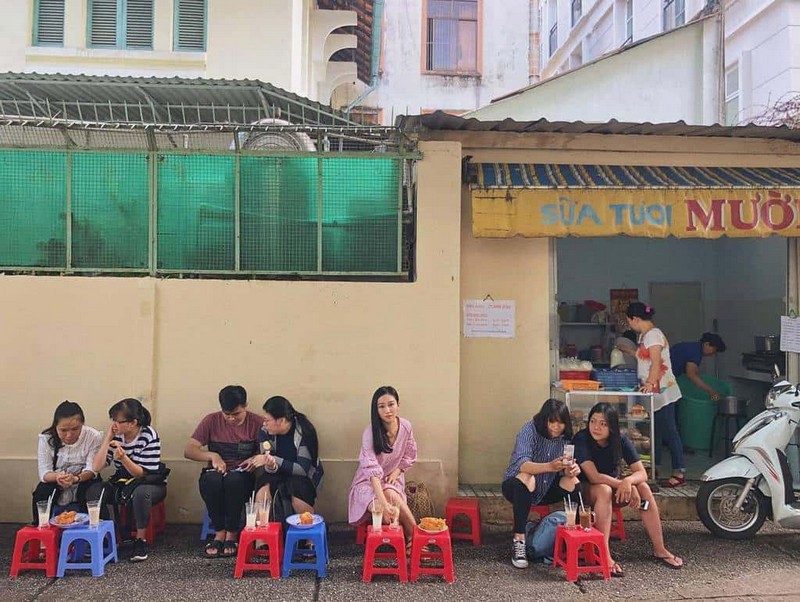 ♦ Cuisine: Many kinds of drinks including black coffee/cold milk coffee, coconut water, passion fruit smoothies and snacks like stir-fried corn, mixed rice paper, roasted corn, stir-fried fish ball can be found around the area of street cafés.
Saigon's Backpacker Quarter – Streets that never sleep
Located at the centre of District 1, the three streets Bui Vien,  Pham Ngu Lao and De Tham are known as Saigon's Backpacker Quarter. Although it is a small area, there are hundreds of hotels, rest houses, travel agents, restaurants, cafés, bars, convenience stores and fashion boutiques that have turned a few hundred meters into a busy trading area.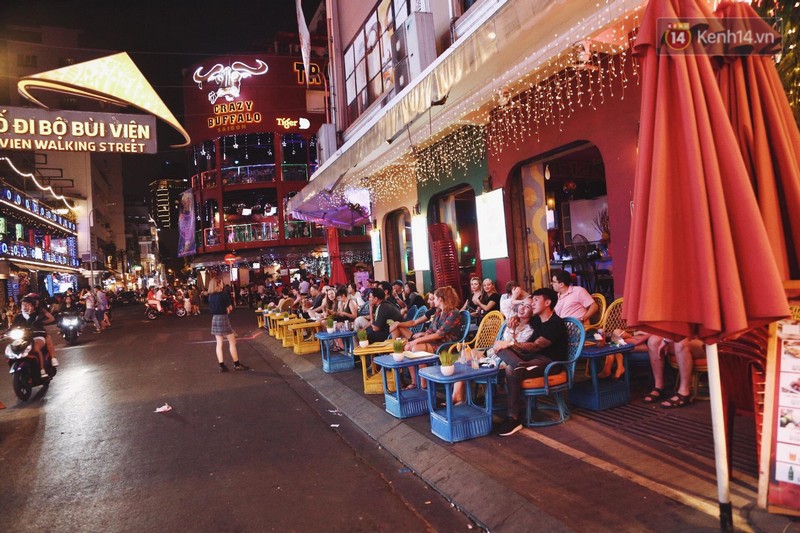 ♦ Top tips: Both foreigners and domestic tourists visit here as the hotels are cheap for being in the city centre and it is very convenient to travel to surrounding destinations from here. Experience the feeling of sitting by the sidewalk and enjoying some glasses of beer while watching life on the streets go by and chatting with friends.
♦ Cuisine: Bun Cha at 145 Bui Vien, Baba's Kitchen at 164 Bui Vien, Asian Kitchen at 185/22 Pham Ngu Lao, Tiny's Cafe at 28/19 – 28/21 Bui Vien, Universal Sports Bar/Cafe/Restaurant/Live Music at 90 Bui Vien
Night markets – Attractive food and shopping destination
 One of the favourite activities of tourists coming to Ho Chi Minh City is visiting the night markets. There are many crowded night markets in the city that are open from 7pm to 10:30pm every day. Night markets in Ho Chi Minh City attract a great deal of tourists because of the abundance of goods at suitable prices suitable to all kinds of consumers. Tourists can take a walk and enjoy the bustling atmosphere, as well as taste delicious foods or buy countless pretty thins.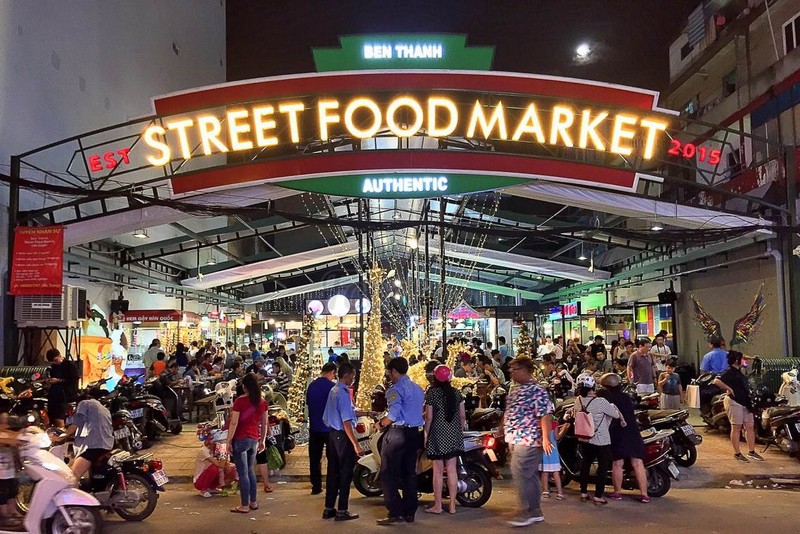 ♦ Top tips: Famous night markets: Ba Chieu Market, Thu Duc Market, Hanh Thong Tay Market, Ky Hoa Market.
♦ Cuisine: Choose from an abundance of tasty foods right at the night markets.
Entertainment at Saigon Centre – Recreation and shopping destinations for all ages
 In Ho Chi Minh City, there are countless of massive trade centres with a lot of attractive activities for all classes and ages. Tourist will feel like they got lost in a small city filled with all the services you could dream of: supermarket, cinema, sport centre, recreational area, fashion, cosmetics, interior shops and many selections of food stalls. Besides the shopping there are events hosted including music exchange, product launches and cultural programs, which are held regularly to attract attention.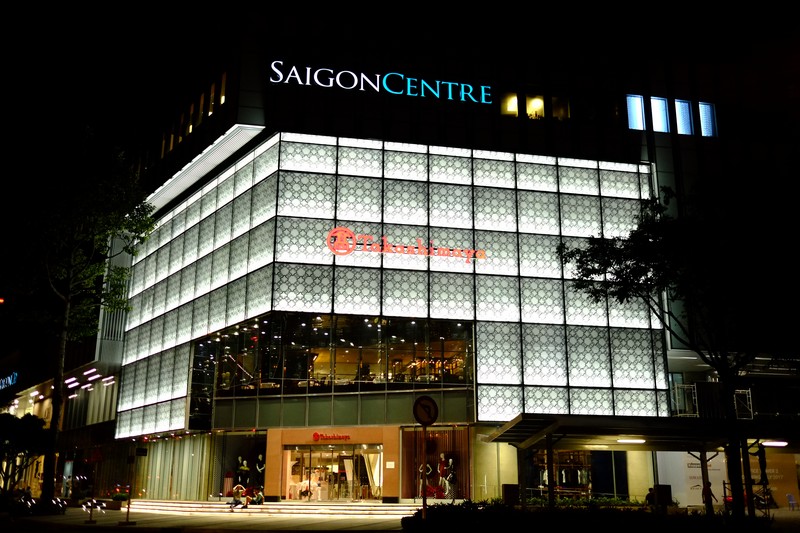 ♦ Top tips: Trade centres you should visit: Diamond Plaza on Le Duan and Phạm Ngọc Thạch Street, District 1, Vincom Centre on Dong Khoi with three entrances facing three busy streets: Dong Khoi, Le Thanh Ton and Ly Tu Trong, Crescent Mall on Phu My Hung Urban Area, District 7, SC Vivo City on Nguyen Van Linh Avenue, Tan Phong Ward, District 7, Aeon Mall Tan Phu and Aeon Mall Binh Tan.
♦ Cuisine: In the trade centres, there is a big selection of restaurants offering regional Vietnamese and traditional dishes from all over the world.
Van Ly | Wanderlust Tips | Cinet