(#wanderlusttips #seasideresort) In recent years, spending vacation time at resorts is not an unfamilar choice for travelers, especially during long holidays or summer vacation. The summer is also the time when high-end resorts offer attractive promotional programs. Spending leisure time at luxury resorts is an ideal choice to relax after stressful days at work. Below are five of Wanderlust Tips' picks of the best seaside resorts.
[rpi]
Palm Garden Resort – Tropical Paradise
The 5-Star Palm Garden Hoi An resort's 214 rooms spread over five hectares of tropical garden, featuring over 400 types of palm trees and other vegetation on Cua Dai beach. The resort provides its guests with a quiet green space amidst which this unique and charming Vietnamese architecture is set. The resort offers facilities and services to serve both leisure and business travellers.
You can spend time to relax and enjoy the tropical flavours. You can lie on a sunbed and take in the beautiful scenery of the white sand beach, immerse yourself in the 969-square-meter pool, participate in beach sports or treat yourself to some relaxing moments at the spa. In addition, the resort also features in-room and outdoor activities especially designed for children. Visitors will also get the chance to enjoy diverse cuisine, from traditional Vietnamese dishes, to European and Asian dishes, at the resort's restaurants and bars.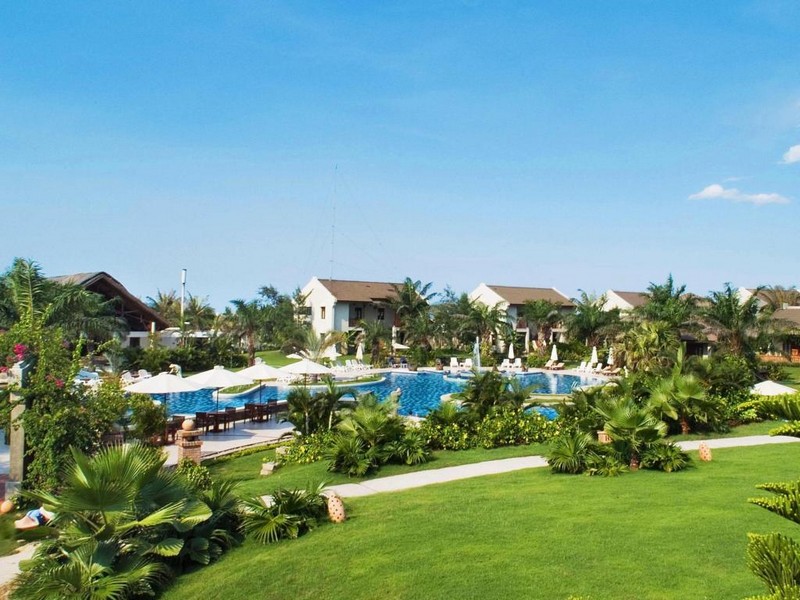 For business travellers, modern and flexible facilities make for the perfect balance between business and leisure.
The harmony between nature, unique architecture and Hoi An culture make Palm garden a paradise resort.
Palm Garden Resort
Top Tips:
The ideal time to visit Hoi An is from February to August. On the 14th of every Lunar month, the Ancient Town hosts a magnificent full moon celebration. October to December is rainy season in Hoi An, the Ancient Town is often flooded and the locals have to get around by boat. If you want a different experience of Hoi An and tour the Ancient Town by boat then visit during that time. However, your travel plans may be interfered with by rain. Many hotels and resorts offer high discounts during this time so you can experience 5-Star services at a cheaper price.
Review
"We visited Hoi An in August 2015, and Palm Garden is the best place for a family vacation. The pool is excellent and the staff is very helpful. They offer many entertainment activities for guests, and performances at night. The restaurants offer delicious and diverse food. The children's play area has many interesting activities. We will definitely return. One small tip is not to choose rooms by the main road, because they are very loud especially at night," said Charlotte0519 from Manchester, United Kingdom on TripAdvisor.
Fusion Resort Nha Trang – A different experience
Magnificently stretching over 13.6 hectares along the beautiful Bai Dai Beach of Cam Ranh Peninsula, Fusion Resort Nha Trang is a fresh, new resort boasting wide-open spaces and exclusive experiences for families, couples and individual travellers.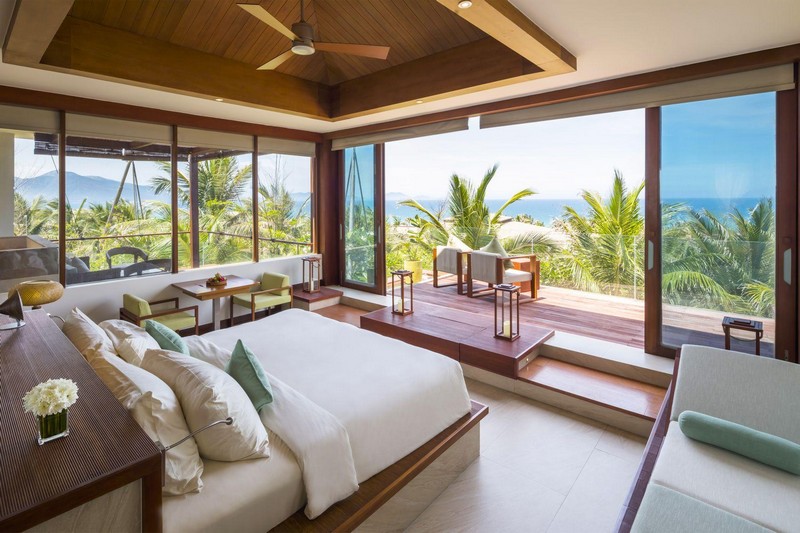 Inspired by the area, which is surrounded by a crystal azure ocean and beautiful blue skies, Fusion Resort Nha Trang is all about connecting with nature which inspired the minimalistic architecture of the resort. The 74 suites and villas with their spectacular ocean view feature the same well-appointed modern sun-filled interior. At Fusion Resort Nha Trang, guests can choose from a wide range of accommodation options such as Chic Suite, Spa Suite, Family Suite, Two Bedrooms Pool Villa, Pool Villa Beach Front and Grand Villa Ocean Front.
The Resort's natural character is not only displayed through its architecture but also extends to the spa and wellness area's inclusive concept with at least 2 treatments per day guaranteed. A menu of inspiring spa and wellness treatments is available to all guests. A 7-day program of massage therapy sessions will provide guests with a luxurious yet tranquil vacation.
Unique design, culinary diversity and a fusion spirit combine to create a new level of luxury vacation on the coast of South Vietnam.
Fusion Resort Nha Trang
Address: Nguyen Tat Thanh Road, Cam Hai Dong, Cam Lam, Khanh Hoa Province
Tel: +84 58 3 989 777
Email: reservations@fusionresortnhatrang.com
Website: www.fusionresortnhatrang.com
Top Tips:
The ideal time to visit Nha Trang is from July to September each year. The weather during this time is sunny, beautiful and not stormy.
How to book a room at a good price at Fusion Resort Nha Trang: From now until 30th June 2016, Fusion Resort Nha Trang offers a special promotion: Stay 3 consecutive nights, but pay only 2 for the Chic Suites, Two Bedroom Family Suite, Two Bedroom Pool Villa. Rate starts from USD243++/room/night, including breakfast any time any place, all spa treatments, airport transfer, shuttle bus to Nha Trang centre. Offers cannot be combined with other promotion and are subject to resort availability.
Review
"A beautiful resort with perfect service. We stayed for three nights at Fusion Resort Nha Trang during our honeymoon in September 2015. This is a paradise, and I was surprised when I first came here. The most special things are the beautiful pools and exceptional spa services. If I get the chance, I will definitely come back here." Yarin 1987 on TripAdvisor stated.
"I had a chance to stay at Fusion Resort Nha Trang, one of the most beautiful resorts in the world. The rooms are uniquely and luxuriously designed, yet still blend in with the surrounding nature. I will definitely come back next year," wrote Neal M. from the United Kingdom on TripAdvisor.
InterContinental Danang Sun Peninsula Resort – Architectural Masterpiece
Enter a world of poetic experiences and jungle-clad romance in a place that cloaks you with luxury. The mastery of traditional Vietnamese design meeting modern architectural flair in this distinctive retreat will bring you a wonderful relaxing experience.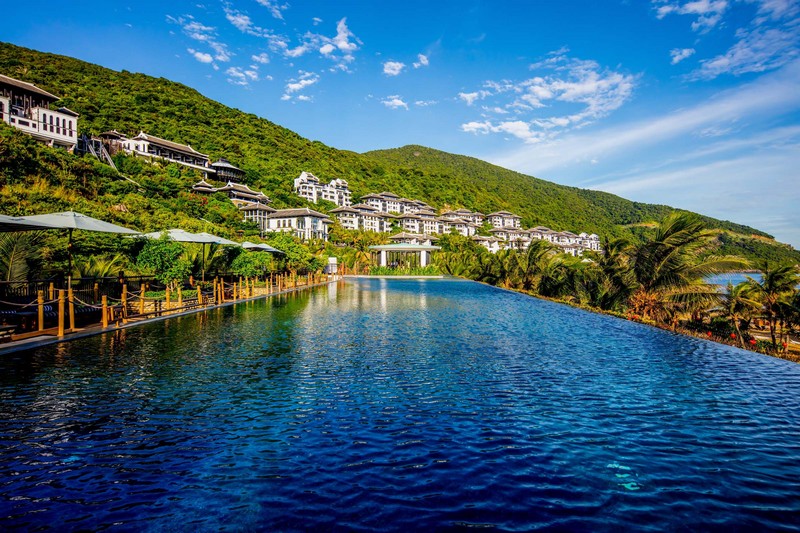 Famed architect Bill Bensley has woven his magic through every space crafting a resort that inhabits four levels – Heaven, Sky, Earth and Sea – linked by a funicular train climbing its way through the forested slopes. Only at InterContinental Danang can you experience this architectural masterpiece dubbed the one and only "heaven on earth" in Vietnam,
Intercontinental Danang Sun Peninsula Resort
Bai Bac Beach, Son Tra Peninsula, Danang
Tel: +84 511 393 8888
Top Tips:
The perfect time to visit Danang is from February to August. During this time, Danang is not stormy or rainy, often has beautiful sunshine, which is the ideal weather to enjoy beach activities such as scuba diving, parasailing, surfing, jet skiing or canoe tours around some of the most beautiful beaches in the world. Or visit famous sites in the city such as Ba Na Hill with a height of 1,500 meters.
 Review
"I recently came here in March 2016, and I must say InterContinental Danang is the most beautiful resort in Danang, with a private beach and beautiful ocean view suites. This is an ideal place to relax, and I felt strangely peaceful when I stayed here. The staff always had a smile on their faces. The resort is about 30 minutes from the airport, and if you want to tour Hoi An, the resort also provides a free shuttle bus. For me, this is a paradise seaside resort," commented Bencenter from Hong Kong on TripAdvisor
"So wonderful. I stayed here for three days and two nights with my family, and everything was perfect, from the room, to the pool and services. I was so surprised by the delicious meals at Citron restaurant, and the staff was helpful and friendly. Bar services were excellent and polite, and I was very pleased. I definitely will come back here with my friends and family, and introduce them with this must-visit when coming to Danang," stated Thanh Tu from HCMC on TripAdvisor.
Amanoi Ninh Thuan: New tourism wonder
Located at a prime location looking over the pristine Vinh Hy Bay, Amanoi is the ideal destination for a family vacation. The Amanoi experience will bring you unforgettable memories as comfort resides in every piece of furniture and the beautiful scenery can be seen at every corner of the resort.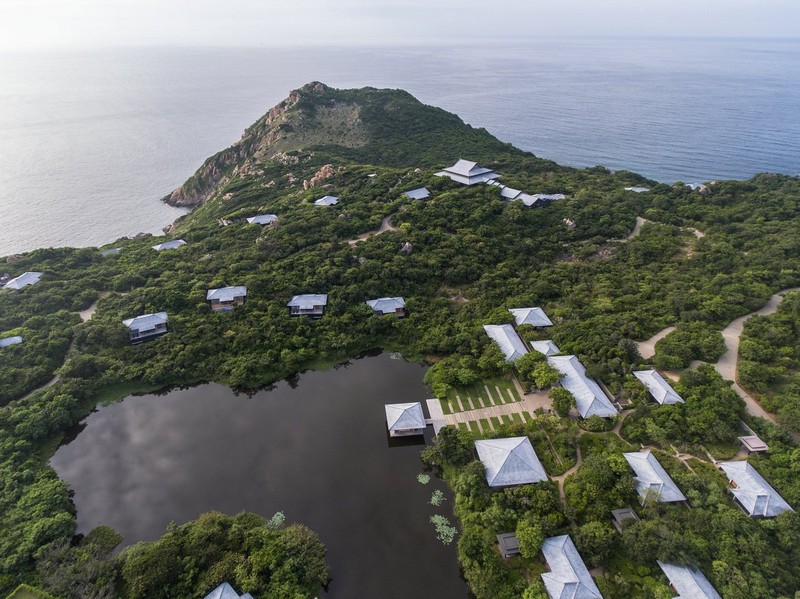 Amanoi features 36 villas, including five world-class villas, all of which lay on the hillside and sport beautiful views. The architecture ensures villas are always filled with sunshine and close to nature, which will provide guests will total relaxation. For those who prefer tranquillity, Amanoi is a perfect retreat that allows guests to be immersed in nature while in a hillside pool overlooking Vinh Hy Bay.
Amanoi Resort – Ninh Thuan
Vinh Hy, Vinh Hai, Ninh Hai, Ninh Thuan
Tel: +84 68 2212 644
Top Tips:
You can visit Ninh Thuan at any time of the year. However, to avoid dry weather or long rain, the most beautiful time is from July to mid-September. This is the grape season, so you should visit some vineyards. The ocean is calm during this time, which is ideal to visit surrounding islands, as well as enjoy fresh and delicious seafood.
Review
"A peaceful heaven, where time seems to stop. The resort is located on a beautiful hillside. Anywhere in the resort, you can feel the fresh cooling breeze or warm sunshine. This gives me a strange sense of tranquillity, which is so different from the places that I have visited. I am so impressed with the unique design of the pools here, Quentin Heim from Saratoga, California told to TripAdvisor.
Banyan Tree Lang Co – Inspired by heritage
Surrounded by stunning views of the sea and the majestic Truong Son Mountains, Banyan Tree Lang Co is an ideal location for a romantic vacation with your loved one. The property is inspired by the artistic heritages of the imperial dynasties of ancient Vietnam. The resort features 32 one-bedroom lagoon view villas and 17 one-bedroom ocean view villas, spreading along Canh Duong beach.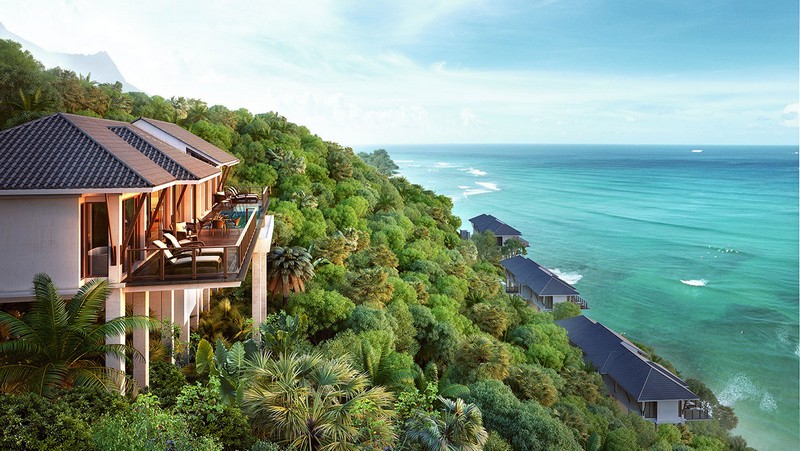 From here, visitors can explore Central Vietnam, an area rich with history and cultural heritage. Visitors can walk along the 2,000-year-old streets of Hoi An, or the imperial city of Hue, former home to 13 emperors of Vietnam, or explore the tranquil Huong river on a boat.
After a day exploring Central Vietnam visitors can relax with an award-winning spa package at the resort. Spa treatments here use fresh aromas only found in Vietnam, which create a distinct difference for Banyan Tree Lang Co. All of your senses will feel a fresh sense of relaxation.
Banyan Tree Lang Co
Add: Cu Du Village, Loc Vinh Commune, Phu Loc District, Thua Thien Hue Province
Tel: +84 54 3695 888
Website: http://www.banyantree.com/vi
Top Tips:
The ideal time to visit Hue is from March to August. Hue Festival 2016 will take place from April 29 to May 4, 2016 and is one of the main activities attracting visitors to Hue.
How to book a villa at Banyan Tree Lang Co at a good price: From now until December 22, 2016, you can book two nights at Banyan Tree Lang Co at a discount price of 16,000,000VND and enjoy: complimentary breakfast at The Water Court Restaurant, one time use of golf or spa services or one main meal during your stay, free afternoon tea at the villa, free use of minibar (only covers non-alcoholic drinks), free bus shuttles to and from the airport, free daily bus shuttles to and from Hoi An and Hue, 10% discount on food & beverage, spa treatments (not including beauty treatments), and entertainment, 10% discount of the third consecutive night. This discount program only applies for visitors currently living and working in Vietnam.
Review
"More than perfect. I came here with my husband in March 2016 and stayed at The Beach Villa with a beautiful ocean view. The pool is especially beautiful, and we spent the majority of our time there. There are three restaurants to choose from (Thai, Vietnamese and Italian cuisine), but it is hard to say which one has the best food, because all three are excellent. We will definitely return," wrote Marina B from Los Angeles, California on TripAdvisor.
"For only two days here, we had some great experiences. Everything was perfect, from the quick check in at the villa, and very helpful childcare services. Spa services here are very professional and classy. I advise you to eat at Saffron restaurant, the food and service here are excellent," wrote Anh Phuong from Hanoi on TripAdvisor.
Trang Nguyen | Wanderlust Tips | Cinet