Thanks to the internet, performers today have to compete with dozens of other performers and about 5,000 marketing messages trying to get viewers' attention. Today, buying a ticket to be immersed in one performance can be a special experience. For travellers, seeing a show in a new destination is not merely entertainment, but can also help them learn about the local culture.
[rpi]
MALAYSIA
MUD Kuala Lumpur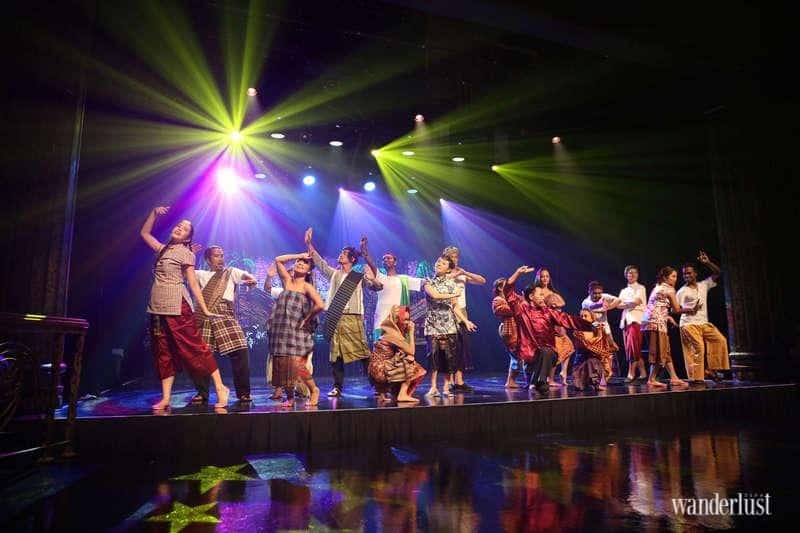 MUD Kuala Lumpur is an impressive show, telling the story of Mamat, Meng and Muthiah, three friends who move to a small town in Kuala Lumpur together to find new opportunities. Along the way, they meet many people, each with a colourful personality and life story. This is the story of people who came together to create the modern-day Kuala Lumpur. MUD show takes place at Panggung Bandaraya, the city's 113-year-old theatre.
Address: Panggung Bandaraya, Jalan Raja, City Centre, 50050 Kuala Lumpur, Wilayah Persekutuan Kuala Lumpur.
Time: There are two shows a day at 3 p.m. and 8:30 p.m.
Tickets: 84,8MYR (about 19USD).
THAILAND
Phuket FantaSea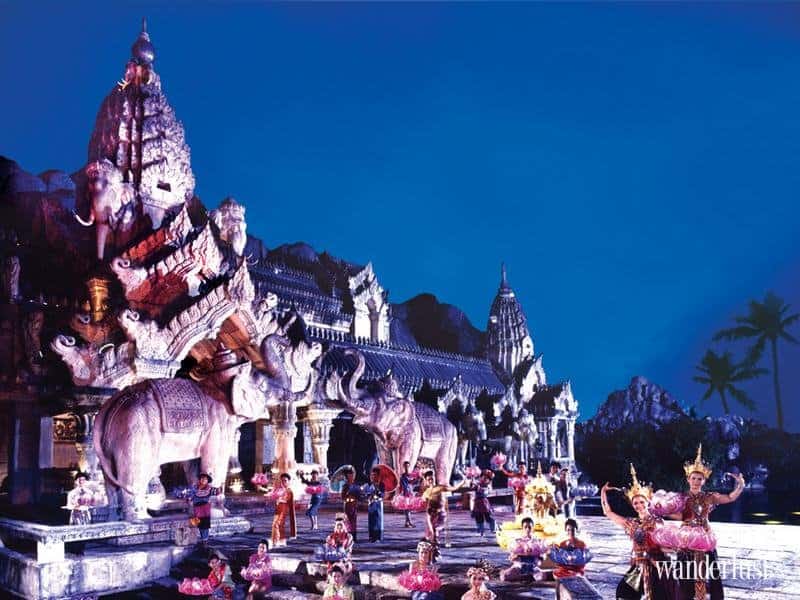 It's truly a fantasy when you can enjoy a performance and the local cuisine at Southeast Asia's largest buffet, with a capacity of 4,000 people. Phuket's most spectacular show features incredible set design, sound effects, lighting, smoke, fire and a cast of hundreds. The show brings to life the traditional colours of Thailand, with circus and acrobatic acts, elephant acts, carnival performances, and impressive ballet dances. You'll be mesmerised by the traditional dances from different regions of Thailand, shadow puppet acts and the splendid costumes of the artists on stage. In addition to the human performers, the show also sees the participation of elephants, tigers, buffalos, chickens, and pigeons. After the show, you can pay a small price to take photos with the performers, both humans and animals!
Location: Golden Kinnaree buffet restaurant, Kamala Beach.
Time: 9 p.m. every day
Tickets: to watch show: 1,800THB (50.7USD), to watch the show with buffet: 2,200THB per adult (62USD) and 2,000THB per child aged 4 to 12 (56.4USD)
Siam Niramit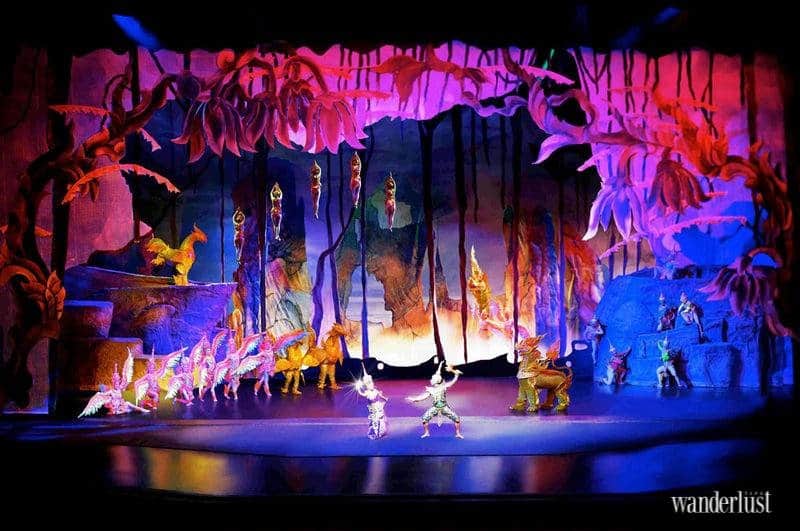 Siam Niramit, (Siam's Dream) is a traditional Thai art show that mesmerises its audience. It recreates the entire history of the Kingdom of Thailand in three acts. It takes places on a massive stage and features over 100 actors and 500 costumes. The show is 80 minutes long without an interval.
Location 1: Siam Niramit Phuket Theatre, 55/81 Moo 5, Chalermprakiet Road, Rassada, Muang, Phuket 83000. Time: 8:30 p.m. every day (except Tuesday). Starting at 8:05 p.m. the theatre provides pre-show activities like elephant riding and feeding, visiting traditional villages, seeing outdoor dances and buying souvenirs. If you wish to enjoy the buffet before watching the show, you should arrive at 5:30 p.m.
Location 2: Siam Niramit, Ratchada Niramit Co., Ltd., 19 Tiamruammit Road, Huaykwang, Bangkok 10320. Time: 8 p.m. every day, pre-show activities start around 7 – 7:30 p.m.
Ticket prices: to see the show: 1500 – 2,000THB (42.3 – 56.4USD), with dinner: 1,850 – 2,350THB per adult, (52.22 – 66.3USD), 1,710 – 2,210THB per child (48.2 – 62.3USD) depending on seating.
Khon-Thai classical masked dance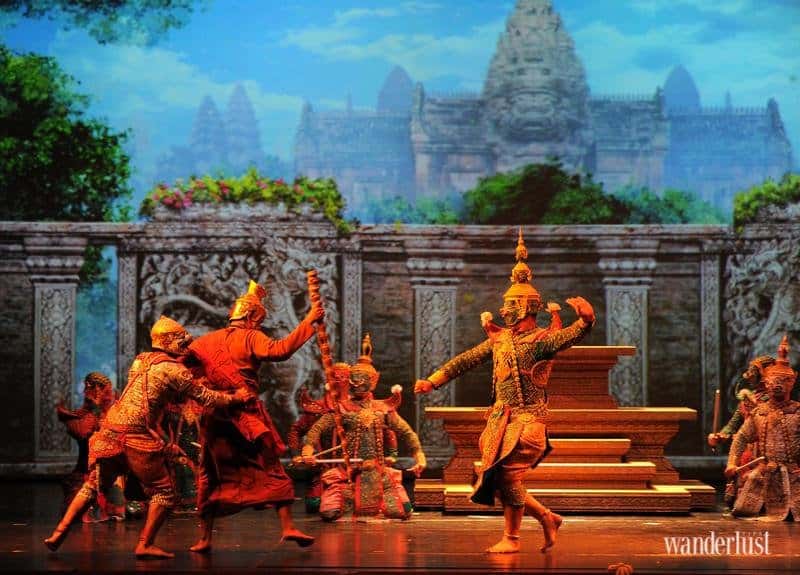 Sixty masked dancers wearing splendid costumes perform on the brilliant stage of the 80-year-old Sala Chalermkrung Royal Theatre, one of the four biggest theatres in Bangkok. "Hanuman Chankamhaeng" is a compelling, surreal story featuring the traditional hundred-year-old Khon dance, which can fascinate anyone.
Location: 66 Charoen Krung Road, Phra Nakorn District, Bangkok 10200.
Time: 7:30 p.m. every Thursday and Friday.
Ticket prices: 1,200 / 1,000 / 800THB (33.9 / 28.2 / 22.6USD) depending on seating location.
MYANMAR
Zat Pwe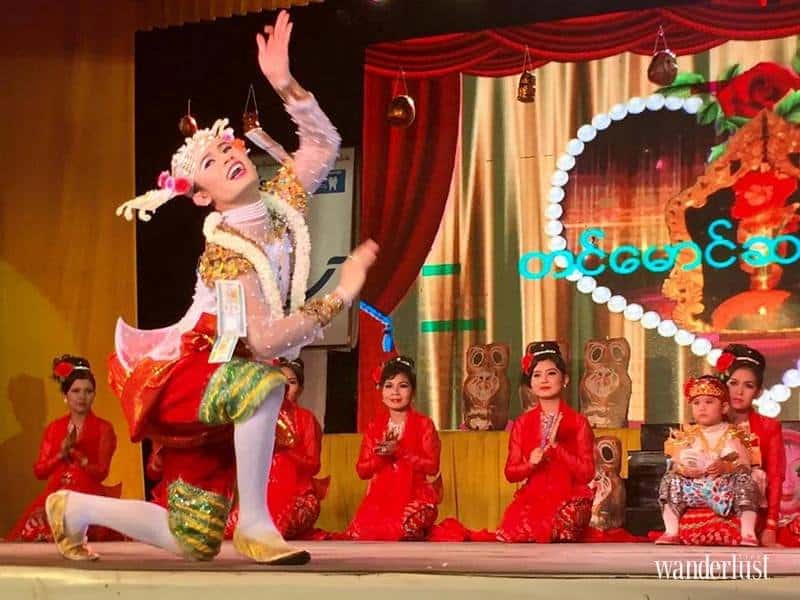 Zat Pwe is not the name of a show, but a style of traditional performing art in Myanmar that has existed since the 19th century. It is a combination of song, dance, theatre and comedy. It is said that you need to understand the culture of this country before understanding the meaning of a Zat Pwe play. Actors (mintha) will lead the stage, accompanied by actresses (minthamee) and clowns, to the music of hsaing waing – a set of traditional percussion instruments. Previously, a traditional Zat Pwe play did not take place on a stage. It usually started around 2 – 3 a.m. and lasted through the night until dawn. Zat Pwe plays feature royal dances and traditional string puppets to tell the legends in history, the teachings of Buddha in the Jataka stories, or modern-day problems like family conflicts, addictions and corruption.
Location: Karaweik Palace, Kandawgy, Mingalar Taung Nyunt, Yangon.
Time: 6:30 – 8:30 p.m. every day.
Tickets: 30USD per adult, 15USD per child age 5 – 12.
You can also see Zat Pwe performances at festivals hosted at temples or cultural centers, performed by traditional Zat groups like Shwe Man Thabin – which currently has two touring companies and regularly hosts free performances.
String puppets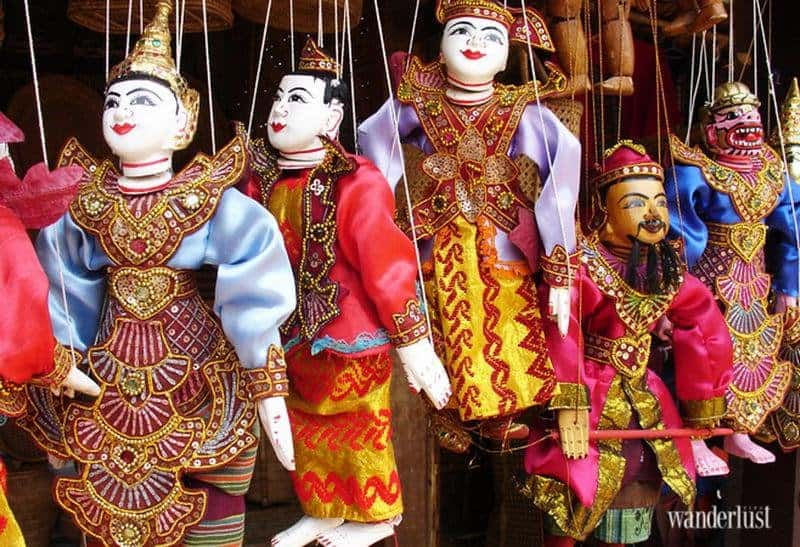 Thailand is famous for shadow puppets, Vietnam is known for water puppets, Myanmar also offers specialities in string puppets, which you can see at many different places. Previously, puppetry was only performed for kings and royalty. Now, it's a way to tell the audience about literature, history, religion, customs and social events in Myanmar.
A performance begins with gongs playing along with ceremonial dances performed by the medium to show respect to the nats and the spirits. With only a few strings, artists can perform complex movements, with the puppets moving rhythmically with the music and singers. Artists need extremely good memories to perform a long show with many detailed dances.
Address: Mandalay Marionettes Theater, 66th Street, Mandalay / Htwe Oo Myanmar Puppet Theater, No. 12, Yama Road, Ahlone, Yangon.
Time: 8:30 – 9:30 p.m.
Ticket price: 8USD per person.
CAMBODIA
Smile of Angkor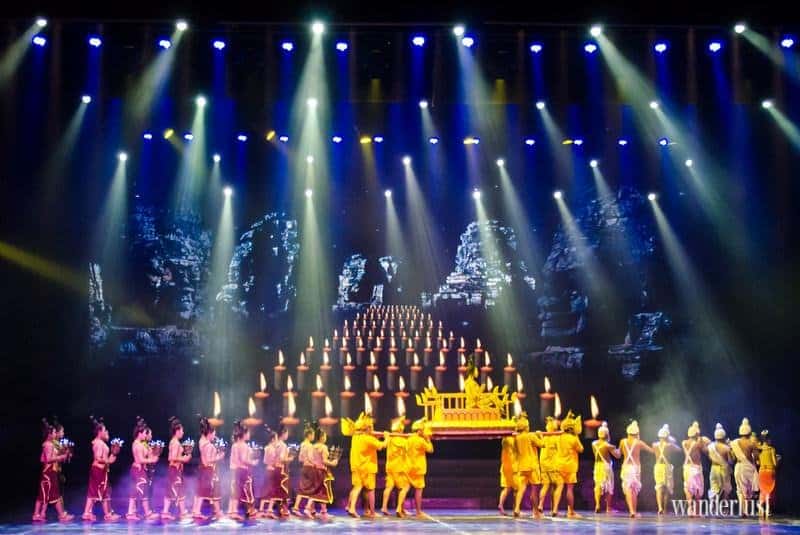 Smile of Angkor tells the stories of the history, culture, and spirit of Cambodia. The 75-minute show is divided into six acts, including "Dialogue with God", "Glorious Kingdom", "Resurrection of the Gods", "Churning the Sea of Milk", "Prayer for Life and "Smile of Angkor". The Bayon temple in Siem Riep has 54 statues with 216 faces of Avolokitesvara, but only one is smiling, and it is also the symbol of Cambodia. The show sports impressive lighting effects, water effects, fire and smoke effects, and sound effects. You'll see traditional Cambodian dances such as shiva, apsara, the warrior dance, the peacock dance, the monkey dance, bokator (traditional Khmer martial arts) and the royal candle dance.
Address: Smile of Angkor Grand Theatre, Siem Reap (located 10 minutes away from Angkor Wat by bus).
Time: 7:30 – 8:45 p.m. every day (If advance tickets for the 7:30 p.m. show are sold out, organizers will host another show from 6 – 7:15 p.m.)
Tickets: 30 – 40USD depending on seating location, excluding buffet; 38 – 48USD depending on seating location and including buffet. Children under 1.4 metres can get a 50% discount.
VIETNAM
A O – My village – The mist – Teh Dar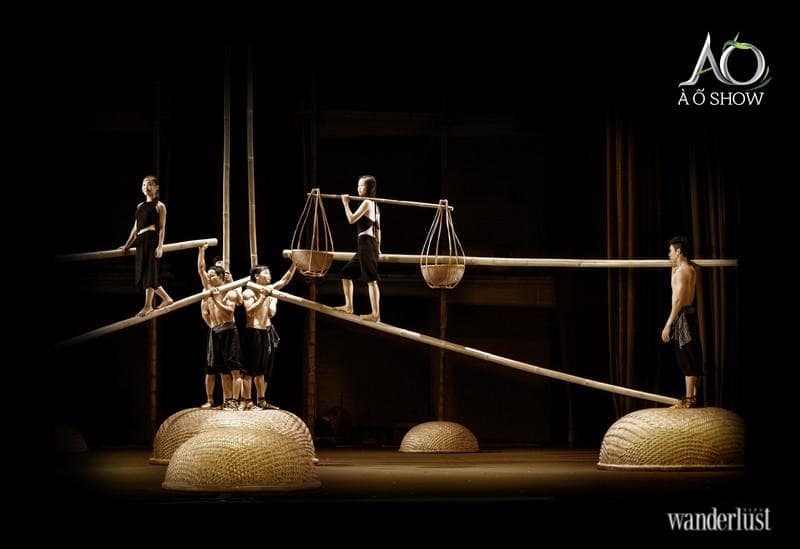 Vietnam has many traditional art forms, but it is difficult for a foreign visitor to fully understand them because of the difference in language, culture, and medium. However, Lune Production performances are unique performances that can mesmerise the audience, both Vietnamese and foreign. The three shows by Lune Productions (A O, My village and The mist) are contemporary circus performances, but in the theatre, you'll see that it's not merely a circus act. Sure, the performers excel in the difficult stunts and amazing circus acts. But more than that, you'll be stunned by the traditional Vietnamese sets that feature materials made from bamboo and also by the traditional costumes. The stories, adorned by the lighting and sound effects, will recreate the Vietnamese spirits on stage. This is the story of Vietnam told in a contemporary way.
Address: A O, The Mist, Teh Dar are performed at HCM Opera House, No. 7 Lam Son Square, Ben Nghe Ward, District 1, HCMC. Tickets start at 630,000VND. The Village is performed at Hanoi Opera House, No. 1 Trang Tien, Hoan Kiem District, Hanoi, tickets: 530,000VND.
Time: 6 p.m. on scheduled days. To see performance schedule, visit luneproduction.com
Ionah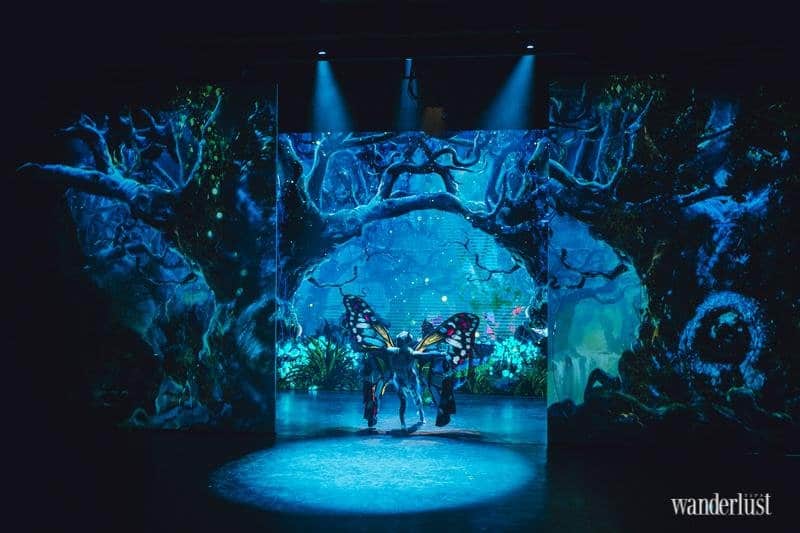 The performance features primarily circus acts, combined with contemporary dance, belly dancing and hip hop dancing performed with impressive lighting and sound effects and even 3D presentations.
The show starts at the modern-day setting in Hanoi, but quickly changes when the protagonist is caught up in a surreal world of her own emotions: jealousy, anger, struggling to find the true meaning and values of life and love. This struggle is expressed in impressive body language, lighting and 3D effects, offering an enchanting visual feast for the audience.
Location: Star Galaxy Theatre, 87 Lang Ha Street, Ba Dinh District, Hanoi
Time: 8 p.m. every Tuesday, Thursday and Saturday.
Ticket price: 750,000 – 950,000VND depending on seating location.
Four Palaces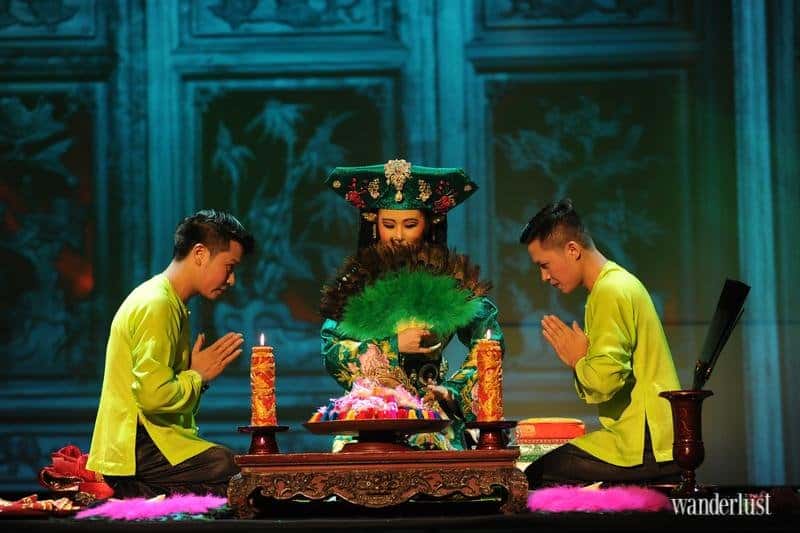 This cultural and spiritual show, "Tu Phu" (Four Palaces) was introduced in February 2016, and has wowed both Vietnamese and foreign audiences. The show offers a great experience of a unique ritual performance of Vietnam's 'len dong' (to mount the medium) of Dao Mau, a Vietnamese mother goddess religion. The show takes place on the spectacular stage of the Workers' Cinema in Hanoi. The outstanding visuals, music, colourful customs and lively dance performance have brought to life this unique custom of Vietnam, that was recently recognized by UNESCO as an "Intangible Cultural Heritage of Humanity".
Address: Workers' Theatre, 42 Trang Tien Street, Hoan Kiem District, Hanoi
Time: Two 45-minute showings take place at 6 & 7 p.m. every Thursday and Saturday.
Ticket price: 125,000 – 295,000VND
Nhung Nguyen | Wanderlust Tips | Cinet