If you are a seeker of beauty and architecture, check out these 7 giant Buddha statues in Asia which leave you awestricken. From elaborate rock reliefs to brightly painted sculptures, Asia will absolutely satisfy your passion.
[rpi]
LESHAN GIANT BUDDHA, SICHUAN, CHINA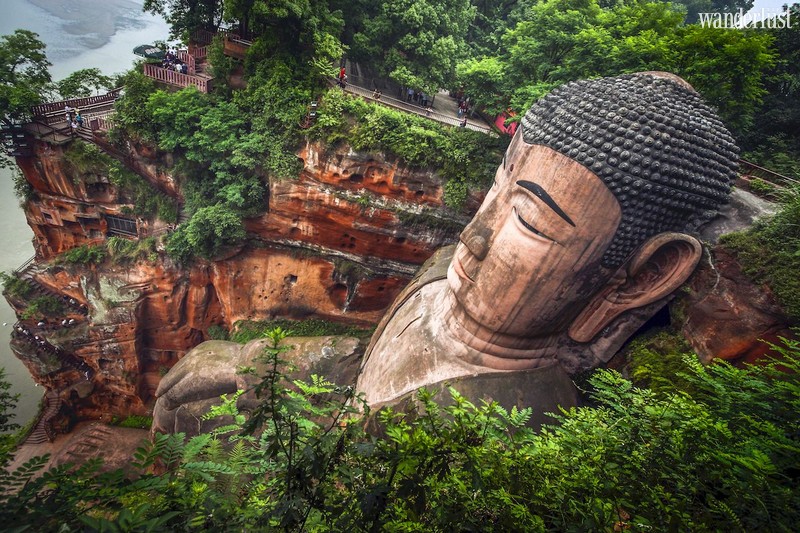 Located to the east of Leshan City, Sichuan Province, at the confluence of the Minjiang, Dadu and Qingyi rivers, the Giant Buddha of Leshan is the largest stone Buddha in the world with a height of 71 metres. Carved into a sandstone cliff during the Tang Dynasty around 800 AD, the statue depicts a Maitreya Buddha with a broad smile on his face in sitting posture. In 1996, the location of the Buddha was included by UNESCO on the list of the World Heritage sites. Despite suffering some weathering over the years, the massive carving makes itself the most renowned scenic spot in China.
Location: No. 2435, Mid Section of Lingyun Road, Leshan City, Sichuan Province 614000, China
Must see: Oriental Buddha Park, Qingying Pavilion, Baoguo Temple, Wannian Temple and Mount Emei
Tip: You will be doing plenty of walking during your visit to the Leshan Giant Buddha and Mount Emei. Wear comfortable shoes, bring water and snacks with you. It is also a good idea to bring a light jacket or sweater.
TIAN TAN BUDDHA, LANTAU ISLAND, HONG KONG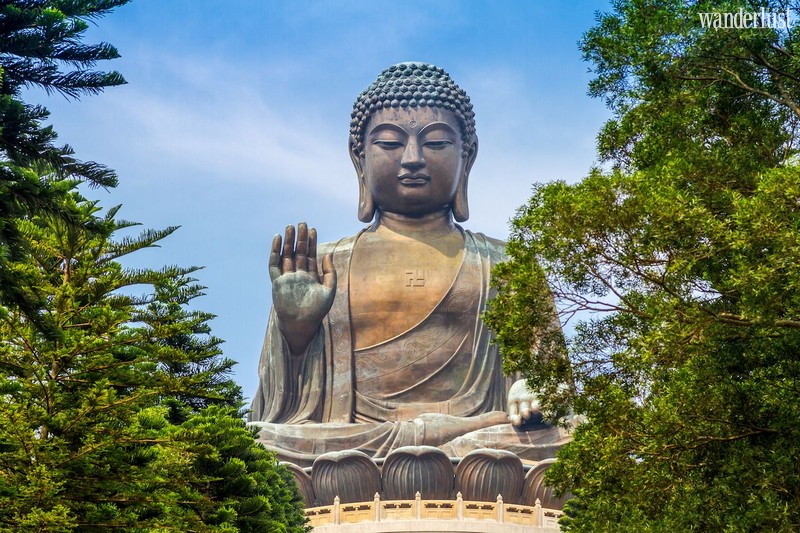 Sitting atop the peak of Mount Muk Yue, the Tian Tan Buddha symbolises the stability of Hong Kong, the prosperity of China and peace on earth. Constructed between 1990 and 1993, the hallowed statue is the largest seated bronze Buddha in the world. A far cry from many other Buddha statues, the Tian Tan Buddha faces North while most other Buddhas face South. If you get the chance to visit, be sure to follow the 268 steps to the base of the statue for an up-close look.
Location: On top of Ngong Ping, Lantau Island 999077, Hong Kong
Must see: Ngong Ping Village, Wisdom Path, Po Lin Monastery, Tai O Fishing Village and Ngong Ping Piazza
Tip: Depending on your departure location and budget, you can get to the Tian Tan Buddha by the Ngong Ping cable car, taxi or bus No.23. If you visit Tai O Fishing Village first, the bus No.21 will take you from Tai O to the Big Buddha in 15 minutes.
KAMAKURA DAIBUTSU, KAMAKURA, JAPAN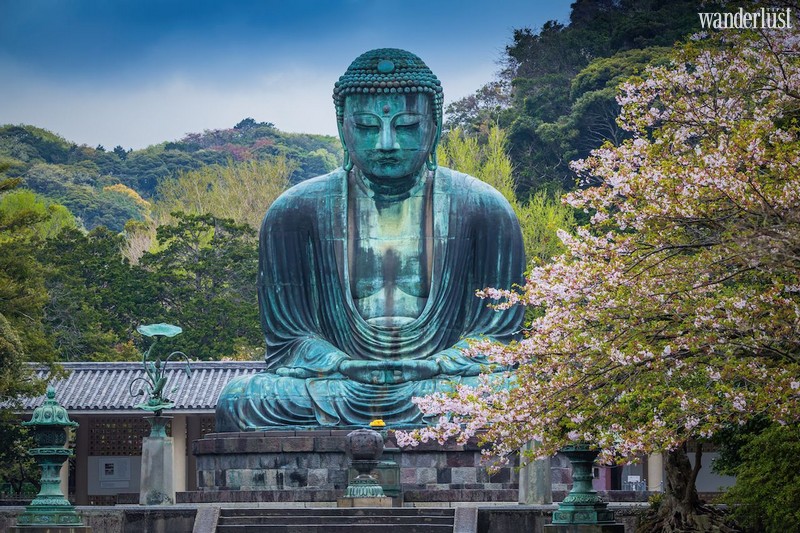 Whether covered in snow or prettily framed by cherry blossoms, the giant Daibutsu of Kamakura stands serenely on the grounds of Kotokuin Temple in the south of Japan. With a height of 11.4 metres, it has long been the second-tallest bronze Buddha statue in Japan. The carving has been kept intact without any large-scale restorations since it was built in 1252 while most parts of Nara's Daibutsu has had to be reconstructed. Whenever you come, his expressive face will touch your heart.
Location: 4-2-28 Hase, Kamakura, Kanagawa Prefecture 2480016, Japan
Must see: Hasedera Temple, Zeniarai Benten Shrine, Genjiyama Park, Tsurugaoka Hachimangu Shrine and Komachidori Street
Tip: The Great Buddha is only located a 5-10 minute walk from Hase Station, but buses are available from this station.
BUDDHA DORDENMA, THIMPHU, BHUTAN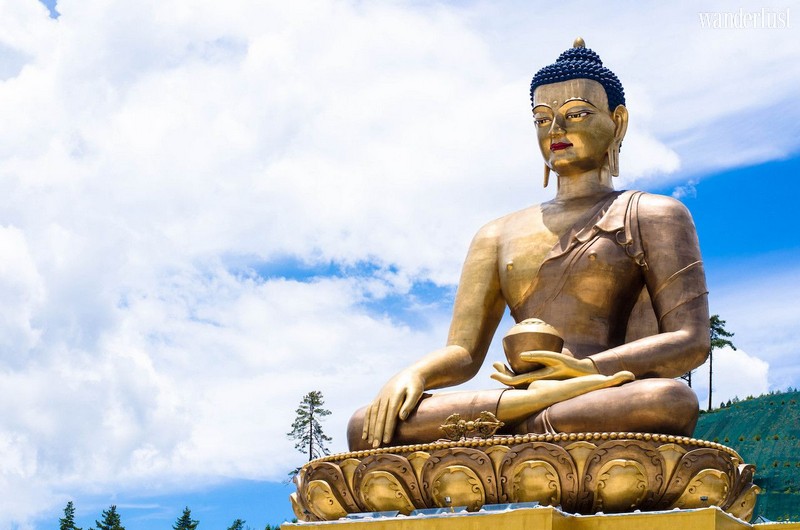 One of the top attractions in the Bhutanese capital, the Buddha Dordenma sits atop a hill in Kuenselphodrang Nature Park, overlooking the Southern entrance to Thimphu Valley in Bhutan. Made of bronze and gilded with gold, this 50-metre statue was twice prophesied that an aura of peace, happiness and good fortune would spread across the entire world. Inside the meditation hall, 120,000 smaller Buddhas further honour the deity.
Location: Kuenselphodrang, Thimphu 11001, Bhutan
Must see: Royal Textile Academy of Bhutan, Motithang Takin Preserve and Dochula Pass Meditation Caves
Tip: Make sure to dress modestly for your visit
PHRA ACHANA, TAMBON MUEANG KAO, THAILAND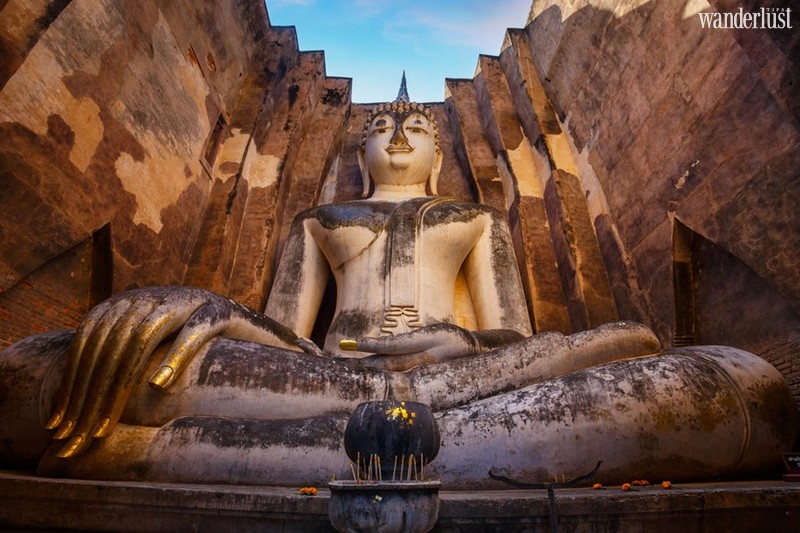 Located in Wat Si Chum temple in Sukhothai Historical Park, Phra Achana is one of the most beautiful Buddha statues in the ancient city of Sukhothai. The large seated statue's name means 'Buddha who is not frightened'. Also known as Phra Poot Dai, meaning 'speaking Buddha', the 15-metre statue intrigues travellers with its setting that is housed within a large and now-roofless hall. When devout Buddhists make merit, they place gold leaf on the delicately sculpted fingers of Phra Achana.
Location: Tambon Mueang Kao, Sukhothai Province 64210, Thailand
Must see: Wat Pha Sorn Kaew, Pha Nang Khoi Cave and Bo Sang Umbrella Village
Tip: The Sukhothai Historical Park is divided into 5 zones: the Central, North, South, East and West Zones. Each zone has its entrance of 100 Baht for foreigners or you can buy a pass to all 5 zones for 350 Baht. All passes are valid for only one day.
PAKSE GOLDEN BUDDHA, PAKSE, LAOS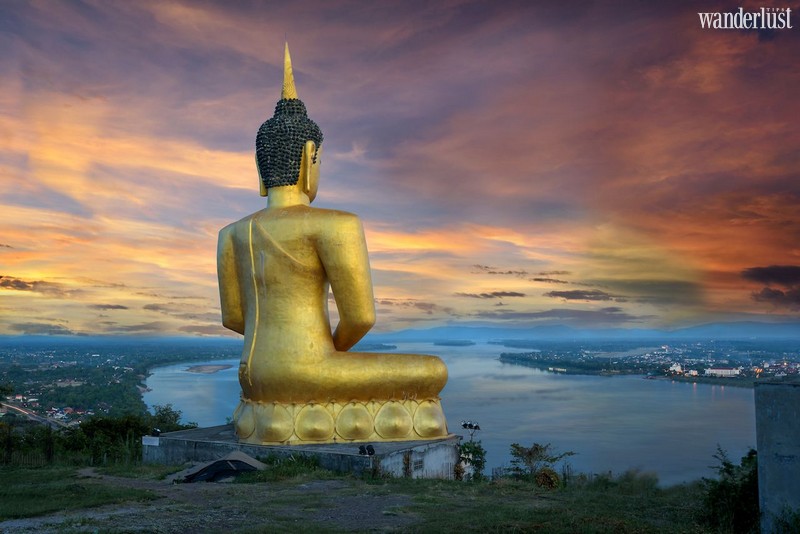 If you are looking for an iconic Buddha statue in Asia, then Laos should be added to your bucket list. Erected on a hilltop overlooking the Mekong River at the Wat Phou Salao temple site, the golden statue was completed in 2013 as is evidenced by its untarnished golden sheen. The Buddha strongly implies the big influence of Buddhism in Laos and generates a peaceful impression about this city. Gazing out serenely across the skyline of Laos, it is a beacon of stillness and peace in an increasingly hectic world.
Location: Wat Pho Salao, Pakse 1600, Champasak Province, Lao PDR
Must see: Wat Luang, Champasak Provincial Historical Heritage Museum and Dao Heuang Market
Tip: The Lao-Japan Friendship Bridge is the key point if you want to visit the Golden Buddha, so hire a Tuk-tuk or rent a motorbike for your discovery.
GAL VIHARA BUDDHA, POLONNARUWA, SRI LANKA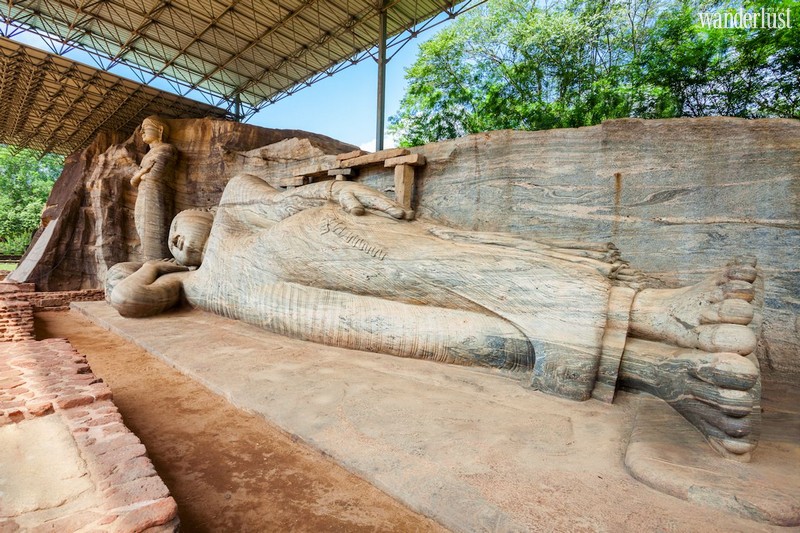 Buddhism is the most common religion in Sri Lanka, so it makes sense that there are several Buddha statues at the Gal Vihara temple complex, but the site is best known for housing a 46-foot-long, rock-cut reclining Buddha, one of the longest in South Asia. The most striking feature of the grand Buddha sculpture is the marbling present in the granite, making it an icon of the Sinhalese craftsmanship in Sri Lanka.
Location: Minuwangoda Road, Polonnaruwa 51000, Sri Lanka
Must see: Royal Palace, Audience Hall, Sacred Quadrangle, Alahana Parivena Complex, Shiva Devale No. 2, Pabalu Vehera, Rankot Vihara and Dagaba Kiri Vihara
Tip: Make sure to be dressed appropriately upon visiting. Both men and women should cover their knees and shoulders. Photography is prohibited at all of the monuments.
Wanderlust Tips