(#wanderlusttips #Sorae) Six lunch sets has particularly been selected and introduced to the diners of Sorae restaurant and lounge featuring various options from buta sobboro don, hate zuke don, unagi oshizu mini bento to spicy kaisen yakimeshi.
[rpi]
Picking any set, the diner will have a main course, salad, steamed egg, miso soup and dessert served in the spacious and classy venue of 200 seats in modern Japanese style. The set is only from 160.000++.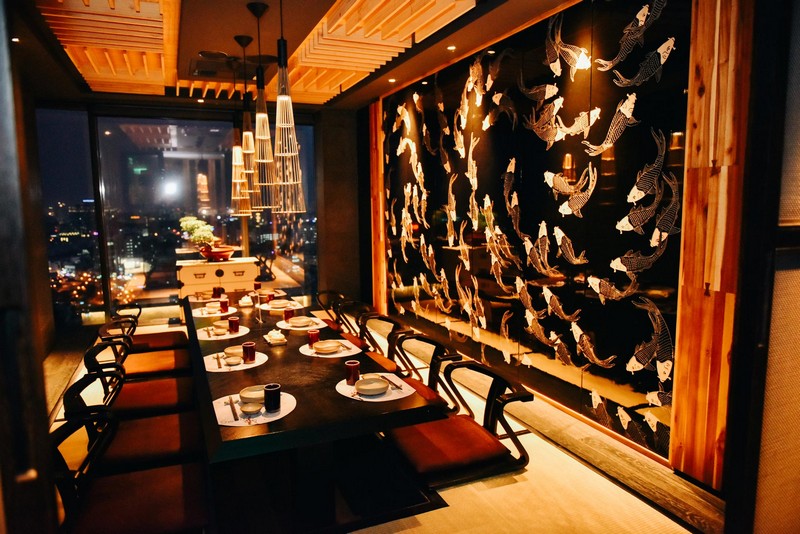 The restaurant which is devided in three concepts: the yakitori and beer kitchen, the sushi and sake bar, and eight private rooms themed after different aspects of Japanese culture will submerge the guest in countless skewer and barbecue options. A short walk from beer in the yakitori section is the sushi bar where diners can watch the chefs prepare the fresh Japanese delicacy made from imported and local fish.
While Sorae's first floor is all about food, upstairs is dedicated to drink. The luxurious lounge features a wine bar and whiskey bar offering enough premium liquor to make even the most discerning tippler weak in the knees.
Nestled in the whiskey bar The Saigon Cigar Club is designed to bring the guest the most private yet classy setting to impressively finish your delightful night.
Sorae bring the guest all-week-long amazes with endless special programes including special offer for sushi lovers, free kids' meals for Sunday brunch, 50% discount for drink on happy hours (5.30PM-8PM), Geisha service at The Saigon Cigar Club every Wednesday, free lady coctail on Thursday, and fervid ambiance of Champagne party with DJ Kyto from Paris.
Sorae Restaurant and Lounge
Address: 24, 25 Floor, AB Tower, 76A Le Lai, Dist. 1, HCMC
For Reservation: (08) 38 272 372
Wanderlust Tips | Cinet