[Wanderlust Tips June 2018] If you want to explore water destinations in Vietnam in a completely new way, SUP (stand-up paddle) is probably an ideal choice. SUP or also known as stand up paddle boarding help you discover beautiful nature, exercise, and experience a little adventure at the same time.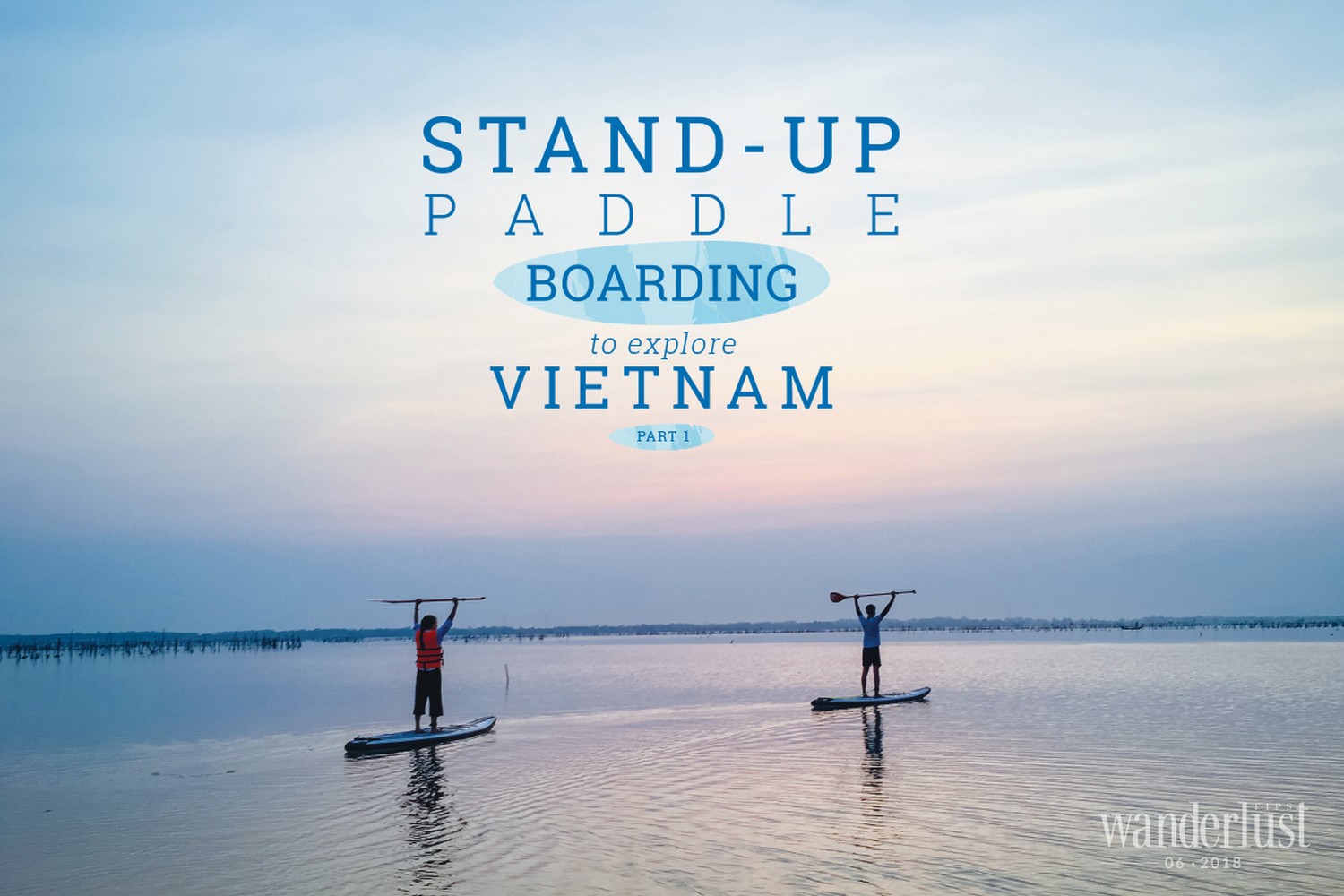 SUP is very new in Vietnam. No one can tell the origin of SUP, but this sport became popular in Hawaii, United States (similar to surfing). For SUP, you need a wooden hard board or an inflatable board, 10 to 12 feet long (about 3 to 3.6 metres), a paddle, fin, and lease. SUP also requires the same technique as Kayak, but is more flexible as you can change postures like kneeling, sitting, or standing, and use different paddle techniques like turning around, turning left, turning right, or even surf using the SUP board. SUP helps you burn a lot of energy, improve your abdominal muscles, upper torso and thigh muscles as you regularly do squats when rowing. The faster you surf, the higher the number of squats you have to do.
In addition to physical benefits, SUP helps you explore the nature of water areas in a completely new way. You can also relieve stress and relax, or even do yoga, meditation or muscle relaxants if you can find calm waters.
SUP TO FIND PEACE OF MIND
When I could not motivate myself to go to gym and I did not have enough physical strength to run, I accidentally discovered SUP when I was looking for information of outdoor activities in Ho Chi Minh city on Facebook. Since then, the SUP boards have become my companion on every nature exploration trip relating to water. I started my SUP journey with a trip to Tri An Lake in Vinh Cuu district, Dong Nai. Then, I went to Tuyen Lam Lake in Da Lat, Mai Waterfall in Dong Nai, Trai Tim Lake in Tay Ninh, Da Lake in Thu Duc district, Vung Tau beach, Tam Giang lagoon, Lang Co beach in Hue and Vu Gia river in Quang Nam.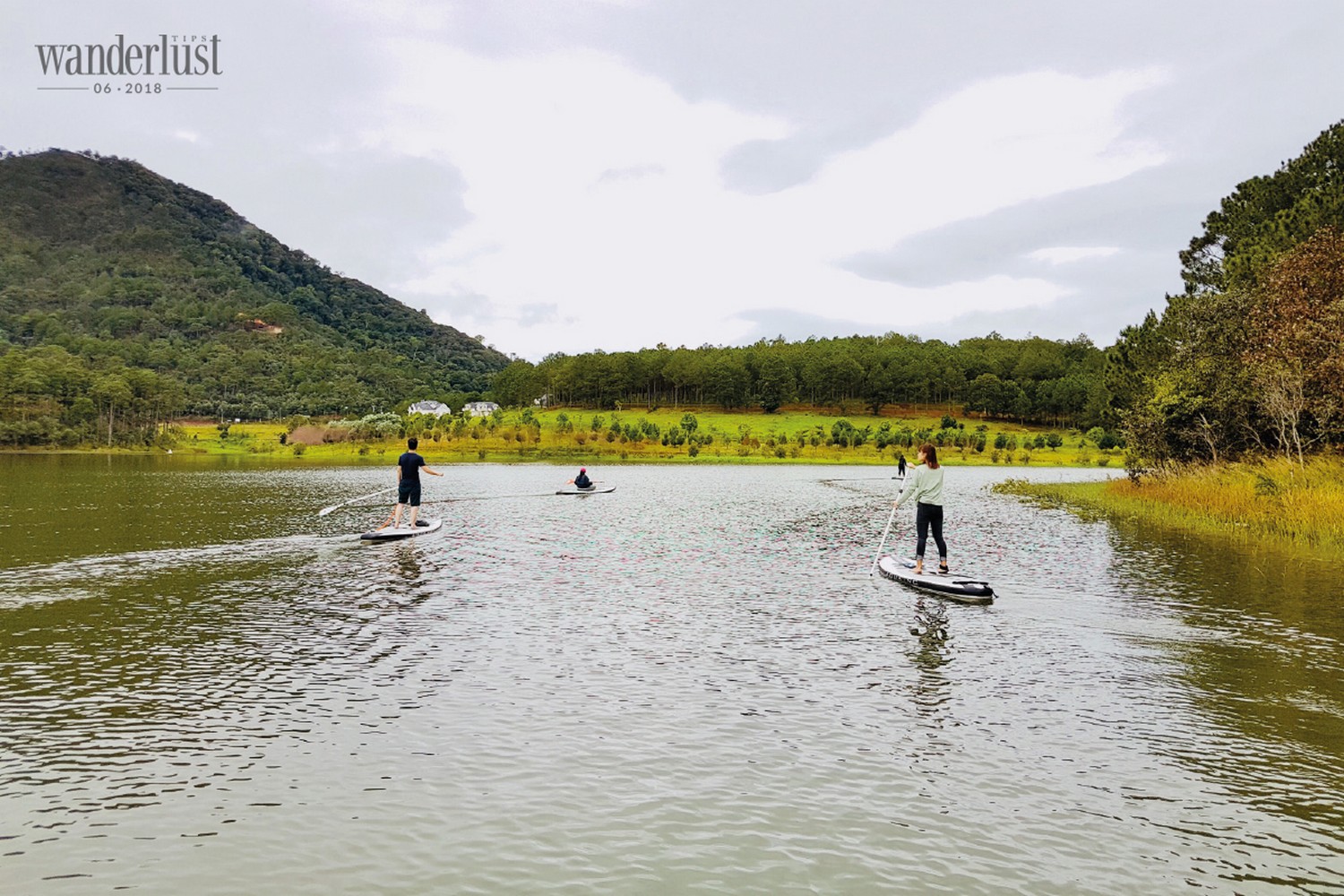 In addition, I also took my SUP boards abroad to Thailand, Bhutan, and Singapore. The list will go on until I can no longer SUP. It would be a long time until the day I cannot handle standing up padde so I will continue to explore the nature with my paddle board.
For me, with an urban lifestyle, filled with so much stress every day, going far away from the noisy, dusty and complicated city to flow along the river or paddle against the wind and the resistance of water has become indispensable on weekends and holidays. I can watch the blue sky, look at the trees swaying in the wind, listen to the birds singing and watch them flying across the water. The moments when I look at the calm water surface with the waves gently lapping the hard board are so precious. SUP always brings peace to my chaotic mind, and when I go to new or familiar places for SUP, I feel refreshed and filled up with new energy along with creative inspiration to return to the city and face the tension and fluctuations of daily life. It can be said that SUP is a therapy that heals the invisible "wounds" that the stormy life has left in my heart.
TRI AN LAKE – HEARING BIRDS' SONG AT THE DAWN 
Tri An Lake in Dong Nai is my favorite place to SUP in Vietnam. The natural scenery around Tri An changes each season with the fluctuation of the water level. Dawn was what I loved the most when thinking about SUP activities here, when I watched the red sun rising from the deep blue sea. I had to try my best to wake up at 4am, travel with everyone to Tri An, inflate the SUP board, and paddle out of shore to watch the sunrise at about 6am. Admiring the bright red sun rising up from the water surface made me feel refreshed; I felt the efforts to wake up early paid off.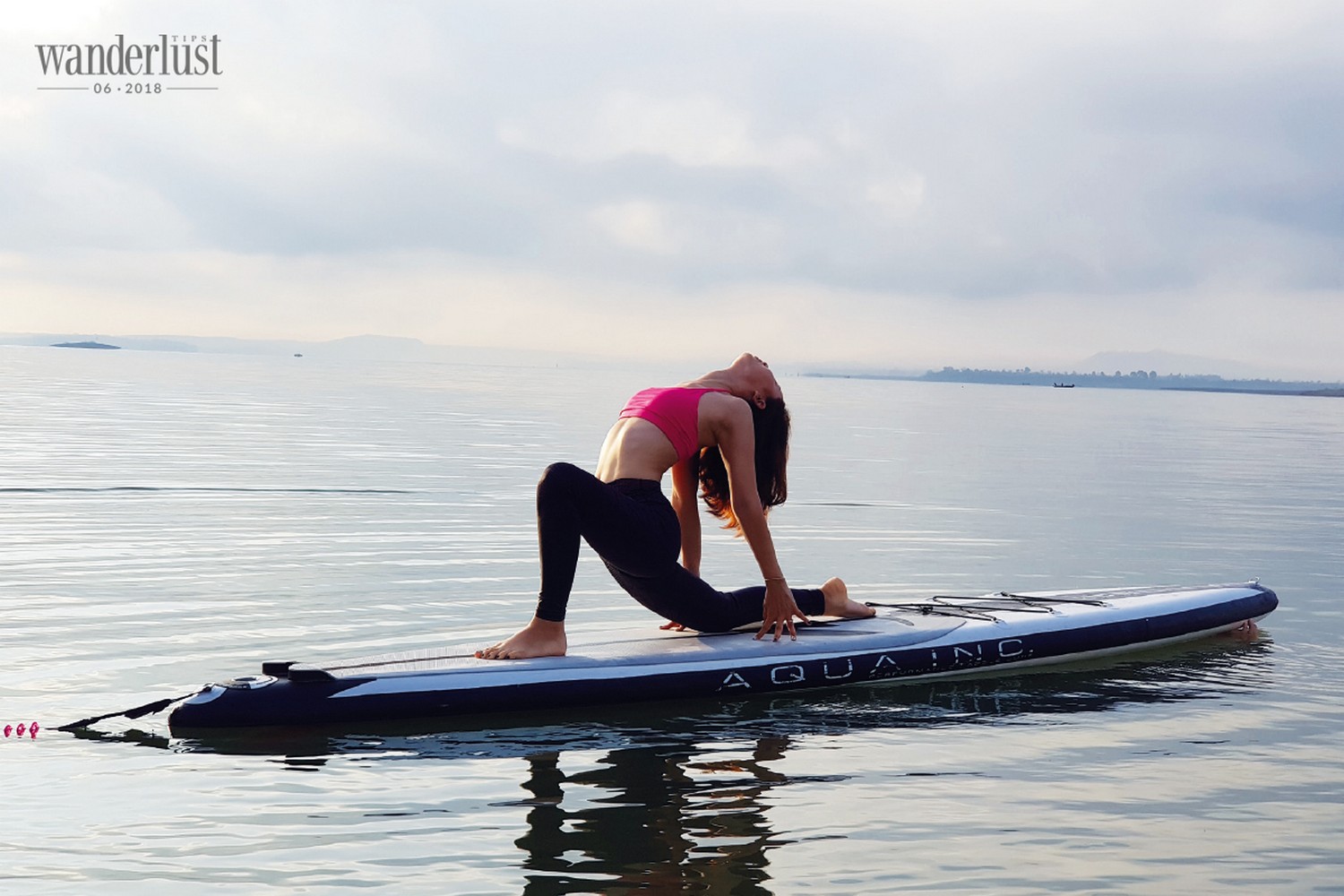 Tri An lake is one of the major and largest hydroelectric dams in Southern Vietnam with an area of 232 square metres. Just more than an hour away from Ho Chi Minh City, with lush green nature and clean water without chemicals or wastes, Tri An is an ideal place to SUP, have a picnic, practice yoga on a SUP board, or simply paddle to a corner of the lake that is full of trees and sit still to listen to the birds singing at dawn. If you love to do exercises or muscle training, you can SUP to Dong Truong island or O Island which is 7 kilometres away with your guide. Doing SUP continuously can help you burn more than 800 Kcal in an hour, and outdoor practice amidst the beautiful nature in Tri An will bring unexpected benefits to your health and mind.
Tri An is an ideal destination to do SUP at any time of the year as the weather is very stable with cool winds and fresh air. Local people catch fish from the raft, and the specialty of this region is the hemibagrus. Hemibagrus hot pot or grilled hemibagrus with salt and chilli are the dishes you should not miss out on when travelling here.
TUYEN LAM LAKE – WHERE THE PINE FOREST IS FILLED WITH JOYFUL SOUND
Tuyen Lam lake is one of the most romantic places I have been to SUP, with the joyful sound in the pine forest whenever the wind raises, blue sky, gently drifting white clouds, golden sunlight covering flowers and green grass, and the calm transparent water. Tuyen Lam lake deserves to be the "muse" in the fanciful mist of the flower city Da Lat. Only 15 kilometres from the centre of Da Lat, at the foot of the Truc Lam Thien Vien, when paddling your SUP here, you can admire the beautiful surroundings while enjoying cool pleasant breezes, which is not easy to find in busy cities.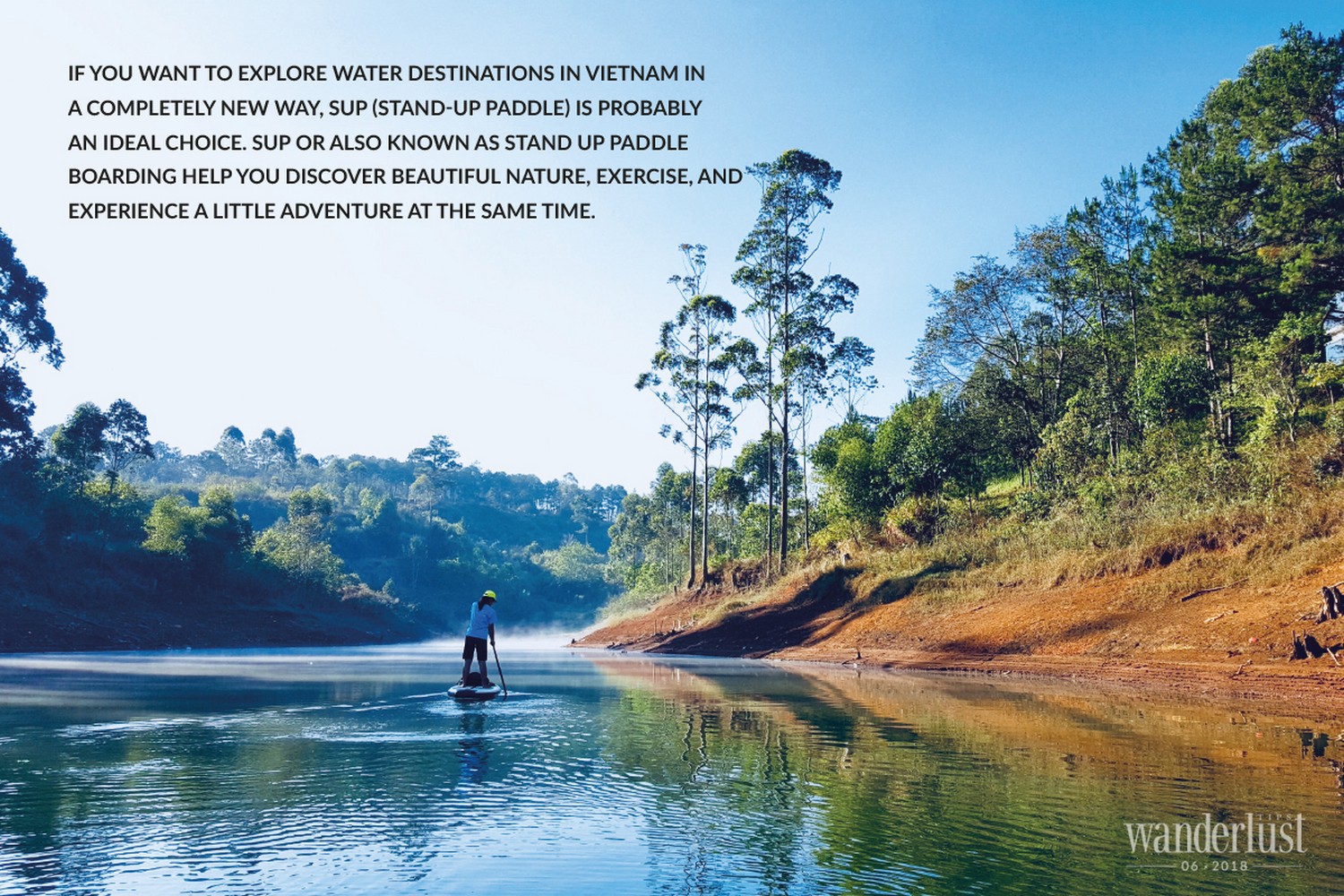 Tuyen Lam lake is even more charming from above with its attractive curves adorned with the fresh green of pine forests and sparkling water surface. This lake also plays a very important role to supply and reserve water for the whole city of Da Lat along with Than Tho lake, Tuyen Quang lake, and Xuan Huong lake. It will still be very enjoyable when you unfortunately fall into the water when doing SUP (with life jackets). The clear and fresh water gently lapping the bank will make you feel like you are being massaged by the cool water to beat the summer heat. You can also practice meditation or yoga on the SUP board in some quiet waters near the bank. A SUP trip to Tuyen Lam lake can last up to 3 hours, and you will see Mong Mo hill or a part of Love valley.
The best time to SUP in Tuyen Lam lake is in the Spring from February to the end of May, and in the Fall from October to the end of November when the rainy season comes to an end. If you would like to trek after exploring Tuyen Lam lake by SUP, you can trek to Cu Lan village or take the long-distance bus to Tinh crossroads (on the new road to Nha Trang) to trek to Andante Lodge Farm and experience one day one night without cell phone signals, 3G, or Internet. This will be a golden opportunity to help you stay away from the modern life and treat yourself more by reading, cooking, picking vegetables, feeding fish, and visiting the streams.
TAM GIANG LAGOON – WHERE THE TIME STOPS
I went to Tam Giang lagoon in Hue with my Philippino close friend and another friend I met through a SUP group in Da Nang. I had admired the rare shimmering beauty of Tam Giang lagoon for a long time and also visited this place many times, but that was the first time I stood up paddle board to enjoy the beauty of Tam Giang lagoon in a completely new way. On the transparent water surface like a big silver mirror, I paddled slowly to enjoy this rare beauty. Tam Giang lagoons are dotted by piles of fishing nets to keep fish rafts from floating away, creating extremely unique zig-zag chains on the water, which could not be found in other lakes.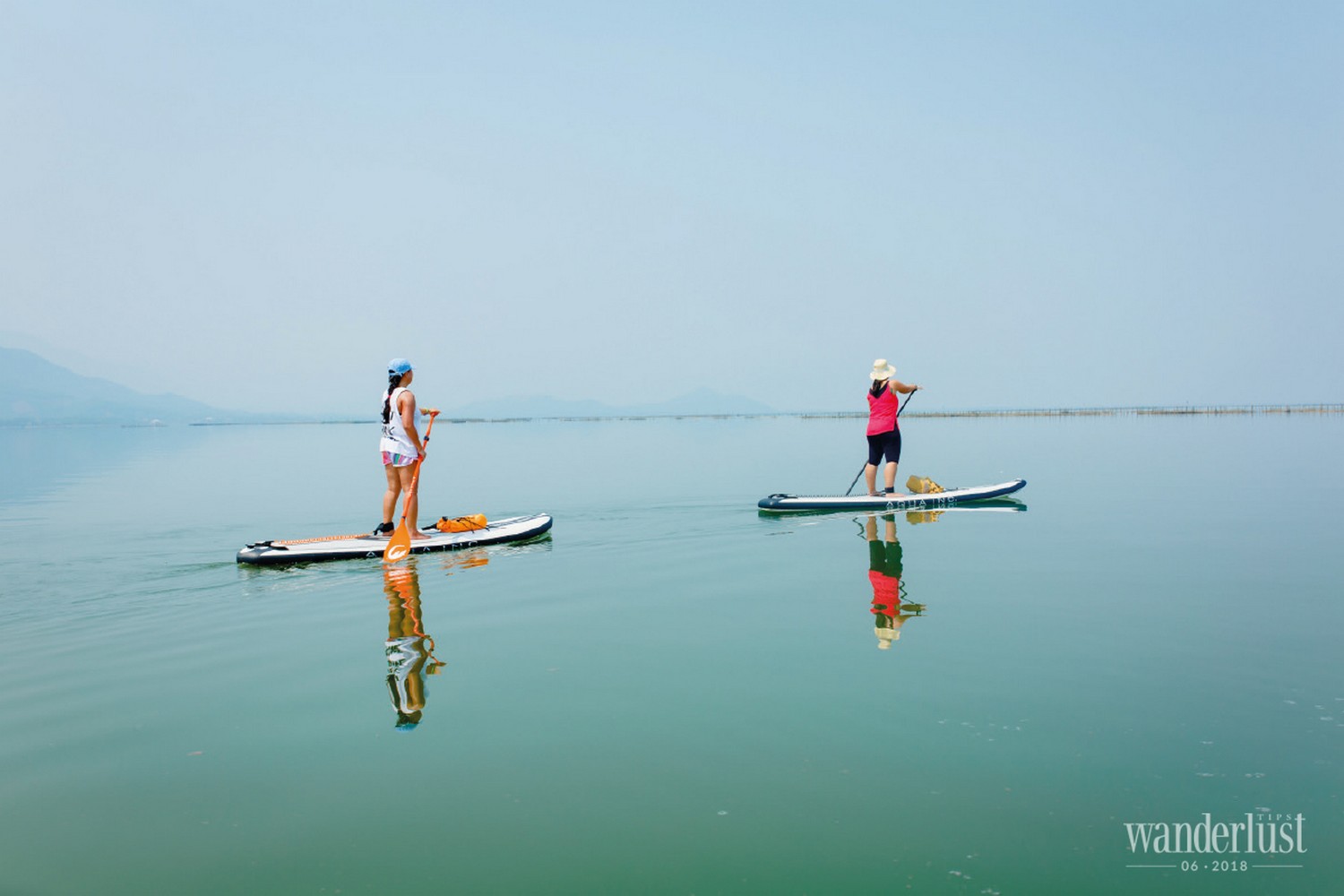 You can SUP to watch the sunset. The whole bright purple sky was reflected on the calm water. Sometimes, we met a fishing boat on the way home, which created a poetic scene full of emotions. At that time, you would not hesitate to take out your camera to capture this impressive scenery. If you do not have a camera and do not want to do anything, you can just let the SUP board drift. However, at a place where time does not seem to elapse, even the SUP board did not want to drift so that the oarsman can enjoy the moment of watching beautiful nature.
At Tam Giang lagoon, besides SUP and admiring the nature, you can also set up camping tents on the mounds and sit by the fire to sing songs with friends. Of course, you should tie the SUP levee to a fixed place to prevent the board from drifting away, as well as prepare food and drink for camping as there are not many grocery stores around.
W. TIPS
CHOOSE THE APPROPRIATE TYPE OF SUP BOARD
There are two types of SUP boards: hard board and inflatable board. Depending on utility purpose – for yoga, pilates, meditation, or relaxing, you can choose the board that suits your body.
COST
>> A SUP board also has a range of prices, from USD350 to over USD2,000. The cheap SUP boards often cannot withstand high or too low temperatures for a long time and are easy to leak after a period of time (inflatable boards) or crack (hard boards). Therefore, you should consider buying a high-quality SUP board for regular use over a long period of time.
>> If you just want to occasionally relax with SUP, you can sign up for a SUP tour package (including transportation, SUP tools and boards, an instructor, safety equipment, and more). The price for a SUP tour ranges from VND740,000 in Ho Chi Minh city, and more than VND 2 million in Da Lat or Phan Thiet.
>> If you have never done stand up paddle, you need to sign up for a SUP tour which includes an experienced tour guide travelling with you.
>> SUP requires good balance; when starting, you should kneel to paddle and get used to the water surface. After getting used to the board, you can choose relatively calm water and try to stand up with a squat movement and use the paddle to keep your balance.
>> To SUP, we use core abs and hands to hold the paddle to keep balance and paddle. When paddling, you need to flex your abdominal muscles and lean forward to create force to push the paddle backward so that the SUP board can move.
>> Always wear a life jacket regardless of how confident you are or how calm the water is. Always tie a lease to your legs and the SUP board so that if you fall into the water, the SUP board will become a breeches-buoy.
>> Sunscreen, sunglasses, water and some snacks (nuts or biscuits) should be put into a waterproof bag.
>> Always follow the instructions of the instructor or trainer to navigate and paddle properly.
>> If you fall into the water, do not panic because the life jacket will assist you. You will float on the water with your life jacket and SUP. Wait for your guide to help you climb up the SUP board.
Lê Hà | Wanderlust Tips