[Wanderlust Tips July 2018] In recent years, I have come up with the idea of celebrating my birthday in a different faraway land every year. In the past few years, i used to take a paddle to celebrate my new age in a unique way like sup at new destinations or rafting on white water rapids. Mo Chu river (Bhutan) and Phuket (Thailand) are two of the places that have given me the most memorable birthdays.
BHUTAN – WHITE WATER RAFTING TO TEST THE LIMITS OF YOURSELF
People often think that when visiting Bhutan, they should spend time exploring mountains, climbing the Tiger's Nest, or going to a pagoda to pray for luck. I have already tried a lot of activities such as trekking, visiting pagodas, meeting the Dalai-Lama, going to the village and admiring terraced fields, camping on the banks of Mochu river, or driving on the mountain roads to reach the sacred valley of Bumthang as well as the fortress Trongsa where the present king was born. However, the memory of white water rafting and SUP on my birthday two years ago was the most nostalgic to me.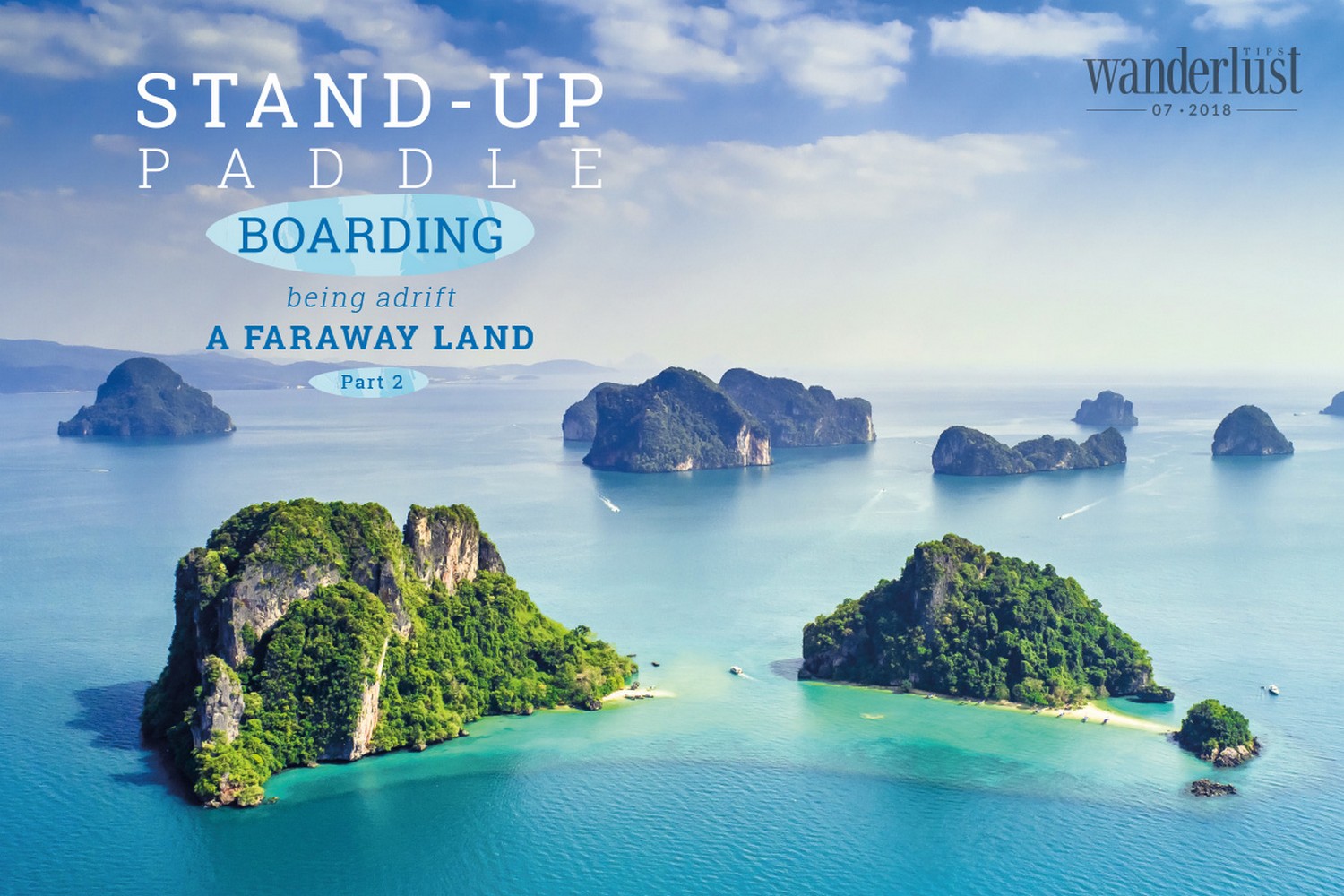 At a certain age, you will feel bored with activities which you do regularly and want to try something "crazy" to stimulate the amount of adrenaline in your blood. When trying white water rafting at an average degree of difficulty on Mo Chu river in Punakha, I told Kinley, a very experienced leader of the raft team, that I was happy but it did not really impress me. Kinley looked at me in disbelief. Maybe my words made the raft guide with brownish skin and deep-set eyes feel offended, Kinley thought for a while and told me, "I can let you try a more dangerous and difficult rafting at level 4 and 5 in which we have to go upstream for 30 kilometres, then row down the falls to the Mo Chu river, would you dare?"I stared at him for a few seconds then nodded and laughed, "I will go! It is exactly what I want". So Kinley gathered the participants, told me to prepare well and get an early night's rest because it would be extremely tough, and it was only for experienced people.
Early the next morning, I neatly put on my clothes and had breakfast before Kinley came to pick me up upstream of the Mo Chu river. Mo Chu means Female river (Mo means "female" and Chu means "river"); it features gentle and rough river bends. Mo Chu river merges into Pho Chu river (Pho means "male") which is more downstream where Punakha Dzong Fortress is covered in the purple colour of jacaranda in the spring, from April to May. The road upstream was in bad condition; Kinley drove a small truck carrying a raft, 5 rafters and 2 professional kayakers as navigators. We had to get off the truck and walk many times because the road was so bad that if the truck carried too many people and equipment, it could not pass through. It took us almost two hours to reach the final spot.
Rafting is a team sport; its main equipment includes a large raft and paddles. Kinley was the captain who controlled two large paddles at the back, while we sat on either side holding medium paddles. The team must follow the instructions and signs of the captain to direct the boat passing through the cliff, whirlpool, and waterfall rapids. Higher degree of difficulty requires greater trust and discretion, and each member must be able to cope with the situation if they fall into the water. We all wore life jackets and helmets to ensure safety.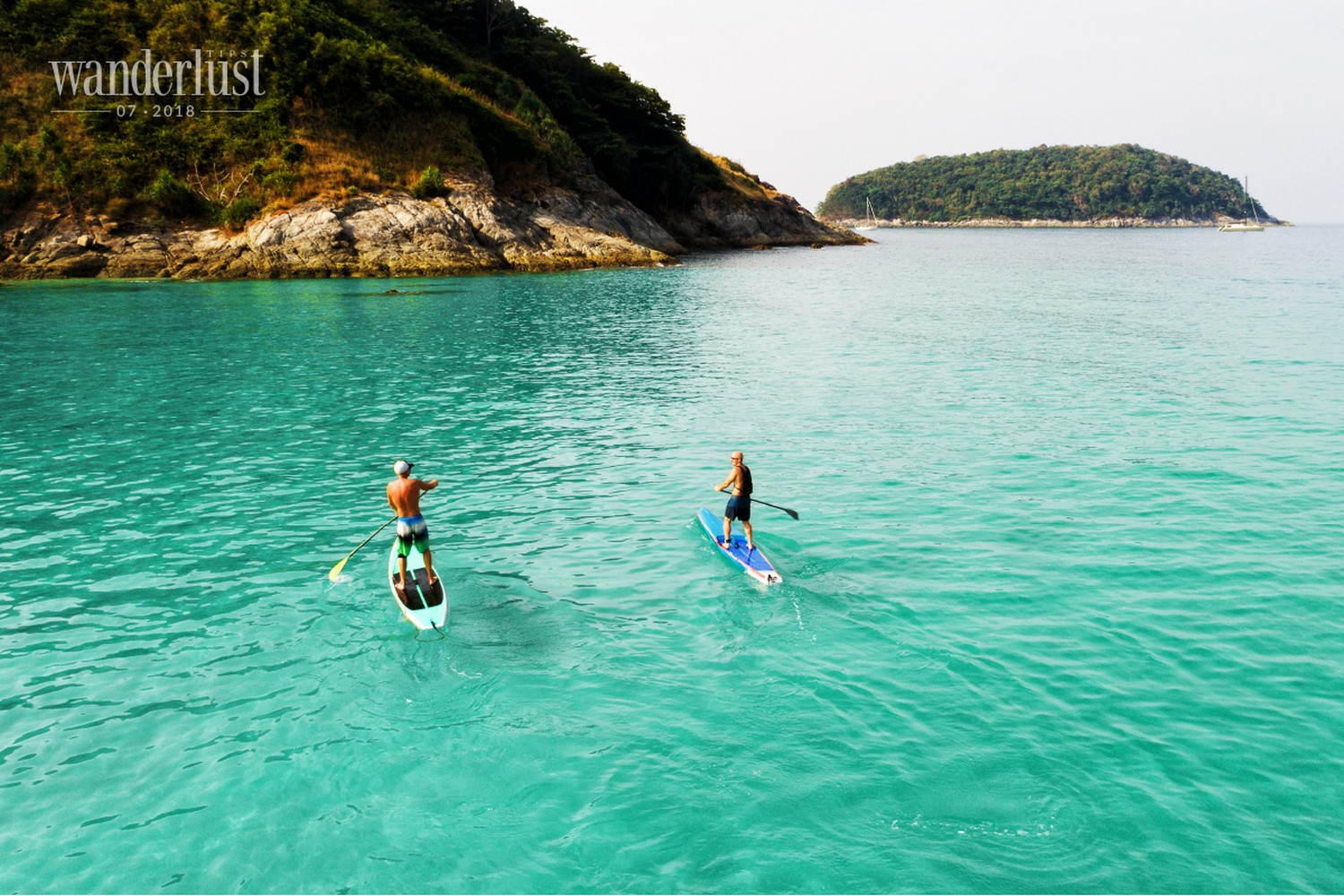 We crossed a 30-kilometre stretch of the river, passed through a lot of huge cliffs and rapids. At some points, there were too many rocks, so we had to walk on the riverside and carried the raft together. At other points, the raft hit a huge stone and fell into the whirlpool; all of us fell into the water and drifted to different points on the fierce Mo Chu river, which looked like a furious, beautiful, young woman. I also fell off the raft, but thanks to my SUP paddling and situation handling skills, I quickly managed by bringing my knees up to my chest like a big ball, which made me float. This posture helped avoid my legs from getting stuck in the rock and my face up to observe rocks so I may stretch out my legs to avoid hurting myself when hitting any obstacles. I also tried to drift close to the bank so I could get out of the water, waited for the raft and continued the journey. As I was considered a "guest of honor", the whole team was extremely nervous when I fell into the water. So was Kinley; he kept shouting, "Be calm! Do not panic. I will save you. Calm down". I replied, "Thank you. I'm fine. Do not worry too much". It looked as though we were quarrelling on the roaring Mo Chu river.
It was so tough and we all got wet, but we could still enjoy most of the stunning sceneries along the banks of Mo Chu river. Kinley showed me rare plants which were only grown on high mountains, and occasionally I saw mountain eagles hovering in the sky. At some points, the water was so clear that we could see the bottom of the river full of round rocks, which were believed to come from mountain landslides, according to Kinley. Sitting on a raft, with mountains on either side covered covered by lush green trees, I realized that no matter how intelligent human beings were, they were still so tiny and fragile in comparison to nature. When we saw Punakha Dzong, Kinley looked at me with his bright shining eyes and said: "Happy Birthday! I think you have had a really amazing birthday."
KOH YAO NOI, PHUKET – A BIRTHDAY ON THE SEA
Another birthday and I was on the road again, carrying my beloved SUP board. My destination this time was Koh Yao Noi, a small quiet island in Phuket, Thailand.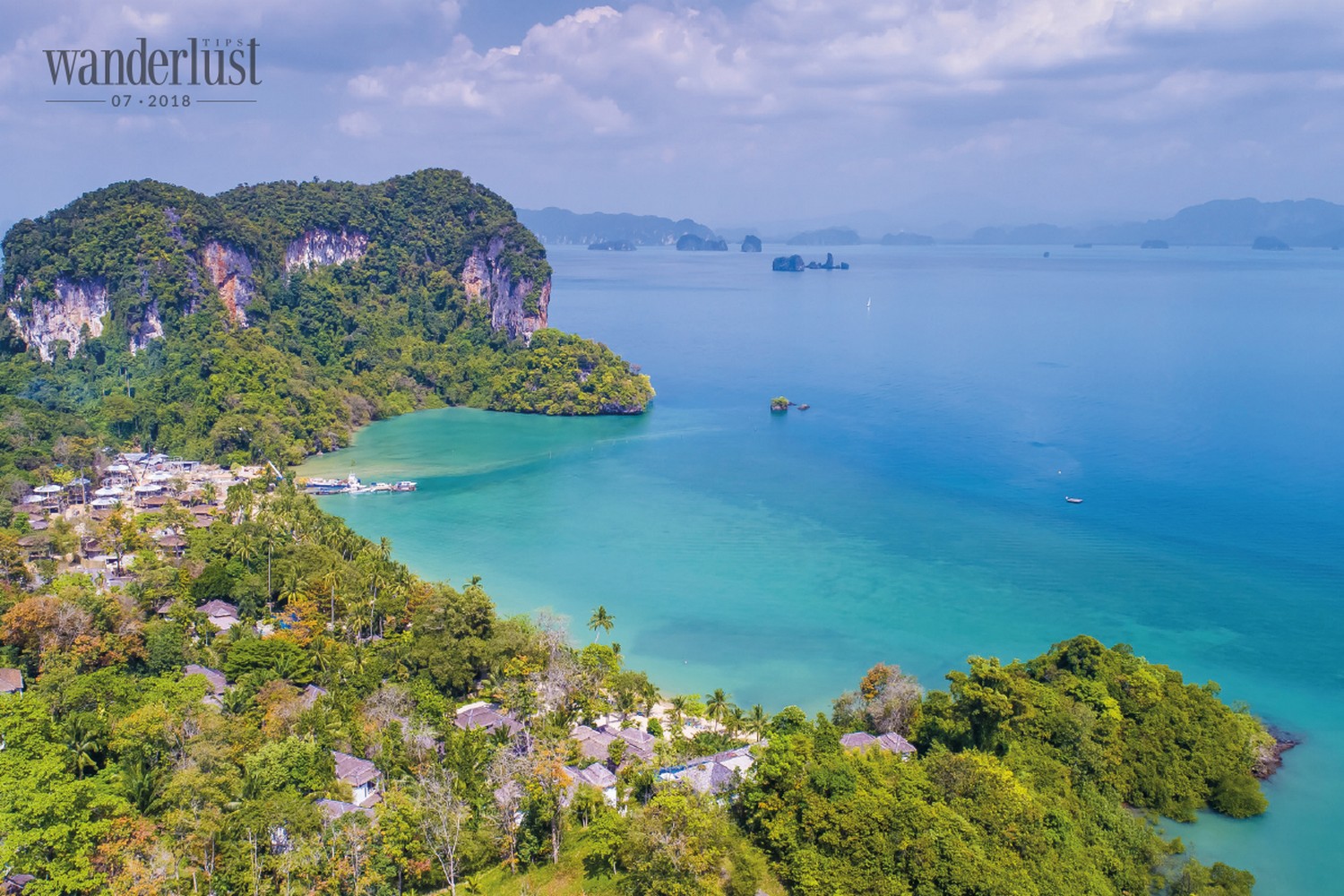 I was not in the mood to party anymore at this age, so I chose a small resort nestled on the island, which had beautiful white sand and a lot of green trees. This resort was built to resemble the architecture of a Thai Temple; its straw and tile roofs were soaring, making the room cool and airy. The thing I love the most about this resort was that it had an abundance of familiar trees planted for shade and nature-oriented decoration. Near Koh Yao Noi island, there were many smaller islands dedicated to water play areas with many activities such as snorkeling, scuba diving, paragliding, jet skiing, kayaking, and yachting. So, not only could I stay in a quiet and green place, but also take part in water sports.
That morning, it was really pleasant and sunny, but my SUP plan was busted due to the low tide which revealed a dead coral reef covered with moss. So I went to see the resort's manager and asked for the tide times to calculate the time to SUP. After the conversation, I concluded that I could paddle from 8.30 am to 1 pm and from 3 pm to sunset.I planned to SUP around the island, through the wharf, then went back to my resort. I carried a waterproof basket filled with two cans of carbonated soft drinks, mineral water, snacks, and a bag of nuts. The total length of the trip was about 15 kilometres, and the weather was ideal for a weekend with gentle breezes, bright sunshine and clear blue water. I changed my swimsuit, brought my life jacket, hat, sunglasses, waited for the tides, and jumped on the SUP board to begin the journey around the island.
After 10 minutes offshore, I suddenly came up with an idea of paddling to the small island opposite to my resort, where there were two small yachts and some visitors playing and snorkeling. I turned the SUP board but as I was paddling against the wind, it took me quite a lot of time to reach this small islet. After more than 15 minutes, I came to the nearest yacht. The guests on the yacht, who were mainly from Europe, looked at me with surprise. They asked me where they could rent the SUP boards because they also liked SUP, but unfortunately for them, there were only kayak services available on the island. I talked to them for a while, provided information about SUP teams in Phuket that they could contact, then continued the journey. Before leaving, a German man told me that the small island I was aiming for was a public beach; it was extremely crowded with tourists and lots of jet-skis and motorboats so it would not be safe. After thinking for a while, I changed my mind and went back to my original plan: paddling around Koh Yao Noi.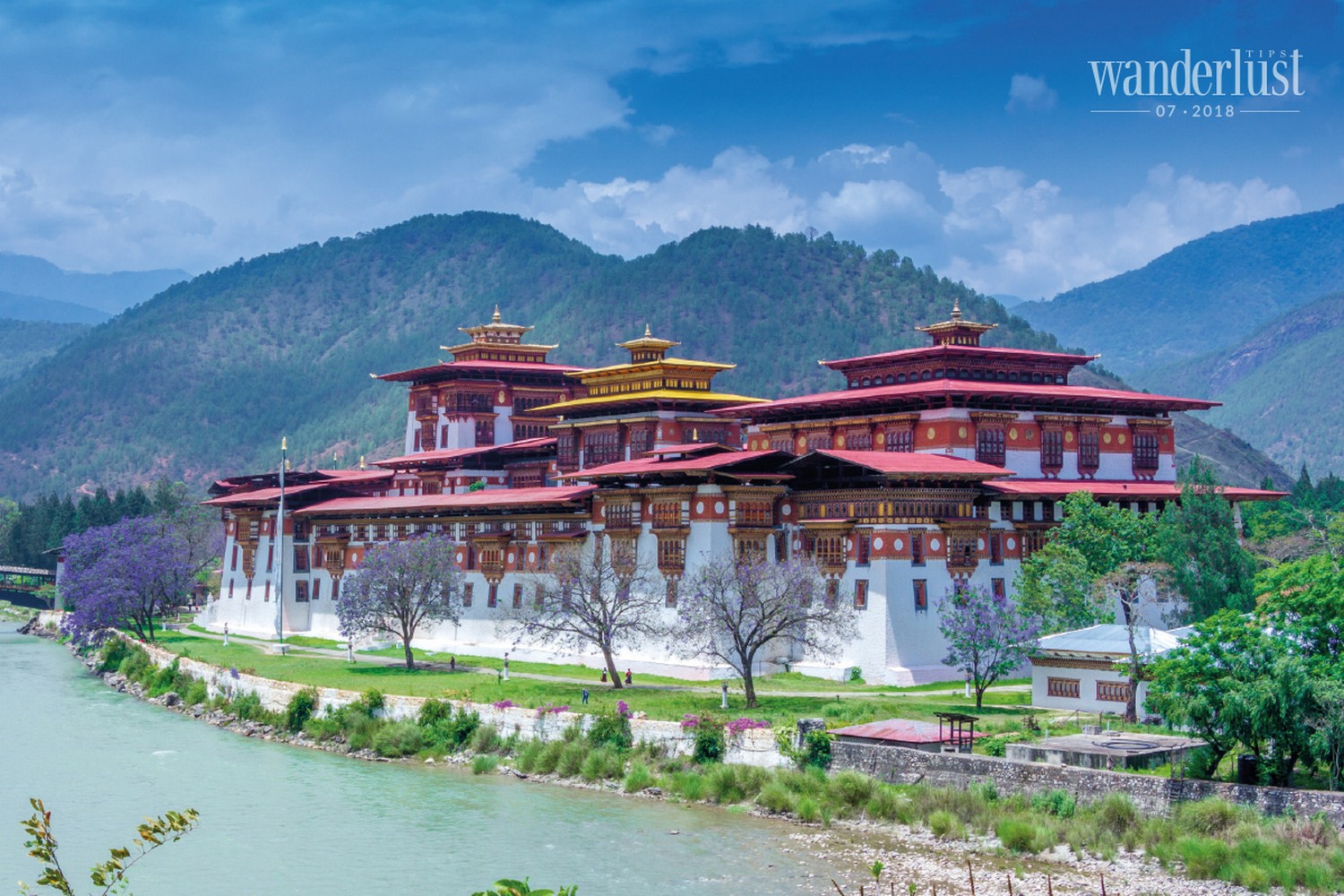 I paddled with the flow towards the pier and the public beach on Koh Yao Noi. On either side of the pier, there were fishing boats or passenger boats designed in Phuket's typical style which we often see in stock images of sea travel industry in Thailand. The pier was not built from cement but made from a series of hollow plastic containers connected to each other like huge lego blocks. This was a very smart way to make a durable pier without wasting too much effort. When climbing on the pier to go to the shore, it feels like you are walking on clouds due to the movement of the pier moving with the waves.
Travellers to Koh Yao Noi are mainly Westerners. On the island, there are several dozens of guest houses ranging from USD5 to USD10 per night, and resorts with a price range of about USD80 per night in peak season. When I paddled to the guest house area, I saw a lot of tiny wooden houses painted in blue, pink, purple, and yellow, which looked like house toys. At these lodges, there were only some basic items such as a mosquito net, a wall fan, a window, and a hanging stand. Bathrooms and toilets are often shared. Around the lodge, there were many hammocks hung on the trees; you can lie there comfortably to read a book or take a nap. Each guest house has a communal kitchen and dining area where guests can order simple dishes or buy drinks. Most backpackers prefer to stay here because it is extremely cheap and comfortable. They also do not need luxury amenities because they spend a lot of time diving, kayaking, or trekking in the green hills on the island. I stopped at the beach for a while, let the board drift, and then enjoyed the soft drink and snack while looking at these lovely wooden houses.
The sun was rising and the temperature was getting higher. I put the trash in a paper bag, put it in a waterproof bag, and jumped into the cool blue water to "cool down". I swam along my SUP board with a coil spring tied to my ankle and the board so that the SUP board would not drift too far from me, or if I fell into the water, I could quickly find and cling to the board as a life jacket. After getting bored of swimming, I started to paddle back to my resort at 11 noon.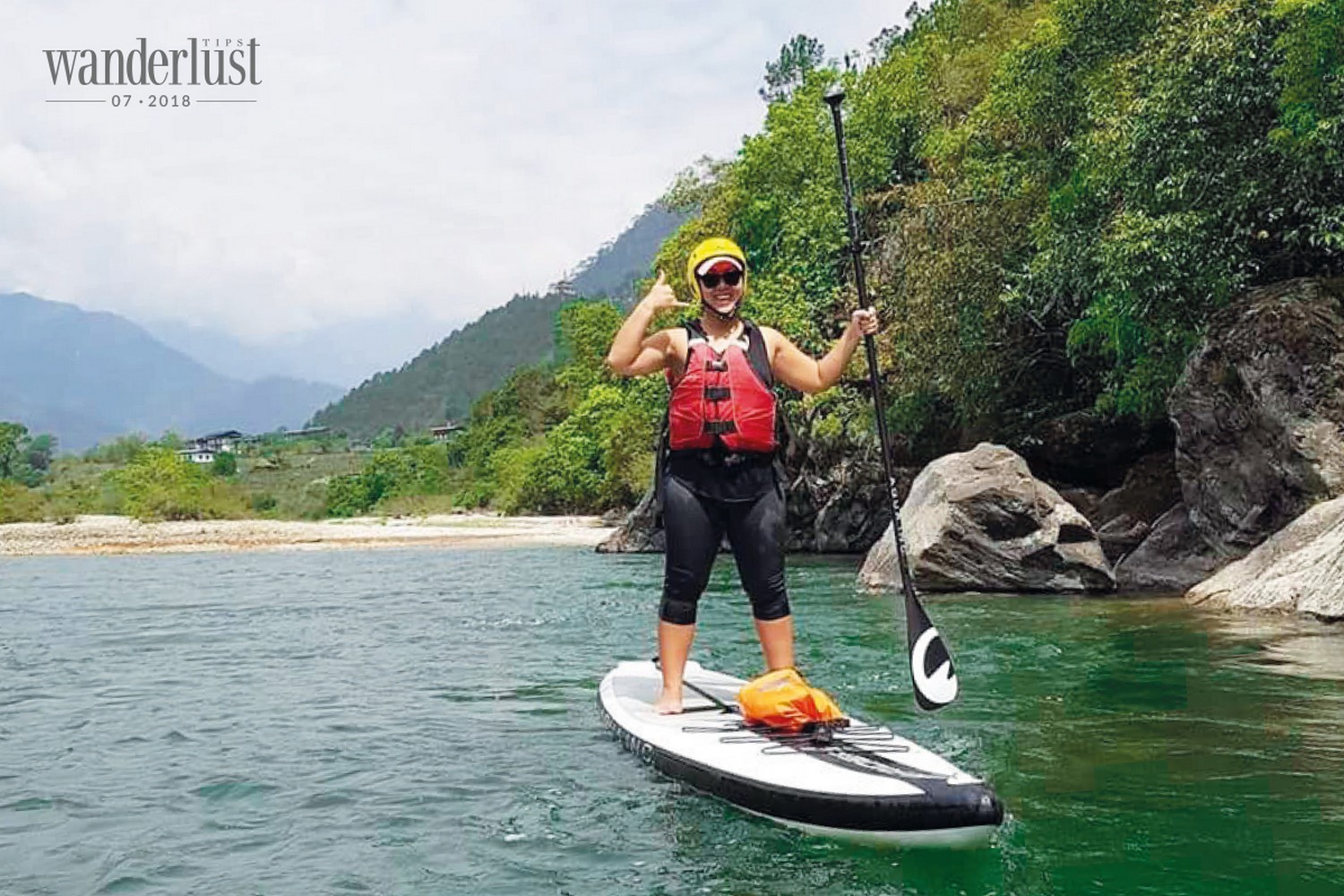 I reached the resort at about 12 noon but I did not go to the shore. I sat on the SUP board, took out my phone to take some pictures, and then enjoyed the last can of soft drink. It was a comfortable trip with beautiful sceneries, blue sea water, and even a colorful coral reef and fish swimming around. Thanks to the cool sea breeze, I could still endure the burning heat of the land. I looked at the blue colour of the resort, adjusted my sunglasses, and shouted: "Happy Birthday to ME!!!".
I had a tan for months afterwards.
W. TIPS
What is Rafting?
Rafting is a type of dangerous water sport in which 5-7 people including a captain who is responsible for navigating the boat and guiding the members, control a large raft crossing rapids. All of the members must wear life jackets, helmets, and waterproof jackets if they are rafting in cold and hot weather.
Rafting has many levels of difficulty. If you are a beginner but adventurous, you can try level 2-3 featuring small whirlpools, medium sized rocks, and relatively calm water. If you have some experiences, you can try level 3-5 with larger whirlpools and more intense water currents.
Tips for rafting
Rafting requires high level of teamwork; you must believe and follow the captain's instructions. If you encounter a large whirlpool, you had better cling to the cables on either side of the boat when the captain orders, or even lean to the other side of the boat to keep balance of the raft. When falling into the water, you have to keep calm because you have a life jacket and a helmet. Do not try to swim or stand in the water because it is easy to get stuck in the rocks; instead, you need to roll back like a ball, lie on your back to see and avoid the rocks, try to reach the shore as soon as possible, and wait for the boat to pick you up. Be calm and trust your teammates.
Cost
Depending on the level of difficulty, rafting may cost you from USD80 to USD250. You need to contact the rafting service to ask about the weather to avoid rafting in the rainy season, as floods in rainy season could be very dangerous.
Lê Hà | Wanderlust Tips