Asia is considered a destination for exploring long history and unique indigenous cultures, not for spending money, entertainment or shopping. But that's changing; travel to the three cities below to feel a more vibrant, youthful and crowded Asia than ever before.

THE EMQUARTIER – BUY THE WHOLE WORLD IN BANGKOK
If you have ever felt ecstatic and fulfilled in the brand-name paradise of shoppaholics in Thailand, you will feel the desire to "buy the whole world" when you step into the world of 400 globally celebrated brands at the 1,000 booths of The EmQuartier, one of Paragon's shopping malls.
Located on the busy Sukhumvit Road, the shopping experience at The EmQuartier is a journey of discovery from the most luxurious brands such as Louis Vuitton, Gucci, Chanel, Prada, Dolce & Gabbana, Dior, Jimmy Choo, Valentino and Fendi to mid-range brands like Zara, Uniqlo, H&M, Gap and Super Dry, as well as Thai luxury domestic brands such as Fly Now, Greyhound, Kloset and Soda.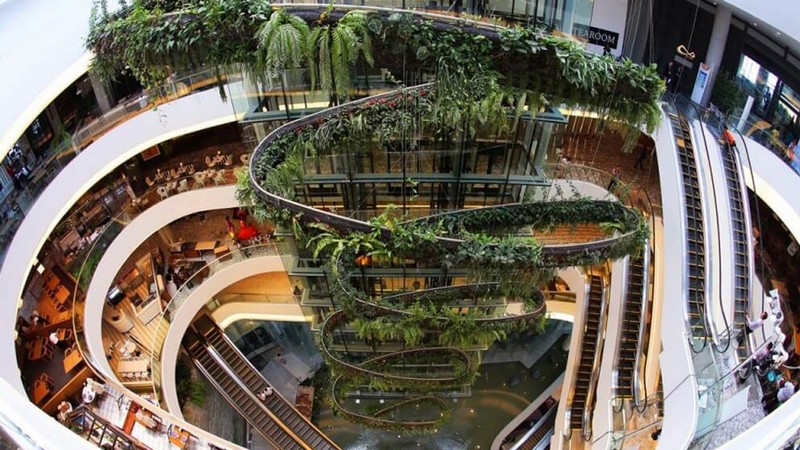 It is not surprising that even if you step foot in The EmQuartier without the intention to buy anything you will step out carrying an abundance of pretty and stylish stuff. It maybe a luxurious and fashionable bag or a suitcase of the German MCM, or some street clothes from A Bathing Ape brand which makes you look like a fashionista, or sometimes it is a glamorous and outstanding swimsuit from Vilebrequin to shine on the beach during the next holiday.
Like many major malls in the world, The EmQuartier is a haven for food devotees with an enormous dining area on floor B serving Japanese-style hamburgers, Taiwanese-style fried chicken, and US, French and Italian cuisine.
SURIA KLCC – MALAYSIA – PETERING OUT IN KUALA LUMPUR
Kuala Lumpur is considered a shopping paradise with countless luxury brands available in the busiest shopping centres in Southeast Asia. Located on the six bottom floors of the Petronas Towers, Suria KLCC is a convergence of a myriad of world-renowned fashion and cosmetics brands promising to make your money "peter out" when you step in. There are countless expensive luxury brands, however coming here in discount seasons, you will be extremely excited to hunt brand-name stuff at surprisingly cheap prices. Annually, Malaysia has three major discount seasons, including: Super Sale (1st March – 31st March), Mega Sale (15th June – 31st August), Year End Sale (1st November – 31st December) with record prices down by 70-80% off the most famous brands' products that every shopaholic wishes to have.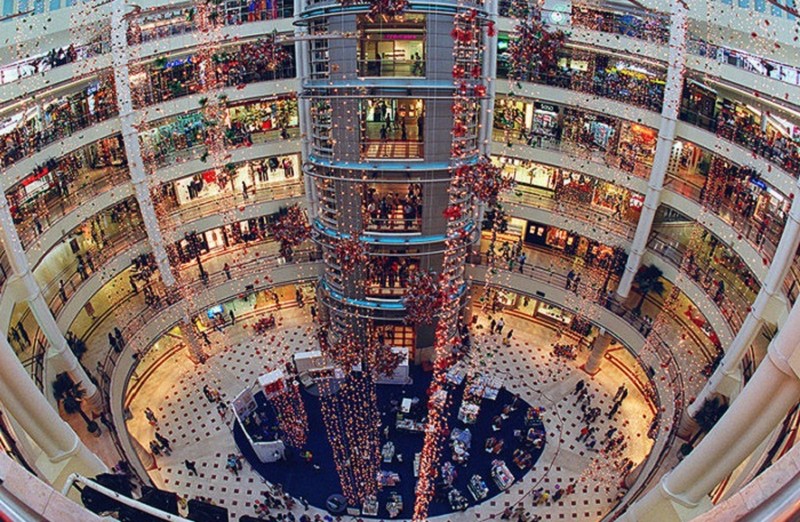 This international-scale complex of apartments, hotels, malls and exhibitions is also home to more than 30 stores of high-end brands, which are only available in Suria KLCC such as Chanel, Giorgio Armani, Dolce & Gabanna, Alexander McQueen, Coach Men and Dior Homme.
If you have trouble with finding places to enjoy local food, there is no need to go far, KLCC Signatures will serve you everything from countless traditional Malaysian dishes to international fast food at reasonable prices, it even has Vietnamese restaurants. Besides shopping, you can go up to the 42nd floor to admire the Skybridge – a bridge connecting the two towers, watch water music at 8pm, let your children explore science at Petrosains Discovery Centre or visit the aquarium. Art lovers can visit art exhibitions, theatres and parks just a few steps away. In the evening, you can sit in the Skybar in Traders Hotel and enjoy a breath-taking panoramic view from the Twin Towers at night. That is why anyone who arrives in Kuala Lumpur cannot not check in at these towers!
LOTTE WORLD TOWER – GET LOST IN SEOUL'S WONDERLAND
Just opened to the public last April, a 123-floor, 555-metre super tall skyscraper is now the tallest tower in Korea, the fifth highest in the world and it promises to surprise people with the majesty and abundance of all types of products and services that you will find when stepping in here.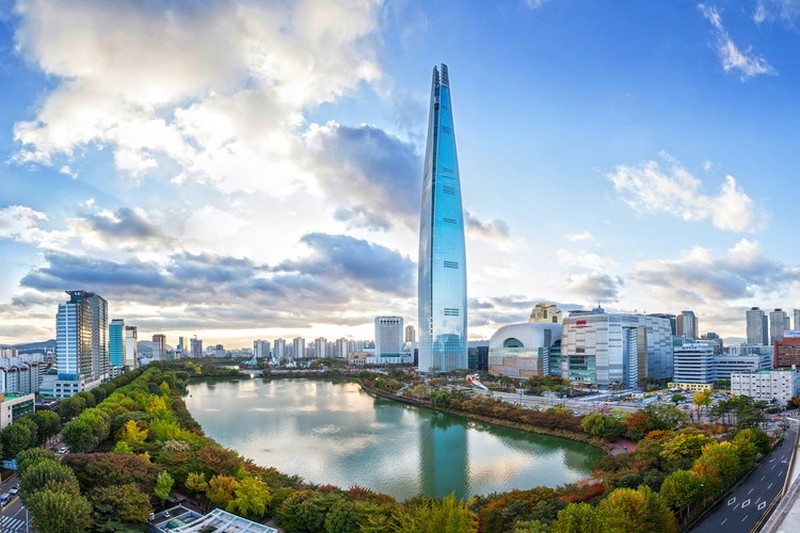 The reinforcements in Lotte World Tower alone would be enough to build seven Eiffel Towers in Paris, France, and the 220,000 cubic metres of concrete used to build the tower would be enough to build 3,500 apartments with an area of 105 square metres per one. The floor area of this building is 800,000 square metres, the equivalent of 115 football stadiums.
Therefore, the commercial building, super hotels and Lotte World Tower Seoul's high-end apartments have been reported widely in the international press from Bloomberg, CNN, Archdaily, and Lonely Planet to The Sun in the early summer months.Lotte World Mall not only surprises visitors with its contemporary design of visual and light effects from the outside, but also its comparison with Alice's Wonderland. It has a 13-theme aquarium with all kinds of marine life from all five oceans, a shopping area with countless global luxury brands, two floors with hi-tech products to serve techaholics and a world-class dining floor for foodies. There are two duty-free floors, five floors with cinemas, and 2,000 vineyard style seats in a concern hall with a grand pipe organ, which will offer the perfect view for all members of the audiences. Whether you are a shopaholic or a fan of entertainment, you travel with friends to enjoy a vibrant young Seoul or experience the Korean capital with family and children, Lotte World Tower is an amazing place for you.
Hong Nhung | Wanderlust Tips | Cinet