Rosewood Villa Magna, one of Madrid's most iconic and venerable properties, officially debuts today to launch its next chapter under the ultra-luxury Rosewood Hotels & Resorts ® flag.
[rpi]
Located on Madrid's most coveted boulevard, Paseo de la Castellana, amidst the city's finest shopping, dining and cultural attractions, the historic property has been a beloved local landmark since it originally opened in 1972, evoking a convivial spirit and charm that captivated visitors from both near and far. Newly infused with a dynamic design scheme that honours the original hotel and the vibrant city in which it sits while simultaneously incorporating contemporary style and comforts, as well as elevated amenities, world-class gastronomic experiences and an unmatched standard of service, the revived Rosewood Villa Magna has been carefully conceived to usher in a new phase of ultra-luxury hospitality to the city of Madrid and Spain at large.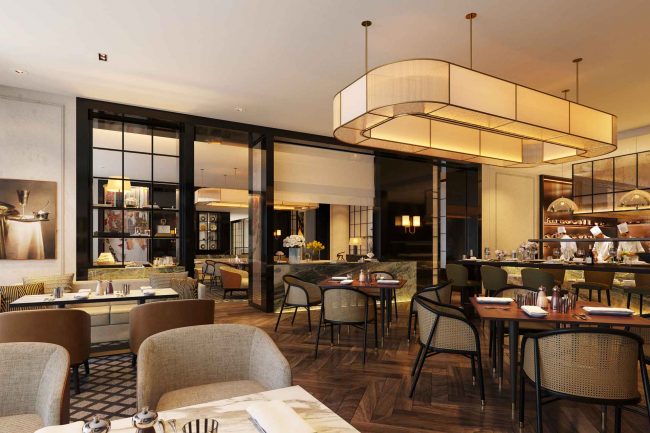 "At long last, we are thrilled to formally introduce Rosewood Villa Magna as Madrid's most extraordinary place to stay, gather, dine and delight," said Charles Morris, managing director of Rosewood Villa Magna. "Working together with our brilliant partners, we were careful to preserve the historical nature of the property, while at the same time adding a modern and residential design ethos and intuitive service style that is synonymous with the overarching Rosewood brand. It is a joy to be able to welcome visiting guests and the local community alike to join us as we celebrate this new beginning and the bright future ahead!"
"With its thriving culture, rich history and robust art and culinary offerings, Madrid is the ideal destination for Rosewood to plant its flag in the beautiful country of Spain and we are especially thrilled to bring the brand to this dynamic city with the relaunch of the iconic Villa Magna hotel," said Radha Arora, president of Rosewood Hotels & Resorts and co-chief development officer of Rosewood Hotel Group. "Rosewood Villa Magna is the latest demonstration of the brand's guiding A Sense of Place® philosophy: a transformation of a famed 19th-century building into a contemporary gathering place designed for both travellers and residents, that further embraces the local surroundings in all aspects of the project from architecture to service to food and beverage experiences. We're immensely proud to open our doors today and provide a new and discerning destination for our affluential explorers to enjoy."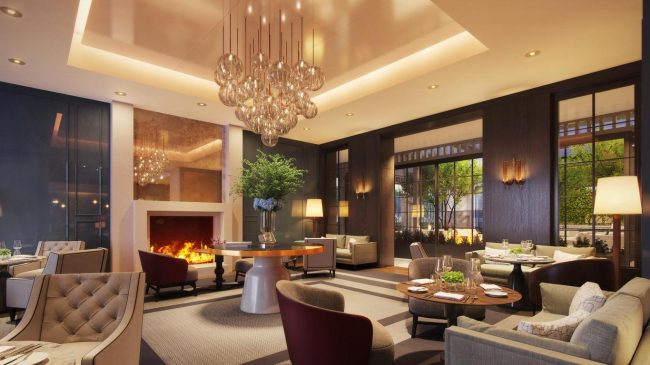 An Enviable Setting in The Center of the Distinguished Salamanca District
Supremely situated on the Paseo de la Castellana, Villa Magna has always been differentiated from the city's other hospitality offerings through its unmatched central location in the Salamanca district. The glamorous neighbourhood is home to many of Madrid's most elevated fine-dining restaurants and designer boutiques, in addition to palatial private homes that showcase traditional Spanish styles. Further offering easy access to key cultural and historical destinations such as the Thyssen-Bornemisza, Prado and Reina Sofia Museums and the "Landscape of Light," a UNESCO World Heritage Site, the hotel provides the perfect place from which to embark on an immersive journey through Madrid and central Spain.
Dazzling Design Pays Tribute to the Past While Moving Towards the Future
A team of talented designers completely refurbished Rosewood Villa Magna, showcasing a clear commitment to contemporary design, architecture, landscaping and art, while subsequently channelling the original spirit of the Anglada Palace, the 19th-century building which was the first to occupy the hotel's supreme site, as well as the original Villa Magna hotel. Renowned Spanish architect Ramón de Arana led the remodel of the building's striking façade and entryway into the hotel, adding a sense of grandeur to the arrival experience via a striking staircase and a pair of reflecting pools that draw attention to the centuries-old, 30-meter-high cedar and carob trees adorning the property. The property's iconic gardens have been transformed by prolific landscape designer Gregorio Marañón to underscore and maximize the privileged green spaces that the hotel enjoys in the heart of the city. A significant number of trees, bushes and plants, including species original to the old Anglada Palace, have been planted to create distinctive outdoor areas across the expansive grounds, many adorned with pergolas, sculptures, fountains and other furnishings to facilitate myriad settings in which to gather in groups or relax on one's own. The robust assortment of leafy species further allows for the property to continuously evolve over time, as they adopt different chromatic tones in the different seasons of the year.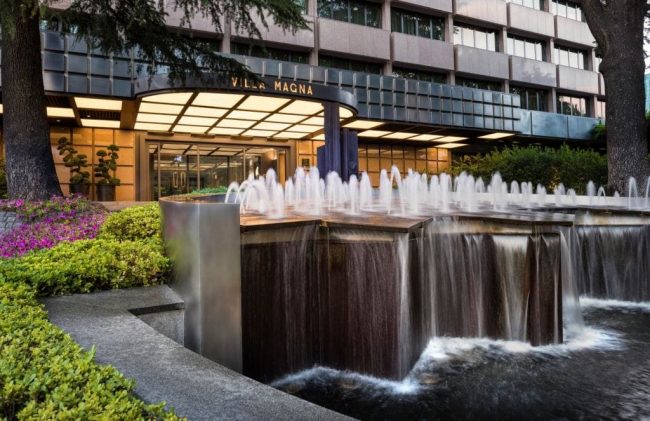 Revived interiors have been brought to life by the Australian firm BAR Studio. The refreshed accommodations and public spaces pay homage to the original palace and hotel, securing a powerful sense of familiarity and nostalgia amongst legacy guests and local visitors while infusing a new, contemporary character throughout the building that answers to the expectations of travellers today. True to Rosewood's guiding A Sense of Place philosophy, wherein the destination inspires each element of the property, subtle references to traditional Spanish architecture, art, design and culture can be discovered through the patterns, fabrics, materials and colour palettes that comprise the hotel. Complemented by the use of stone, iron and glass materials across all of the different rooms, the result is a truly unique visual experience that sets the hotel apart from the existing hospitality landscape. The interior design is complemented by the hotel's extensive art collection that has been selected and commissioned by the English firm ArtLink. Many of the pieces serve to tell the stories of the fascinating personalities who walked the corridors of the original Anglada Palace, while others are reminiscent of Madrid's overarching aesthetic and Spain's signature fashions, including a standout, specially commissioned work by Jacky Puzey in the lobby.
The Ultimate Setting for Elevated Stays
Expertly designed to evoke the essence and sentiment of the Salamanca district's finest private homes, the guestrooms, suites and signature suites are among the crown jewels of Rosewood Villa Magna. The 154 accommodations, consisting of 101 guestrooms, 49 suites and four signature suites, have been built to balance the ambience of a contemporary Spanish villa with the signature aesthetic of the original Villa Magna hotel. The exterior of the façade frames each guestroom with an avant-garde touch, while inside, achromatic colour palette provides a muted background to give preference to the room's large windows overlooking the Paseo de la Castellana, allowing the striking views to take centre stage. The clean, simplistic style is blended with modern luxuries, including bath amenities by Maison Caulieres and the linens by Rivolta Carmignani, and a residential feel for the utmost in 21 st century hospitality.
Nowhere is this expert design more evident than within the hotel's signature suites. Named after and inspired by the original Anglada Palace, Anglada House is the hotel's largest suite, located on the top floor and featuring two bedrooms, dedicated living and dining rooms, a private gym and sauna and an expansive private terrace. Also located on the top floor is Salamanca House, which includes a bedroom, living room, dining room, dressing room and full bathroom and can be combined with adjacent rooms to create up to a four-bedroom accommodation and the largest private terrace in the capital, stretching 140-square-meters. An ode to the large and historic cedar trees that surround the hotel, Cedros House has magnificent windows providing a cascade of natural light over a spacious living and dining room, two bedrooms, each with an en-suite bathroom, and a separate powder room. The two Castellana Suites offer a similarly impressive interior layout, with dedicated sleeping and living spaces that are supremely comfortable and relaxed in nature, complemented by impeccable views of the Paseo de la Castellana for which they are named.
An Unexpected Gastronomic Experience

The hotel's four distinct dining outlets come together to create the city's newest and most discerning destination for inspired culinary experiences, delightful to all palates, for all occasions. Each outlet and offering references local influences, with a focus on unmatched quality and service and menus committed to sustainability and the freshest ingredients. From authentic Spanish tapas on the terraces and in the gardens, to casual business lunches and post-work cocktails, to formal events and celebratory evenings out, there are countless opportunities for guests to enjoy exceptional food and beverage with friends and family.
Headlining the hotel's food and beverage program as its signature restaurant, Amós is helmed by Michelin-starred chef Jesús Sánchez and is poised to quickly establish itself as a highlight of Madrid's culinary landscape. The thoughtful interior design concept and accompanying terrace, brought to life by Spanish architect Alejandra Pombo, creates a space that is both stunningly special and supremely comfortable in which to enjoy an inspired menu that brings together the unique offerings of Northern Spain's Navarre community and Cantabrian Sea. Revolving around an eye-catching open kitchen, Las Brasas de Castellana is the hotel's all-day dining destination, serving everything from classic tapas and small plates to more elaborate meals highlighting the quality of Madrid's meats, fish and vegetables. The dedicated bar and lounge concept, Tarde.O was meticulously designed to reflect the warmth and spirit of an English club through an elevated atmosphere that is equal parts cultivated, casual and cool. Here, guests are invited to indulge in a wide variety of carefully selected national and international premium spirits, including an extensive collection of gins and traditional Spanish vermouths. The space extends outside onto a year-round, open-air terrace, Courtyard, that serves the same delectable libations in a verdant garden setting. For those looking for a quick bite or refreshment, the hotel's picturesque patisserie Flor y Nata serves coffee, pastries, traditional afternoon tea and light lunch and dinner, to be enjoyed in the cosy space or on the go.
Unmatched Wellness Experiences in the City Center

Designed as an elegant oasis for both guests and locals to enjoy, and inspired by Madrid's Muslim origins, the brand's latest outpost of Sense®, A Rosewood Spa showcases intuitive, locally inspired offerings dedicated to supporting the betterment of both body and mind. A meaningful selection of treatments and therapies incorporate the Sense concept's fundamental pillars of Lost Remedies, highlighting ingredients, practices and traditions authentic to the cultures of Spain and the Mediterranean; Sense of Balance, combining the benefits of both physical and mental wellness to achieve harmony between the body and spirit; and Sense of Individuality, tailoring offerings to the individual to bring about optimal results. A variety of therapeutic massages on offer include the Bay Leaf Ritual, utilizing the indigenous, vitamin- and mineral-rich plant in myriad, multisensory ways to improve respiratory problems, reduce muscle and joint inflammation and boost the immune system; the Intuitive Massage, providing the highest level of personalization and utilizing a wide selection of bodywork techniques and organic essential oils to accomplish a feeling of complete relaxation and restoration; and Balancing Stone Therapy, leveraging hot and cold stones to relax the muscles, calm the nervous system, stimulate circulation and eliminate toxins. The region's traditional aromatic plants – including lavender, thyme, rosemary and orange blossom – and citrus scents – such as bergamot, orange, lemon and clementine – further inspire the spa's extensive aromatherapy offerings.
The private sanctuary is comprised of four therapy cabins, one double-sized to extend an ideal environment for couple's treatments. Luxurious amenities and relaxation rooms include a thermal area complete with a sensation shower and jacuzzi featuring hydrotherapy functions. There is also an authentic Hammam that invites guests to purify the body and calm the mind through traditional Moroccan beauty and bathing rituals by the Paris-based brand Charme D'Orient. In addition to these myriad spa and wellness spaces, the facility is also home to a fitness centre showcasing state-of-the-art training equipment.
An Ideal Destination for Weddings and Events

With eleven exquisite event venues, Rosewood Villa Magna is the ideal destination for all of life's celebrations, whether gathering in an intimate group of 10 or entertaining a large party of 570. The hotel's spacious garden areas stand out as a luscious escape within the city, complemented by an elegant events hall, Villa 22. Inside, an entire floor of the property has been configured into different modular areas, with several private rooms and spaces on offer to accommodate any size or scope event. Along with the beautiful settings, Rosewood Villa Magna provides outstanding event planning, catering and staffing services to facilitate events and celebrations that will be cherished for a lifetime.