Cold bathing, or slipping into frozen water with numb appendages and screaming brain might sound insane for many of us. But believe it or not, bathing in icy water does a world of good, you even find this as a wellness treatment in some regions of the world. Let's check out this article to understand how and why!
[rpi]
The benefits of cold bathing
Muscle deep-freezing has long been exalted by athletes and fitness experts thanks to its benefits of decreased tensions, energy boost, improved memory, stress management, better sleep, less chronic pain and better immune function. Interestingly, it generates endorphins – the happiness or pain killer hormone, when a cocktail of adrenaline and endorphins are released once the body gets shocked by the cold water.
As long as people are not suffering from heart diseases or circulation problems, cold bathing is beneficial for those who need a remedy for several physical and mental ailments. who are struggling to adjust to a new time zone, coming off a long-haul flight, or intense workout. Cold bathing is definitely a great way to calm inflammation and speed up recovery.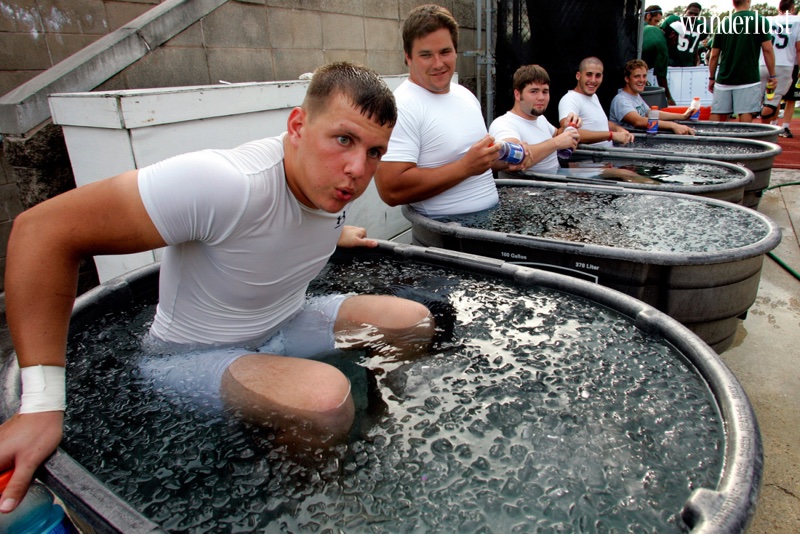 A favorite wellness treatment in arctic countries
The typical cold weather around the arctic region gives room for cold bathing wellness treatment to bloom.
Winter in Finland doesn't keep people inside; instead, many of them embrace the popular practice of ice swimming to stay healthy and mentally released, which is interestingly coincident with the fact that Finland is one of the happiest countries in the world. Jumping into a hole cut in the ice of the sea or a lake during winter is an everyday activity in Finland. Alongside the natural bath tubes in winter, this country has various stylish spots where ice swimming is offered alongside other spas and bathing options.
The cold bath tradition in Sweden is also long-established. The Swedes love spending time in their surrounded beautiful nature, taking advantage of the coastline and many lakes and rivers throughout the country. Cold bathing here is called "kallbad", a favourite outdoor pastime in autumn and winter, which is pleasantly finished by a hot sauna. A wide variety of cold bathhouses can be found across the country, from historic to new ones, some of them have been established since the latter quarter of the 19th century.
The cold bath ritual has long been thought to have "healing" abilities that bathhouses were some of the first health resorts in some areas, then the trend continued to boom along the arctic regions, making them the ideal destinations for health retreats.
The scary yet funny part
Beyond the health benefits, mental achievement – a sense of fear overcoming is probably the coolest part of a cold bathing experience.
Dr. Johnathan Leary, the Concierge Wellness Doctor insisted that "You'll feel better and you'll get all these benefits but it takes mental strength versus physical strength to get through an ice bath – that accomplishment and getting past your own hang-ups will be more rewarding to get through. You'll notice a difference and you'll feel the effects far more in an ice bath than Cryo" (a therapy using extreme cold to freeze and remove abnormal tissue)
It might be challenging at first, here are some tips to calm your mind before taking the plunge:
Keep in mind is that icy water actually warms you up: after the initial shock, your circulation kicks in and warms your body up when you are back on dry.
Try a breathing exercise: take a slow breath in through your nose, fill your lower lungs then upper lungs with air. Hold your breath to the count of "three" then gently exhale through pursed lips. Remember to keep muscles in your face, jaw, shoulders and stomach relaxed.
Keep moving to maintain blood circulation: this will help your body get warm quicker after your dip.
Have a motivator with you: definitely, it is much easier to do something challenging when you have someone by your side.