With high-end services and exquisite cuisine, along with an entertainment complex stretching from its exclusive beach to green spaces, Paradise Suites is the ideal rendezvous point for M.I.C.E events or company parties.
[rpi]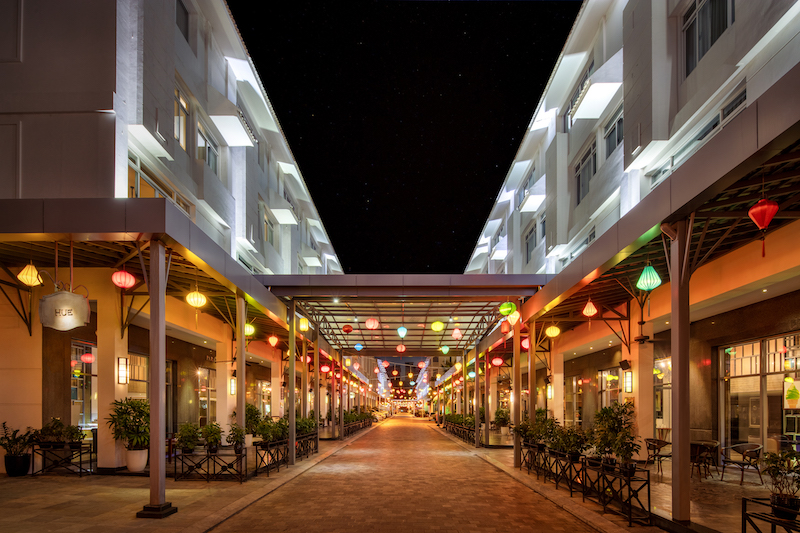 Paradise Suites Hotel and its expansive pedestrian thoroughfare.
Paradise Vietnam's boutique hotel boasts a prime location near renowned destinations such as King Kong Park and Tuan Chau Golf Course, as well as the foreign trade port at Tuan Chau. Combined with an exquisite interior and an array of amenities, visitors can explore Pearl Island just off the coast having participated in a wide variety of bespoke corporate events.
Room options
The boutique hotel has 156 well-appointed rooms designed in 2 styles: Classic and Trend. Thanks to the ornate wooden furniture, luxuriant bed linen, and velvet or silk furnishings, guests can bask in a state of relaxation, the perfect setting to interact with valued partners and their families. Younger guests are attracted to the Trend Suite rooms with their tiled floors and open space designed to capture natural light.
Unwind in the high-end rooms with open views, but also experience the excellent amenities such as the spa tubs, sauna, library, bar & lounge.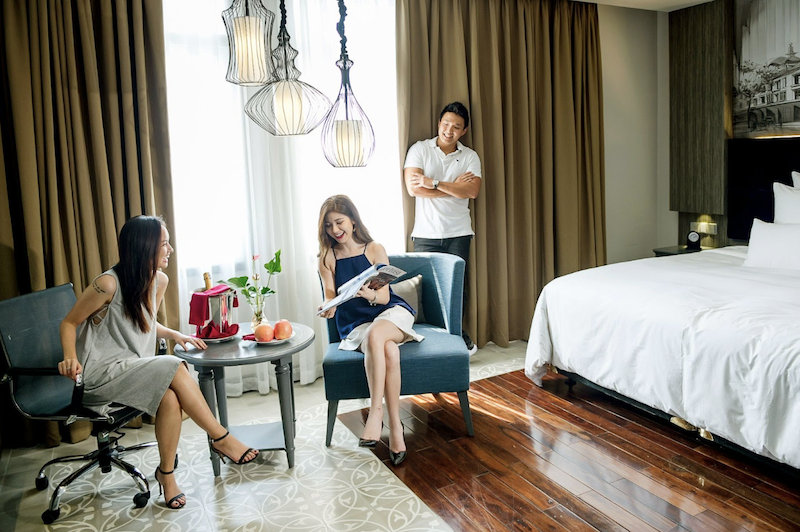 Well-appointed rooms offer comfort and convenience to guests.
Variety of entertainment activities
Not far from the hotel, the Paradise Bay entertainment complex offers indoor and outdoor activities. With a private 2-kilometre coastline with emerald seas and soft sand, this stretch of paradise is exclusively for hotel guests. Besides the outdoor swimming pool, Coconut Lounge is the ideal place to chill out in its neo-classical design while enjoying sea views, along with the tropical gardens – every photographer's dream.
Take a leisurely bike ride to experience the fresh air or sip eye-catching cocktails after a memorable dinner as the sun goes down over the ever changing landscape, a spectacle you do not want to miss.
Eurasian journey of taste
Cuisine is a highlight at Paradise Suites, with impeccable preparation and service that win tourists' hearts. 
From decadent buffets to a European set menu and outdoor seafood BBQ, all are lovingly prepared by a team of local and international chefs. These menus offer tastes  of Hanoi, Ha Long, and Hue, followed up by the Whiskey Gallery that features an extensive wine list.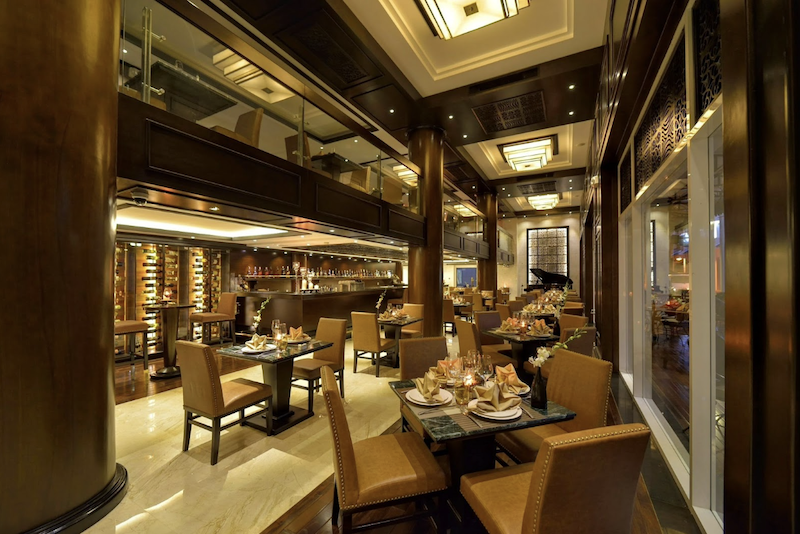 Whiskey Gallery – a luxurious and intimate bar and restaurant venue.
M.I.C.E rendezvous
Along with relaxation, Paradise Bay is an ideal destination for company parties and meetings, as well as M.I.C.E events. The setting boasts spacious indoor and outdoor spaces, with a capacity of up to 500 guests, and is equipped with modern facilities and professional staff to host major seminars.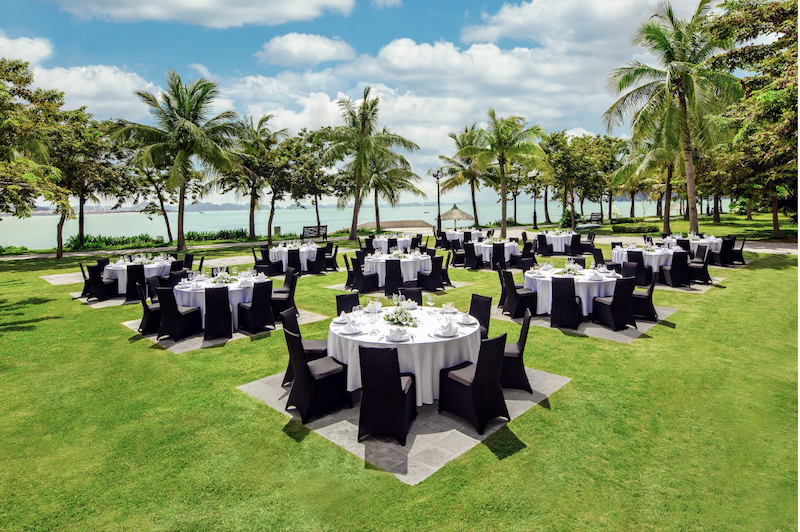 Paradise Suites Hotel offers refined indoor and outdoor spaces for M.I.C.E.
With unprecedented open spaces and a wide range of amenities at Paradise Bay, couples can celebrate bespoke weddings on their special day and give their guests the opportunity to admire the timeless beauty of the bay.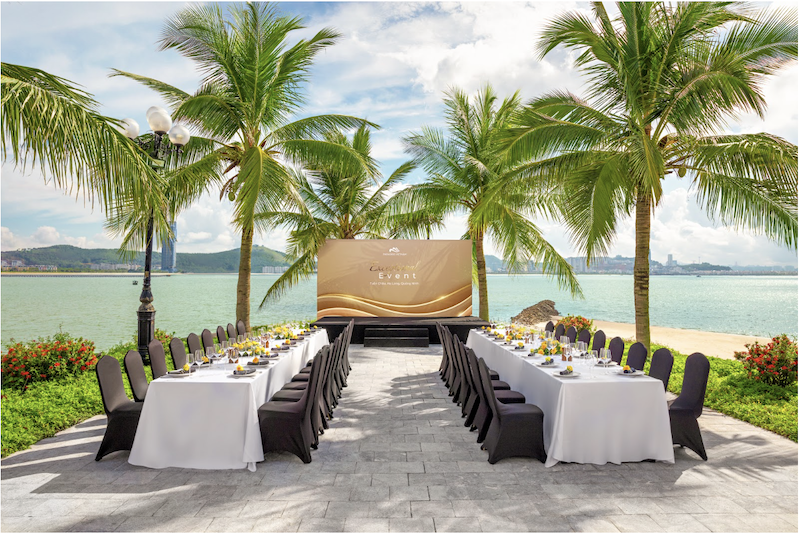 Paradise Suites hotel accommodates various catering and M.I.C.E. setting requirements
Alternatively, dive into pool parties, enjoy the wine at Coconut Lounge, or combine a trip with a 5-star cruise with Paradise Vietnam.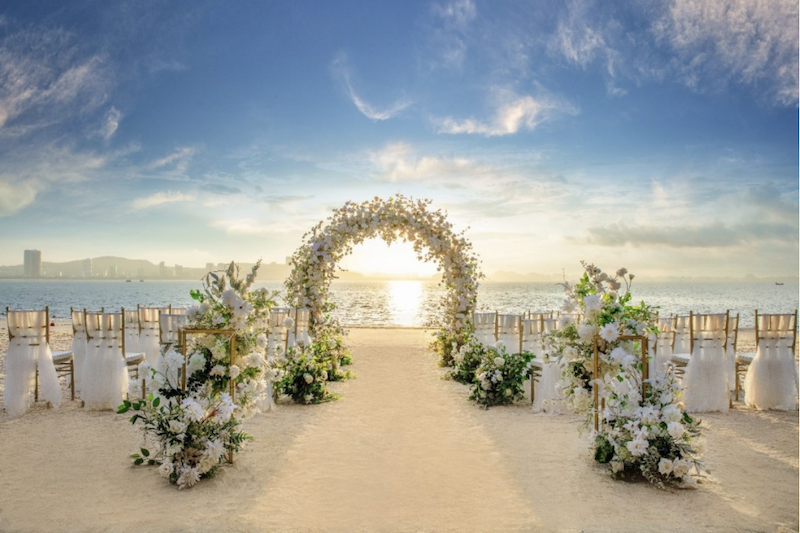 Couples can hold memorable weddings in the heritage bay.