Nestled on the periphery of Vietnam's fabulous Ha Long Bay, Cat Ba Island is big — more than 350 square kilometres — but most tourists see but a sliver of it. Put ashore as part of a three-day tour of Ha Long Bay, time is spent on organised treks or bike rides in the national park and tours of Monkey Island, or eating at one of the many seafood places around the harbour.
Things to see and do
♦ Cat Ba National Park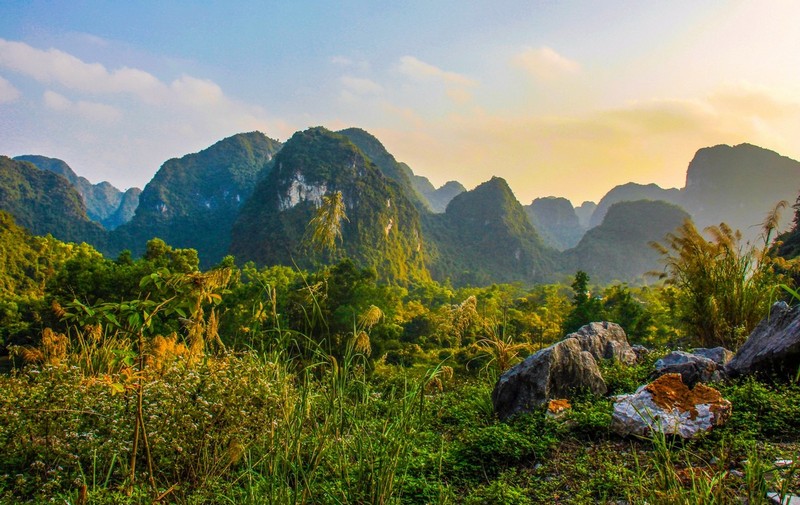 Avid hikers should not hesitate to check out this beautiful national part, noted for its mangroves, subtropical evergreen forests, freshwater lakes and even some coral reefs down along the coast.
While rich in flora, hikers often report seeing little in the way of fauna, though there are reportedly some animals running about — we only saw goats.
All the hikes here are pretty challenging to some degree, and a guide is highly recommended to make the best of the experience. There is one short hike, to Dinh Kim Gial, which is only two kilometres and takes two hours, which is the best one to try on your own. You can buy a ticket at the gate.: entrance is 15,000 VND and a guide is 100,000 VND per group for this short trek. The more challenging hikes include a trip up to Ao Ech (Frog Lake) and over the hill to a tribal village inhabited by the Viet Hai – six kilometres, takes four hours, and costs 35,000 VND to enter. Prepare well for any of these treks, as they are not easy — really and truly, spring for a guide if you can. Any hotel in town that arranges tours can help you sort out which trek to take and hook you up with a guide.
Most three-day boat tours will include time in the park – quite often a climb to the top of the highest point in Cat Ba, which is a steep but doable climb.
♦ Beaches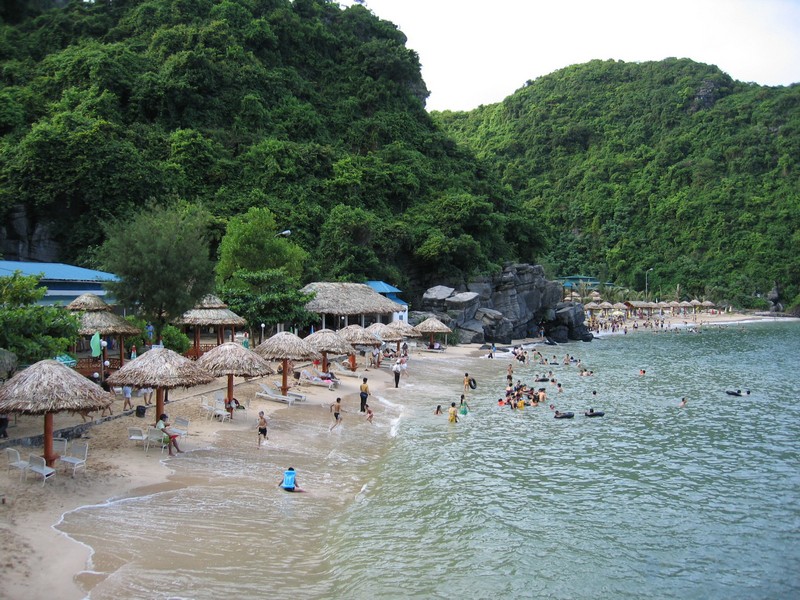 Cat Ba town has three beaches within walking – or golf buggy – distance.
The first beach is called Cat Co 3 — you can reach it by following the harbour road west until it ends, and then going over the headland (if you're on a motorbike, they'll charge you 5,000 VND to park it at the base). Here you'll find Sunrise Resort, but the beach in front of it is open to the public.
If you head west on the harbour road but turn up the hill on the left before the Harbour View Hotel, you'll reach Cat Co 1 – straight ahead – and Cat Co 2 by turning left towards Cat Co Beach Resort. Both are quieter than Cat Co 3.You can also walk to Cat Co 1 from Cat Co 3, and it's worth the walk, with fantastic views over the bay and the beach from the cliff-edge path. All beaches have umbrellas, loungers and chairs for rent and drinks are available. Cat Co 2 also has a small restaurant. You can rent a kayak from Cat Co 3 for 200,000VND per hour.
♦ Cannon Fort
Build atop a 177 metre-high hill overlooking Lan Ha Bay, the historical side of Cannon Fort may not appeal to everyone but it's worth the trek up there for the views alone.
The fort was built during the French era as a look-out point and you will find the cannon bunkers and rooms containing memorabilia and a selection of paintings, photos and propaganda photos. Entry is 60,000 VND payable at the foot of the hill.
To get there, head up Nui Nuoc (west) and turn left. The walk from the ticket office to the top is a steady climb. Free parking is available at the top.
Transport
♦ Boat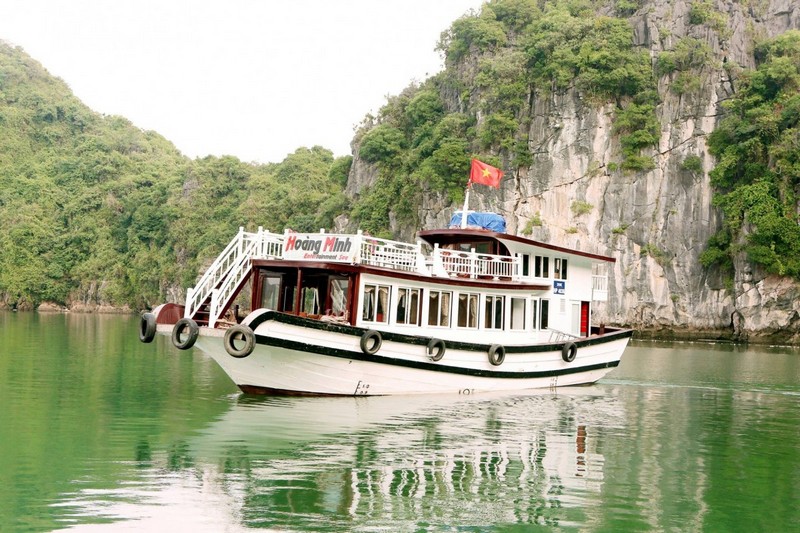 The only way to get to Cat Ba is by boat. If travelling from Hanoi your best bet is to buy a bus-boat-bus ticket from Luong Yen bus station (240,000 VND). Hoang Long is the main operator and has buses leaving Hanoi at 05:20, 07:20 and 11:20. The bus to Haiphong city takes 2.5 to 3 hours then you'll have a 25-minute ride on a hydrofoil followed by an hour in a bus at the other end. It's generally painless. If you're arriving from elsewhere and making your own way to the harbour, the hydrofoil costs 150,000 VND and you might be able to hitch a ride on the bus into Cat Ba town upon arrival at Phu Long pier. Otherwise you'll have to negotiate with taxis or motorbike taxis.
Most hotels and tour operators on Cat Ba will be able to book you on a bus-boat-bus back for the same price. They run from 06:00 until 16:00 on the return journey.
Another option – only really advisable if you're staying in Ha Long City — is to get the ferry from Tuan Chau island. Tuan Chau is the departure point for some of the cruise operators, such as Bhaya, and you will see signs for it as you head along the highway into Ha Long City. The ferry takes 45 minutes, costs 60,000 VND and docks at Gia Luan pier. Apparently a bus meets each ferry to go into Cat Ba town but if it doesn't show you should be able to take a taxi – one of the ladies selling snacks at the pier will be able to help. Heading back the bus from Cat Ba town leaves at 08:00 from the square by the pier, or you can try and hitch a ride on a tourist bus. From May to end of September ferries depart Tuan Chau at 07:30, 09:00, 11.30, 13:30 and 15:00 and return at 09:00, 11:30, 13:00, 15:00, 16:00. Outside of these times they run less frequently: 07:30, 11:30 and 15:00 from Tuan Chau and 09:00, 13:00 and 16:00 from Cat Ba.
♦ Getting around
Once you're in your hotel on the harbour, everything is accessible on foot, including the beaches. You can tour the island by motorbike taxi — rates are very negotiable, but think in terms of 100,000 VND per hour. You can also rent a motorbike yourself for 80,000 to 100,000 VND a day from numerous places in Cat Ba town. Mountain bikes are also available.
Eat and meet
Cat Ba is known for its seafood, and several large places to eat lie along the harbour road and Nui Nuoc with tanks full of live seafood and bowls of shellfish. Your best bet is forget about the menu and point at what you want, although you could end up with a hefty bill at the end of it as prices are worked out on a per kilo basis.
If you're not bothered about seeing your dinner swimming around in a tank before it ends up on your plate, the options are endless: every building is either a hotel, restaurant or, more likely, both. Menus are similar though, offering mostly Vietnamese dishes with an occasional Western option. The Good Bar — underneath Noble House — has a wide range of Western dishes, as does the more upmarket Green Mango, which is highly recommended, particularly if you want a decent glass of wine or a cocktail. Most of these places are open for breakfast.
For dining with a difference, head out to one of the floating restaurants on the harbour. Call the numbers displayed on the signs for a pick up. If you have a sweet tooth you'll be excited by the ice creamery opposite the pier, but we were disappointed with our "fresh" ice cream — more sugar than cream. Over the road, overlooking the harbour, a number of drink places open up at night serving — among other things — sugar cane juice.
Wanderlust Tips | Cinet