An extremely huge workload nearly stopped me from fulfilling my childhood dream to visit the Maldives. Just few days before my scheduled flight, I made the decision to drop everything and leave home, screaming "I am coming, Maldives!" And I don't have any regrets; the Maldives is beautiful more than words can describe.
[rpi]
Situated in the Indian Ocean, the Maldives is a heaven on Earth consisting of 1, 192 coral islands and spread over an area of 90,000 km 2 . It is the lowest country in the world, with a ground level of 1.5 meters. The Maldives enchanted me at the first moment: warm crystal clear water, white sandy beaches with azure waves lapping at my toes, fresh coconuts to sip under the whispering shade of palm trees, and colourful marine life. The climate is warm throughout the year, and the sea breeze works as a natural air conditioner, making the weather softer and more pleasant than any other place I have visited. When I arrived, I knew that I had put my feet in heaven.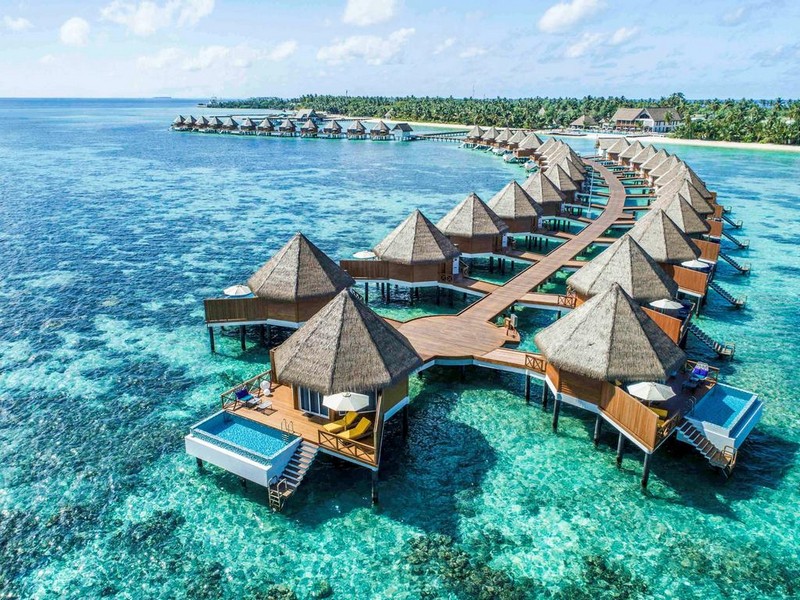 Things to Do in the Maldives
The main activity in the Maldives is to simply relax, although there are a number of excursions if you get restless, from visiting locals on a nearby island to cookery classes. But given that 99 per cent of the country is made up of water, it's not surprising that most visitors decide to take to the Indian Ocean to uncover treasures that lie beneath the waves. I did many interesting activities, but the best was a daily tour from Maafushi Island. Since the island is really beautiful, reading your favourite author's novel and doing nothing, while enjoying the scenery, is also a brilliant idea.
1) Crab Racing
One of the most interesting activities on Maafushi is a crab race, hosted by a shop called 'Active.' It takes place every Tuesday and Friday at 9pm, and I got to take part in that. They hand out numbered hermit crabs and put them in the centre of a big circle in the sand, and whichever one reaches the edge first is the winner. They hand out some pretty good prizes to 1st, 2nd, and 3rd place winners too.
2) Catamaran Cruise, Half Day Tour of Hulhumale Island
I almost missed the tour as I got the confirmation at the very last minute. Because I am traveling alone, I need to wait for any pair or group to join the tour, so as to fulfil the requirement. Also, there are seldom any tourists who take the tour to this island. I was really thankful for a group of 6 doctors from India for accepting me into their group tour. This tour cost about 75USD for a half day (9am to 2pm).
In this tour, you will spend some time on a luxurious yacht, while enjoying the view of the island. All members of the boat crew are really friendly. Then we stopped at Himmafushi Island for a walking tour around the island, which was very interesting. Here, you can see houses with walls made of coral. Also, there is not a single electric cable hanging in the Maldives because all the electric cables are underground. This island is not popular among tourists and really quiet.
Then, we went snorkelling by Hulhumale Island. While we snorkelled, the boat crews prepared Maldivian food for our lunch. There are about 6 different dishes, which are all very delicious. Maldivian cuisine has gained esteem, owing to the great flavour that it offers, along with affordability. The best of authentic Maldivian cuisine will surely leave your mouth watering.
3) Whole Day Private Island Tour
If you don't have the chance to stay at the more expensive picturesque water chalet resorts and take beautiful photos, do not worry because there are many private island whole day tours to choose from (around 100USD-150USD depends on the distance of the resort).
To choose the best private island, make sure you know what the resort offers. Some of them offer breakfast, lunch, free flow of drinks, stingray feeding show, and free of charge for water activities. And do not forget to stalk their Instagram page to see how good their resort is!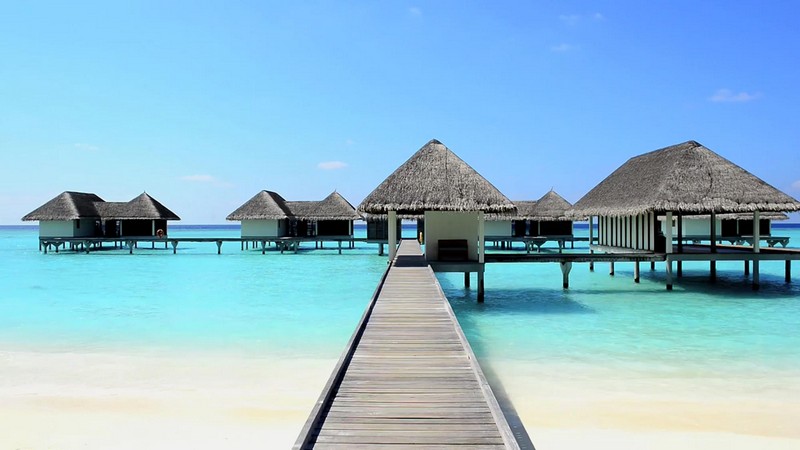 I chose to spend my day at Centara Ras Fushi Resort & Spa. For the tour (120USD), I got a boat transfer from Maafushi to the resort (and vice versa), lunch, free flow of drinks, unlimited of water activities such as kayaking and usage of snorkelling gear. I am glad that I chose this resort, as it is really amazing and very picturesque.
4) Snorkelling, Picnic at Sandbank & Dolphin Watching Tour
This tour costs 25USD for a half day. For snorkelling, there are 3 spots: Coral Point, Nemo Point, and Turtle Point, with a 100% guarantee that you will encounter clownfish and turtles. One of the best snorkelling experiences I ever had! I encountered around 5 turtles at Turtle Point.
The sandbank is really beautiful and very white. Here, you will be served a packed lunch. Do not forget to snap your best photos here. The special feature of the sandbank is that if there is a high tide, the sandbank will be immersed and disappear. Hence, the sandbank is closed on the weekend for tourists and only open for the locals.
On the way back, you will be amazed with the most beautiful views of the sea, and a group of dolphins following your boat. It was an amazing sight.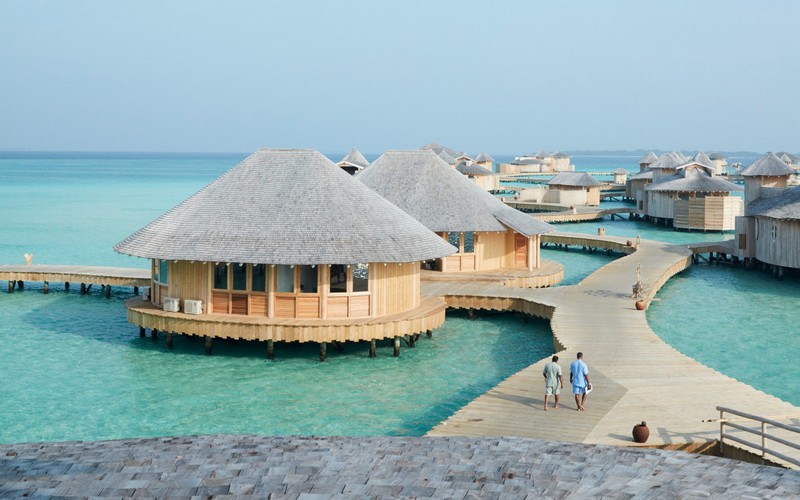 Island of Paradise
As a budget traveller, I decided to only stay on the public island, and I am very satisfied with the outcomes of my decisions. The public island was a very nice place to stay, where you can socialize with locals and a lot of restaurant you can choose from if you are a food lover. You also can stay at the private resort which requires seaplane transfer if you want more privacy.
As I landed on the Maldives at night, I decided to stay in Hulhumale, where you do not need a ferry transfer from the airport with the variety of hotels to choose from. A lot of shopping is available on this island, and it is a good to start your trip, as you can get traveling supplies such as sunblock, food, etc.
Hulhumale has a wide sand beach instead of a concrete seawall. It is one of the first inhabited islands to take positive action against littering, installing bins and a proper waste disposal and collection system.
From Hulhumale, you can go to Male on a 30- minute ferry ride. I visited most of the attractions in Male in about 3 hours, which included Friday Mosque, Republic Square, Sultan Park, National Museum, and the most interesting, their wet market. I was amazed with the fish markets as many different type of fishes I had never seen before.
Male is the capital of Maldives. There are 2 ferry terminals in this city: Villingili Ferry Terminal for transfer to Maafushi Island and Hulhumale' Ferry Terminal for transfer to the Hulhumale Island, airports, and Himmafushi Island.
To the famous Maafushi Island
I remember that I had missed the public ferries of the week. All the tickets were sold out and I was stuck at the Villingili Ferry Terminal for a few hours, trying to find my way to Maafushi Island, as I already booked and pay my hotel. I was very lucky that my hotel in Maafushi helped me book speedboat transfer to the island.
Maafushi is regarded as one of – if not the most – popular "guesthouse" island in the Maldives. A couple of things make Maafushi a solid destination for tourists. First of all, you can access the island in under 2 hours with the affordable public ferry service from Malé, the capital of the Maldives. Another feature I liked about Maafushi was the very "local" feel to the island. We noticed lots of local families walking around the island enjoying sunsets and the crystal-clear water (which is ideal for swimming). Maafushi has a super laid back vibe without the same touristy feel that most resort islands around the world tend to have.
Maafushi is also small and very easy to navigate. If you are staying on one end of the island and you can't see the sunset from your balcony, a short five-minute walk should easily free up more favourable vantage points. Similarly, it takes very little effort to find restaurants and souvenir shops while staying on Maafushi.
One thing that surprised me was the range of excursions to choose from while we stayed on Maafushi Island. Diving, sailing, wind surfing, kite surfing, paddle boarding, snorkelling, jet skiing, wake boarding. Just name what you want and they are sure to have it. There are a bunch of shops all over town specializing in water sports, so organizing an activity is easy.
CHALLENGES OF TRAVELING SOLO IN MALDIVES
The Maldives are famous for honeymoons. Because I am a solo traveller, at the immigration counter, the officers asked me many questions and asked me to show all of my travel documents, such as hotel reservation and return ticket. This is different when you are in a group or couple, where the officers did not ask any of that. But remember, this is just a procedure.
In the Maldives, there is no hostel or dorm for accommodation. So, I needed to book a hotel room, which is very expensive. Traveling solo in the Maldives mean you are paying the price of 2 people in one room.
When checking-in hotel, there is always a welcome drink for 2 persons. Most of the hotel staff did not understand or were not familiar with solo travellers. They will keep asking you where your partner is. If you tell them you are travelling solo, they are very curious about it. When I told them I was traveling solo, they immediately took away the welcome drinks without letting me drink them.
Most of the tour and activities on the island required a minimum of at least 2 people. If it is a peak time, you will not have any problems, as you can join into any travel group for the tours. But if you are at remote or less famous islands, you may have a hard time getting the tour you want to do.
Let's say you are lucky enough to join the day tours, with others mostly newlywed couples or families. I remember that everybody keeps asking you where your partner is, and they are judging you for your single life. At last, I came out with my own version of story to tell everyone who asked me: "Actually my wedding happened last week, but unfortunately on the wedding day, the bride did not show up as she said she was not ready. As the honeymoon package had been bought and cannot be refunded, I used this opportunity to clear my mind and to continue my life." After hearing the story, everybody looked so sad and sympathized, and they never asked me again.
AbangFadli | Wanderlust Tips | Cinet