The careful planning and original, interesting design of France's theme parks will wow visitors. Theme parks in France will treat you like a small pal looking for relics of your youth, whether you are an adult or a child. Every visitor's experience at the country's theme parks will definitely be remembered fondly.
One of a country's finest achievements is the expansion of its tourist and cultural sectors to keep up with modern life and global advancement. France, a country known for its spectacular natural landscapes and works of architecture, also has the world's largest and most modern amusement parks. A thriving entertainment sector at huge parks to build an attractive environment for both local and international tourists is evidence of this country's global integration.
1. Puy du Fou: A park dedicated to recreating old works with French cultural influences
Puy du Fou is France's premier amusement park, combining traditional culture and attracting visitors from all over the world. When visiting Puy du Fou, visitors will enter a completely different universe. It is a separate cosmos imbued with the majesty of French history. Visitors are transported through each century and historical event.
Throughout the park, there are approximately 20 historical-themed shows, each lasting between 7 and 35 minutes and taking place in a different environment. The performances were picked as the most innovative in the world, with expert stage, sound, lighting, actor, costume, and special effect synchronization. The show "Roman Colosseum" recreates the gladiator wars of the Roman era with sword combat displays, chariot racing, and lion fights. "Death Battle with the Vikings" also realistically recreates the conflict between French and Northern knights, complete with superb sword battles, enigmatic details, and rich visual effects. Modern conflicts are faithfully reenacted as well, with trenches, gunfire, explosives, losses, sacrifices, and the glory of victory.
The shows combine a range of dancing, singing, magic, and vaudeville abilities, surprising the audience as they watch. Every performance involves romanticism, which is distinctive to French culture and depicts the beauty of a couple's love, love of nation, and patriotism. The "Dance of Birds" performance will transport you to another continent. Viewers will feel liberated as they witness more than 200 birds perform in this intriguing event.
Aside from the activities listed above, you can explore the Puy du Fou campus by visiting medieval citadels and towns, as well as craft villages where notable French artists have recreated the crafts of sculpture, blacksmithing, embroidery, and apparel.
2. Astérix Park: An actual cartoon park
Astérix Park is one of France's largest amusement parks, based on the well-known comic book series Astérix by creators Albert Uderzo and René Goscinny. Astérix Park first opened its gates in 1989. This park was designed and created by a number of major French companies and organizations.
Astérix Park is a fantastic place for guests to spend the day having fun and adventuring with their beloved Gauls. Tourists may also enjoy 47 attractions, animation performances, and a range of lunch options, giving them the impression that they are in a dream world. The Goudurix roller coaster is probably one of the most popular tourist attractions in the area. The roller coaster, which is named after the fictitious character Goudurix, will appeal to adrenaline seekers.
The largest wooden Thunder of Zeus slide in Europe will be a pleasure for tourists to the town in the old Greek region, which is known for its outlandish and innovative ideas. Alternatively, guests in the family-friendly Roman Empire can take a boat around the slopes. The emperors' castles are open for guests to view while taking in the breathtaking scenery.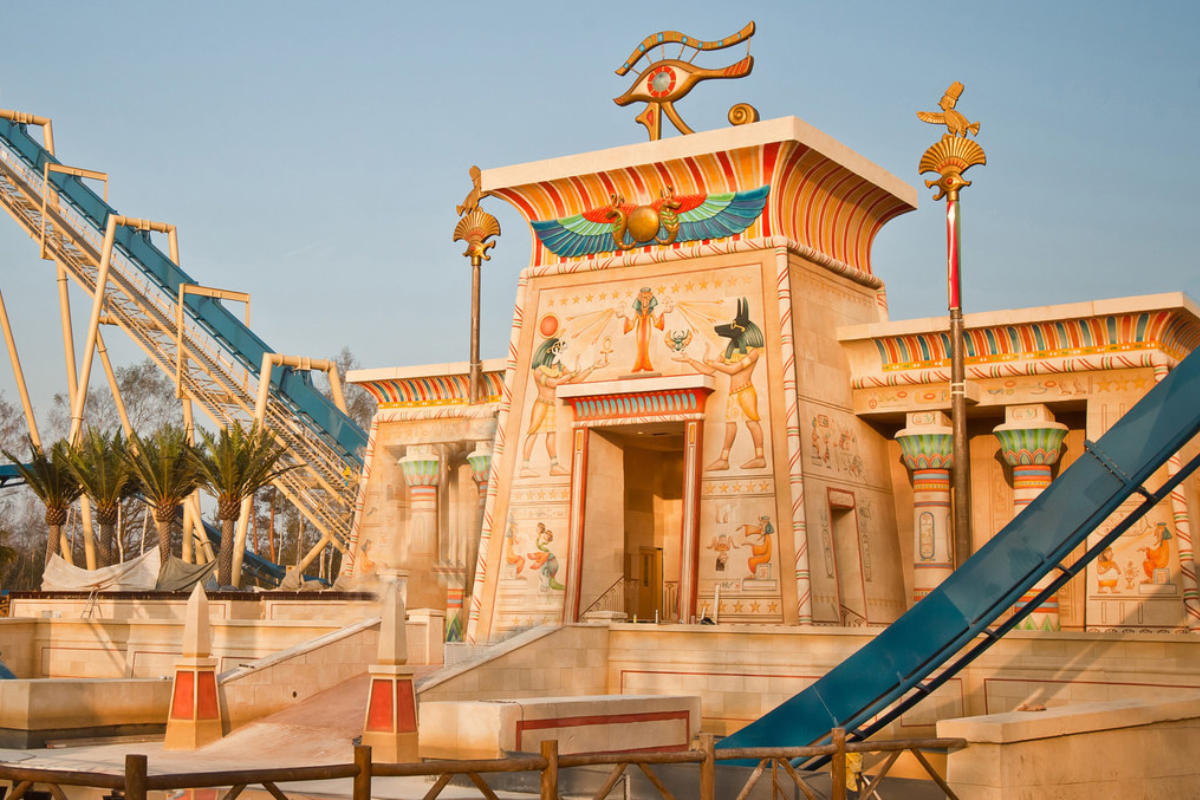 3. Futuroscope: A science and education park for the future
The park is not only an entertainment destination, but it also provides guests with the opportunity to interact with advanced scientific and technological knowledge of the future. From battling electromagnetic fields and solar flares to staring at the gorgeous Earth from orbit, the Futuroscope theme park has it all.
This is France's first theme park focusing on digital, visual, and information science, stimulating all five senses in a three-dimensional universe. In keeping with the park's name, Futuroscope was designed to be both entertaining and educational, introducing guests to future sciences while allowing players to directly engage through space exploration, assisting visitors in improving their perspective on the world and increasing their awareness of their surroundings.
Since its inception, Futuroscope has created amusement games using picture, sound, and light technologies, as well as programs relating to environmental science, climate change, the world of flora and fauna, Earth science, and outer space. Futuroscope is poised to create a new chapter in its evolution, armed with expertise and distinctive thematic qualities in the field of entertainment. Futuroscope will become a green vacation destination for families in France and Europe by using artificial intelligence and robotics, 3D printing technology, biotechnology, and ecologically beneficial activities.
Futuroscope science amusement parks will be a popular destination for young people in the context of 4.0 technological development, always aiming for new, creative, and environmentally responsible technology.