Visitors on excursions around the world will be able to see many stunning natural landscapes, historic architectural works, and ancient treasures that have been kept for hundreds of years. Themed amusement parks are no different. This area gives you the impression that you are entirely immersed in the joys of childhood.
Water parks all around the world are known for having a variety of exciting games and innovative themes. When visiting these spectacular water parks, guests can also enjoy exploring the world, riding countless water slides, or playing thrilling activities.
1. Shanghai Disneyland Park
Shanghai Disneyland, China's first Disney theme park, combines Disney magic with distinctive Chinese cultural elements. Visitors on fantastic travels will explore themed worlds with top-notch attractions and spectacular entertainment. Shanghai Disneyland takes great pride in maintaining the essence of a traditional "Disneyland" theme park while also providing a variety of unique experiences.
The design of the park's entrance was inspired by two well-known Disney cartoon characters, Mickey Mouse and Donald Duck. Visitors will feel nostalgic as they drive down this road, which is populated with colorful cartoon characters from their childhood. There are also numerous gift shops where you may select your favorite items to present as keepsakes to friends. Tourists travel via Mickey Avenue to reach the Imagination Garden area in the park's center. Each part of Gardens of Imagination depicts Disney cartoon characters and 12 popular Chinese animals. At the most well-known attractions, such as Dumbo the Flying Elephant, Fantasia Carousel, and Marvel Super Heroes, visitors can simply take many check-in shots.
Fantasyland, with its majestic Disney castle as its centerpiece, is claimed to be the park's largest land. Taking a boat trip beneath the castle allows visitors to recreate classic movie moments from some legendary works. In addition, Adventure Isle is a worthwhile destination to visit. This fascinating world is full of treasures. Visitors will be able to explore the Roaring Rapids region and participate in the soaring through the air game.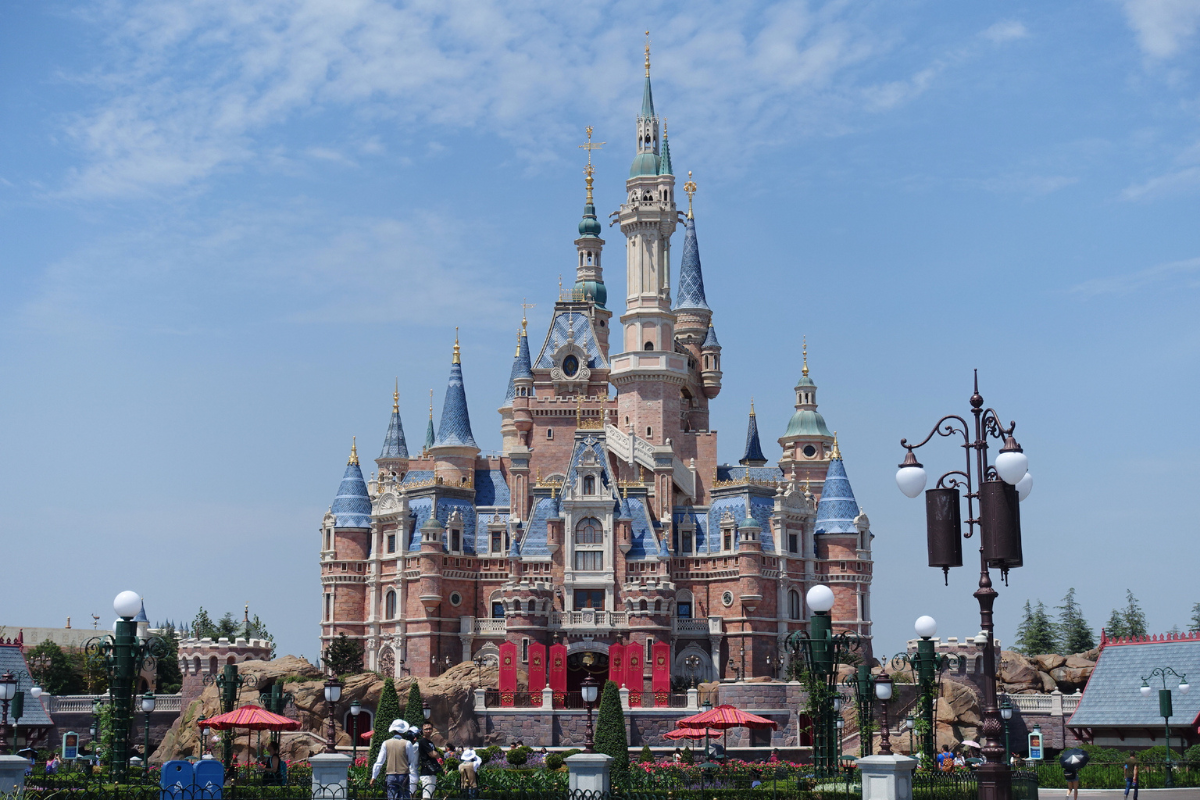 2. Chimelong Ocean Kingdom
Chimelong Ocean Kingdom, in addition to being the world's largest oceanographic park, has four other records for having an underwater dome, aquarium, painted ceiling, and the world's largest aquarium window. This park is organized into seven themed regions that reflect the seven oceans. Many unusual animals live there, including tropical spotted dolphins, sea bears, vivid jellyfish, and white whales.
The Chimelong Marine Park is part of a luxury hotel complex with a nautical motif. This location is particularly well-known for the more than a kilometer-long tunnel that connects the hotel to the aquarium. Because the four sides are covered with transparent glass, visitors can see the fish swim freely as if they were walking on the ocean floor. Chimelong Ocean Kingdom, in addition to the aquarium, features several entertainment and resort venues, including as a circus and a 5D theater.
Outdoor structures are also magnificently constructed, such as a water slide from above that simulates two seals or a massive whale and jellyfish statue. Before the tour concludes, visitors will be treated to a stunning fireworks display mixing sound and light across a vast area in the evening.
3. Beijing Happy Valley 
Beijing Happy Valley, a well-known theme park, is located in Beijing, China. It was formally opened in 2006 and has a maximum area of 550 thousand square meters. As a result, it is now the largest amusement park in Beijing, as well as one of the largest in China. Happy Valley is a well-known tourist destination for both domestic and international visitors. It is divided into seven sections, each with a different theme. You will surely have fun and feel joyful while touring joyful Valley, as emphasized by the park's name.
You'll be surprised by various unique and sympathetic spots here. If you've never been to Shangri-la in China, Beijing Happy Valley theme park has a beautiful recreation of the resort. Alternatively, if you're interested in knowing more about the prehistoric Maya kingdom's history and culture, the Maya empire will undoubtedly supply you with a wealth of useful information. Furthermore, the Apollo wheel game here will make you scream in dread.
Furthermore, Happy Valley's Atlantis portion is believed to be the most attractive part of the park. The highest man-made mountain in Asia is now located here and stands 70 meters tall. It is also recognized as the symbol of Beijing Happy Valley theme park. During your visit to Beijing Happy Valley theme park, you will be able to take photographs with various famous cartoon characters in the Cake Kingdom, which is based on a hugely hit Chinese animated film.