When summer comes, everyone dreams of an idyllic blue beach under the sunlight, smelling the warm sea breeze, washing away all daily worries, and dipping their feet into the soft sand dunes to feel the passionate sense of the sea. And that's where we are alone with the vast ocean. Here are 10 Wanderlust Tips for true paradises, for the ocean lover.
Dam Trau Beach – Con Dao
Recently, Con Dao Islands (Ba Ria, Vung Tau Province) have been consistently listed at the top of beautiful and fascinating beaches of Asia, as well as worldwide. Con Dao Island has been chosen by Travel + Leisure, Lonely Planet, and most recently, CNN. CNN voted for Con Dao as one of the top 10 most peaceful islands in Asia. The fascinating place offers visitors beautiful nature, idyllic white sand beaches, colourful coral reefs, exotic rainforests, and fresh seafood.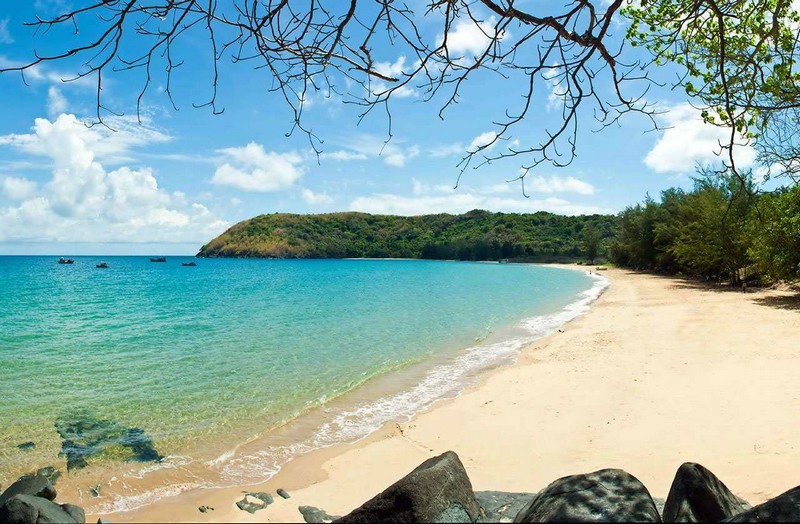 Among the impressive beaches of Con Dao, Dam Trau Beach is considered one of the most beautiful, with never-ending stretches of smooth golden sand, and calm blue waters embraced by old-growth forests. Some people have compared Dam Trau to a piece of soft silk across a green carpet, half forest, half sea. Along the beach there are countless cliffs with abundant formations. On a rocky outcrop extending into the sea, there are two huge boulders that look like a couple of birds. Legend has it that this is the meeting spot of Ms. Trau and Mr. Cau, characters in a sad love story that has been told by Con Dao people for many generations.
Cay Men Beach – Nam Du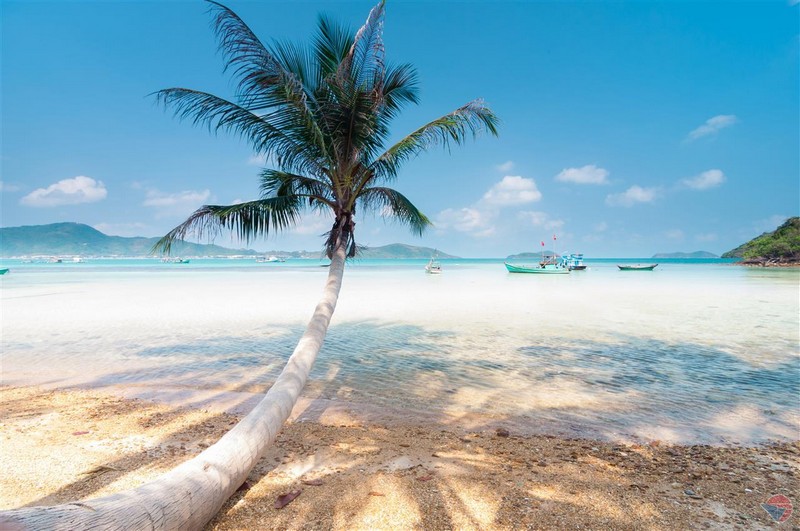 Na, Du (Kien Giang Province) is an archipelago located in the Gulf of Thailand – 65 nautical miles from Rach Gia. This beautiful archipelago is the favourite destination of Northern travellers. Nam Du has not developed much in tourism and is still idyllic with 21 islands and countless stunning beaches. Among them is Cay Men. The specialty here is coconut. The beach offers lush green coconut palms stretching endlessly along smooth sand, with the crystal clear water nearby and abundant coral reefs with colourful fish. Cay Men Beach is located in the Gulf of Thailand, so the water here is calm and clear blue, and at first glance it looks like a giant lake surrounded by solid cliffs. Few tourists have come to Cay Men and other beaches on Nam Du Island, so it still remains wild and poetic. Southern travellers who are especially concerned with protecting the environment have contributed to the preservation of the beauty of this place.
Phu Thuong Beach – Tuy An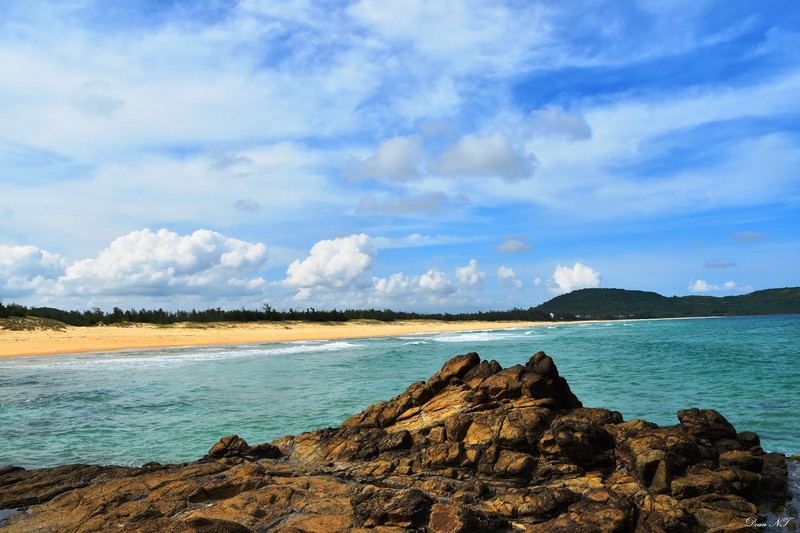 Phu Yen is associated with Xep Beach, Mon or Vung Ro Beach, but there are still many beautiful beaches that have not been frequented by visitors, like Phu Thu Beach (An Hoa Commune, Tuy An District). The beach is located in the bow-shaped coastal area, which is bordered by two Northern rocky capes in the North and the southern cape of Yen Island, in the west of the land, Phu Quy Fishing Village, where fishermen are very nice and hospitable.
If Phu Yen's famous beaches have become popular tourist destinations, Phu Thuong is still quite primitive, with no signs of being touched by human hands. The beach is far away from the residential area, so the water is absolutely clean. The sea is calm and quiet, and it is an ideal spot for you to relax in the cool water. Then, you can walk along the beach to the North or back to the Cape of Yen Island to the South. From the tops of the Cape, we can capture the whole view of Phu Thuong Sea. Admiring the majestic natural beauty will make you feel so tiny.
Ky Co Beach – Quy Nhon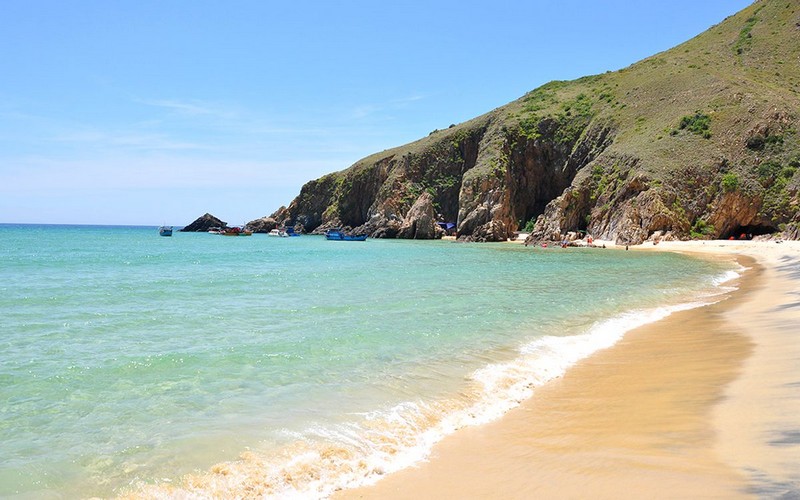 It is surely no coincidence that people have given Ky Co many beautiful names, such as "Paradise Island of Quy Nhon" or "Forgotten Paradise." The beach here is as beautiful as any of the famous ones in the Central region.
Located about 25 kilometres from Quy Nhon City, Ky Co belongs to Nhon Ly Island Commune. Ky Co Beach recently became famous and attracted tourists with the pristine beauty of clear water, calm waves, and smooth sand stretches. The crescent-shaped coastline with three sides bordering the mountains and one side bordering the sea makes Ky Co more impressive. Indeed, at first sight of Ky Co, anyone would want to rush into the sea immediately. Interestingly, large and small boulders are naturally arranged to form several "mini" saltwater pools that could hold about 5 to 7 people, so that a whole group of family or friends can soak in the cool blue water. In addition, Ky Co also offers a series of beautiful caves when tidal water recedes. If you have the opportunity, experience the feeling and thrill of exploring these mysterious cool caves.
Ho Coc Sea – Xuyen Moc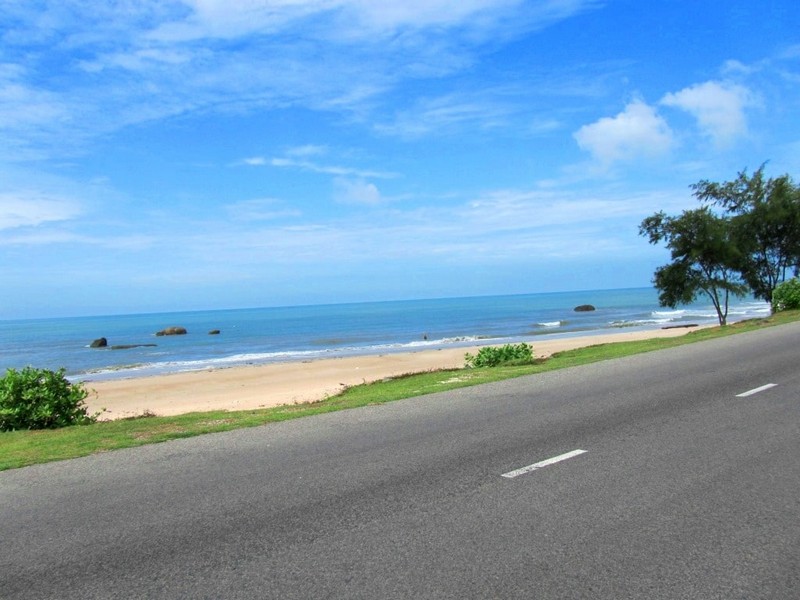 Far from the offshore islands of Central Vietnam, about 175 kilometres from Ho Chi Minh City, there is a beautiful and pristine beach that attracts many visitors: Ho Coc Beach in Bien Bien Commune, Xuyen Moc District, Ba Ria, Vung Tau Province. Although it has been known of for a long time, Ho Coc Beach, with clear blue water, white sand, light waves and interesting rock formations, is still quiet and peaceful. Therefore, when arriving in Ho Coc, tourists can completely immerse in their own world with the waves, the sound of the sea in the wind, and all is calm and quiet. Come here – you can soak yourself in the blue water, take part in many exciting underwater games, explore the mysterious deep forest, or simply take a leisurely stroll along the white sand beach to admire the magical beauty that nature gave Ho Coc. When the sun begins to glow red on Ho Coc Beach, we can sit back with friends and family to enjoy a cosy seafood dinner and fully feel at peace in the Southern Sea. Indeed, Ho Coc is the ideal place for you to hide away from the crowds of your daily life. Coming here, you will find your heart calm before the lyrical scene of the ocean.
El Nido – Philippines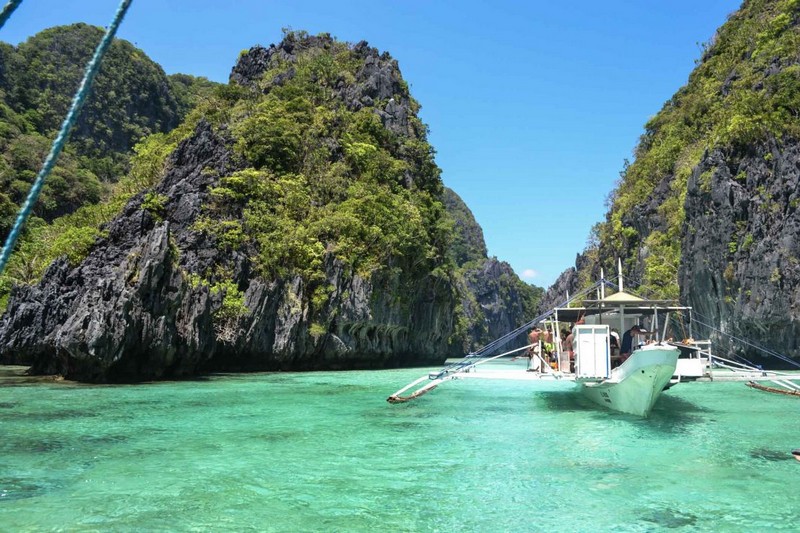 If you want to go to an ideal beach for summer parties, do not go to El Nido. You should only come here when you want to relax and explore one of the planet's most pristine wilderness sceneries. There are bays, black cliffs, gorgeous waterfalls, rich vegetation, and crystal blue beaches. There are places where the sea is as calm as a reflective surface, with no ripples, and so clean that you can look at the colourful reefs or swimming fish while you are on a boat.
El Nido is not only famous for its abundant underwater ecosystems, but also for the stretches of white sandy beaches – truly a captivating paradise. It's Nacpan, Seven Commando, Payong-Payong, Hidden Secret, and Las Cabanas. If you are an adventurous person, you will definitely enjoy exploring the mysterious white sand beach where they have to sail through a small cliff. Sometimes you will find a beautiful landscape beyond imagination: sea-lined lakes covered by 30-metre tall cliffs. This is the most beautiful destination of the archipelago around El Nido.
Gili Meno – Indonesia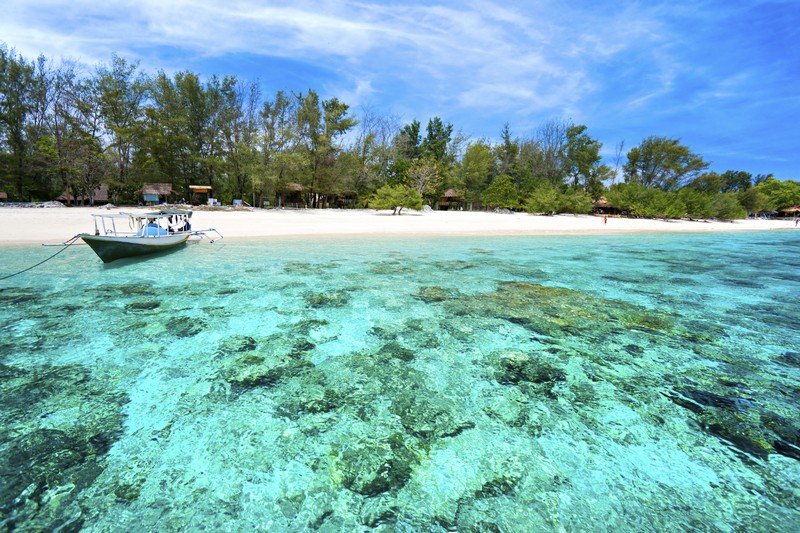 Gili Meno Island of the Gili Islands is a mysterious wonder on this list – not Bali! Located in the Lombok Strait, about 35 kilometres West of Bali, the Indonesian island of Gili is surrounded by breath-taking landscaped beaches, cool blue water, and magnificent coral reefs.
Located between Gili Trawangan and Gili Air, Gili Meno is the smallest and most pristine. The sea is gorgeous in green, with an endless stretch of horizon. These are the most unforgettable days. In the quiet space, it is only you and the vast ocean, soaking in the clear water, watching colourful coral reefs or sea turtles swimming in daytime. This is another impressive feature of Gili Meno. This tiny island, where there is no dock or roads, is a paradise that every traveller dreams of visiting.
Anse Soleil – Seychelles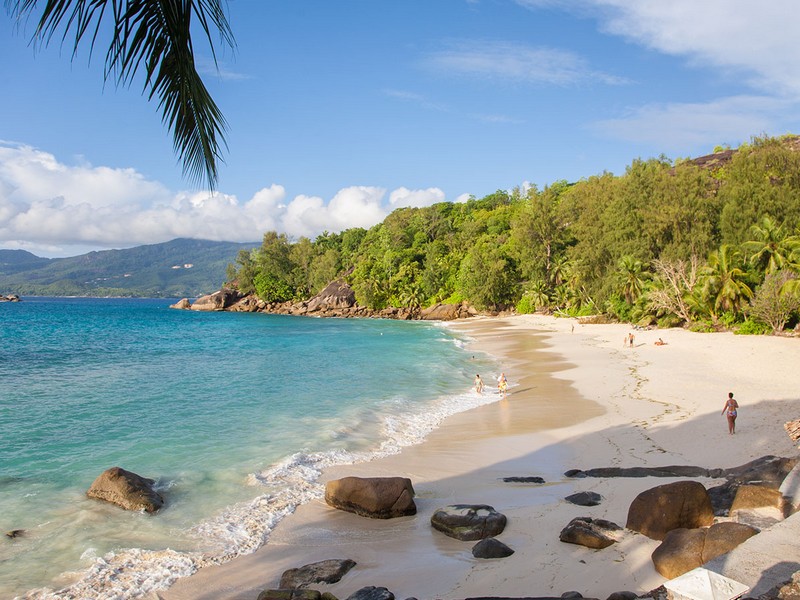 Perhaps you've heard the name Seychelles, the archipelago with more than 100 large and small islands, considered to be the jewel of the Indian Ocean, near vast East Africa. The small island nation offers white sandy beaches stretching 491 kilometres along coral reefs, and marble and palm tree forests. The Seychelles are on conservation lists and is a Natural Heritage Site of UNESCO. Among the beautiful beaches of Seychelles, the most memorable is Anse Soleil, located in the South West of Mahe Island of Seychelles. This place exudes tranquil beauty with long sandy beaches and crystal blue water. It is an ideal place for those seeking peace and relaxation in the soul. You just take a walk along the beach, enjoy the gentle sea breeze, golden sunshine on the soft sand dunes, and all of your worries will disappear. When tired, you can stop at a small beach café that caters to all of your dining needs.
One thing to keep in mind is the cost of the Seychelles. It is extremely expensive, perhaps because the island is far from the rest of the world and there are not many flights here.
Hidden Beach – Mexico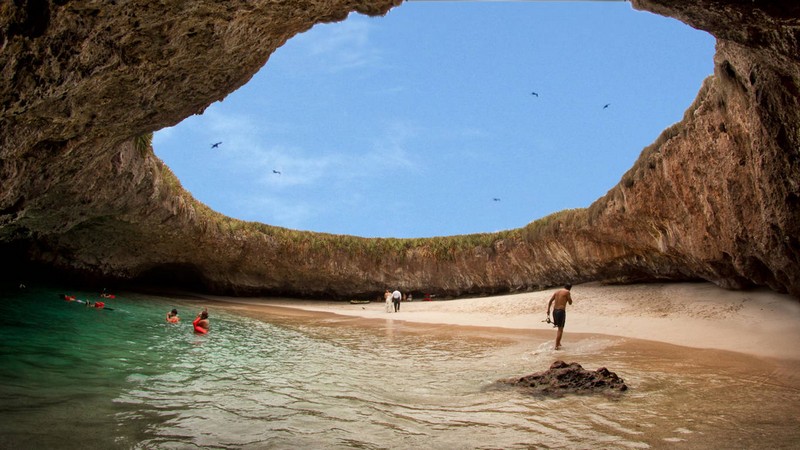 Located just off the Mexican coast, in Banderas Bay, is the beautiful Marieta Islands. These islands are better known – until people discovered a beach hidden beneath a deep hole. Known as Hidden Beach, or Playa del Amor (Love Beach), it is surrounded by hilly cliffs. The only way to see the entire beach is to look from above, and the only way to get there is through a 2.5 metre water tunnel heading to the sea. Going through the hard way and get to Hidden Beach is worth all of the effort because you have touched heaven. Hidden under the "hole" are smooth white sands and cool clear water.
Most of the Marieta Islands have never been inhabited, which is probably a great condition for nature to create this beautiful landscape. Protected against any intrusion, Hidden Beach retains the pristine nature for the visitors to experience a paradise of their own.
Baia do Sancho – Brazil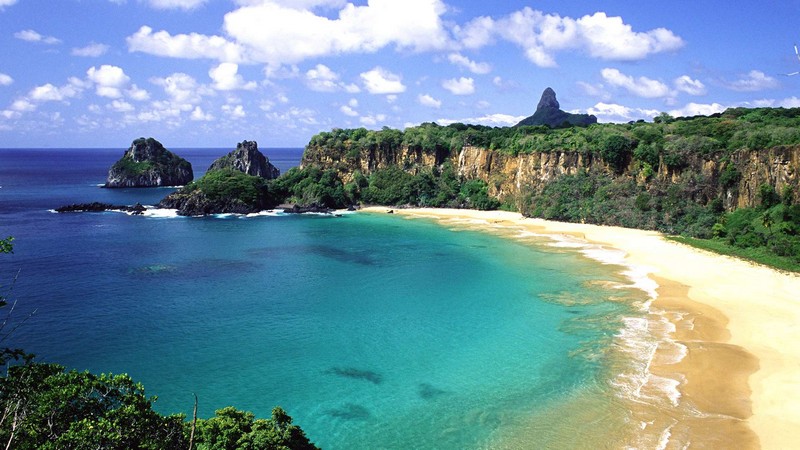 It is no coincidence that Baia do Sancho is one o the names featured on the list of the world's most beautiful beaches in 2017 by Trip Advisor. Located on the island of Fernando de Noronha in Brazil, Baia do Sancho attracts visitors with blue water, magnificent cliffs, and cute dolphins playing in the bay. The best thing here is the peace and quiet. Unlike the vibrant beaches of Rio de Janeiro, Baia do Sancho is an ideal destination for those seeking relaxation in the soul. The island immerses all of the senses of the visitor in nature: breezes of the sea, lapping waves, the salty flavour of the water, and a vast ocean scene farther than the eye can see. Explore by taking a stroll. Visitors will be amazed with the reality that they are walking in a paradise, and cannot begin to imagine how many more interesting things are waiting.
Although just a few names are listed, there are countless beautiful beaches all over the planet. This may be enough to inspire a soul to head to the sea and to inspire a heart yearning for exploration.
Van Ly |  Wanderlust Tips | Cinet