Recovering programs are planned and carried out in many countries. However, there is a major concern about the labor workforce of this industry. How are the employees? What will they do with their job and career ahead?
As countries have to take solutions to protect their citizens, lockdowns, quarantines, travel restrictions between countries and regions have been implemented, causing contraction in travel and tourism activities. Meanwhile, tourism is an important income generator for many developing countries, accounting for 50% of total exports for many small economies such as Maldives, Saint Lucia, according to UNCTAD (2020). Tourism and hospitality; therefore, are two of the sectors that have been receiving the greatest hit from COVID-19. Data from UNWTO Tourism Dashboard shows that the number of international tourist arrivals in 2021 decreased by 88% compared to that of 2019 in most destinations. Even national borders are now re-opened under some circumstances, international tourists arrivals are not expected to increase significantly in a short period of time, as ILO predicted.  
Without a doubt, the consequences left by the COVID-19 outbreak have been far more than anything we can imagine. The multifaceted crisis derived from this event has impacted society not only in terms of physical health but also mental health and financial health.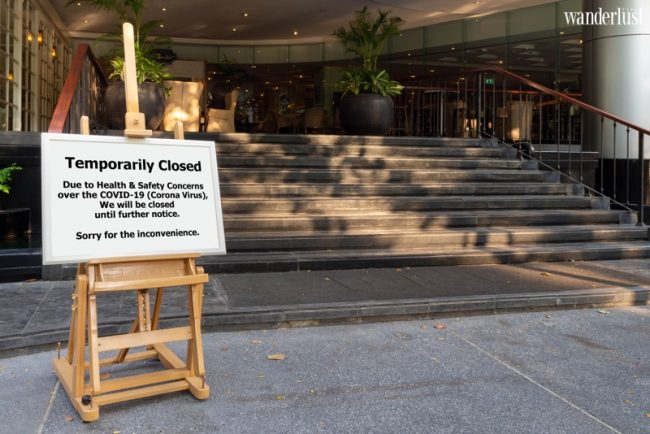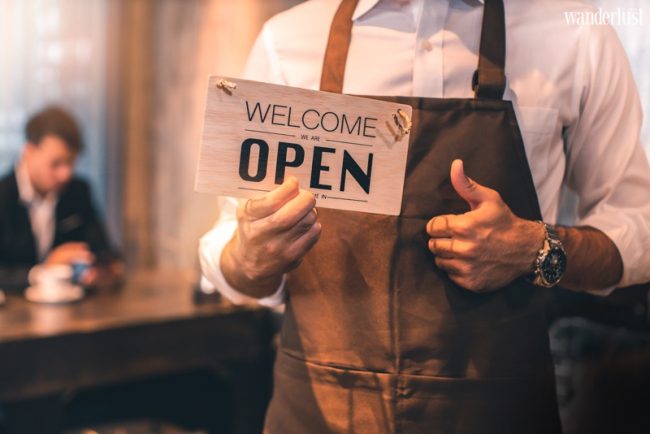 Recovering programs are planned and carried out in many countries. However, there is a major concern about the labor workforce of this industry.
Company layoffs, furloughs and pay cuts
Results from the ILO research on Brunei, Darussalam, Mongolia, Philippines, Thailand and Vietnam show that 1.6 tourism-related jobs were lost in these five countries alone. In Vietnam, tourism wages decreased 18 percent on average, while it was 9.5 percent in Thailand. WTTC reported 3.6 million jobs lost in Europe in 2020, with different levels of impact on each sector of the tourism & hospitality industry.
The sharp decrease in demand resulting in losses of revenue has forced many companies and hospitality groups to announce layoffs, furloughs and put cuts for their employees. Marriott International, one of the largest hospitality companies, decided to furlough two-third of its 4000 corporate employees in the headquarter in Bethesda and two-third of overseas corporate staff in 2020, while Expedia Group laid off 12% of its global workforce in the same year. Similar situations also happened to many other travel companies, hotel groups, restaurants, event agencies, airlines…, from MNCs to SMEs.  
Employees' career optimism
In a qualitative study of researchers from Flinders University, Australia and Virginia Tech, United States (2020), culturally and linguistically diverse hotel workers were less optimistic about their current career status; however, there were more of them held a positive outlook on the long run as they believed that the pandemic is temporary. This result was greatly influenced by: 
Individual inner factors, such as psychological resources (adaptability, resilience, self-efficacy), job-related competencies, spirituality and faith in life

Positive interactions with colleagues, supervisors, managers; social supports inside and outside the workplace 

Institutional support such as financial aids and food hampers; and easing restrictions from the government
Employee's demotivation and career turnover intention
Job insecurity caused by the pandemic directly impacts the motivation at work of staff in the hospitality industry and is likely to increase turnover intention. Employees who are "survivors", who were not laid-off, still consider looking for a new job. Organizational changes during the pandemic to be perceived as unfair and unclear in procedures are also the reason for this reaction of employees, according to a group of scholars from the Serbian Academy of Sciences and Arts, The South Ural State University and the University of Belgrade. 
However, one finding of this study shows a relevant tendency with the career optimism of employees in the tourism industry mentioned above: despite leaving to look for a new job, workers did not shift to another industry. COVID-19 did not significantly reduce the attractiveness of the tourism industry for employment.
In contrast, another study from Washington State University in 2021 shows that hospitality workers who were made redundant or furloughed were affected severely in well-being conditions, besides their financial strains. This group of employees seems to leave the hospitality industry during and after the uncertainties and challenges caused by the pandemic.