(#wanderlusttips #condaoislands) Praised by many famous travel magazines as one of the most beautiful islands in the world, Con Dao still maintains its pristine beauty and rich nature. This is an isolated heaven for those seeking a different kind of experience.
[rpi]
Con Dao is a group of 16 islands located in Ba Ria – Vung Tau Province, about 40 nautical miles from the mainland. The biggest island is Con Son known to many as Con Dao. This area is home to a unique ecosystem, with over 800 species of plants and 140 different kinds of animals. 1,400 marine animals live in the ocean surrounding Con Dao among colourful coral reefs. Con Dao has the most sea turtles in Vietnam, and is the only place where dugongs reside.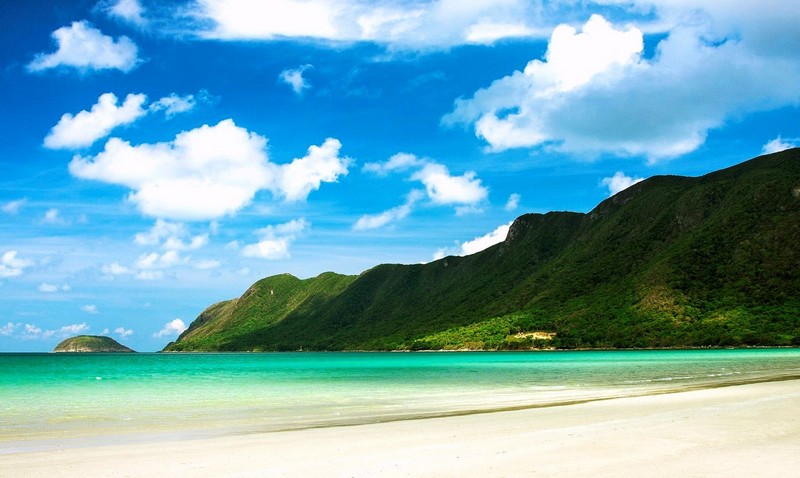 This pristine archipelago is suitable for those wanting to find heaven on earth, peaceful and quiet, without the hustle and bustle of urban life. You can rent a motorbike to visit Con Dao prison and learn more about the history of this island, or explore Con Dao museum and visit Hang Duong cemetery where the hero Vo Thi Sau was buried.  The island only has one gas station. Bring backup fuel if you are planning a long trip. Con Dao's main beaches are Dam Trau, An Hai and Dat Doc, where you can enjoy the water or sit in the shade to read in the breezy wind. You can explore Ong Dung primary forest, rent a boat to visit Bay Canh island and Dam Tre gulf, go diving to see coral reefs or watch swiftlets build their nests.
Con Dao does not have many restaurants, but and abundance of affordable local eateries. Tourists can enjoy fresh seafood like snails, lobster or red groupers. For accommodation there are many choices varying in price, from motels, cheap hotels to luxury resorts. Six Senses Con Dao Resort is famous for having hosted many celebrities and is highly praised by travel magazines for being a quality eco resort.
The best time to visit Con Dao is from March to September. This is the rainy season, but rain showers are short, cool the air and calm the ocean. Currently only Vietnam Airlines provide direct flights from Ho Chi Minh City or Hanoi to Con Dao and the airfare is relatively expensive. Another option to get here is to travel to Cai Lo port in Vung Tau, where tourists can buy a two-way boat ticket to Con Dao. The boat departs at 5 p.m. and reaches the island at 5 a.m.
Hoang Linh | Wanderlust Tips | Cinet