Chiang Rai is an ideal destination where families – particularly those with kids – can spend a weekend getaway trip escaping from the bustling city to enjoy the rustic and idyllic beauty of nature. 
[rpi]
Thailand has long been a tourist attraction with countless entertainment venues. While Bangkok is famous for being vibrant or Pattaya is known as a dreamy coastal city, the city of Chiang Rai seems not to be as popular but it's in fact an ideal destination where you can spend a weekend getaway trip escaping from the bustling city to enjoy the rustic and idyllic beauty of the nature here. 
Chiang Rai is also extremely suitable for a family vacation, especially families with young children. Join us to discover the following 3 interesting places in Chiang Rai!
1. Farm Park Singha
Singha Park is an agritourism attraction in Chiang Rai and Northern Thailand. This is considered the largest farm in Thailand. Coming to Singha Park, you will behold the immense green tea beds arranged in a ladder-like pattern on the steppe stretching to the horizon. The unique architecture here is the harmony between the two cultures of Asia and Europe.
This is also an interesting destination for families with young children. Kids will surely be excited when visiting the farm where they can see wild animals like zebras, giraffes and white horned cows in Watusi. There are interaction stations and feeding areas where kids can fully immerse themselves with the animals and at the same time learn about these animals and their daily lives from animal care professionals and educators. Parents can help their kids interact with animals by buying carrots and bananas to feed them. A food portion for the giraffe costs about 20 baht.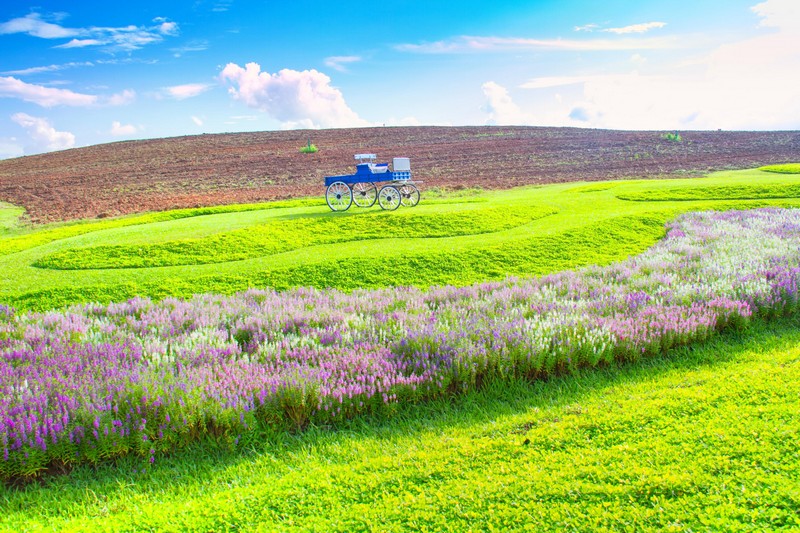 This 13-kilometer farmland also has a wealth of nature-loving activities for kids, including swan lake and wildflower fields to explore; fresh fruit and vegetable garden where children can pick and grow fresh produce; farm house and zoo full of exotic animals; along with cycling, zip-lining and rock climbing tours for young adventurers.
Singha Farm Park regularly organizes fun festivals year round such as the Hot air balloon festival, or the Flower festival that attracts both domestic and foreign tourists held in November and December every year.
2. Anantara Golden Triangle Resort
Are there any animals which are more capable of capturing the imagination of a child rather than the giant elephants? Come to Anantara Golden Triangle Resort to not miss the opportunity to visit and learn about elephants in Thailand. The resort has won a lot of awards for its research, conservation and elephant camps. This place has rescued elephants that are illegally raised to serve in climbing areas, circus shows or just to simply beg for money on the street… The elephants are brought back to the forest to merge  with nature at this reserve of the Golden Triangle Asian Elephant Foundation.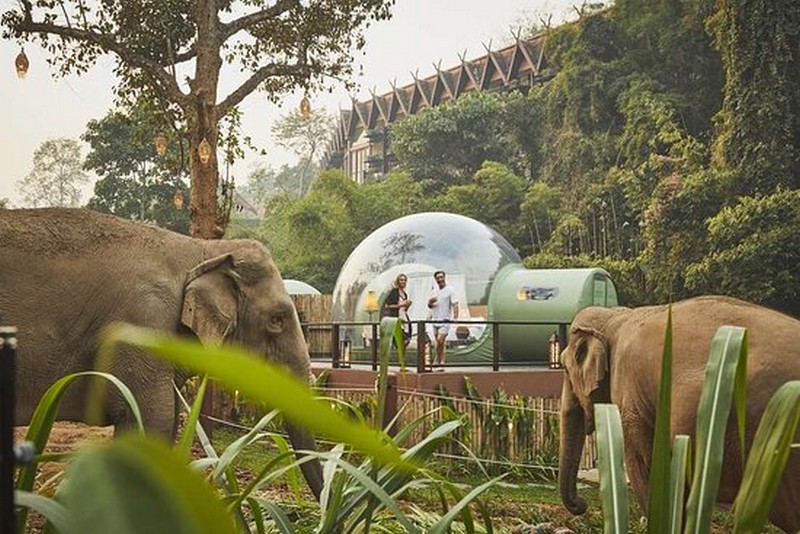 The resort is designed based on the traditional Thai house architecture style, including 40 standard rooms and 15 suites built around an elephant camp on the premises, which looks exactly like a traditional mahout village, giving visitors a wonderful experience in interacting with these gentle giant friends.
Instead of choosing to stay in a luxury hotel room, you can choose to stay in a bubble room right next to the elephant camp, where you will be connected more closely with nature. The resort only has two bubble rooms, so make sure you make a booking in advance. The fully equipped room is built on a wooden platform, giving tourists a majestic panoramic view of the mountains and forests.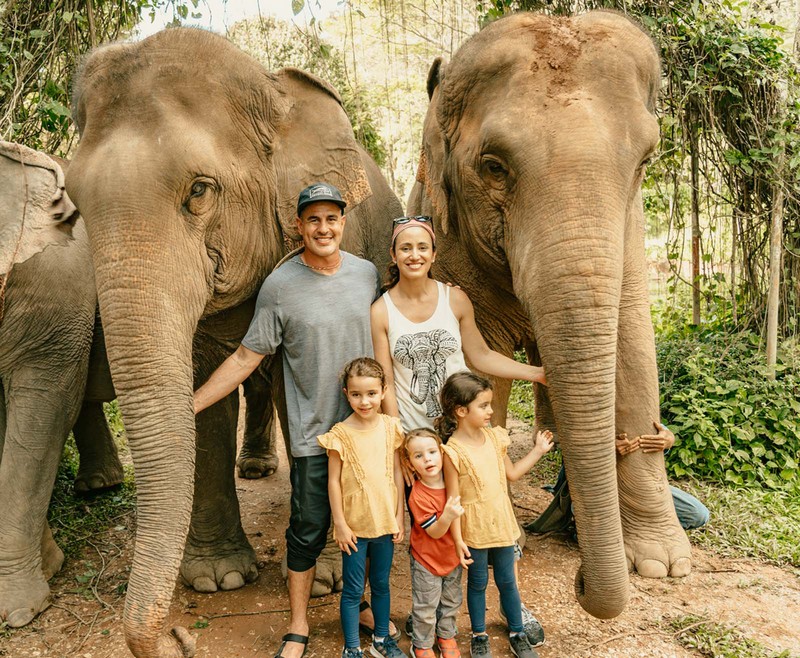 The tent is made of high quality transparent polyester (except for the bathroom). Every morning, you will be awakened by the cheerful call of the elephants outside. For the daytime activities, your family can go for a walk with the elephants, play with them in the shallow river… but keep in mind that you can not ride or harm the elephants.
There are three friendly elephants living in the barn near the bubble room at the moment. If you want to make friends with many other elephants, you have to follow the guide into the forest. In addition, visitors can go to the observation deck and use binoculars to observe elephants from afar. This is also a place to catch the beautiful sunset, or zoom in on the scenery of Laos and Myanmar.
3. Mae Salong
Bordering Laos and Myanmar, Mae Salong is known by tourists as "miniature Switzerland" because at an altitude of 1,800m above sea level, this mountainous region creates a spectacular natural landscape with terraced fields stretching on the hillside along with fresh climate and nice weather all year round.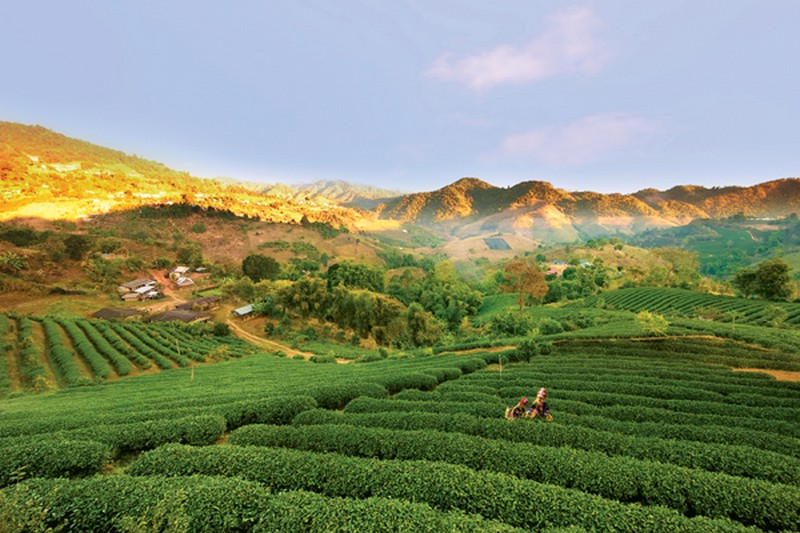 Walking around the village, you can take a glimpse at the unique beauty of the cultural lifestyle of the indigenous people here. It's not hard to catch sight of many groups of mountainous ethnic people such as Akha and Lisu in their colorful traditional costumes gathering around the market and all along the sidewalk. You can also take a look at some of the souvenir stalls selling beautiful handicrafts produced by the natives.
The food at Mae Salong offers a real taste of Chinese cuisine, especially Yunnan cuisine. Dry-roasted oolong tea is one of the specialties here and is also the chief export of the village.
Breathing fresh air in Mae Salong, enjoying the taste of afternoon tea in this mountainous region, you will be able to sense the so-called "taste of heaven". All in all, the journey to the high mountains of Mae Salong – "miniature Switzerland" – promises to bring an unforgettable vacation for your family.