Here are the 8 best museums you must visit to see fascinating artifacts and hear amazing stories from the rich past of Lincoln, Nebraska.
[rpi]
State of Nebraska is home to an abundance of educational and entertaining museums, ranging from smaller roadside stops to museums of national importance. Its capital, Lincoln, is where the most fascinating ones are centered. And no matter how big or small the museums may be, once you step inside, you'll quickly be transported to another world.
Sheldon Museum of Art's landmark Philip Johnson–designed building houses the collections of the Sheldon Art Association (founded in 1888), and the University of Nebraska. Together, the collections include nearly 13,000 artworks in diverse media. The museum's comprehensive collection of American art includes prominent holdings of 19th-century landscape and still life, American Impressionism, early modernism, geometric abstraction, abstract expressionism, pop, minimalism and contemporary art.
More than thirty of Sheldon's monumental sculptures are exhibited throughout the University of Nebraska–Lincoln's City and East Campuses, including major works by Gaston Lachaise, Jacques Lipchitz, Claes Oldenburg and Coosje van Bruggen, Richard Serra, and Mark di Suvero.
In 1972, Sheldon Museum of Art was among the earliest institutions to receive accreditation from the American Alliance of Museums (AAM) – the highest national recognition afforded museums in the United States – and was most recently reaccredited in 2012. Sheldon is also an institutional member of the Association of Art Museum Directors (AAMD) and the Association of Academic Museums and Galleries (AAMG).
Sheldon is open to the public from 10 AM to 4 PM Tuesday through Saturday. Tours of Sheldon Museum of Art and its outdoor sculptures are free and may be tailored to visitors' interests. But make sure you book at least two weeks in advance.
Located on Centennial Mall in downtown Lincoln, Nebraska History Museum displays over 125,000 objects in its collections and continues to collect more items that tell the story of Nebraska's 12,000 years of history.
Come to Nebraska History Museum, you will not only be able to admire unique artifacts on display but also learn about life in Nebraska before it became a state, what it was like to live in Nebraska during the early years of statehood, and the moments that affected all Nebraskans. What's more, you can participate in a variety of educational programs for both children and adults.
Nebraska History Museum is open from Tuesday – Friday (10am – 4pm) and Saturday (10am – 2pm). Ticket fare is $5 for adults (19 and over), $3 for children (5-18) and ticket-free for children under 5 years old. 
University of Nebraska State Museum – Morrill Hall
University of Nebraska State Museum, also known as Morrill Hall, founded in 1871, is a natural history museum featuring Nebraska biodiversity, paleontology, and cultural diversity, located on the University of Nebraska-Lincoln City Campus near the corner of 14th and Vine Streets in Lincoln, Nebraska. 
The museum houses Mueller Planetarium, a hands-on science discovery center, and the Elephant Hall, where visitors can see the world's largest articulated fossil mammoth among the collection of fossil elephants. Also featured are interactive paleontology exhibits, a dinosaur gallery, ancient life and evolution exhibits, wildlife dioramas, gems and minerals, American Indian and African exhibits, and a temporary exhibit gallery featuring rotating displays on diverse topics including photography, quilts and fine arts.
Museum of American Speed ​​ is a non-profit museum dedicated to the preservation and display of artifacts of American automobiles. If you are a big fan of racing cars, powerful engines or anything related to speed, this is definitely a spot you can't miss out on. 
The museum was established in 1922 with exhibition space amounting to 135,000 square feet. The extensive collections include three major exhibitions: Auto Machinery, Cars and Engines, Toys and Models. The way to the museum can be difficult to find as it is located on the precinct of an industrial park so you should probaly ask a passer-by instead of using a map for directions.
Lincoln Children's Museum
Lincoln Children's Museum is a must-visit place for a fascinating experience, especially for families with children of all ages. This is a place where children can both play and learn in a dynamic and creative environment through a variety of hands-on exhibits and imaginative programs, which makes it an exciting adventure for them. 
The first floor has the Performing Arts Center where kids can grab a costume and jump on stage, or learn how to put lights on and change the backdrop. There's also a Puppet Theater, a prairie dog tunnel, and a Me and My Shadow area allowing children to be active and creative in a learning environment. Upstairs is a Small Town model with everything a real town would have in real life, such as Kimmel Apple Orchard Farm and Family, Hy-Vee Grocery, 10/11 TV Workshop, Theater Johnny Carson, Union Bank, Bakery, the Husker Sports Park and many more.
NOTE: Due to the various kinds of exhibitions of different themes, make sure you check the schedule in advance to see if the exhibitions or programs you expect are available.
International Quilt Study Center & Museum
The International Quilt Museum is located on the University of Nebraska-Lincoln's East Campus at 33rd and Holdrege streets. The museum has the world's largest publicly held quilt collection, dating from the early 1700s to present and representing more than 60 countries. Diversity and inclusion are central to the University's and the IQM's mission and pursuit of excellence. 
The International Quilt Museum's mission is to build a global collection and audience that celebrate the cultural and artistic significance of quilts. Each person who has something to gain from and offer to the community are all welcome here. Free admission for active military and families with identification is provided between Memorial Day and Labor Day. Ticket fare is $4-8$ depending on age groups.
National Roller Skating Museum
The National Museum of Roller Skating was established in 1980 to provide a high quality Historical Memorabilia Museum. Located in Lincoln, Nebraska, the museum captures the colorful history and the promising future of one of America's greatest sports.
The National Museum of Roller Skating offers the most intriguing exhibits to help visitors understand the vibrant, unique history of one of the world's greatest sports. For 40 years, the museum has maintained the largest collection of roller skating artifacts and textual materials in the world displaying many one-of-a-kind artifacts for visitors to see.
Lester F. Larsen Tractor Test and Power Museum
On July 15, 1919 the Nebraska State Legislature established the Tractor Law to encourage the manufacture and sale of improved types of tractors. To satisfy the provisions of the law, a tractor testing laboratory was built on the agricultural campus of the University of Nebraska in Lincoln with the aim of establishing power and performance standards and solving problems in agriculture worldwide.

In 1980, tractor testing moved to a new adjacent larger facility and the original tractor test laboratory became recognized as a Historic Landmark by the American Society of Agricultural Engineering. In 1998, the historic test lab became recognized as a museum by the University of Nebraska-Lincoln Board of Regents.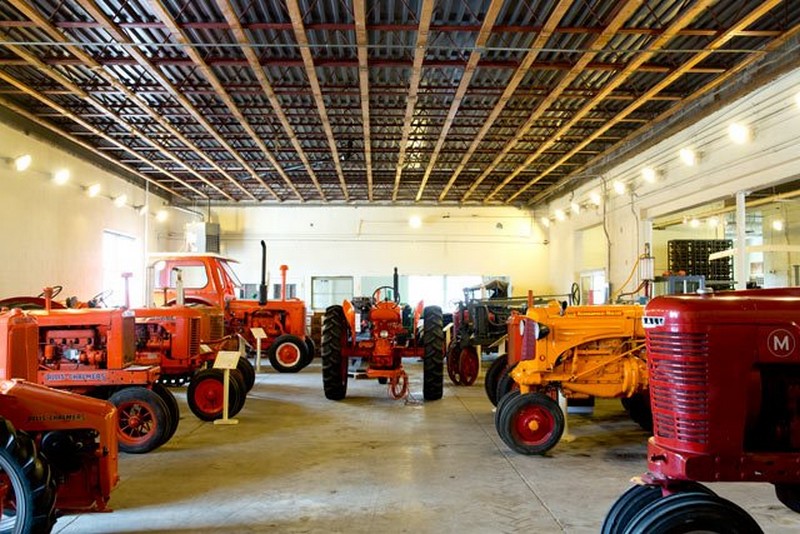 The museum is named after Lester F. Larsen, chief engineer of the Nebraska Tractor Test Laboratory from 1946 to 1975. Larsen initiated the collection of historic tractor test equipment and tractors that illustrate key developments in agricultural technology over the decades. He also initiated the preservation of the historic tractor test lab. Through his leadership, an Antique Farm Equipment and Machinery Commission was established by the governor of Nebraska in 1991 and a nonprofit organization named Friends was incorporated in 1994 to establish a museum.
Come visit the Larsen Tractor Museum to learn how tractor testing and performance data continues to contribute to more successful uses of tractors in the agriculture industry of the States.