According to an ancient saying, there is a verse: "If you take care of our children, I will carry the water taken from Cao Bang to you". I found myself endlessly repeating this beautiful verse that made me desire to travel to the northernmost province. On visiting, I was immediately mesmerised by the spectacular scenery whilst listening to the soothing sounds of the mountains and forests.
[rpi]
When thinking of Cao Bang, there have been many articles and introductions of famous landscapes in the locality. Thus, out of curiosity and a burning desire to discover the beauty of Cao Bang, I got away from the hustle and bustle of my city. Cao Bang welcomed me in November with fresh air and a chilly winter breeze. My trip to Cao Bang was so relaxing and it is really quite difficult to put into words just how beautiful this area is.
THE HEROIC SOUND OF HISTORY
With a stunning location in Truong Ha Commune, Ha Quang District, about 52km north of Cao Bang city centre, Pac Bo Historical Site was a desirable destination on my travel itinerary. Recalling Pac Bo, the great President Ho Chi Minh and his famous poem kept running through my mind: "Going to the stream in the morning and into the cave in the evening. Rice and vegetables are always available. Sitting around the unsteady stone table while researching Party history. Revolutionary life is greatly luxurious."  
Standing at Pac Bo and thinking of the great significance of these verses, I realised that Pac Bo has had a strong bond with revolutionaries. Living in this incredible land, they were always aware of the precariousness, danger, even insufficiency of their situation, yet they still lived extremely leisurely and freely. Pac Bo boasts such incredible beauty in my mind. Aside from indulging in the magnificence of the past, Cao Bang's natural beauty helped me escape the humdrum mundanity of daily life. The towering cliffs, murmuring streams, huge lakes with emerald waters and lush seasonal forests truly form the breathtaking scenery in Pac Bo.
I could not take my eyes off the majestic beauty of Coc Bo Cave, Bo Bam Cave, Nam Stream or Cac Mac Stream, but I was most impressed with Lenin Stream that captivated a large number of visitors by its crystal-clear water. Under the water is an array of sprawling rocks covered with moss, where Uncle Ho used to sit fishing. I was mesmerised by this historic land, trailing my hands through the cool water, watching the fish swimming and listening to the melodious birdsong.
THE CLIMAX OF THE SYMPHONY IN ANGEL EYE MOUNTAIN
Following the provincial road, turning right to Thang Hen Lake through Ban Danh Hamlet and then continuing to turn onto a trail at the foot of the mountain after about 1.5km, I finally stopped at Mat Than Mountain and Nam Tra Waterfall. Looking from the top of the mountain, I was extremely overwhelmed by the fantastic scenery of Nam Tra Lake. The empty lake is approximately 15 hectares in width and the vast green lawn is surrounded by mountain ranges. At the foot of the mountains are winding cornfields, forming part of the beautiful landscape.
Notably, Phja Piót Mountain truly conquered my heart. In Tay language, Phja Piót means a mountain with a large through-going hole. More interestingly, its shape is likened to an eye, so you can see through the mountain from one side to the other. This is the reason why the name of Angel Eye Mountain came into being. Angel Eye Mountain is located in Thang Hen Lake. The interconnected system includes a number of emerged and underground flows of the lake.
Therefore, the natural surroundings of the mountain change seasonally. I arrived here in winter, so the foot of the mountain was adorned with lush green grass. If travelling in summer, visitors can take the opportunity to admire a spectacular panoramic view of Angel Eye Mountain standing out against the huge lake. It is not an exaggeration to say that this is an unrivalled natural masterpiece bestowed on Cao Bang. It is said that Angel Eye Mountain is likened to an outstanding natural wonder amid the mountains and forests in Cao Bang.
NGUOM NGAO CAVE – CLOSING THE MAGNIFICENT SYMPHONY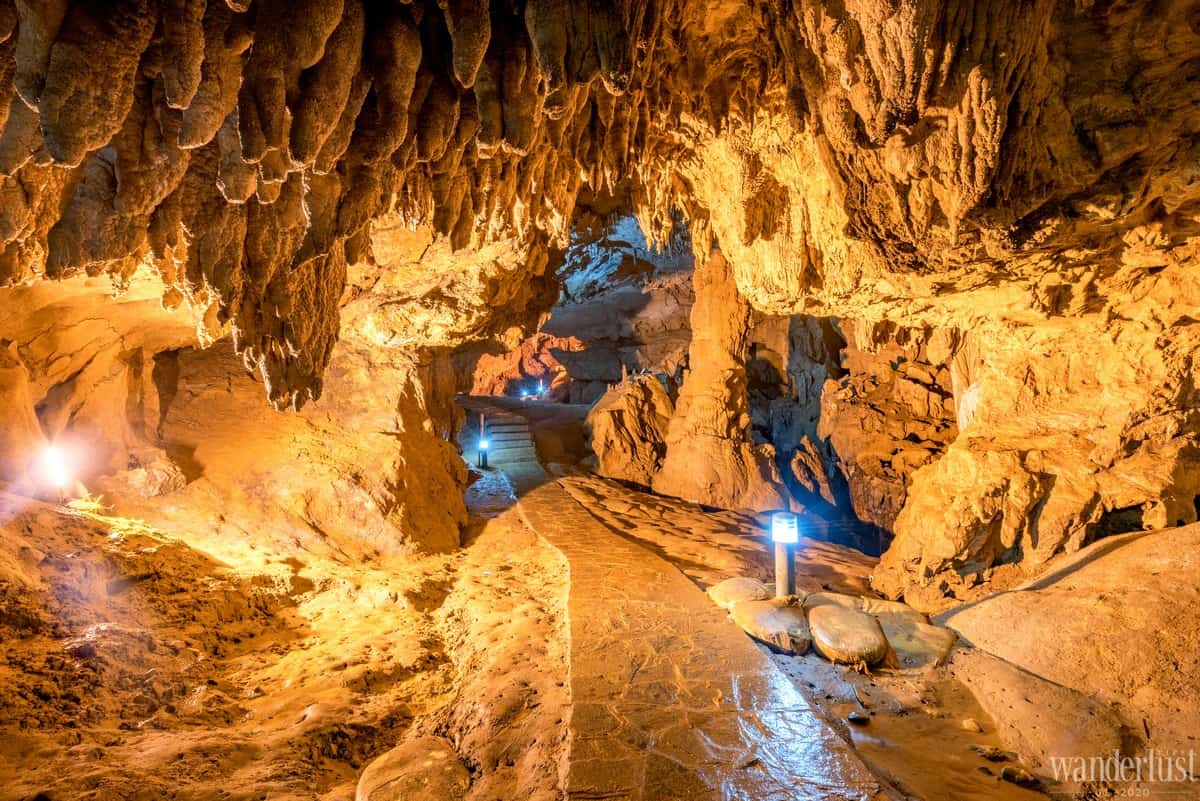 Nguom Ngao Cave is the final destination on my trip to Cao Bang. Known as one of the most beautiful caves in Vietnam, the place is home to a rich and diverse system of stalactites and stalagmites. As soon as I entered the cave, I was truly captivated by layers of yellow-hued stalactites. The stalagmites grow up from the floor while the stalactites grow down from the cave roof, forming a variety of exotic shapes and reflecting the shimmering light. I could not understand why, but those inanimate rocks had me picturing trees, animals, lotus buds and many others.
There are many chambers in Nguom Ngao Cave. For instance, the "four pillars of heaven" possess giant stone pillars that look as if they are reinforcing the sky, the central chamber is spacious and the precious chamber houses a vast array of stalactites sparkling under the golden and silvery light. I encountered many small streams in the cave and the gentle sound of murmuring water. There are many nooks and crannies where only one person can pass. More interestingly, there are stalactites that suddenly block the path, meaning I had to bow down to pass through.
More uniquely, terraced fields have been created by limestone floors that have been eroded and weathered for millions of years. Additionally, Nguom Ngao Cave is home to the "upside-down lotus pedestal" with meticulously-honed petals, making it a truly marvellous masterpiece of nature. My trip to Cao Bang ended exhilaratingly. After returning, I have left my heart and soul in this glorious land. I will certainly return to Cao Bang to once again fall in love with the sounds of the mountains and forests and to indulge myself in the majestic natural scenery.
W.TIPS
TRANSPORTATION TO CAO BANG
From Hanoi, you can easily take a motorbike or coach to Cao Bang. If you opt to self-drive, you need to prepare a full range of protective gear and take note that the roads to Cao Bang are mainly through steep passes or bends. Travelling by coach takes about 6-8 hours and the tickets cost from VND170,000 to VND200,000.
ADMISSION FEES
Pac Bo Historical Site: VND25,000 per adult and VND5,000 per child.
Nguom Ngao Cave: VND30,000 per adult and VND15,000 per child.

CAO BANG CUISINE
In Cao Bang, stuffed and rolled cake served with broth is a must-try dish. As well as sticky rice cooked with Canarium fruit, ant-egg cake, Chinese sausage and dishes made from forest vegetables are extremely delicious. You can also buy Trung Khanh chestnuts as gifts for your family.
OTHER NOTES
>> Cao Bang is a bordering province, so you should pack your necessary identification documents.
>> Pack insect repellent, sunscreen and other medicines.
>> Wear lightweight and comfortable clothing and appropriate sports shoes.
>> Cao Bang's topography is mainly mountainous with rivers and streams, so please follow the signposts to avoid getting lost and going into dangerous areas such as underground streams.
Truc Ha | Wanderlust Tips