Until the Lunar Calendar 2020, it has been almost a full decade since I moved to live and settle down abroad. I spent about five years living in Melbourne, where there is a Vietnamese expat community living and working as much as that in California. I also spent the Lunar New Year travelling to Hong Kong and even Japan. In recent years, I have celebrated the New Year in New Zealand.
[rpi]
The Vietnamese communities overseas are huge with millions of people living in sunny California and a few hundred thousand people living in beautiful Melbourne. Meanwhile, there are fewer Vietnamese people scattered across New Zealand and the large number of Vietnamese students overseas are not included in the statistics. If you have not had the chance to travel to New Zealand yet, the Land of the Kiwi bird, I can introduce you to this beautiful country.
Situated in the southern hemisphere, while Vietnam enjoys a warm climate in the spring, New Zealand is heading into late summer. Although the weather is not as scorching hot as that in Melbourne, New Zealand has a warm climate that is affected by an ocean breeze from the Pacific. Thanks to that, I still felt the Tet atmosphere of Southern Vietnam and the only thing lacking was the branches of yellow apricot blossoms.
AN OVERSEAS YET FULL LUNAR NEW YEAR EXPERIENCE
Even in California, dubbed the capital of Vietnamese expat communities or in Australia having a total of more than a million Vietnamese people, Tet is not an official holiday and people just celebrate Tet in their communities. If Tet falls on weekends or public holidays, Vietnamese communities will celebrate the Lunar New Year generously. Children will be absent from school and adults do not have to go to work, thus the Tet markets are more crowded and the Tet dining table becomes more attractive with an amazing variety of delectable dishes. If Tet falls on a regular day, we will prepare a cozy New Year's Eve dinner that evening and then enjoy the Lunar New Year on the following weekend.
I spent the Lunar New Year in San Jose, Northern California once. It was a bit cold in late winter, but the crystal-clear blue sky was beautiful with the brilliant sunshine. The Vietnamese pagodas were extremely crowded with people toing and froing. In front of the shopping malls, people let off fireworks for Tet. One by one the firecrackers were thrown away and replaced with new ones as soon as it was over. The sound of the firecrackers in the distance made me feel nostalgic for my childhood. The children were extremely excited about seeing the road full of red firecrackers on the first day of the Lunar New Year.
For Lunar New Year 2019, the celebrations were big. The first day of the Lunar New Year matched with Waitangi Day, so the whole of New Zealand was on holiday. As a result, my roommates and I organised a big Tet banquet. Most of us come from the Northern provinces, so my dishes were cooked in the Tonkin style, but I also cooked several signature Southern delicacies, for instance, braised pork, bitter melon soup and even a vegan dish that my parents often make every year to worship Buddha.
The pig trotter stewed with dried bamboo shoots took a lot of preparation because I had to boil the bamboo shoots many times to ensure it was delicious and pungent. Vegetable soup with pork skin is the most sophisticated dish because the pig skin was not easy to buy. I also prepared mustard cabbage and bean sprout pickles all by myself just one week before Tet.
Unfortunately, I could not find a boiled chicken with the head, instead it had a shiny yellow-hued skin, making our Tet banquet more eye-catching. At noon, all the Tet dishes were displayed on the ancestral altar, we gathered around to pray and invited our ancestors to enjoy the hot dishes. I also prepared a sweetened gruel to worship the Kitchen Gods on New Year's Eve. Additionally, we went first-footing and savoured cups of tea together. Two years ago, I spent the Lunar New Year alone in New Zealand for the first time. I had never thought of living in a Vietnamese expat community, so I did not care too much about where I was living. However, I still threw a small Tet banquet.
I cooked an array of traditional dishes that my parents had been cooking for thirty years, a small pot of braised pork, a pot of mushroom and bitter melon soup, a plate of stir-fried mustard cabbage and a pot of dumpling sweet soup with the warm aroma of grated ginger. It was also the first time I packed Tet cake – the cylindrical glutinous rice cake by myself. Before New Year's Eve, four little Tet cakes were being dangled in the kitchen and my house was filled with the signature aroma of incense, ginger and braised pork. In a small yet cozy space on the upcoming New Year, I was alone learning how to pack the cakes carefully. On New Year's Eve, there was the sound of fireworks in the distance. Perhaps some Chinese or Vietnamese families were celebrating a happy new year together.
PECULIAR FEELINGS ABOUT NEW YEAR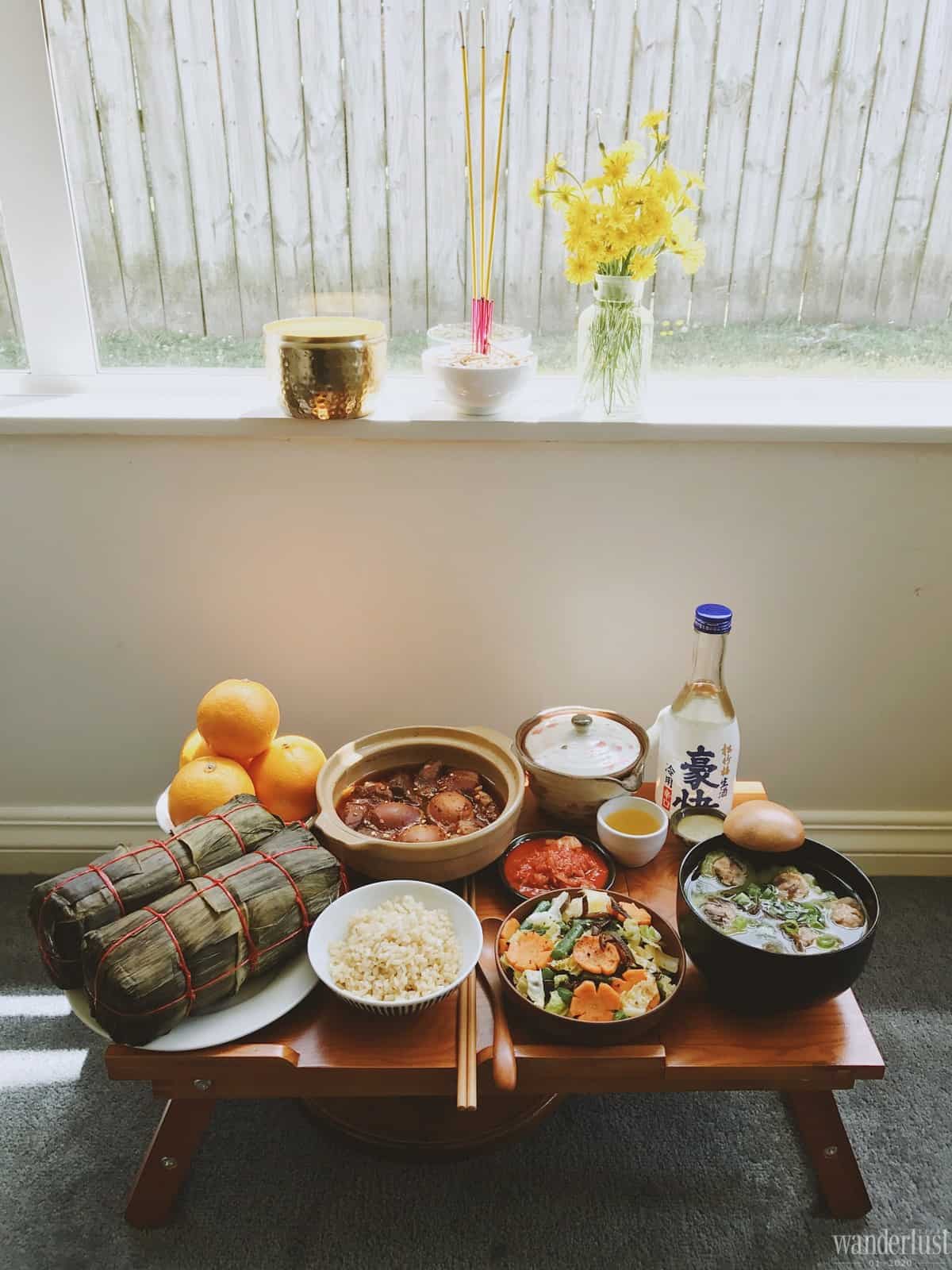 Lunar New Year is familiar, luxurious and symbolic for Vietnamese communities in foreign countries. In the early years living away from home, I did not pay much attention to Tet. I just celebrated the Lunar New Year by visiting the Tet fairs, Vietnamese markets or Chinese markets to buy some jam or cake. However, the longer I lived away from home and the older I became, the more I felt that there was something appealing and nostalgic about previous New Year celebrations and I began to feel a little joy for the upcoming New Year. Hearing beautiful homeland melodies again filled expatriates like me with endless nostalgia.
It has been six or seven years since my grandmother on my mother's side passed away before Tet. Although I knew that she might leave me soon, the deep sorrow over her death gnawed at my heart. On New Year's Eve, I strolled around central Melbourne, ate a bowl of delicious noodles and then followed the unicorn parades in Chinatown. In Melbourne, Chinatown is quite small with only a few streets connected together and is characterised by colourful gates with stone lions as guardians.
There are an amazing variety of restaurants in Chinatown. Dancers often perform, people play with firecrackers and receive lucky money in front of the restaurants, just like in Vietnam. I followed the unicorn parades for an hour to watch the thrilling performances, to inhale the signature smell of the firecrackers unique to the ancient Lunar New Year and to forget the troubles in my mind.
It had been about an hour before New Year's Eve began, I hurried to the supermarket to buy two grapefruits and some biscuits. On New Year's Eve that year, in a cramped 12th-storey apartment in the Carlton Suburb, I knelt in front of the small altar placed next to the window where the smoke alarm was stuffed with nylon pads and then prayed for a peaceful New Year.
In spite of celebrating the Lunar New Year abroad, we still had the chance to enjoy many happy moments. Sometimes, people are busy with their work, but once the countdown to New Year's Eve has begun, people feel at peace and indulge in the signature smell of incense and firecrackers and eat pieces of cake or play old spring music from their childhood. Despite celebrating far away from home, the Lunar New Year still upholds traditional Vietnamese customs and flavours.
Alex Tran | Wanderlust Tips