[Wanderlust Tips June 2019] Travelling with the family always brings a wide range of interesting experiences as well as great memories. However, when travelling with kids, if you do not prepare carefully, it can be challenging to handle unexpected situations. Here are 9 tips for travelling with children from #wanderlust tips to make your trips more enjoyable.
[rpi]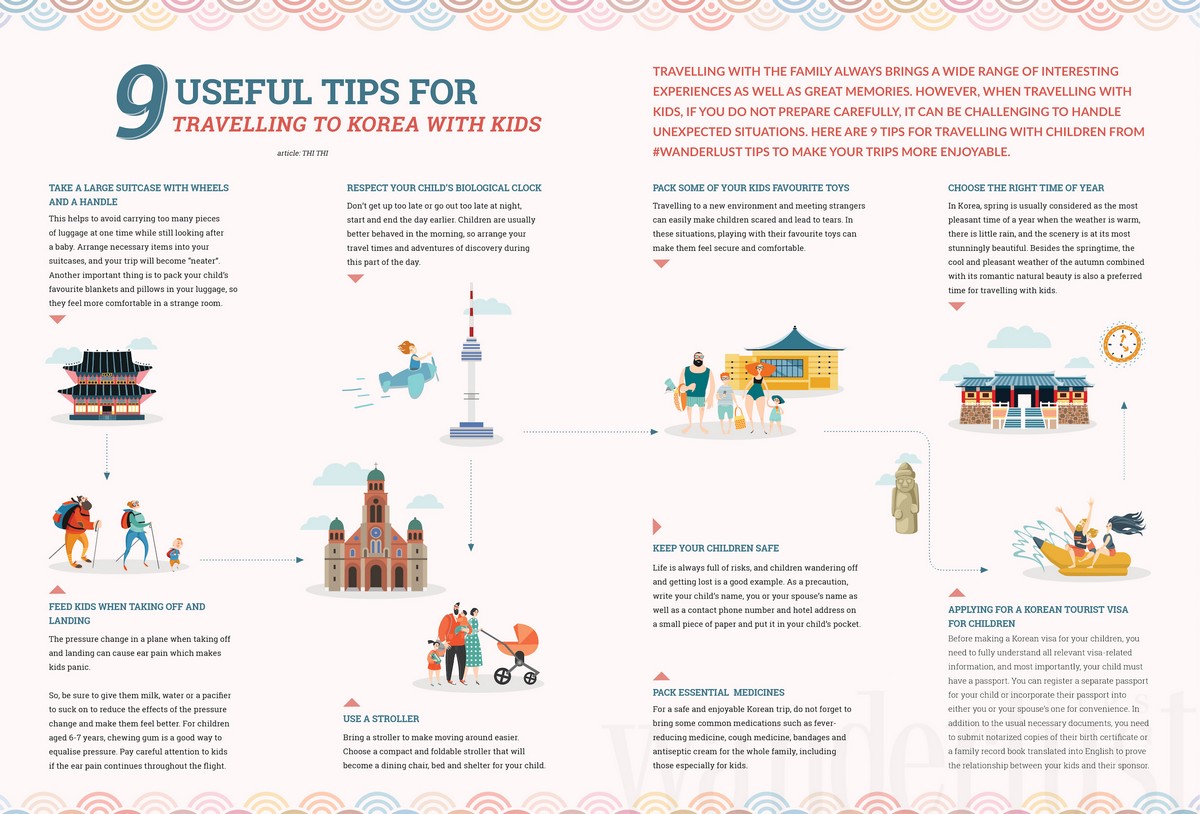 TAKE A LARGE SUITCASE WITH WHEELS AND A HANDLE
This helps to avoid carrying too many pieces of luggage at one time while still looking after a baby. Arrange necessary items into your suitcases, and your trip will become "neater". Another important thing is to pack your child's favourite blankets and pillows in your luggage, so they feel more comfortable in a strange room.
FEED KIDS WHEN TAKING OFF AND LANDING
The pressure change in a plane when taking off and landing can cause ear pain which makes kids panic. So, be sure to give them milk, water or a pacifier to suck on to reduce the effects of the pressure change and make them feel better. For children aged 6-7 years, chewing gum is a good way to equalise pressure. Pay careful attention to kids if the ear pain continues throughout the flight.
RESPECT YOUR CHILD'S BIOLOGICAL CLOCK
Don't get up too late or go out too late at night, start and end the day earlier. Children are usually better behaved in the morning, so arrange your travel times and adventures of discovery during this part of the day.
USE A STROLLER
Bring a stroller to make moving around easier. Choose a compact and foldable stroller that will become a dining chair, bed and shelter for your child.
PACK SOME OF YOUR KIDS FAVOURITE TOYS
Travelling to a new environment and meeting strangers can easily make children scared and lead to tears. In these situations, playing with their favourite toys can make them feel secure and comfortable.
KEEP YOUR CHILDREN SAFE
Life is always full of risks, and children wandering off and getting lost is a good example. As a precaution, write your child's name, you or your spouse's name as well as a contact phone number and hotel address on a small piece of paper and put it in your child's pocket.
PACK ESSENTIAL MEDICINES
For a safe and enjoyable Korean trip, do not forget to bring some common medications such as feverreducing medicine, cough medicine, bandages and antiseptic cream for the whole family, including those especially for kids.
CHOOSE THE RIGHT TIME OF YEAR
In Korea, spring is usually considered as the most pleasant time of a year when the weather is warm, there is little rain, and the scenery is at its most stunningly beautiful. Besides the springtime, the cool and pleasant weather of the autumn combined with its romantic natural beauty is also a preferred time for travelling with kids.
APPLYING FOR A KOREAN TOURIST VISA FOR CHILDREN
Before making a Korean visa for your children, you need to fully understand all relevant visa-related information, and most importantly, your child must have a passport. You can register a separate passport for your child or incorporate their passport into either you or your spouse's one for convenience. In addition to the usual necessary documents, you need to submit notarized copies of their birth certificate or a family record book translated into English to prove the relationship between your kids and their sponsor.
Thi Thi | Wanderlust Tips