You have three days to explore Ho Chi Minh City, where you should go and what to do to have enjoyable experiences? Here are the detailed suggestions from Wanderlust Tips  for you to have a perfect journey in HCMC.
[rpi]
Independence Palace – Significant Historical Site 
In the past, this was the building of Indochina's governor general in Saigon and the workplace of South Vietnam's puppet president and his employees. At 11:30am on the 30th April 1975 tanks crashed through the gates of the palace leading to the unconditional surrender of South Vietnam's government. The Independence Palace is 4,500m2 and sits on a compound stretching across 12 hectares precinct. The building has one cellar, three main floors, two entresols, one terrace and a rooftop floor called Tu Phuong Lau (Floor of Four Directions). There are 100 rooms in total, each with its own particular design. The conference room can hold 800 people and there are two exhibition buildings with a total area of 2,000 m2, one guesthouse with 33 rooms, a backup power generator and various services and entertainment facilities including a projection room, a tennis court and a Tay Nguyen stilt house.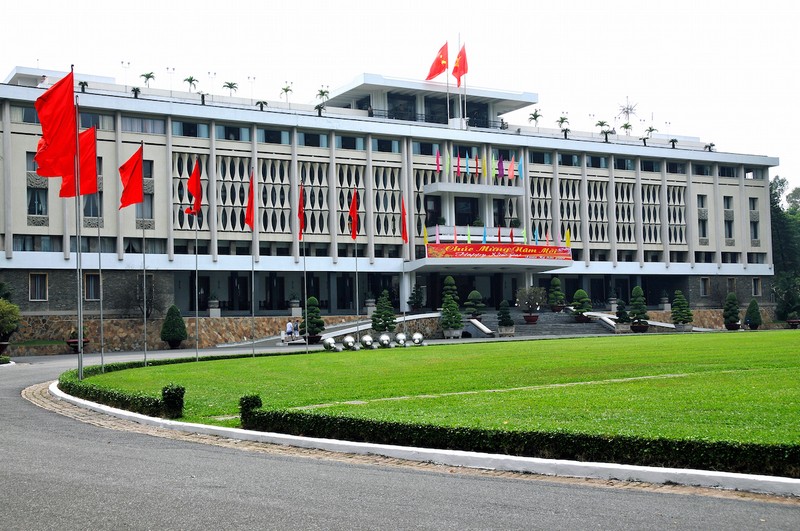 ♦ Top tips: Address 106 Nguyen Du, District 1. Entrance fee: 40,000VND per adult, 20,000VND per student and 10,000VND per pupil from 6 to17 years old. The Independence Palace is open daily from 7:30am to 11:30am and 1pm – 4 pm.
♦ Must see: Tao Dan Park and 30/4 Park next to the palace.
♦ Cuisine: Café 30/4, the restaurant in The Palace's compound, Delicious Restaurant 138 (138 Nam Ky, Khoi Nghia), Sushi Tei Vietnam (200A Ly Tu Trong), Café Au Parc Store (923 Han Thuyen), Past and Present Saigon Café (33 Nguyen Trung Truc).
Historic relics and Cu Chi Tunnels – Vietnam's Land of Steel 
Being far from the centre of Ho Chi Minh City about 70 kilometres to the North West, the Cu Chi Tunnels have been preserved in two locations: Ben Duoc and Ben Dinh. Both these two areas have been recognised as National Historical and Cultural Sites. Coming to the complex, visitors are sure to have a number of memorable experiences: exploring secret underground tunnels, learning about the magnanimous history of the country part of which took place at Cu Chi's liberated area, paintball, swimming in an artificial pool simulating the South China Sea, enjoying fresh fruit in Trung An Fruit Garden.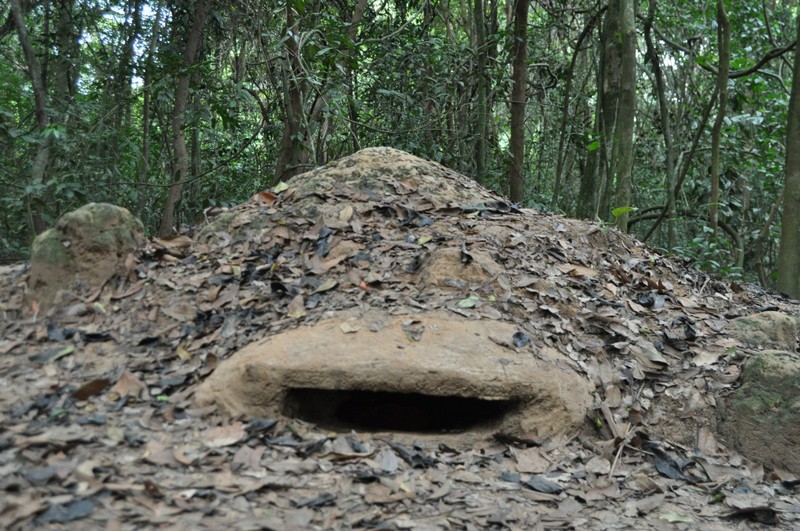 ♦ Top tips: Entrance fee for Vietnamese is 20,000VND per adult and free for children, international visitor pay 90,000VND per adult and 45,000VND per child. It costs an extra 20,000VND to visit the war village.
♦ Must see: Fosaco Ethnic Tourism Village; Cu Chi's wild animals rescue station (50, Provincial Road 15, An Nhon Tay, Cu Chi)
♦ Cuisine: Ben Duoc Restaurant and Ben Dinh Restaurant at the tunnel complex, pork-leg rice vermicelli in Minh Quy (No. 27/6, National Highway 22, Tan Thoi Nhi, Hoc Mon about 7 kilometres from An Duong Overpass), veal in Xuan Dao (on the national highway 22 leading to Central Vietnam), durian and sugarcane juice in Vuon Cau (3 kilometres from Cu Chi Overpass).
Dai Nam Van Hien Wonderland – Tourism attraction holding many national records
30 kilometres north of Ho Chi Minh City, Dai Nam Van Hien Wonderland is located in Hiep An Ward, Thu Dau Mot City of Binh Duong Province. Sitting on an area of 476 hectares, it is divided into four main zones: a spiritual area with outstanding constructions including the Golden Temple, where worshippers pray to the holy gods, ancestors and national heroes; a recreational area with more than 40 modern games; an attractive and unique artificial sea with salt and freshwater offering many exotic water games; a Zoo that is home to many rare wild animals living in and open human-friendly area.
Being massive in scale, Dai Nam Van Hien Wonderland holds many national records: the largest temple, the longest hotel, the longest artificial mountain and river, the largest artificial sea, the largest square, a zoo with the rarest and most endangered animals.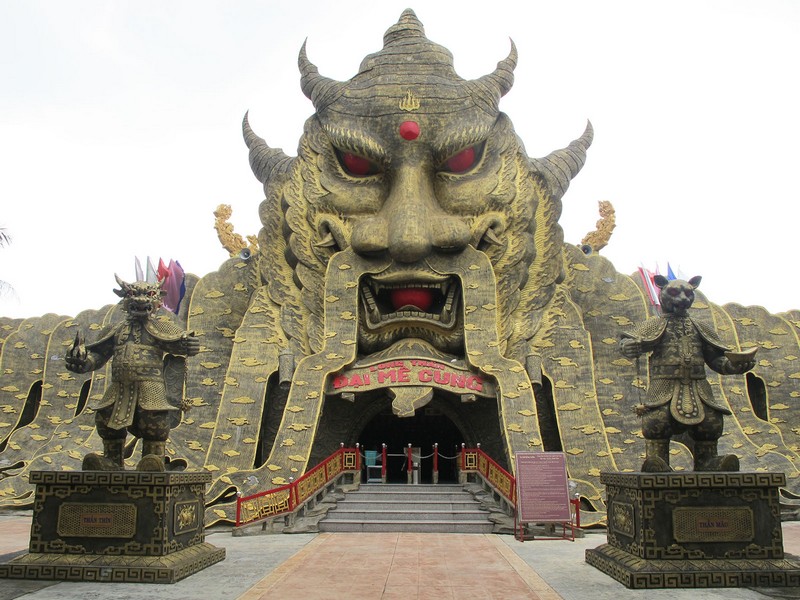 ♦ Top tips: Entrance fee 200,000-500,000VND per adult and 100,000-250,000VND per child.
♦ Cuisine: Eat at the many restaurants and food stores throughout the tourism area including Thanh Tuyen, Thao Ngu Quan Restaurant, My Vy, Cao Tin, Nghi Linh Restaurant, San Mau Inn and Tuy Y Restaurant (Shark).
Suoi Tien Theme Park – Ideal Weekend Recreational Destination  
Located in Tan Phu Ward in District 9 of Ho Chi Minh City, Suoi Tien Theme Park was built on an S-shaped area covering 20 hectares, with a two-kilometre undulating stream at its centre. This recreational area was constructed and designated according to the legend of the Vietnamese people and their spiritual ideology. There are four zones each dedicated to one of the four spirit animals: dragon, unicorn, turtle, phoenix, and correlating to the five elements: metal, wood, water, fire and earth. There is countless elaborately constructed sculptures spread out harmoniously across the green space.
Tourists can take part in many interesting games including ones underwater at Tien Dong Ngoc Nu Sea, visit the aquarium, watch circus performances featuring dolphins and sea lions at the Tien Ngu Great Stage, climb the mountain, go canyoning on Lac Canh Lake, ride a high-speed roller coaster or explore Treasure Cavern, the magic castle and the snow castle.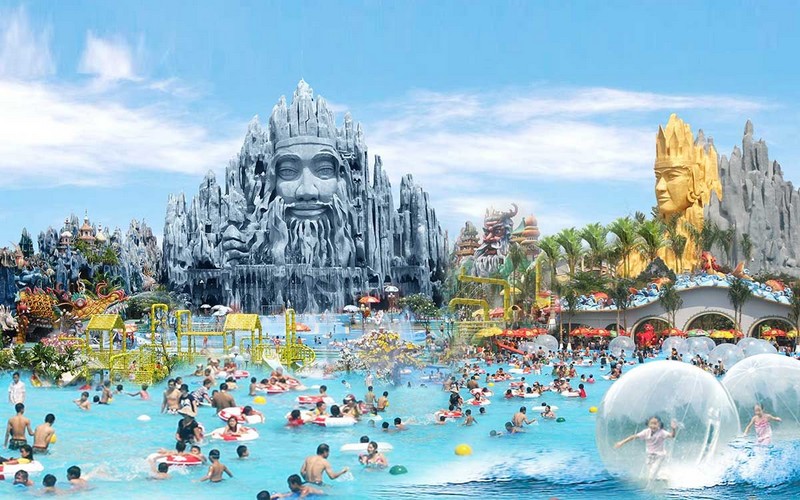 ♦ Top tips: Entrance Fee is 100,000VND per adult and 50,000VND per child between 1 and 1.4 metres tall. Price for entertainment services in the park range from 10,000 to 80,000VND per person per ride. From Monday to Friday opening times are 8am to 5:30pm, and on Saturday and Sunday from 8am to 5:30pm, during public holidays the park opens at 7am until the last tourist has left.
♦ Cuisine: Phu Dong restaurant chain inside the park, Long Phung Restaurant on the edge of the park, Dac Tin Café at 9/158 Hanoi Highway.
Dam Sen Culture Park – Attractive Recreation Area
Located in District 1, Dam Sen Culture Park is one of the largest recreation areas in Ho Chi Minh City blending Eastern and Western architectural styles. Visitors can enjoy a variety of sights and an abundance of recreational activities. A diverse vegetation with various types of tree ranging from old ornamental plants to numerous exotic plants fill the green gardens including Nam Tu Thuong Uyen Garden, Dao Lan Forest, Xuong Rong Garden and the Europe Flower Garden, where over 100 species of animals are at home. The modern game centre offers over 50 games that range from relaxing to adrenaline pumping and are distributed around Dam Sen's compound and there are a great deal of special art and cultural events.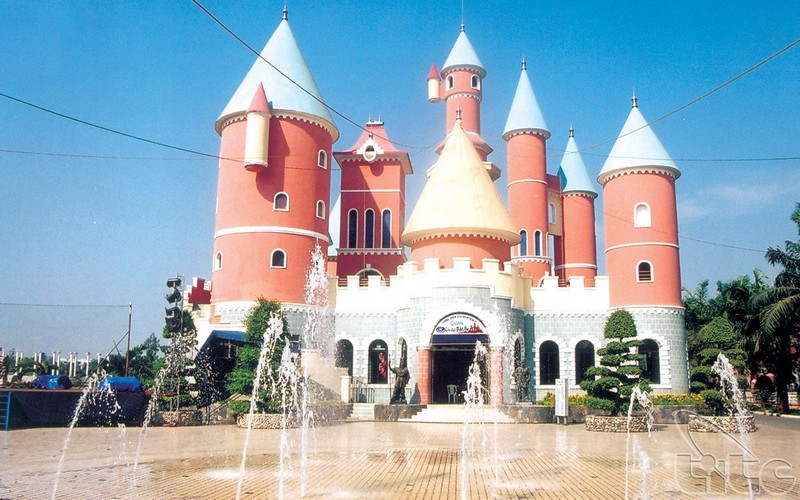 ♦ Top tips: Entrance fee is 200,000VND per person over 1.4 metres tall, 120,000VND per child between 1-1.4 metres tall and free for children under 1 metre. Dam Sen Culture Park is open from 8am to 9pm from Monday to Friday and 7:30am to 9pm on Saturdays, Sundays and public holidays.
♦ Cuisine: Huong Giang chain, Huong Sen Restaurant, Dam Sen Delicious Cuisine Village inside Dam Sen Culture Park.
Can Gio National Park – A Green, Fresh and Natural Environment
Can Gio National Park is about 50 kilometres South East of the centre of Ho Chi Minh City. It is secluded from the hustle and bustle of the urban area, offering amazing space surrounded by fresh nature. Can Gio has a lot of inspiring activities on offer including exploring Vam Sat Salt-Marsh Forest, Can Gio Sea, visiting Monkey Island and experiencing dangerous activities like chasing crocodile.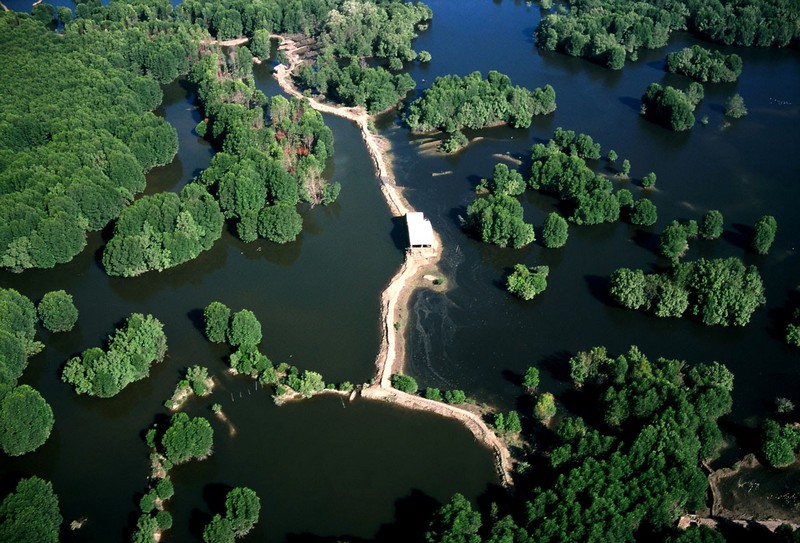 ♦ Top tips: To get to Can Gio National Park, you need to take Bus no. 20 from Ben Thanh Station to Nha Be and disembark at Binh Khanh Ferry Terminal, then cross the river by ferry and continue with bus no. 90 heading towards the sea. You also can take bus no.75 departing from Park 23/9 and stop at Can Thanh Car Park in Can Gio. If driving a motorbike from the city centre head to Tan Thuan Bridge in District 7, then turn onto Nguyen Van Linh street, head to Huynh Tan Phat then go straight from Can Gio to Can Thach Commune's centre. If you want to visit a destination along the way you can get off the bus at any time.
♦ Cuisine: Can Gio has a lot of seafood including shrimp, crab, fresh shellfish, the most special being "Gach Son" shrimp and crab.
Eco-tourism Site, Tan Lap Floating Village – Wallowing in Green Nature
Located at the centre of Dong Thap Muoi, Tan Lap Floating Village in Moc Hoa District of Long An Province, is a typical for the flooded part of the country with cajuput forest, lotus-lily, water hyacinths and wild rice growing in the area, which is home to many species of animals including birds, storks and fish. Flowing through Tan Lap Floating Village is Rach Rung. In front of the village is the affable Vam Co Tay River. Visitors can walk to Tan Lap Floating Village's Eco-tourism site, along a path leading through cajuput forest or take a boat along Rung Canal. Enjoy the panorama of the cajuput forest from the observation tower, explore local traditional craft works, participate in camping activities complete with a barbecue, picnic and team-building games.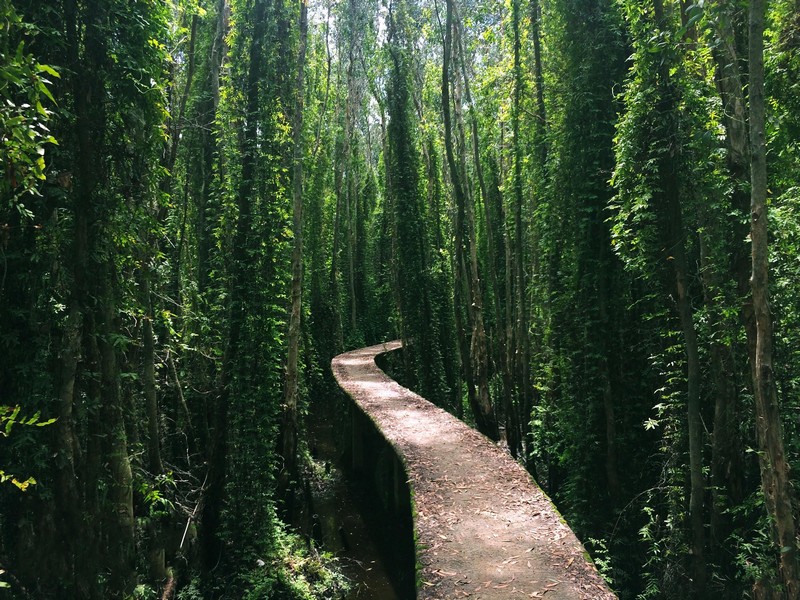 ♦ Top tips: From the centre of Ho Chi Minh City, go along National Road 1 to Tan An City in Long An, then continue on National Road 62 for about 35 kilometres, to arrive in Tan Lap Floating Village. Entrance fee: 50,000VND per adult; free for children under 7 years of age. The Eco-Tourism Site is open daily from 7am to 4:30pm.
♦ Cuisine: Enjoy attractive dishes at the tourism area like river-leaf creeper, chicken hotpot, sour snakehead hotpot, crispy fried fish, braised anabas and stir-fried eel with saffron.
Thanh An Island – Experiencing the daily life of rustic fishermen
Situated 70 kilometres to the East of Ho Chi Minh City, Thanh An Island is located just outside Can Tho District. It is an ideal destination for people who love the simple and peaceful life on the water but want to be close enough to their urban home to return within the day. On Thanh An Island, visitors will discover a wild, peaceful natural area, filled with the hospitability of the affable, friendly fishermen. The local culinary specialties are full of the flavours of the sea.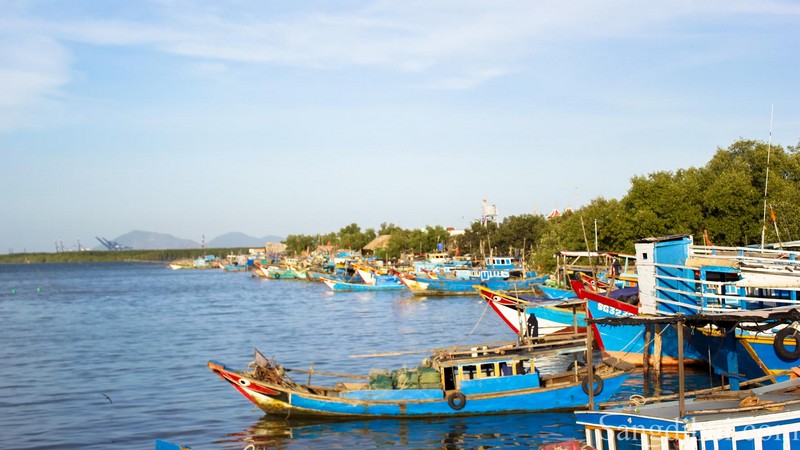 ♦ Top tips: From the centre of Ho Chi Minh City, drive your motorbike or car to the ferry to Thanh An Island. The ferry heading to Thanh An Island leaves at: 6:30am, 9am, 10:30am, 12pm, 2pm and 5pm and returns at: 6:30am, 7:30am, 10:30am, 12pm, 2pm and 5pm daily. The schedule may change depending on the weather conditions. Entrance fee: 10,000VND per person per way.
♦ Cuisine: There are more restaurants on Thanh An Island than there used to be and most of them are located at the market near the local committee's headquarter and some are scattered along the main road leading through the residential area on the island.
Van Ly | Wanderlust Tips | Cinet