[Wanderlust Tips June 2019] After an inspirational period of planning and with a strong sense of determination, i finally made a trip to these beautiful countries, starting in Vilnius – the capital of the republic of Lithuania, the city voted one of the 10 most beautiful destinations in europe in 2018 by a prominent travel publisher.
[rpi]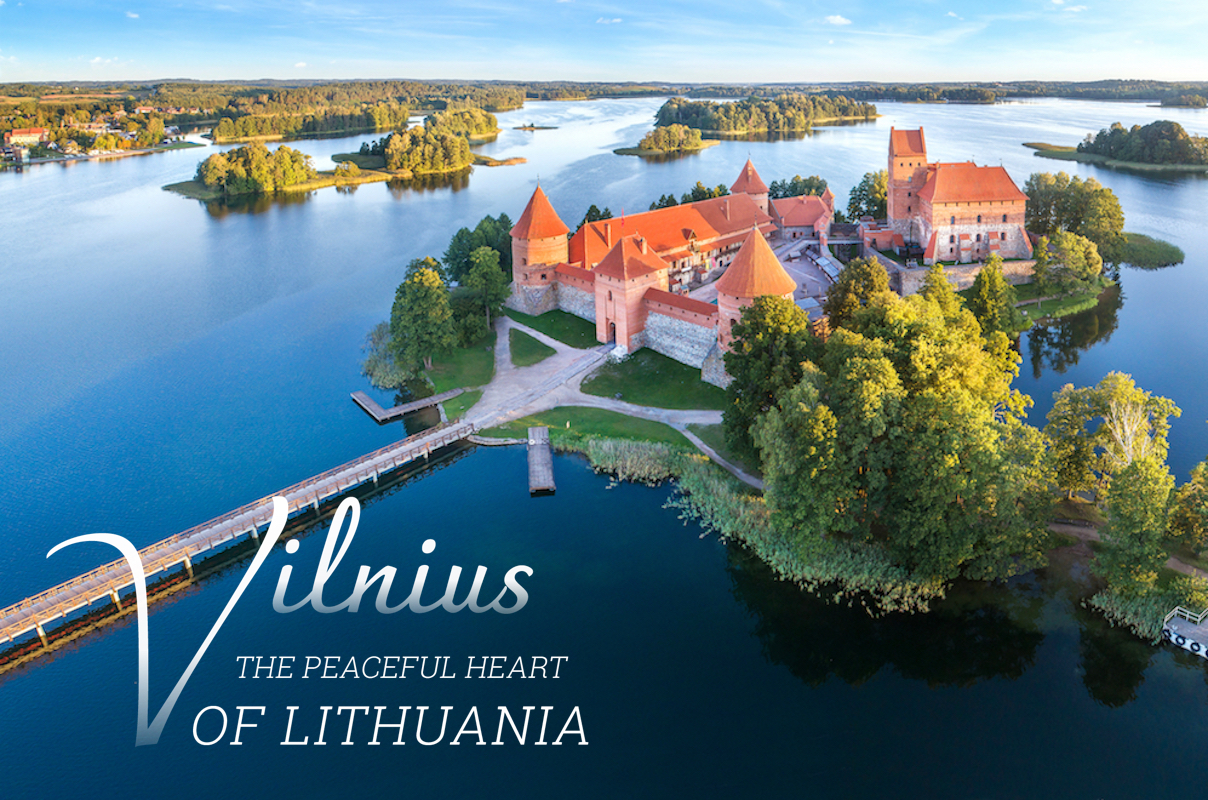 Lithuania is a country situated in the Baltic Sea region in northeastern Europe, although it is classified by the United Nations as a Northern European country. Lithuania is bordered by Latvia to the north, Belarus to the southeast, Poland and Kaliningrad Oblast (a Russian exclave) to the southwest, and the Baltic Sea to the west. Vilnius is the capital of Lithuania and its largest city in which its Old Town was recognized as a UNESCO World Heritage Site in 1994 because of its universal value to humanity and historical origins. In particular, the Old Town of Vilnius is one of the largest surviving medieval towns in northern Europe, covering an area of nearly 3,6sq. km and encompasses about 70 streets and lanes along with more than 1,450 buildings. It is where an array of Europe's most celebrated architectural styles such as Gothic, Renaissance, Baroque and Neoclassical stand side by side complementing each other. Vilnius Old Town was formed and has developed over the course of many centuries, being shaped by the city's history and constantly changing cultural influences.
On this trip, my flight departed from Bucharest (Romania) and landed in Vilnius (Lithuania). Riding in a taxi, it took me around 20 minutes from Vilnius International Airport to my hotel in the city centre near Vilnius Old Town. From the hotel, I spent about 5 minutes walking to Pilies Street (Castle Street), the main street in Vilnius Old Town, connecting Cathedral Square and Town Hall Square.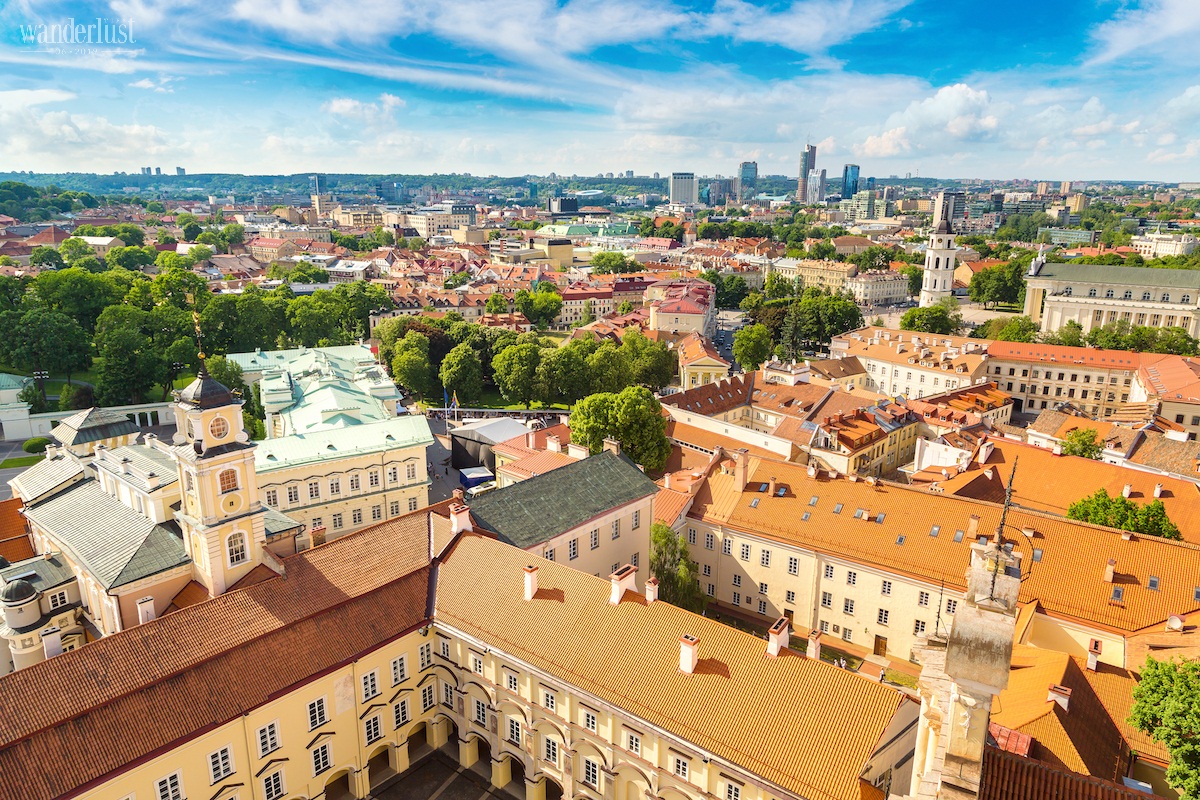 Pilies Street is quite short and generally crowded, bustling and busy in spite of not holding the many political or cultural events commonly held in Town Hall Square. It is popular for its eye-catching artistic wares like paintings, souvenirs and handicrafts of artisans and art-lovers. Along the street there are also a multitude of cafes, restaurants and boutiques selling amber and linen. The cafes have alluring façades attracting tourists with a myriad of picturesque fresh flower baskets, or restaurants with uniform tables covered by pristine white tablecloths right at their tiled front entrances, inviting passersby to take a rest and indulge in a light meal.
A trip here would not be complete without visiting the amber shops. Besides the amber-decorative items, there are many sophisticated and high-quality jewellery pieces famous throughout the Baltic region on display in bright showcases, exuding their enchanting beauty. Tourists' astonished, admiring eyes and faces pushed close to the shopfronts are a testament to the beauty of the amber here. The English-speaking sales clerks with thick Eastern European accents enthusiastically explain to buyers the difference between real amber and fake imitations and their prices. Without a doubt, this is a paradise for amber jewellery enthusiasts! Besides that, if you are a fan of natural fibre clothing, it's hard to ignore the selection of items on offer, not only single colour smooth linen fabric but also sophisticated, luxurious pattern-prints with eye-catching designs which are always a favourite of shoppers.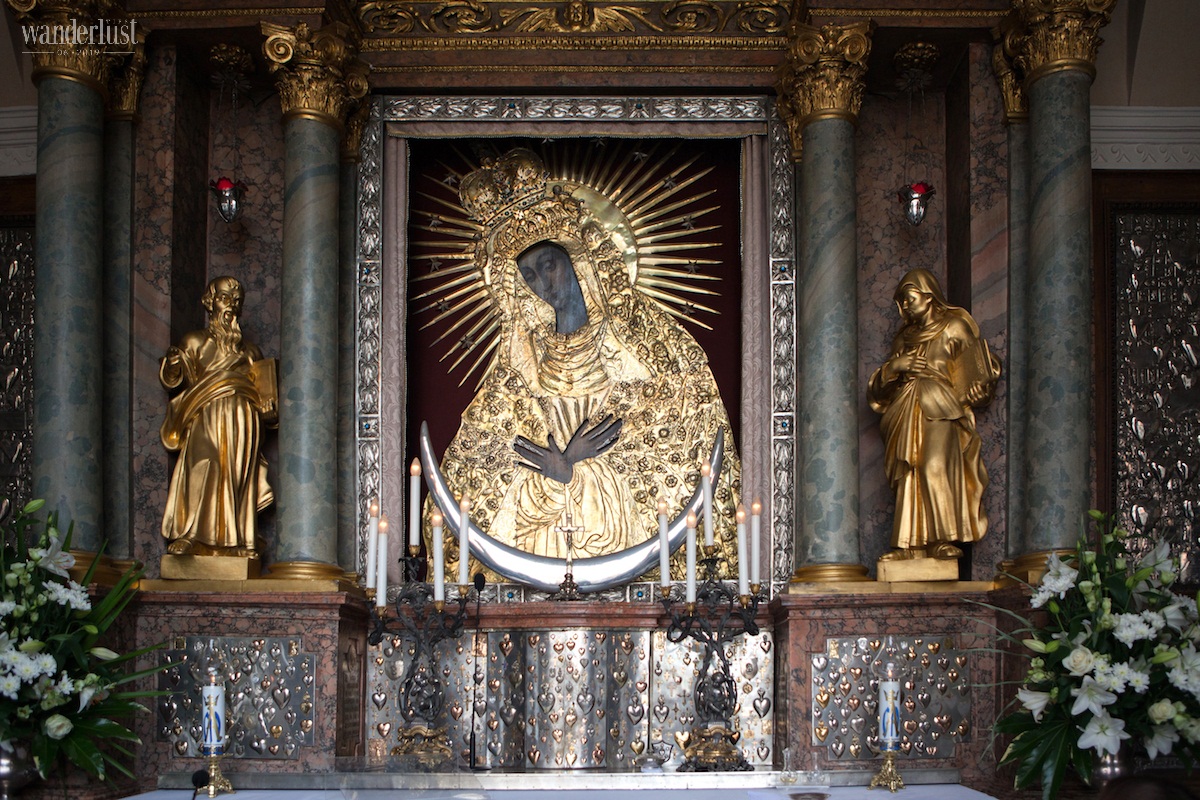 Strolling along Pilies Street, there were a lot of grand old buildings, and it is easy to take stunning photos without even trying. A building with red brick walls – an ancient colour with its own style, or a gentle pastel pink building, radiant in the pleasant sunshine. One end of Pilies Street leads to Cathedral Square, the main square of Vilnius Old Town which is known for its key central location and also being an ideal place to host the city's community activities such as fairs, parades, gatherings, political and religious events, exhibitions and concerts. Cathedral Square is considered as a symbol of Lithuania because of its stunning neoclassical architectural work – Vilnius Cathedral. Although Cathedral Square was built in the late 19th century, the original temple of the Vilnius Cathedral was constructed very early in the 13th century. In 1922, Vilnius Cathedral was conferred with the title of 'Basilica' by Pope Pius XI. The Bell Tower is an inseparable part of Vilnius Cathedral, proudly standing next to the church since the 13th century and was not only a part of the defensive wall of Vilnius in the past but also one of the oldest and highest bell towers of the Old Town. The height of the Belfry is 52 metres, but with the cross on top, its entire height stretches to 57 metres. When climbing the tower, visitors have the opportunity to explore the beautiful panorama of Vilnius from the top, admiring impressive views of the city's old bells and clocks, or checking out the historical pictures of the reconstruction of the Cathedral and the Belfry at each stage. A great thing about the little-known Belfry is that the old clock hanging on the wall of the bell tower from 1672 is still active, and its age is older than that of Big Ben in London.
Vilnius takes tourists from one surprise to another. Vilnius Old Town is an ancient city and its old city gates that still exist today always evoke excitement and admiration. Built between 1503 and 1522 and preserved until today, the Gates of Dawn, or the Dawn Gate, is the only surviving gate of the original five that were in the city. Going through the Dawn Gate is to be entering or exiting the territory of the ancient city and it was first mentioned in 1514, being called the Medininkai Gate as it was on the road to Medininkai, or Sharp Gate because as it was in the southern end of the city, known as the Sharp. Later, due to the cult of The Virgin Mary, it was associated with the sunrise and dawn. The painting of the Blessed Virgin Mary, Mother of Mercy, in the Chapel on the second floor of the Gates of Dawn is renowned all over the world with numerous churches in other countries having reproductions of the painting. It is also known as the "Vilnius Madonna" and was painted in the 17th century in the Renaissance style, on oak boards covered with a thin chalky primer which was later repainted in oil-based paint. Legend has it that it possesses miraculous powers and the Holy Mother of God of the Gates of Dawn was granted the title of Mother of Mercy twice. Therefore, it has been an important religious symbol for both Lithuania and humanity.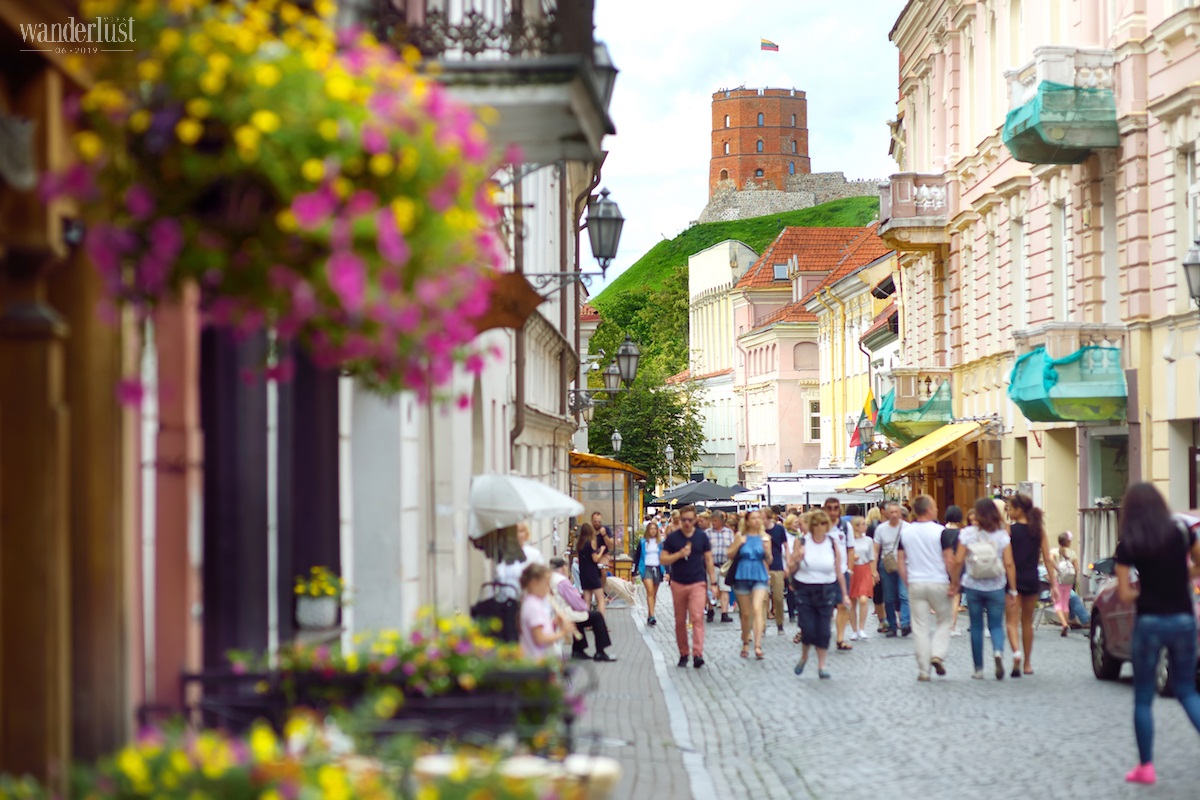 The generous Vilnius also gives tourists a beautiful Gothic architectural work, St. Anne's Church, only a 4-minute walk from Pilies Street in the Old Town, a true masterpiece of the late period of Gothic architecture. Legend has it that Napoleon Bonaparte fell in love with the beauty of St. Anne's Church and mentioned it in a letter to his wife that Vilnius was a beautiful city. It is mysterious how St. Anne's Church has survived for more than 500 years until this day with very few changes, becoming a classic symbol of Vilnius. This is also true for the churches located just behind St. Anne's Church, the Church of St. Francis (Francis of Assisi) and St. Bernard (Bernardino of Siena) in Brick Gothic architectural styles. The characteristic red of these two churches draws in visitors, and their charismatic charm captivates them as they wander around admiring the beauty of their architecture.
Paying a visit to Vilnius, you certainly can't ignore Trakai, a paradise-like refuge with a peaceful pace of life. This small town, the seat of power and treasure of numerous Lithuanian Grand Dukes, is particularly famous for Lake Galvė and only 35km from central Vilnius. Trakai attracts locals and tourists alike with its picturesque and fresh natural landscape. A special attraction of the town is the Trakai Island Castle, dating back to the 14th century and reconstructed in the 20th century, which is surrounded by Lake Galvė and its clear blue waters in summer that freeze over in winter. Travellers can admire the unique, brilliant beauty of the red-brick castle shining on the blue lake or go sightseeing inside the castle itself. A 300-metre long wooden bridge leads tourists into the medieval stronghold full of gorgeous floors, railings, furniture, Chinese porcelain and hunting trophies. The wide range of fascinating features from the middle ages of the castle like its red bricks, iron gates, and pulleys are sure to leave a strong impression on any visitor. In 1962, the castle became the Trakai History Museum, and today, it is a place which regularly hosts numerous exhibitions, performances, festivals and important events in the region while around the lake, there are lovely cafes and souvenir shops selling various delightful items, especially linen bags and printed tablecloths.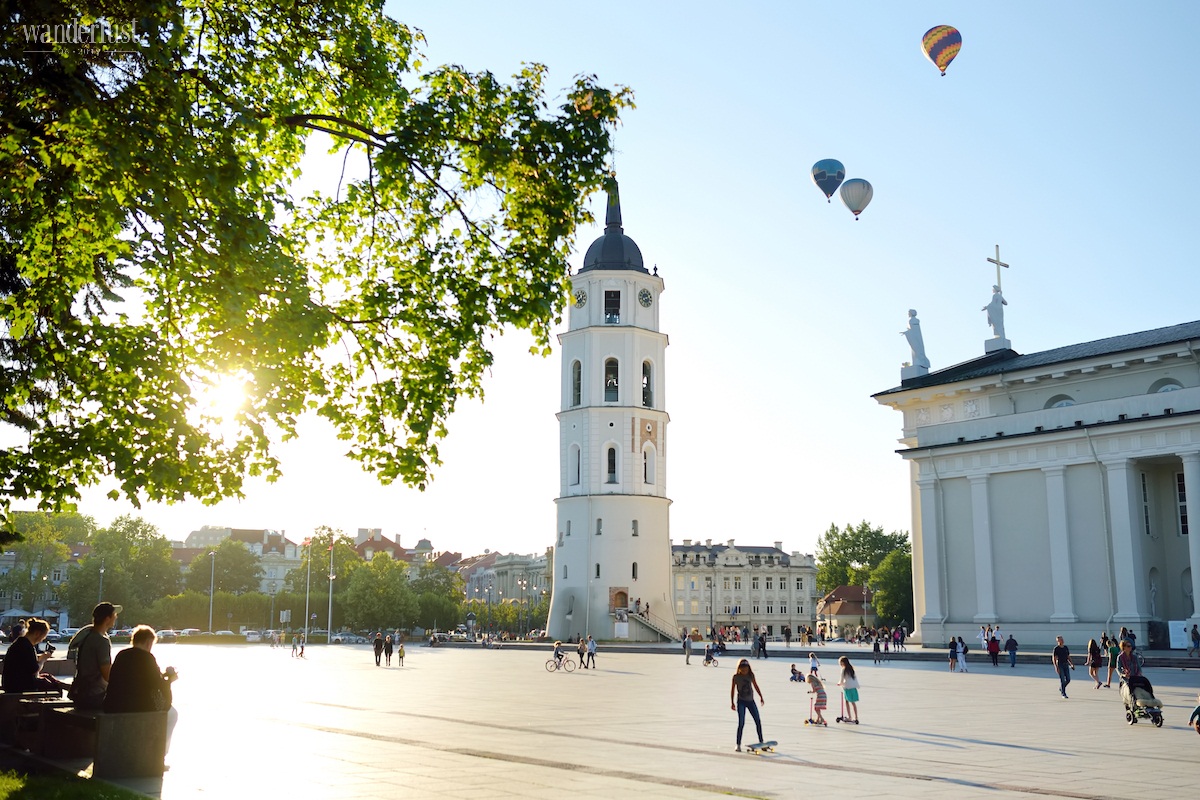 Vilnius is peaceful, free from large crowds and has its own hidden beauty like a precious pearl. Lithuania's Vilnius is absolutely deserved to be ranked as a must-go destination in 2019 for those travellers who love special destinations but are not into the crowds and chaos of more renowned tourist attractions. So, don't hesitate! Make your plan to visit Vilnius soon, a city of rich history, architectural beauty and adventure.
W.TIPS
CURRENCY
As a member of the Schengen Area of the EU, the currency used in Lithuania is the euro. (Symbol: EUR). EUR1 = VND26,000 (according to Current Exchange Rates)
TRANSPORTATION
It is 6 kilometres from Vilnius International Airport to Vilnius Old Town.
Taking a taxi costs around EUR13-15 (approximately VND338,000-390,000) each way.
A day trip to Lake Galvė and Trakai Island Castle costs around EUR50-70 (approximately VND1.3-1.8 million) including a two-way taxi and the driver to wait.
From Lithuania, you can easily buy a bus ticket to Latvia's capital Riga.
ACCOMMODATION
Book a hotel in Vilnius Old Town so you can get around easily and access all the attractions. The Old Shakespeare boutique-style hotel has spacious English-architectural style rooms and each room has been named after a different great writer. It is located just 4 minutes walk from Pilies Street and room rates include a set breakfast menu of fresh juice and pancakes.
EATING AND SHOPPING
Take a stroll on Pilies Street and enjoy a fresh fruit ice cream. Don't forget to visit the souvenir shops to buy famous local products like amber jewellery and linen clothing.
Duong Thanh Tu | Wanderlust Tips