Aside from charming mountain villages with a backdrop of dense forests and rugged mountain scenery, Austria is also home to a plethora of fairytale-like castles dotted from rugged hilltops to strongholds that stand tall on tiny islands in placid lakes. If you are avid of art and unique architecture, these 7 most stunning castles in Austria will definitely have you falling head over heels in love at the first sight.
[rpi]
BURG HOCHOSTERWITZ, LAUNSDORF, AUSTRIA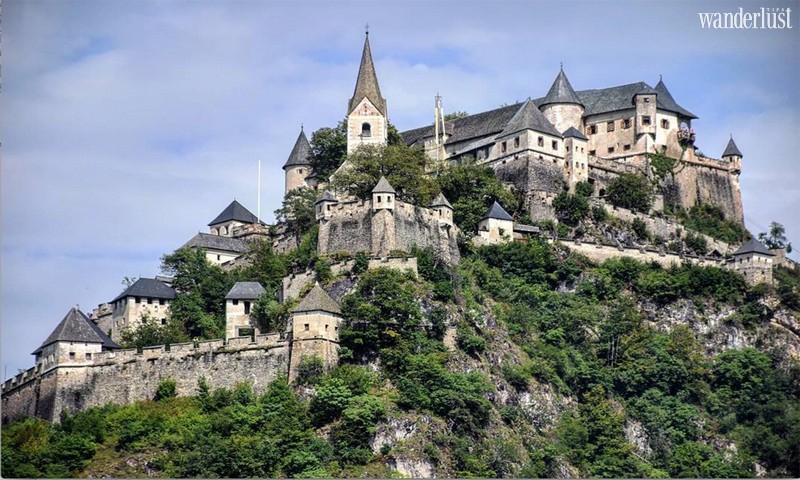 As one of the most magnificent castles in Austria, Burg Hochosterwitz (Hochosterwitz Castle) is a must-visit attraction on your trip to Austria. The striking medieval rock castle is perched on top of a 172m high rocky outcrop in the city of Launsdorf, Carinthia province, and overlooks the flat verdant plains below.
Visiting the castle, stroll the scenic 620-meter pathway up to Hochosterwitz's 14 gates. Do not forget to go inside to admire various showing rooms featuring a collection of remarkable Renaissance arts alongside medieval weaponry and armour. You will not also want to miss the castle's church with dreamy flower gardens and the countryside's breathtaking views from the top.
Address: Hochosterwitz 1, 9314 Launsdorf, Austria
Opening hours: hours vary by season.
HOHENSALZBURG, SALZBURG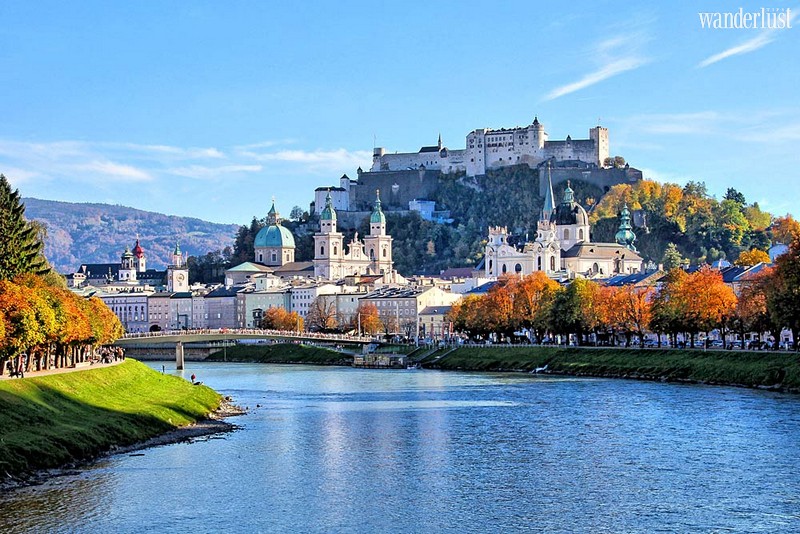 Boasting the magnificence on a green hilltop, the huge stronghold of Hohensalzburg dominates the skyline of beautiful Salzburg, Austria. Dating back to 1077, this majestic structure was a symbol of the local political might. Here, you can explore a collection of medieval chambers and internal courtyards after taking a funicular rail up to the castle.
Take a look at Hohensalzburg's unique coat of arms, which can be found on several of the castle's walls. If you are a history buff, stop by a couple of museums within the complex, including a charming marionette museum that showcases historical puppets from the Salzburg Marionette Theater's collection. Do not leave the castle without making a point of peering inside the Golden Hall, which has a gold-studded ceiling.
Address: Mönchsberg 34, 5020 Salzburg, Austria
Opening hours: January – April and October – December: daily from 9 am to 5 pm. May – September: daily from 8.30 am to 8 pm.
HOHENWERFEN, WERFEN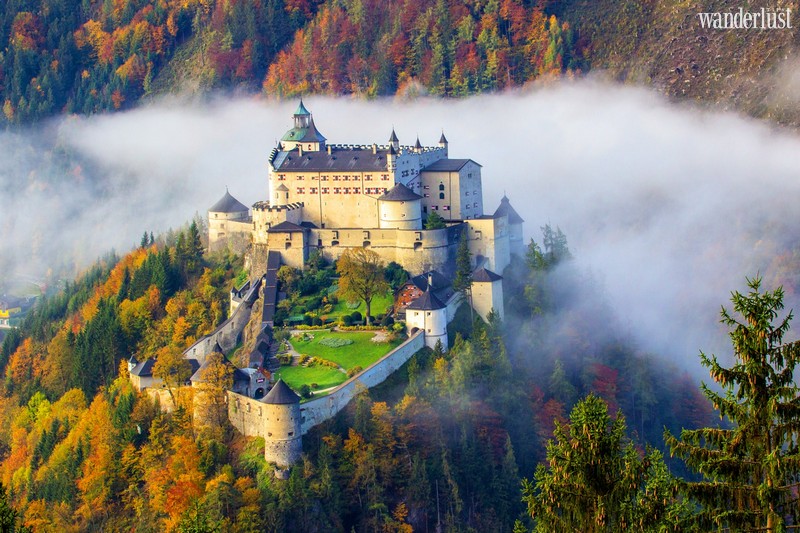 Aside from being a hilltop castle set against the forested Alps, Hohenwerfen is also a medieval history museum overlooking the market town of Werfen, Austria. The castle has a good reputation for being the 'sister' of Hohensalzburg Castle as it was built by the Prince-Archbishopric of Salzburg.
If you are looking for a fantastic spot for enjoying the medieval experience, Hohenwerfen is worth a visit. Take a picturesque funicular ride up the forested crag to reach the hilltop, where you can begin your exploration of the stunning castle. A bird lover will not want to miss a tour of the on-site falconry centre, which hosts regular bird of prey exhibitions.
Address: Burgstraße 2, 5450 Werfen, Austria
Opening hours: hours vary by season.
KREUZENSTEIN, LEOBENDORF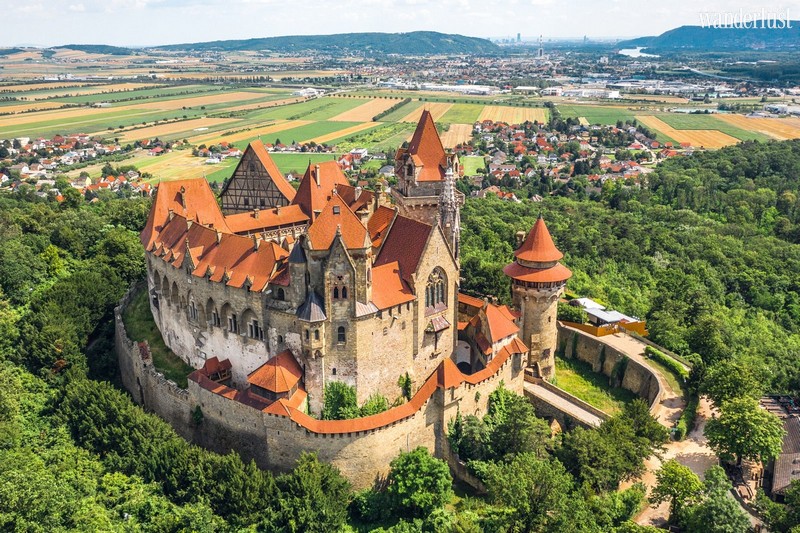 It is no exaggeration that Burg Kreuzenstein (Kreuzenstein Castle) is the most gorgeous fairy-tale castle in Austria that was set as a filming location of many Hollywood movies such as The Three Musketeers (1993) and Season of the Witch (2011). Unlike many of the old castles, Kreuzenstein maintained well as it was rebuilt using the remains of other medieval castles from all around Europe. Visiting the castle, you will have the opportunity to learn more about the castle's history inside the museum and enjoy one of the amazing eagle shows.
Address: 2100 Leobendorf, Austria
Opening hours: Monday – Saturday from 10 am to 4 pm, Sundays from 10 am to 5 pm.
LIECHTENSTEIN, MARIA ENZERSDORF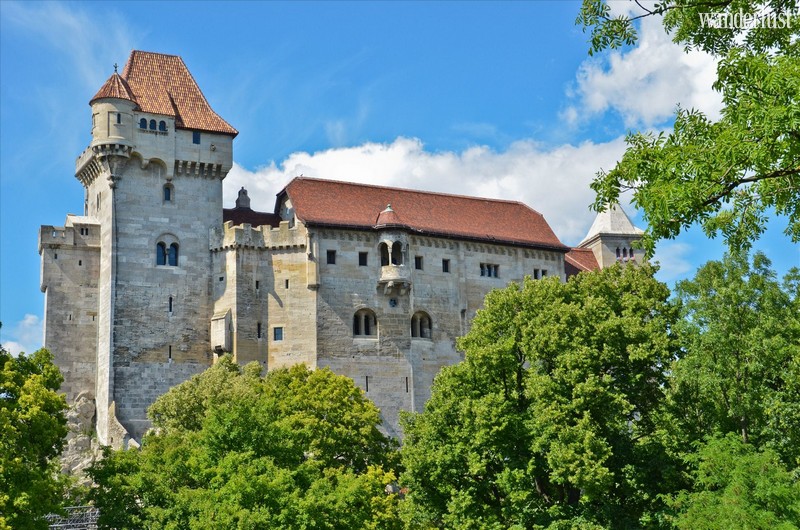 Having the same name as the castle in Württemberg, Germany, Austria's Liechtenstein is a spectacular Romanesque landmark situated in the dense highlands of Vienna Woods, south of the Austrian capital. Surrounded by vaporous forest mist, the castle will definitely have you falling head over heels in love with a dreamy fairy-tale-like sight.
Take a tour to explore the old Liechtenstein Castle on bright sunny summer days to get a sense of the medieval atmosphere while seeing the armaments and furnishings inside. Make sure to walking up to the balcony to soak in the amazing panoramic views of the wide woodlands.
Address: Am Hausberg 2, 2344 Maria Enzersdorf, Austria
Opening hours: hours vary by season.
AMBRAS, INNSBRUCK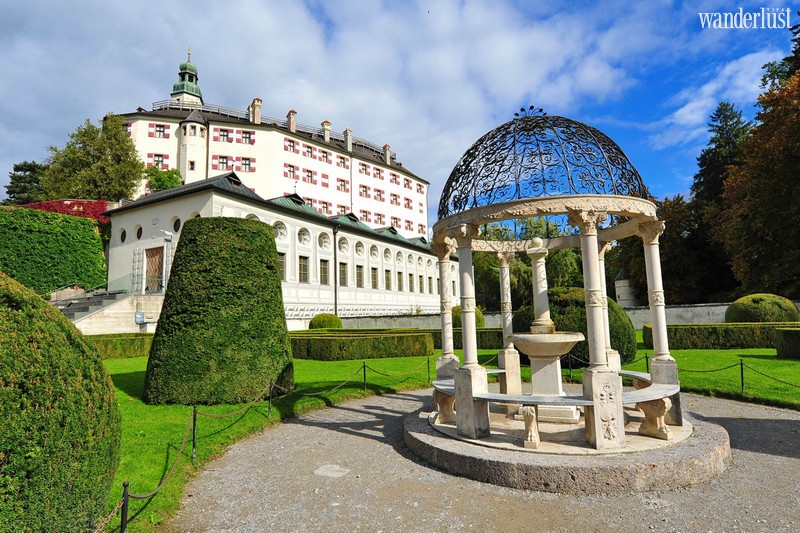 Regarded as a precursor to museums today, Ambras Castle is a beautiful medieval fortress that represents the height of the Renaissance with an impressive design that was ahead of its time. Drop by the castle to immerse yourself in the treasured art of the castle's 16th-century Tyrolean ruler that will definitely blow your mind.
No trip to the Ambras Castle would be complete without exploring the castle's armouries, which are stocked with a remarkable collection of 15th-century plate armours and weapons of Renaissance-era knights. Besides, you can also learn more about the history of the castle itself with the collections extend into the realm of arts, showcasing fine paintings, Gothic sculptures, and artisanal glassworks.
Address: Schloßstraße 20, 6020 Innsbruck, Austria
Opening hours: Daily from 10 am to 5 pm.

FRANZENSBURG, LAXENBURG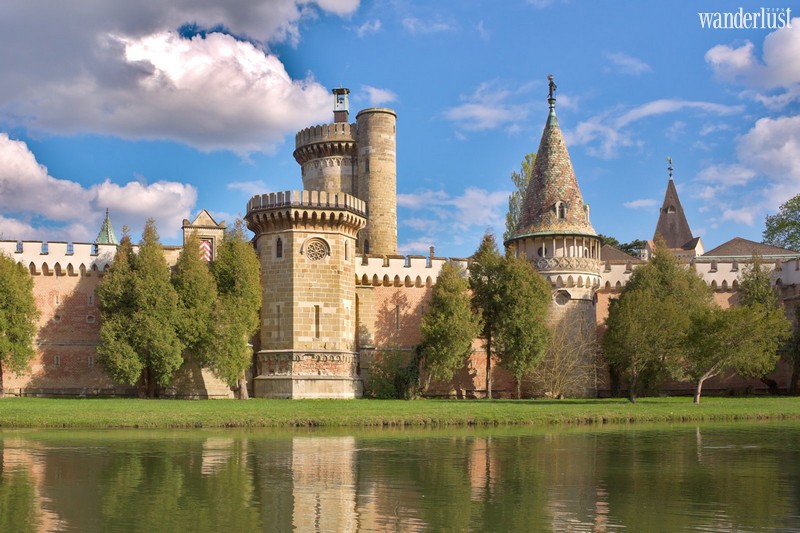 Dating back to 1801, Franzensburg is a dreamy water castle surrounded by lush forested gardens. It is part of the palatial complex known as Laxenburg Castles, just outside Vienna, and was built on a tiny island in a manmade lake within the castle garden grounds. Visiting Franzensburg, you should not miss great experiences of walking on hiking trails throughout the romantic gardens or renting a boat for cruising on the scenic lakes and indulging in the poetic backdrop of the splendid castle.
Address: Schloßpl., 2361 Laxenburg, Austria
Opening hours: Daily from 9.30 am to 7 pm.
Wanderlust Tips