[Wanderlust Tips July 2019] "Life is a valiant adventure or nothing" Helen Keller hit the nail on the head for travel enthusiasts. For travellers, each journey is an exceedingly meaningful adventure and thanks to inspirational travel stories from around the world, we too want to get out there and enjoy the journey.
[rpi]
A NORDIC GUY HIKING AROUND THE WORLD MEETS A VIETNAMESE GIRL AND FALLS HEAD OVER HEELS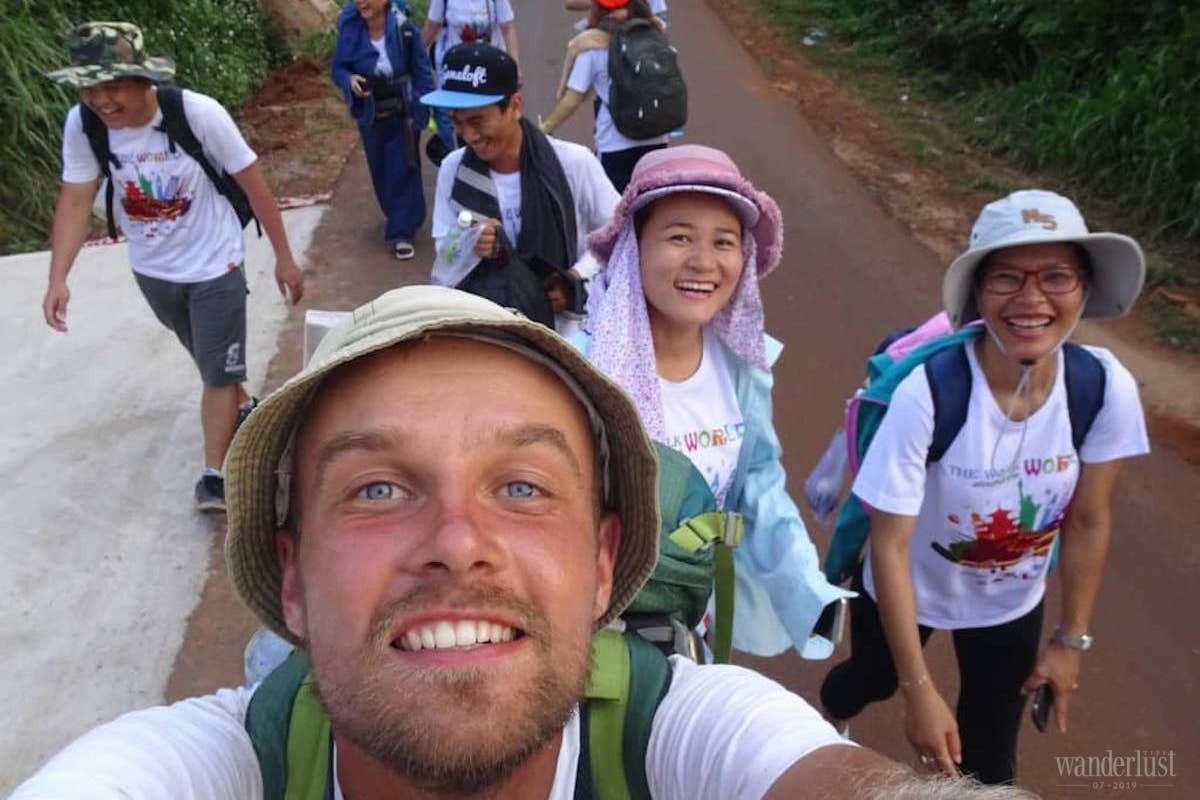 Meigo Märk (born 1990) set off on his round-theworld trip on May 11, 2014 from Tallinn, the capital of Estonia – a Nordic country seven times smaller than Vietnam with a population of only 1.3 million. In December 2016, after travelling through 19 countries, the Estonian musician came to Hanoi and lived solely on the money he had put by from the sale of his house and residents' help. Meigo was planning to leave Hanoi via northern Vietnam and then on to China.
However, after staying for nearly one month in Hanoi to apply for a visa, Meigo met Nguyen Thi Sam. It just so happens that this was the beginning of their charming love story. Nguyen Thi Sam, originally from Thai Binh, was fascinated by the Nordic guy and his epic walking adventure. Ms Sam jokingly suggested that she would like to join Meigo on his journey, but he was concerned that the route would be too difficult and that she would not be able to join him.
For the following two weeks, they ran 5km every day and 16km around West Lake at the weekends. This intensive training helped them to share their feelings and get to know each other better. Sam learnt that despite Meigo being a vegetarian he had a healthy heart, thus she decided to also become a vegetarian.
So far, Meigo and Sam have walked 740km together through 5 countries, namely Vietnam, Cambodia, Malaysia, Singapore and Indonesia. For Meigo, in 4 years and 3 months, he has travelled to 22 countries crossing a distance of 20,000km.
Due to health problems, Meigo was forced to pause his itinerary in August 2018. However, the Estonian returned to Vietnam and proposed to his beloved Sam with a simple but beautiful bamboo ring on the top of Langbiang in Dalat. The couple celebrated their wedding in October 2018 in the bride's hometown. They are planning to continue their adventure as a family and will set off when their children are strong enough. Meigo revealed that they aim to walk at least 20,000km more to complete a total distance of 40,075km – the same distance as the equatorial length of the Earth.
THE FAMILY TRAVELLING AROUND THE WORLD WITH NO PLANS TO RETURN
Burdened by the mundanity of everyday life, a British couple, Zyleen and Benjamin Hewins decided to sell up and take their two children Emiliana, 6 years old and Zacharia, 3 years old, on a trip around the world, with no plan to return to London.
In November 2017 the couple started putting the wheels in motion. They wanted to leave London to explore the world, so they sold all their possessions. In March 2018, their journey officially began.
Their first destination was Canada with the purpose of attending their relative's wedding, and then they moved on to Mexico and Central America. Zyleen said: "We could at any moment return to a peaceful life, but for now we have no plans to return home".
After 12 months on the road, the family has travelled through more than 20 countries and territories including Canada, Mexico, Guatemala, Honduras, Peru, Bolivia, Argentina, Brazil, Chile, Polynesia, New Zealand, Fiji, Australia, Indonesia, Singapore, Thailand, Malaysia, Sri Lanka, India, and Cambodia. They are planning to visit Vietnam, the Philippines and Japan in the near future.
The British family have had many thrilling experiences on their journey so far. For example, in Polynesia, they slept in a floating bungalow which brought them closer to nature. In New Zealand, the family discovered and immersed themselves in native Maori culture. During their journey they have truly relished spending time together as a family.
They have fully embraced a colourful life of adventure and have realized not only how beautiful the world is but how fortunate they are to have met so many amazing people. Zyleen revealed that "We do not know where we will be in the next few months, but one thing for sure is that nobody can take away this wonderful experience and all of our fun-filled memories".
TRAVELLING AND BREAKING WORLD RECORDS
Lexie Alford, a 21-year-old girl, has set a Guinness record for becoming the youngest person to set foot in 196 sovereign nations.
On May 31, Lexie Alford arrived in North Korea – the last country on her journey through 196 countries and territories around the world. With such a "tremendous" performance, Lexie broke James Asquith's former record in 2013 (James had been to 192 countries at the age of 24) and is honoured to be up there with Cassie De Pecol, the woman set foot in the most countries in the shortest time.
Since her childhood, Lexie Alford had a strong passion for tourism because she was raised in a family who owned a reputable tour company in California (USA). Her parents did not place too much emphasis on their daughter's schoolwork, which gave her the opportunity to travel independently and learn first-hand about the world around her.
Growing up, Lexie and her family visited many renowned attractions in various destinations including the floating villages in Cambodia, the Burj Khalifa in Dubai, Ushuaia city on the edge of Argentina and the Great Pyramids of Giza in Egypt.
In 2016, Lexie graduated from high school and got an associate degree from a college in her homeland of California. The determined traveller realized that she didn't have much time to conquer the remaining 124 countries on her list. Therefore, the American blogger spent her gap year travelling the world. At the beginning of the trip, Lexie just wanted to be a true traveler and breaking the record hadn't even crossed her mind. Lexie was determined to show people that the world was not the scary place depicted in the media, instead she wanted to show the kindness of people in the world. Lexie revealed that saving religiously since the age of 12 had paid for around eighteen months of travel. Being strapped for cash, Lexie did not spend many weeks in each country, especially the places that she was uncomfortable as a solo traveller.
During her trip, West and Central Africa were the most challenging countries to travel through due to a whole host of disadvantages including her visa, the lack of tourist infrastructure, language barriers, and expensive costs for her safe transportation. South Sudan, Somalia, Central African Republic, Mali, Chad and Papua New Guinea are the places she stayed for the least amount of time due to feeling unsafe as a solo traveller.
The 21-year-old blogger is writing a book about her firsthand experience and the lessons she learnt in each nation. At present, she has sent all the evidence to Guinness World Records to validate her trips. She plans to spend a few months resting and recuperating her mind and body before planning for her future.
Thi Thi | Wanderlust Tips