Self-drive trips are considered one of the most ideal ways to experience and explore a new place. Whether you choose to travel by bike, motorbike or car, you will have an exhilarating experience. Each mode of transportation offers a different experience behind the wheels.
[rpi]
Be prepared to be fascinated by thrilling stories from experienced drivers on their self-drive adventures and better understand their sources of happiness and the difficulties they experienced on the roads. Whether travelling alone, in pairs or with the whole family, no matter the means of transportation, each trip has brought countless wonderful experiences.
NGUYEN THI KIM NGAN – FOR NGAN, CYCLING IS A JOURNEY OF THE MIND, NOT THE LEGS
As a cycling enthusiast, have you taken bike tours to many places so far?
My bike has accompanied me to travel through 19 countries and Vietnam for nearly five years. Two trips really stood out for me. For the first journey, I departed from An Giang in Vietnam to London in the UK for 10 months in 2015. The second journey was a 154-day tour across seven Southeast Asian countries in 2017.
I had read snippets of media coverage about unrest in the Xinjiang region. However, my experience in Xinjiang surprised me as this place is extremely safe for travellers and the locals are very kind and friendly. Additionally, the quiet roads underneath the burning sun where only a few trucks passed by made a special impression on me.
During my time in Turkmenistan, it took five days to cross the Karakum Desert or Black Sand Desert where the temperature reached 45oC. We woke up at the break of dawn, sometimes we had to use a flashlight to light the way. At midday, we found a place to avoid the sun and had a rest until 3 pm. Afterwards, we continued riding until 8 pm because of the sunset at 10 pm and we got tired. At that time, water was scarce, so we had to be mindful and save it. The heat did not agree with me and I did not wash for three days during my time in Turkmenistan.
I felt nostalgic for my days cycling through Myanmar. I decided to take a hot air balloon ride in Bagan and watch the spectacular sunset at the Lei Thar Gone guest house located on a hill in Yenangyaung. Once we followed the map but it turned out to be the wrong map. We spent all morning walking with bikes to the top of the hill behind the army barracks.
Choosing a bike over other vehicles, what advantages and disadvantages are there?
Cycling is a physical activity which is good for the body. Travelling by bike is a slow experience that allows you to truly get a feel for a place. Through cycling, there have been occasions where I have accidentally discovered lesser-known destinations and have had the opportunity to become acquainted with the local people. There are certainly more advantages than disadvantages. Although, the harsh weather and steep mountainous terrain made our bike ride quite difficult and cycling requires determination and plenty of positive energy if you are not an avid cyclist.
Cycling requires both physical exertion and enormous willpower. How did you prepare and practice for these things?
I went on a self-drive trip without practising. During the trip, my body quickly adjusted to changes in climate and cuisine. Although cycling is a means to explore the world, I have to admit that cycling is a journey of the mind, not just the legs. Early on in my trip, I was sick when riding from An Giang to Ha Tinh because my body did not adapt from sitting in an air-conditioned room to cycling all day on the road.
Additionally, as the weather changed from hot in the southern region to drizzly in the central region both my mind and body became tired. I stopped in Ha Tinh for a few days and waited for my body to be stronger to ride back to Hanoi. During my cycling trip, the most dangerous moment was when I went down a mountain in Kyrgyzstan, my brakes were broken and this could have been fatal. After a near-miss, I now always check the brakes carefully whenever I go up and down a mountain.
After your journey, do you still have a true passion for cycling new roads?
After returning from a journey, I am always happy and proud of myself when thinking of the exhilarating experience. It is like a beautiful dream. I wish I could continue cycling across other continents to fulfil my dream of travelling around the world.
LE TRIEU DUONG (DU GIA) – TRAVELLING IS A WAY FOR ME TO CONQUER THE WORLD
Having spent 40 years travelling around Vietnam and across the border, Du Gia has got a lot of admiration and esteem in the travel community. He is also a pioneer and explorer of many dangerous roads for adventures, for instance, Tu San Alley in Ha Giang – the deepest alley in Southeast Asia, A Pa Chai – the westernmost point on the mainland of Northern Vietnam and Landmark 17 (1) – the upstream of the Da River where the Red River flows into Vietnam.
Could you share some memories of your self-drive journey?
A Pa Chai maybe my most memorable trip. Our team consisted of 9 people departing from Hanoi to A Pa Chai in Sin Thau commune, Muong Nhe District, Dien Bien Province along an 800-kilometre road. We rode 700 kilometres by motorbike and then walked along the rest of the way. At that time, A Pa Chai was not on the map and we were almost unable to find out any information about the place. Our team had to find the way via the forest roads. The authentic and epic journey is beyond the common tourism concept. After nine days and nights of conquering the westernmost point, we returned and shared useful information online so that more travellers could find this epic location.
Could you reveal more about solo travelling through Indochina?
I took the trip in early 2006. I went to Phong Sa Ly – the northernmost province of Laos adjacent to Dien Bien. I borrowed a motorbike in Dien Bien for my journey. However, the vehicle broke down in the middle of the road. As a result, I had to leave the motorbike and walk 7 – 8km to reach the village and call for help. I was not afraid to lose the motorbike, but there were still brigands in Northern Laos during this time. Therefore, our journey was quite dangerous.
Backpacking is not only about admiring the stunning landscapes but also about challenging yourself?
Definitely. In addition to riding on the road, I also have a passion for adventure games and exploring destinations that are off the beaten track. I am excited about heading upstream of Vietnamese rivers and crossing the border. I also like to go to remote areas to learn about the local culture and help disadvantaged people, I support them by taking clothes or helping to build schools so that they can have a better place to study.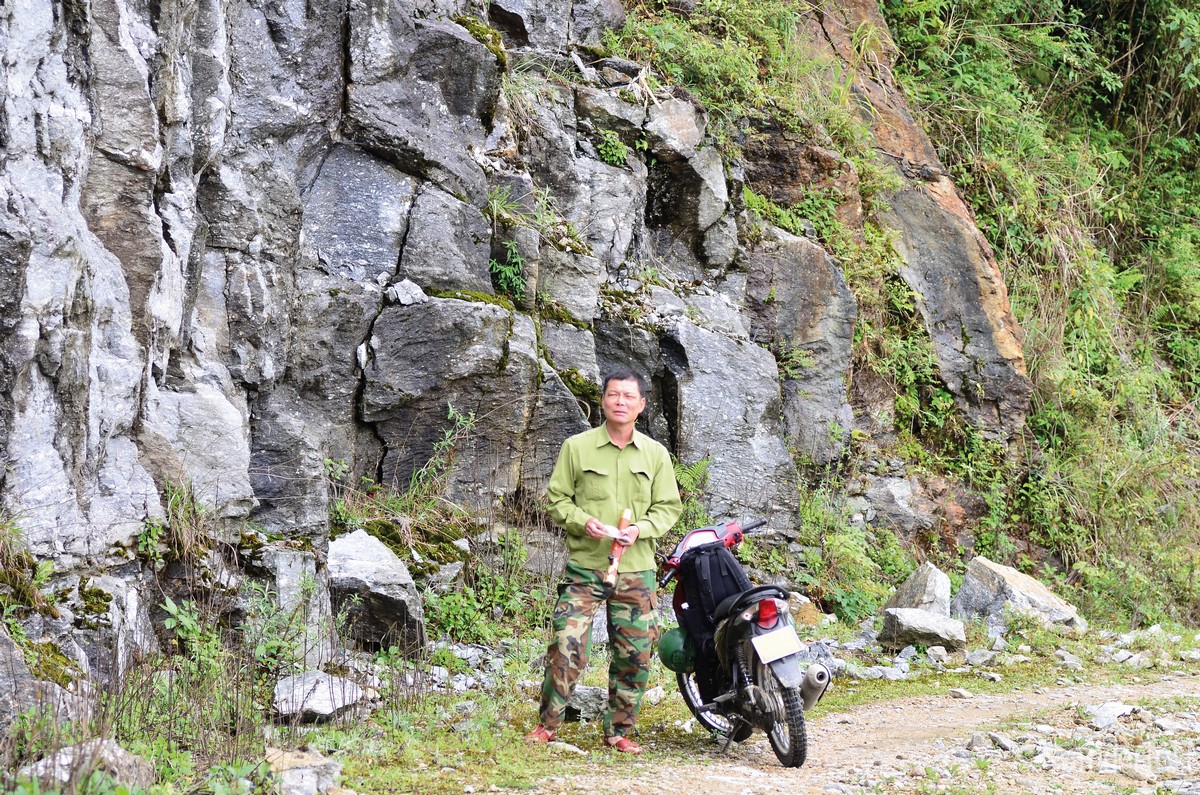 Through many backpacking trips, must you have faced many risks?
Accidents can often occur when travelling. In 2012, I drove from Hanoi to Laos to attend the Water Festival during the Tet holiday. When I was riding just 40 – 50km away from Luang Prabang, I fell off of my bike because a bird flew into me. Moreover, just two months ago, I broke my ribs whilst driving in the Gobi Desert in Mongolia. Whether you are a new or an experienced traveller, I still recommend that you prepare carefully to minimise risks. A motorbike is a flexible vehicle for long journeys, but it requires the driver to have good health, skill and adaptability on the road. If you have an accident, you still need to remain calm and learn lessons from your mistakes for subsequent journeys.
Do you have any advice for young people travelling by motorbike?
I find that many young people today are losing the meaning of the term "backpacking". Do not follow the movement or virtual life. You should learn thoroughly about the local culture or talk to the locals. After the journey, take the time to share with others about the roads, culture, food and behaviour in the places you have travelled through to help others be more aware. Through your travels, you will be more responsible for both the beautiful natural landscapes of the country and for your own safety.
VU MINH TRA, TRAN HAI YEN, HOPE AND HIP – MY WHOLE FAMILY LOVE ROAD TRIPS
Driving through nine European countries over 21 days last year and taking a 34-day road trip along the American West Coast in earlier 2019 provided endless inspiration for many families who love travelling. With your role as a driver, could you reveal your thoughts and feelings?
Around 10 years ago, I travelled to Europe on my own. At that time, I mainly focused on personal experiences. In May last year, when I went with my wife and two children, I wanted to give priority to my children so that they could learn and experience new things. We often travel to places that are not too crowded, we visit small villages, the countryside and have fun in Disneyland which is the children's favourite place.
Returning from our European trip with an array of unforgettable moments, we found that road trips are extremely interesting. Hence, we planned a self-drive trip to America for the following year. In March 2019, my family made that goal a reality. We opted for travelling through the well-known national parks along the west coast of the USA. Travelling around the world with my children is my family's goal. Life goes by in the blink of an eye, so we appreciate time as a family. There is nothing better than getting away from our work and spending time together as a family whilst exploring the world.
Could you share some memorable moments of your family from the self-drive trip?
During our time in Europe, I vividly remember travelling from Annecy to Antibes in France. The road running through the Verdon Gorge is known as the most beautiful in Europe snaking alongside the turquoise Verdon River. This is also a difficult road with zigzag bends. Another memory that sticks out was when our family visited the infamous Keukenhof flower garden in the Netherlands on the last day of tulip season, so the flowers had been harvested. However, because of travelling by car, our family luckily found one last field of flowers near Keukenhof that had not been harvested yet.
Western America is home to many stunningly majestic landscapes. While we were impressed with the surreal beauty of Antelope Canyon, our children were most fond of the Dinosaur Museum in San Francisco and the snow in Crater Lake. On this road trip, I drove 200km every day. I found that it was very difficult to travel through Dead Valley as our car could not cope very well with the peaks in the road. When there, we went out for a drive in the afternoon, so we had the opportunity to admire the brilliant red sunset behind the beautiful mountains. Although it was a long way, the road trip was definitely worth it.
Do you have any tips for taking this kind of trip with children?
For each trip, we often plan months in advance about where to go, eat and sleep. Aside from being an experienced driver, I am also a dab hand at refuelling, checking tyre pressures and changing tyres. Choosing a suitable car for travelling is particularly important. My family usually opts for new cars and we always buy car insurance for the entire trip to prevent any problems and always put safety first.
For children, we made sure whilst living in Vietnam that we got them used to sit in a car seat. We also prepare all necessary items, for instance, clothes, toys, diapers, milk and food in an insulated bag. What's more, we always tell them about the trip and get them used to walk long distances so they know what to expect on the trip.
Wanderlust Tips